What's a trend? It's basically something that suddenly becomes very popular. Pokemon was a trend, so were the iPod and platform shoes. Fashion knows new trends several times per year, which dictate the colors and shapes of the clothes that you find in the popular stores. In haircuts, you can find a lot of trends too. Even in haircuts down below. Are you shaven? That's a trend. You're au naturel? That is a trend too.
We are hugely influenced by trends, often without even realizing it. A couple of years ago, everyone seemed to start doing yoga. Hundreds of different types of yoga were suddenly born, including
naked yoga
. It wasn't that everyone had visited India and discovered yoga or that everyone at the same time thought that this might be a great way of exercising.
Why yoga became a trend
Yoga has existed for more than 5000 years. Until little more than a decade ago, in the western world, it was considered mostly something for hippies. Why is it that yoga has only become a trend? This has a lot to do with another trend of the recent years: The work-hard-play-hard mentality. Our agendas are completely full and we have little to no time left for destressing or for exercising.
Yoga proved to be a perfect solution to that problem. It's great exercise, it's a great stress reliever, and most of all, we can do it pretty much where and when we want to. This is very common with trends. They don't just happen for no reason. They are mostly something we've been waiting for, an answer to a current issue.
Other trends of today
Hairstyles, fashion trends, and pokemon cards aside, trends are definitely not always superficial. The yoga trend is a great example, or the ethical treatment of animals movement in the nineties. Suddenly, everyone seemed to be against fur coats and product testing on animals. Definitely a good thing, if you ask us, and quite long-lasting. As a result, testing on animals is very regulated and considered cruel until today. This was also a trigger of the veganism/vegetarianism trend. Which then again was boosted by the healthy living trend that connected to yoga too.
Healthy living has been a big thing for the last several years, and only got more in the picture during the COVID pandemic. Places in nature, away from the big cities are considered the safest. Ecological awareness is growing and we think more about sustainability. The need for mental health is growing too. We're not sure if we should call these things trends, but they will definitely be a source for many new trends in the near future.
Other important changes of mindset in the 21st century are
body confidence or body freedom
and gender equality/identity. Both have been a source for the #freethenipple movement. More and more, we realize that the body we were born into is not something to be ashamed about nor something we can be discriminated against.
Why naturism hasn't become a trend (yet)
If you look at all those new ways of thinking, or trends, if you wish, it's hard not to see the missing link. Naturism is connected to every single one of them.
Ecological awareness: Natur-ism is about respect for nature
Healthy living: naturism was born as a healthy lifestyle with the idea that you need to expose as much skin as possible to natural light to create vitamin D.
Sustainability: naturism is about respect for oneself, others, and nature. An excellent foundation for sustainable living.
Mental health: The practice of social nudity works de-stressing in many different ways.
Body confidence: Naturists generally feel better about their bodies.
Body freedom: As naturists, we think that our body is nobody's property but our own and that we can do with it what we like. Even expose it to strangers.
Gender equality: This is something that could be argued, as it's known that men and women are sometimes treated differently in naturism. Nevertheless, those practices are against the philosophy of naturism, which states that everyone should be treated equally.
Gender identity: Respect for others includes respect for other people's choices.
Is it just us, or does it seem like every single one of these new ways of thinking could be accelerators for naturism? Then why hasn't this happened yet?
One thing about naturism is that it requires quite a big step out of your comfort zone. We imagine that many people started with yoga on a lazy morning. Sipping a coffee and thinking "maybe I should give yoga a try". Next thing you know, you've started a YouTube video and are doing a downward dog. With naturism, it isn't that simple. Some people may have thought one morning "maybe I should become a naturist" and found themselves on a nude beach in the afternoon, but those will be few. Most naturists went through a mental process before getting naked with others for the first time.
Everybody naked, would it be a good idea?
Nevertheless, when we talk to new naturists in their twenties or thirties, one or more of the above ideas have triggered them to giving naturism a try. What would happen if these few became many? If naturism did become a trend?
Our first visions are rather horrific. We imagine overcrowded nude beaches and prices of naturist resorts skyrocketing because the demand is much larger than the supply. Every town has a yoga studio these days, but those are quite easy to set up. Building new naturist resorts would take significantly more time.
Then there is the financial aspect. Naturism would become big business and we don't see our imaginary Fortune 500 nude resort chains care a lot about the underlying philosophy of naturism.
On the other hand, the long-term effects seem much brighter. The
misconceptions of naturism
would go away, non-sexual nudity would become the default, there would be many more naturist places, and even Facebook would start allowing your naked pictures. Most of all, there would be no way back. Because once you've tried naturism, it's very hard to return to life as you knew it before.
---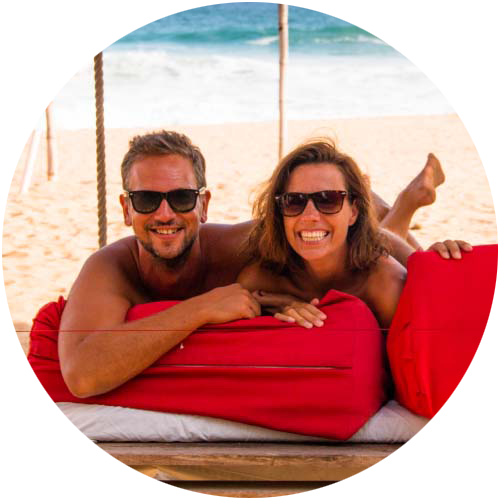 Support Naked Wanderings
Do you like what we do for naturism and naturists? Did we make you laugh or cry? Did we help you find the information you were looking for? Then definitely join our Patreon community!
---