Is there still a purpose for a naturist federation? This is a question that probably won't surprise you on this blog, but in fact, this time it comes from someone else. It's the first question Stéphane Deschenes (mostly known as the warm voice of the
Naturist Living Show
, the owner of
Bare Oaks Family Naturist Park
, former board member of several naturist federations, and all-round promotor of naturism) in the below interview with Karen and Paul, past board members of the Canadian Naturist Federation
FCN
.
To enjoy this blog post to the fullest, we recommend that you watch the interview before reading further because we'll be talking about several things that are being said.
Naturist Federations vs the internet
We'll be honest with you, after watching the first 2.5 minutes of the interview, we already wanted to send Karen and Paul an angry e-mail. Because the answer to the question of why a federation is still needed appeared to be because the internet is an "untamed environment". That federations are "a true source of information", while the internet is an "unreliable one" because federations have people on the other end.
As Stéphane mentioned, naturist federations used to have a monopoly on information about naturism. If you wanted to know how naturism works or where to find a club, federations were the only ones who could tell you. And vice versa, if you owned a club and wanted more members or visitors, the federations were the only link to the naturists. But then came the internet.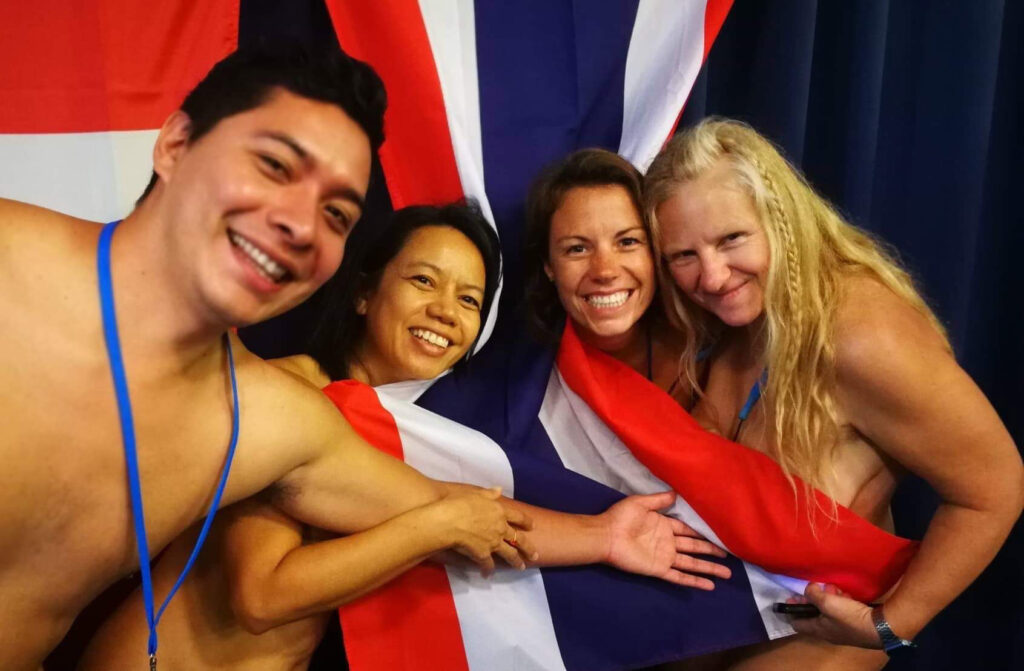 Leadership in naturism
Paul has a point that the internet can be unreliable. Everyone can start a website and say whatever they want about whatever they want. Aren't you better off just paying a couple of tens of euros or dollars every year for a federation membership and be sure to have the right information?
The thing with naturism is that it's not black and white. That there's not just one right and one wrong. Instead, there are many different interpretations. To give you an example, during
The Global Naturist Forum
, organized by British Naturism in 2020, the president of the International Naturist Federation said that there is a clear distinction between "naturists" and everyone else who enjoys some kind of social nudity, so-called "nude swimmers". She said that
"both can live next to one another, but never together"
. We strongly disagree with this statement, but if the INF would be the only source of information (as it has been for decades) this is exactly how naturism would be defined.
Karen mentions in the interview that
"we look to leaders"
. Because of the internet, these leaders aren't forced upon you anymore, but you have the opportunity to choose them. The concept of
The Meandering Naturist
is very similar to Naked Wanderings. We both blog about naturism, mostly from the perspective of traveling. But some people like the ideas and visions of Dan and Charlotte more than ours, and vice versa. And that is what makes the internet so great, you can choose between all the different views. This is democracy.
Value instead of information
When asked about the decline of memberships, Paul replies that "the younger generations do not want to be part of clubs or anything". Good point. We (we like to include ourselves in the younger generations) are the internet generation. We don't pay for information. But we do pay for services. Why do travel agencies still exist while it's never been easier to book flights, hotels, and rental cars online? Because they save us the time to figure it all out and provide one point of contact in case something goes wrong.
Does this mean that all naturist federations need to become travel agencies? Absolutely not, but they could focus more on specific services that are interesting for naturists, like events. Then there's an even more important thing that we happily pay for: Value.
Naked Wanderings has two major income streams. One is advertising. Businesses (mostly naturist venues) pay us to reach many thousands of naturists around the world. We bring value to their business. The other one is
support via Patreon
. All the information that we provide is completely free, you can just read it on our website or watch it on our
YouTube channel
. But people who believe in what we do or who feel that we've brought value to their life or to their naturist experiences, support us. Some even support us because we make them forget the daily rat race for a couple of minutes every week when they're reading our blogs or watching our videos. For us, feeling that people support what we do is the best encouragement to create more and better content. It's a very sustainable concept.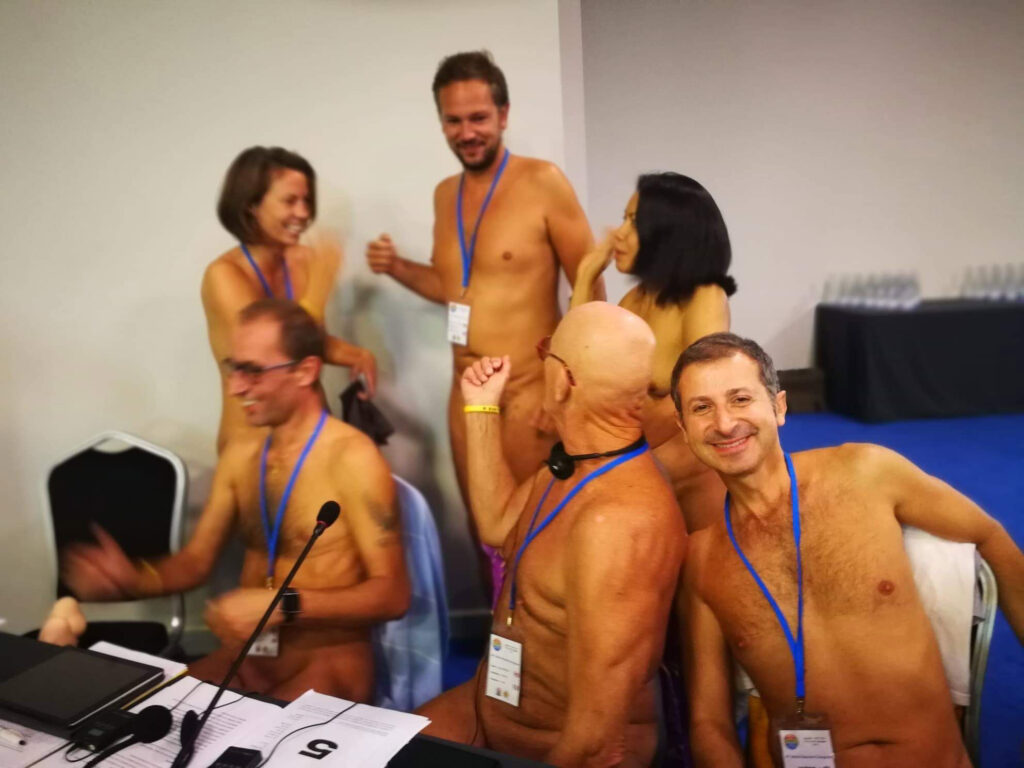 Why believe in a naturist federation?
When talking about the International Naturist Federation (INF) in the interview, Stéphane brings up that a lot of people are suggesting that the INF is just a waste of money and that all they do is provide a nice vacation every two years (
the international congress
). This is indeed the general perception of the institution. When we ask people what the INF really does, few have any idea.
We notice the same for national naturist federations. Fewer and fewer naturists have a clue of what these federations do, other than sending out a magazine that contains the same information as what you can find for free on the internet, but in a slightly nicer format (although that too is questionable).
At the end of the video, Karen and Paul get the chance to promote the federation, and they say "Commit yourself to naturism, show people that you really care". But what does that mean? How will naturism improve when we give money to FCN? How will they make our experience better? What have they done in the past for naturism? Why should we believe in the FCN?
Paul is right when he says that federations are "resting on their laurels". They've become so used to the idea that every naturist needs the federation and that everyone knows what the federation does and stands for, that they stopped focusing on this. They just assume that we all know. But we don't. Why do people support UNICEF or Amnesty International? Not because they tell you about all the horrors in the world, but because they tell you what they want to do about it.
Have naturist federations become obsolete?
Without the federations, our whole naturist experience would definitely be completely different. There would be fewer nude beaches, fewer clubs and resorts, and naturism would probably be less socially acceptable than it is today. Who knows, maybe naturism wouldn't even exist anymore. So, from a historical point of view, federations have definitely already proved their importance.
Even as a source of information, they are still doing a good job. You can still contact them with questions and many do still give you a complimentary magazine. But they are definitely not the only source of information anymore.
The strength of a federation is its experience. They have been around for a long time. They are organized. They have connections. They can make things happen. In fact, we see an interesting opportunity here for naturist federations and content creators (like ourselves and the others previously mentioned) to work together. We know how the internet works, we know how to reach a large number of people. And federations know how to build a solid backbone, how to get things organized. Could this be the future for naturist federations?
Important side note 1: Please don't see this blog post as an attack towards Karen, Paul, or the FCN. Several times after an interview with Stéphane, we thought "Damn, we should have said this or that". We had a lot of time to think about this blog post, while Karen and Paul just got seconds to reply. So we definitely understand our advantage and we hope that our readers will too.
Important side note 2: We hear Stéphane say in the interview about visitors to Bare Oaks that "As long as they are supporting somebody, I'm happy to give a $40 discount". We'll need to check if this also applies to those who support Naked Wanderings 🙂
---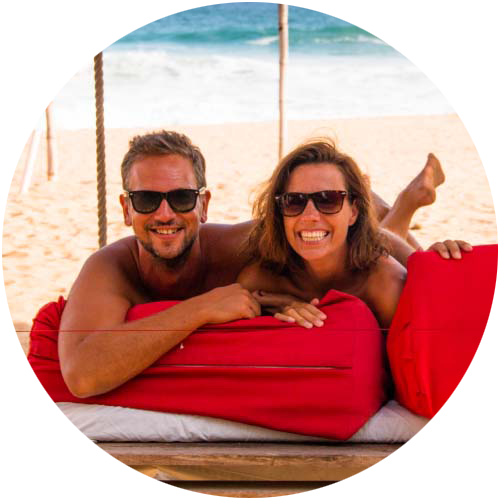 Support Naked Wanderings
Do you like what we do for naturism and naturists? Did we make you laugh or cry? Did we help you find the information you were looking for? Then definitely join our Patreon community!
---