We are promoters of the naturist lifestyle. All of you who have visited our website before already know that. We think that getting naked and enjoying social nudity has a lot to do with getting out of your comfort zone, especially in the beginning. It's often pretty difficult to explain to someone how comfortable your non-comfort zone can actually be. Getting out of it is a bit difficult at the beginning and does require a certain amount of guts. Guts to take the first step, guts to give it a try, guts to drop your pants, guts to sign up for a naked Pilates class… Yes, that's correct, a real naked workout. We were going to do naked Pilates. For those not familiar with the term, it's something like naked yoga and there are actual
naked yoga schools
. But our first nude Pilates class was going to happen at a nudist resort.
When we were staying at
Vassaliki
 in Greece we had the opportunity to have Pilates classes in the morning. Lins started jumping around the room from excitement when she read the news, she had taken (clothed) Pilates classes before and loves it. Nick on the other hand… well… he's already happy when he can touch his knees when he bends over.
But we are naturist bloggers, we like to try new things and when we see an opportunity, we have to take it with both hands.
SIDE NOTE: To protect the privacy of the other participants we did not take any photos of our session, so the pictures in this post are not ours.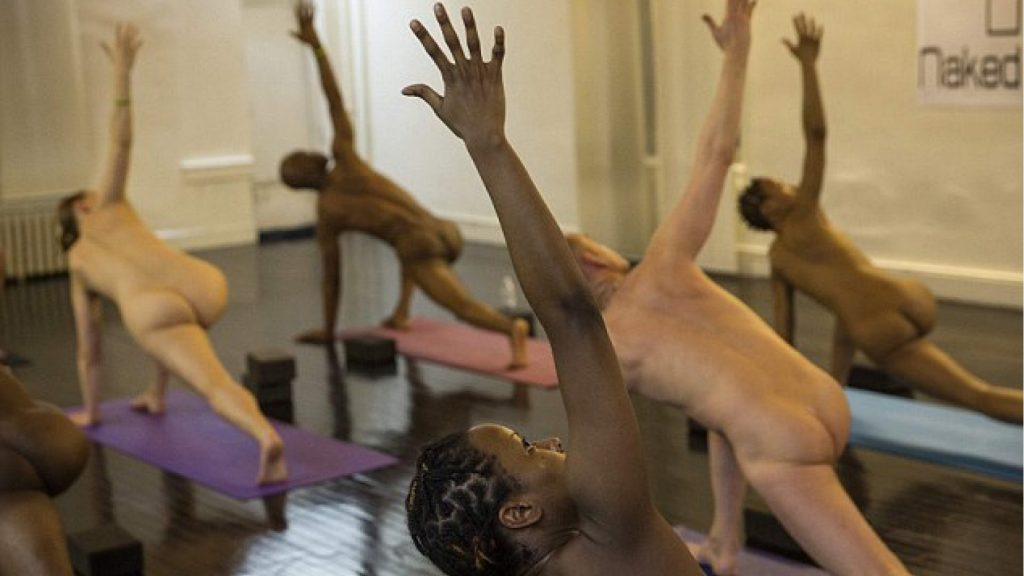 Is the lack of clothes really an advantage?
On the info sheet in our room, it said that even though we were in a naturist resort it was not obligatory to follow the Pilates classes naked. But we figured that we are naturists, we are at a naturist place, we are allowed to be naked and most of all, there would have been no way that Nick would have joined if it had been clothed. So there we were, on a sunny Monday morning at 8am next to the swimming pool. Five nude people, including the instructor, ready for some exercise.
After a series of roll-ups and leg stretches and spine twists, Lins was raving about the session.
"Naked Pilates is so much better than the clothed version!"
She had been able to fully enjoy her moves because no clothes were pulling down, pulling up or getting stuck in her butt. At the end of the session she did not have to walk around in sweaty clothes but just wander to the shower to get it all off.
Nick didn't really have an opinion, after all it was his first pilates or yoga class ever and he was still recovering from that last swan dive, telling himself that there was no way that he would ever become a Yogi. But in the end we were both excited about the session.
Our instructor had years of experience in giving pilates classes but only a couple of months ago she had started with the naked ones, so we asked her professional opinion. And she was a fan as well, for most of the same reasons why Lins liked it so much. Although she did tell us that some men prefer to wear shorts because "things can get in the way from time to time" and also that she does exclude certain moves from the naked sessions because they are too revealing.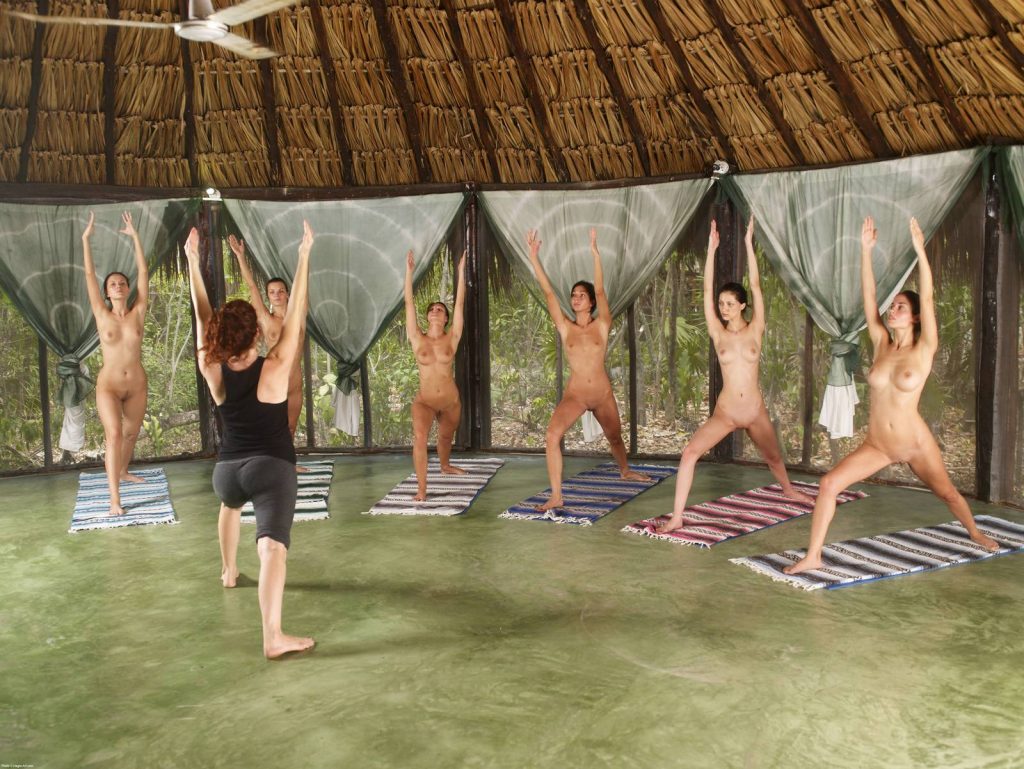 Isn't naked pilates a bit awkward?
We often tell beginning naturists to be careful with compromising poses. That was a bit of a concern to us as well before we started the session. Because, let's face it, Pilates moves aren't exactly like a stroll in the park.
A very important factor in this is the attitude of the instructor. In our case she didn't pay any attention to the fact that everyone was naked, she didn't talk about it, she made us feel like it was the most normal thing in the world. A feeling that we, as naturists, of course happily accepted.
Other than that, pilates is about focus, focus on your breath, focus on your movements and focus on your body. If you do it right, you don't actually see the others, you don't notice them and you know that they don't notice you.
We're pretty sure that naked pilates, unlike other sports that are often practiced naked, could never work with spectators. That would make people feel uncomfortable. But if you're alone with your group enjoying your exercises, you'll feel right, liberated.
Naked Wanderings' Complete Guide for the First Time Nudist ebook

Do you still have questions about nudism or naturism?
Are you looking for even more tips and tricks?
Our ebook will be the perfect resource for you!

Learn More
Picture credit: The photos in this post are coming from Google and Twitter. If you find one of yourself and you don't want it to be on our blog, let us know and we'll remove it.
---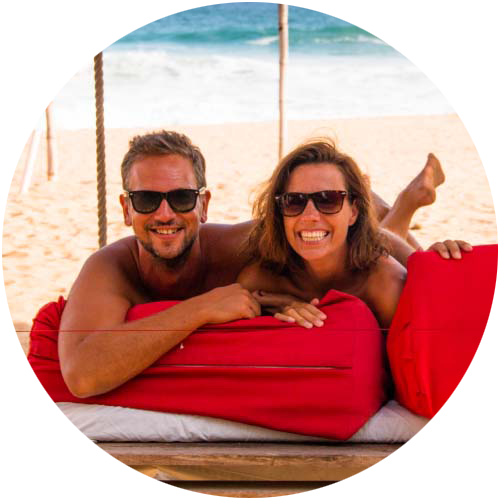 Support Naked Wanderings
Do you like what we do for naturism and naturists? Did we make you laugh or cry? Did we help you find the information you were looking for? Then definitely join our Patreon community!
---