One of the items high on our
nudist bucket list
was to experience living naked. Like really living, for days and weeks in a row not to wear any piece of clothing. It's not easy unless you're a multi-millionaire. Or if you work on a nudist campsite of course. That's how we ended up 2 weeks helping out at
clothing-optional eco campsite Full Monte
in Montenegro. Since it was the first time that we actually worked on a campsite, we did learn a lot of course. A lot about the eco thing for sure. But most of all we learned about nudity, about how it feels to spend a long time naked. And about the clothing-optional aspect. Because we were soon going to find out that being naked among clothed people is completely different than being naked among nudists.
Some of you might remember our blog post
Is clothing optional the new nudism
, in which we wondered if we shouldn't move forward to clothing-optional in order to secure a future for nudism. We received a wide range of reactions to this post, some found it an excellent idea, some were sure that it would be the end of nudism. And of course, there were many in between. We love it when we receive different opinions because that proves that there are different types of nudists who all have different needs, wishes, and requirements. If you ask us, we're actually quite fans of clothing-optional, even more since we got straight into it.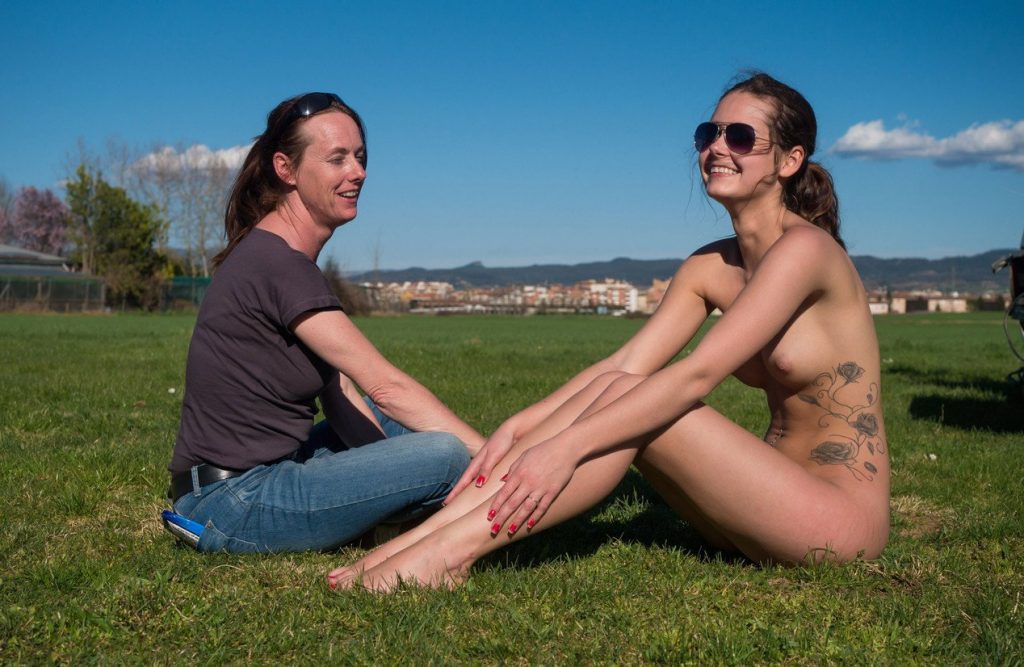 Becoming a full-time nudist
Steve, the owner of campsite Full Monte is what people call a 24/7 nudist. He is literally naked all day and all night. Only when he had to leave the property, which didn't happen very often, he put on some pants. The first thing he did at his return was to take them off again. It was almost as if he had an allergy to textile. We don't really consider ourselves the same. Back in Belgium, we're only naked when it's more or less convenient. When we know we won't have to leave the house and nobody will visit us, because we find it a bit too much of a hassle to put our clothes on and off ten times a day. Over here, as we were always inside the campsite, clothes didn't seem like an option anymore. Without knowing we had become 24/7 nudists as well. But that's because we had nowhere to go of course.
Different kinds of nudists
The visitors of the campsite did of course spend a lot of time at the other side of the fence. Exploring the nearby sights or spending their afternoons on the beach. That's when you see the different kinds of nudists. Some remained undressed until right before they left and got their clothes off the first minute of their return. Others were naked in the morning but didn't bother to undress again when they returned and others did things exactly the other way around. Some enjoyed being naked among others while some preferred being dressed or topless. Others were only naked around their tent or when they walked to and from the shower. There are nudity who like to eat naked and nudists who like to wear some clothes at the table. Some spent one whole day nude and the next day clothed. Since
Full Monte
is a clothing-optional campsite, all of this is perfectly possible. Everyone had the option to be nude or not.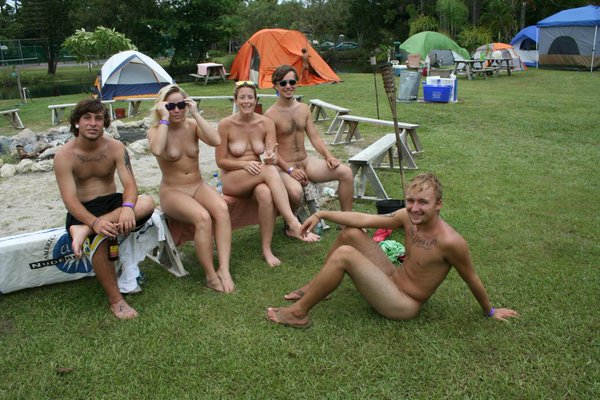 Adjusting to be naked among the clothed
One of the biggest concerns about clothing optional is of course the fear that textiles will take over the place. That suddenly you will be the only naked person. Actually, it did happen a couple of times to us that after breakfast everyone got clothed to go out and that at a certain point we were the only ones in our birthday suit. And we have to admit, in the beginning, it did feel a bit uncomfortable. Even though we knew that many of the others were also nudists and we had seen them naked before, suddenly we felt more vulnerable. Funny enough, that feeling passed quite quickly and in the end, we did feel more confident about ourselves. Right now we don't have the slightest problem anymore with being naked among the clothed, even not when everyone else is clothed, even not when everyone else isn't even a nudist.
Nudists and textiles going hand in hand
It does happen of course on a clothing-optional place that other visitors aren't nudists. Especially in this place, which was also visited for its eco-friendliness and because it's completely self-sustainable. One of the most important lessons we've learned here is that most of the textiles who visit a clothing optional place are not
perverts
. Of course, we believe weird things can happen but we can't say that we've seen a single person at
Full Monte
with the wrong intentions. In fact, all textiles we met were open-minded people with whom we've had great discussions about all kinds of topics. That's another thing which we appreciate a lot about clothing-optional environments, you talk about other stuff than the common nudie chit chat.
We've all been there, when you meet another nudist the first questions are often "How long have you been a nudist?", "What are your favorite nudist spots?" and "How much time do you spend naked?". In the end, the conversations are 95% of the time about being a nudist. This is normal of course, because you know that it's the one thing you have in common. But it gets a bit boring after a while. We noticed that in a clothing-optional place we often talked about other topics, completely ignoring that one is naked and the other one clothed. In a way, everyone considers the fact of being nude as the most normal thing in the world.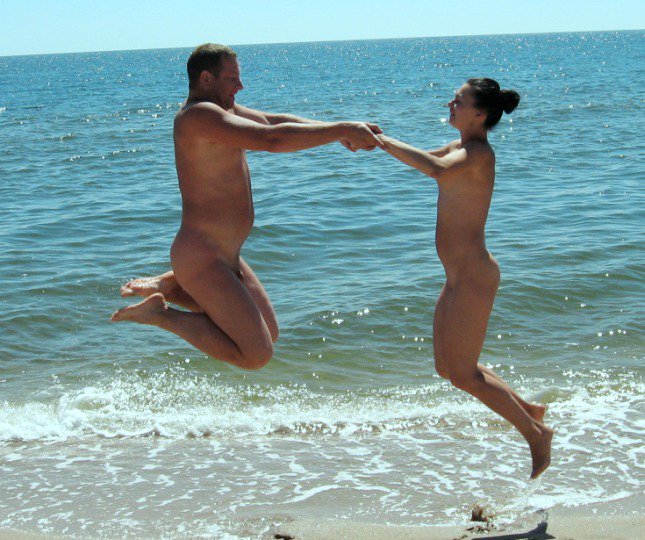 When textiles become nudists
We can certainly say that every textile we've met at "our" campsite was totally fine with our nudity. They acted completely normal about it but just didn't feel the need to go naked as well. At least not in the beginning.
Some nudists have struggled a long time before they dared to take the step into social nudity and for others, it just went automatically. Because we've spent quite some time at the campisite, we got the chance to see people evolve. It's a beautiful thing to see how someone, who had no intentions at all to go nude, suddenly does take the step.
We have to say that the familiar and secure environment probably did the trick and we saw it happening a couple of times during the time that we were there. There was a young couple who was attracted to the ecosystem and decided to stay two days in the camp. During the first day, they hung around in their swimsuits. In the afternoon of their second day, the girl had taken off her top. Then there was the family with two kids who stayed four days. The first two days they were completely dressed. The third day we spotted them being naked around their tent. On their last day, they all hung around the common areas in the bare as if they had been nudists forever.
Everybody clothing optional!
And there were several others. We even (and we know it's not very nice of us) started to play a game called "will they go nude or not".
Of course, we didn't always know before if people had the intention to become nudists or not. It's not really polite to say "hey, we didn't think you'd have the guts to drop your pants". Neither is it something you actually talk about. You just let it happen. This proves again that a clothing-optional spot is an ideal start for beginning nudists. And maybe even more important, it's also the perfect (and probably only) place for mixed textile-nudist couples. Also if you want to
introduce your friends
or
partner
to nudism. There were two girls at the campsite of which one got naked the minute she arrived and the other one needed two days until she felt comfortable enough. In the end, there was at least one new nudist in the world. Now try to convince us again that clothing optional is bad for the future of nudism.
Naked Wanderings' Complete Guide for the First Time Nudist ebook

Do you still have questions about nudism or naturism?
Are you looking for even more tips and tricks?
Our ebook will be the perfect resource for you!

Learn More
Picture credit: The photos in this post are coming from Google and Twitter. If you find one of yourself and you don't want it to be on our blog, let us know and we'll remove it.
---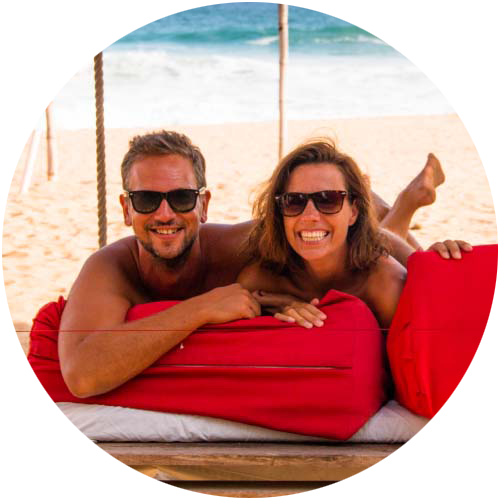 Support Naked Wanderings
Do you like what we do for naturism and naturists? Did we make you laugh or cry? Did we help you find the information you were looking for? Then definitely join our Patreon community!
---