We have been to some absolutely splendid nude beaches during our travels. An all-time favorite of ours is the
free beach of Zipolite
. "Free" in the sense that you're allowed to wear whatever you wish. Bathing suit, batman suit or birthday suit, nobody cares at all. Another one that's definitely in our Top 3 of amazing nude beaches can be found in
Tayrona National Park
in Colombia. The hike to the nude beach takes no less than half a day, through lush jungle, having you end up at a piece of unspoiled Caribbean paradise of which we thought that it only existed in movies.
Then there are the many hidden coves in
Croatia
and
Greece
. The
wild Atlantic beaches near Lisbon
. And the endless nude beach on the other side of the ocean, in
Massarandupio, Brazil
. Naturists whose legs are not as vivid anymore as they used to be, tend to complain about the difficulty to get to nude beaches. We mostly think that it's the main reason why they are so amazing. Because there are no parking spots right behind the corner, the beaches remain much more agreeable.
The naturist section of Toulon's nude beach
When we recently had to stop for the night in Toulon, a small city on the French Rivièra, we were looking for an afternoon activity. As always, we first try to find out whether there's anything to do in town which doesn't require us to wear clothes. Especially in this mid-summer heat. As soon as we found out that one of the city beaches had a naturist section, we knew that we had a plan.
Finding a parking spot at the main promenade appeared to be a piece of cake (thanks to COVID) and a short walk later, we found ourselves at Plage de la Mittre. From a hilltop, we got first sight of the beach. Imagine this: A long sandy stretch of urban beach, leading straight into the emerald-colored Mediterranean Sea. A beach bar, a frisbee game going on. Families, groups of friends, and lots of teenagers and twenty-somethings enjoying a warm Tuesday afternoon under the warm sun of southern France.
Don't be fooled, this wasn't the nude beach. A small, maybe 15-meters long section, covered with hard, sharp rocks and dry seaweed, lacking the slightest bit of shade, was where the naturists could be found.
That's not hiding the naked people
Having a naturist section of the main beach is a very European thing. It's not a bad idea. Many naturists don't like to be looked at by the clothed beach visitors and people in swimming suits might find it bothering when there are naked people around. So each gets their own part. Except, the naturist part is rarely the nicer section of the beach.
In the case of Plage de la Mittre, and lots of similar beaches we've visited, the idea of separating the naked and the clothed doesn't really make much sense. There wasn't a huge rock or large fence dividing both worlds, but just an imaginary line. People on the textile beach could easily see the naturists and vice versa. Those walking on the path towards the textile beach could see the naturists. People living in the surrounding apartment buildings had a clear view on bare butts from their terraces.
Beach visitors who resent the idea of seeing naked people, would never go to the textile part of Plage de la Mittre. Naturists who don't like to be seen by textiles, on the other hand, would not feel comfortable at the nude section of the beach. Yet, both parts of the beach were pretty crowded for a Tuesday afternoon.
Why the French girl didn't go to the nude beach
Those who say that French women have lost their love for topless sunbathing haven't been to Plage de la Mittre. Lots of French breasts were getting a tan at the textile side of the beach when we passed by. Once we had nestled ourselves among the largely elder crowd of the naturist section, we started wondering: So many young French women seemed to feel no shame for taking their top off. The full monty was definitely not a taboo as they could see us hanging out in the nude, only meters further. Why didn't any of them decide to come to our side and drop that last piece of fabric?
We could only come to one answer: Because our side sucked. It's not that it took such an amount of courage to drop that last piece of bikini. It would take a huge amount of willpower to exchange that nice sandy stretch of beach for hot sharp rocks, just for the sake of not having to wear a couple of square centimeters of textile. Die-hard naturists (and naturist bloggers) will do everything it takes to be able to get completely naked. Many others, however, don't see bathing suits as an extreme burden that has to be avoided at all cause. Especially if that meant exchanging a soft spot to lay on for a hard and sharp one.
Clothing-optional to the rescue
Every time when we promote the idea of more clothing-optional beaches, we receive many comments with examples about how the local nude beach is already crowded with textiles or how allowing clothes would only create a large playground for gawkers. There's obviously some truth in this. One nude beach is not the other. And the atmosphere at nude beaches tends to differ a lot between different countries.
In the case of Plage de la Mittre, if people wanted to gawk, they could easily do so from the textile section. Or from the path above. But we didn't see any weird behavior except for one guy on the nude section who liked to swim with his underwear on his head. If the naturists don't care about being seen and the textiles don't care about seeing nude people, why the separation?
Back in Zipolite, we used to see first-time skinny dippers almost on a daily basis. They would go into the ocean in their bathing suits and notice the comfort and joy of the nude bathers. The next time they went into the ocean, the bathing suits were left behind. The difference between this urban French beach is striking. Plage de la Mittre almost had the opposite effect. It's the kind of place that could turn naturists into textiles. "How annoying would it really be to wear a bikini bottom? Given the fact that I can then spend my afternoon in the sand near the bar instead of on these hot sharp rocks?"
As soon as those scary thoughts started playing in our minds, we packed our stuff and ran (figuratively speaking, that is, we mostly left because there still wasn't any shade and the rocks had been burning some awkward red spots on our butts). But more than ever, we're convinced that if this whole stretch of beach had been clothing-optional, the place would have been more agreeable for everyone.
---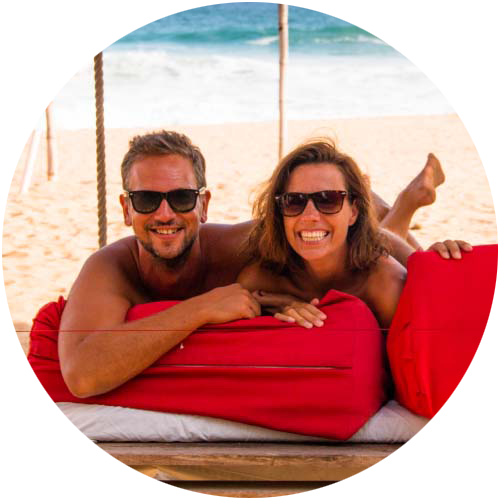 Support Naked Wanderings
Do you like what we do for naturism and naturists? Did we make you laugh or cry? Did we help you find the information you were looking for? Then definitely join our Patreon community!
---