For the last several years, we have been writing reviews like this one about the many naturist places that we've visited around the world. We always write from our own experience and we always try to put the spotlight on what makes a certain place unique. Some places are a true gift to write about. They have such great views, such amazing staff or such an awesome social scene that we have to keep ourselves from writing a whole novel. Others are more difficult. When we visit 10 naturist campsites in the same region, it can be hard to find their unique points.
Now and then, we end up at a true pearl. A place of which we just can't wait to tell you about. Often, these are not the resorts you'll find in advertising or magazines. Small hidden places of which we think "why hasn't someone ever told us about this place?". Maybe that's their magic. Maybe that's exactly what makes them so wonderful. Maybe we should stop writing right now and not tell you anything about Le Pont d'Adele. But as naturist travel bloggers, we feel like it's our responsibility to show you the best naturist places in the world. So here goes anyway!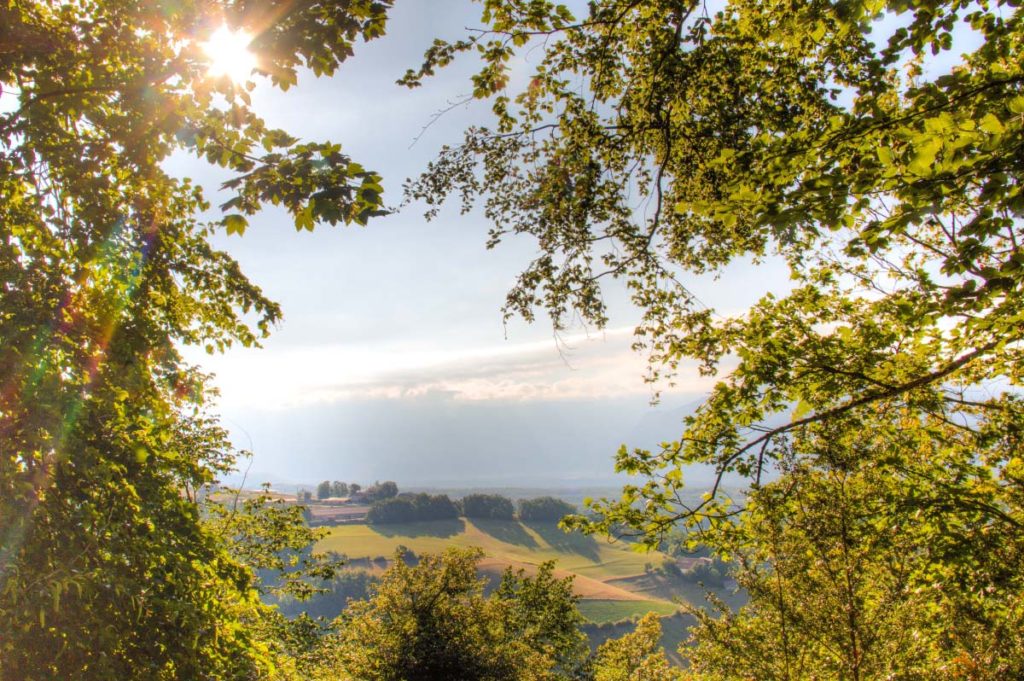 How to get to Le Pont d'Adèle
It's almost impossible to reach Le Pont d'Adèle without your personal transportation. Even if you would manage to hike or hitchhike your way up, you'll be sorry for not having a way to explore the beautiful surroundings. Our drive down from the north of France was one of the most magnificent ones we've ever taken. On one side we had the first peaks of the Alps mountains and on the other one the hillsides that reminded us of Tuscany.
No matter where you're coming from, you want to follow directions towards Lyon and switch to Grenoble as soon as the name pops up on the road signs. An important side mark for those who come from the Cote d'Azur in the very south of France: There is an amazing scenic route from Nice to Grenoble, but keep in mind that the winding roads take forever. Your GPS might think that you'll do the allowed top speed of 90 kilometers per hour, but trust us, we've driven that road. You'll barely hit 40 kmph, unless you're a lunatic. Much faster (but way less scenic) is taking the detour via the A8 and A6 highways.
Grenoble has an airport, but unless you're flying from within France, it's unlikely that you'll end up there. Much better is to fly to Paris, Lyon, Nice or Marseille, from where you can take the train to Grenoble. From the train station, it's easy to get a rental car for the last part of the journey.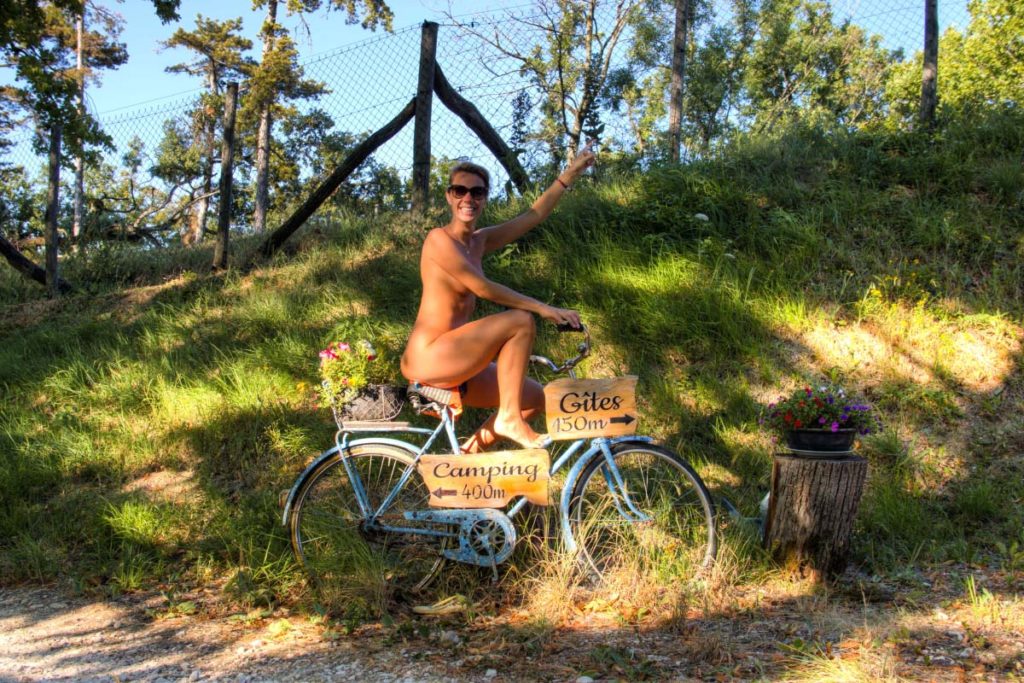 Where to stay at Le Pont d'Adèle
Our arrival didn't immediately present the beauty of Le Pont d'Adèle. In fact, it was a bit complicated. At the exact spot where our GPS had brought us, there was a large sign with the right name on it. And then a smaller sign saying "naturist campsite 300m" with an arrow pointing us further down the road. 300 meters later we saw indeed another driveway and another sign. Maybe they were in the middle of a move, and the signs would be moved to their new place later?
That wasn't the case. What we didn't know was that next to a naturist campground, Le Pont d'Adèle also has a small B&B and both are a bit separated from each other. The place where our GPS had led to was just the entrance to the guesthouse.
If you're leaving for Le Pont d'Adèle today, you have 2 types of accommodation options. Either one of the 25 camping spots which all give you incredible views over the surrounding landscape. Or one of the 5 rooms in the guesthouse, which is a typical historic mas. Well, "rooms" might be an understatement. Raphael, the owner, gave us a tour in some of the available rooms and they're more like apartments. Each with its own kitchen and living room and some with terraces that give a 180° view over the Alps mountains and the patchwork hills on the other side. As Raphael joked: "Guests pay just 5 euros for the room, the rest of the price is for the view". Not really a joke if you ask us.
If you're reading this while planning a trip for 2021 or later, you will get another accommodation option. A very cool one if you ask us. They are in the middle of building an impressive cluster of treehouses. Not just the kind on poles that you'll find at other campsites. This structure is something we have never seen before and of which we're sure that it's unique in the naturist world.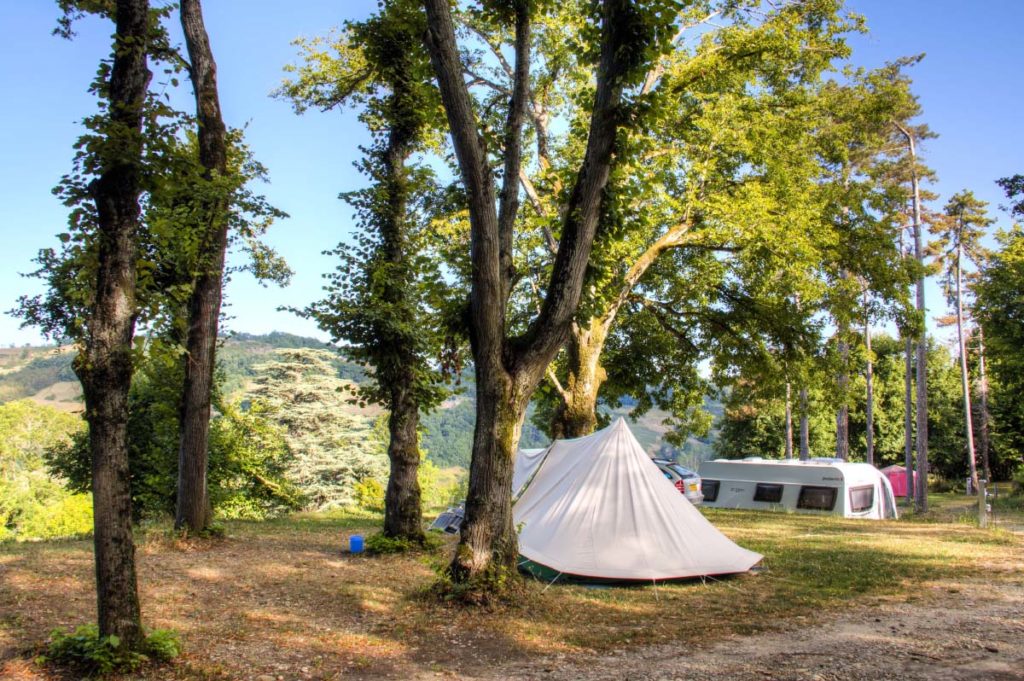 What to do at Le Pont d'Adèle
Other than the absolutely awesome views, what we loved the most at Le Pont d'Adèle were the peace and quiet. Maybe it was because we had just spent some hectic days in Belgium and we were in urgent need of relaxation. But then again, you might also be looking for the same thing after months of stress at work.
This has to be said. If you want a vacation fueled with people, activities, and parties, Le Pont d'Adèle is not where you want to be. If you're looking for complete relaxation in nature, you've probably found what you're looking for.
Not that there's absolutely nothing to do at Le Pont d'Adèle. There are some nice walking trails on the domain of which some can be hiked in the nude. And at the section of the guesthouse, which is also accessible to campsite guests, there is a wonderful swimming pool, a sauna, and a jacuzzi with probably the best view you've ever had in a jacuzzi (unless you also have one with views on the Alps).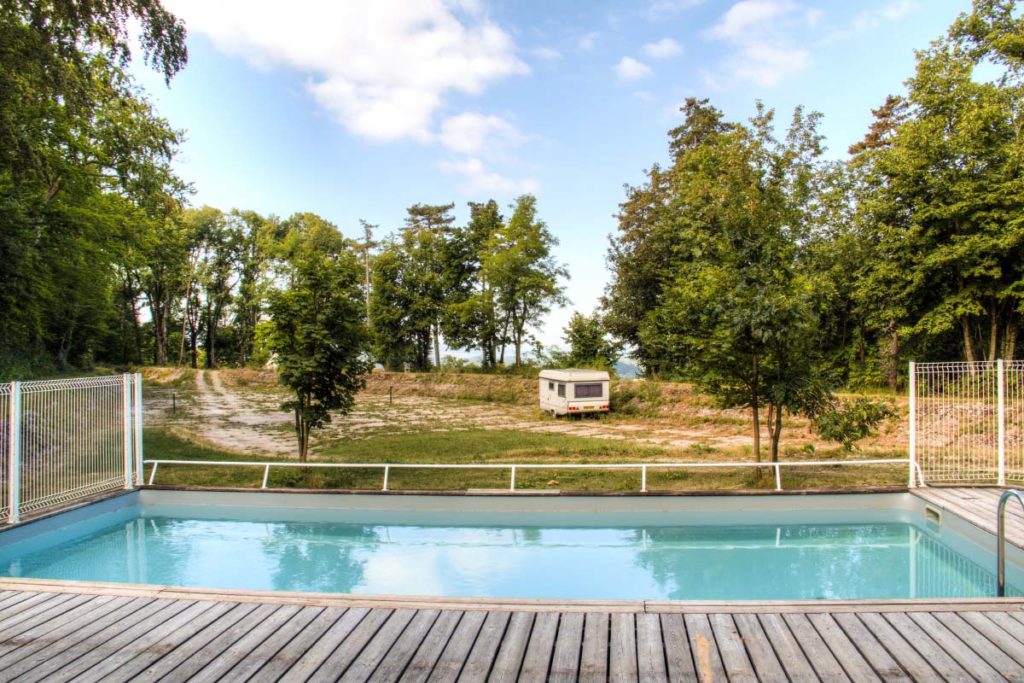 Around Le Pont d'Adèle
Le Pont d'Adèle is located in the Isère department, which is part of the Rhône-Alpes region. A part of France that's most famous for its natural scenery and adventure sports. A short ride will get you into the high Alps, where several national parks will introduce you to Europe's most beautiful mountainscapes and lakes. Hiking is a great way to explore the region, and for thrill-seekers, there are numerous options to go rafting, rappelling, kayaking, climbing, and other activities that are not for the faint-hearted.
In the towns around Le Pont d'Adèle, you'll get catapulted back a couple of centuries in time. This is the simple life, where people mostly live off the lands and still greet each other in the streets. Few towns will keep you busy for a whole day, but they are great places to stop for a wine and do some people watching.
If you're more into art and architecture (and a larger variety in places to have a glass of wine), the cities Grenoble and Valence are both less than an hour away from the campsite. A bit further, but definitely recommended, is what's called France's second city: Lyon. Absorb the grandeur of the Place Bellecour, the city's main square. The excellent gastronomy, the cozy narrow roads and street art, and the numerous museums will make you come back the next day. And probably also the day after.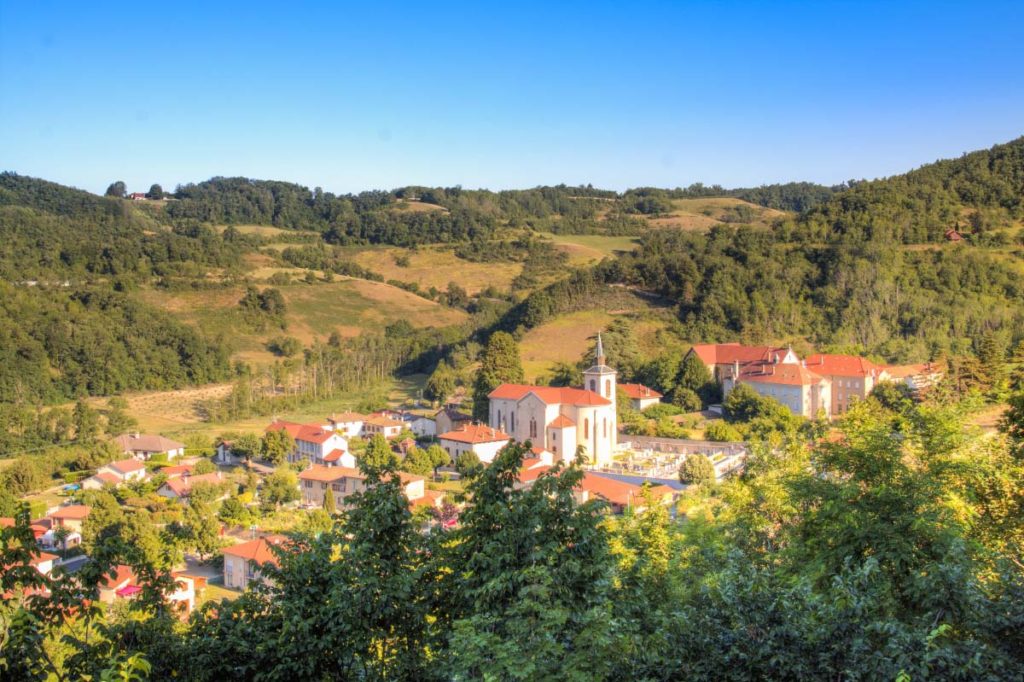 Staff of Le Pont d'Adèle
Being such a small place, Le Pont d'Adèle is completely family-run. The owners, Cathérine and Raphael take care of everything. From making sure that you find the ideal spot, to ordering your morning baguette, to having a friendly chat about the place or the region. They provide the kind of French hospitality that you might recognize from old movies. And you'll often see them around, racing over the domain in their funny looking little jeeps.
They do get help from their son as well, who appeared to be the architectural genius behind the construction of the tree houses. If that is his vision of how to provide an amazing naturist place, we can hardly wait to see his next projects.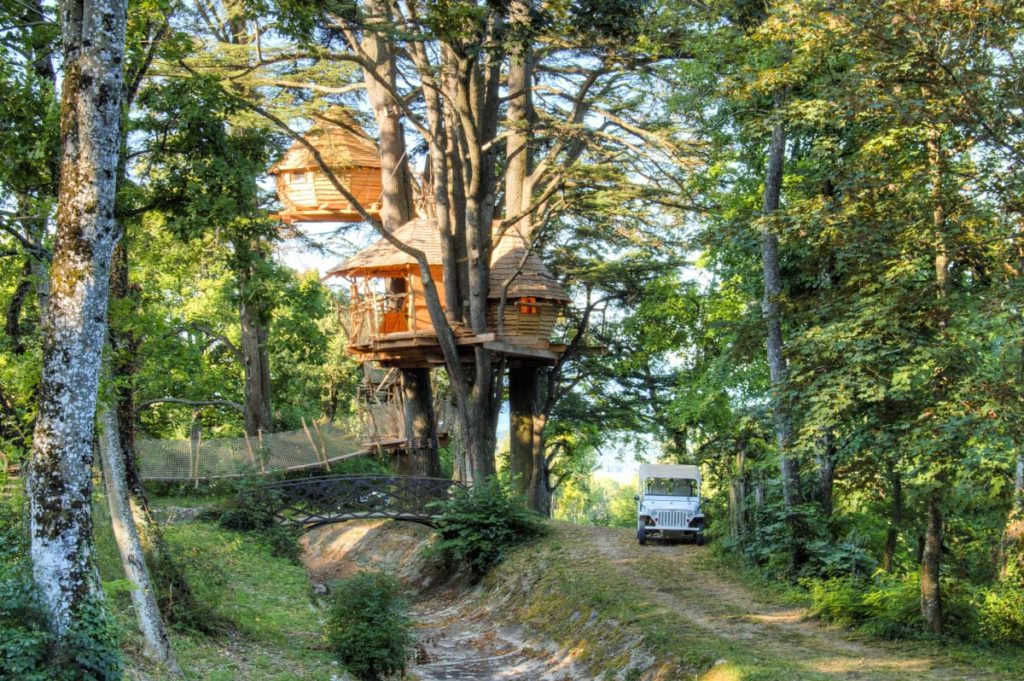 Guests at Le Pont d'Adèle
Since we were traveling during the height of the COVID-pandemic and since Le Pont d'Adèle is not as known as many other campsites in France, there were few other guests when we were there. At the camping part, where we were staying, we mostly found Dutch campers. We don't know how they do it, but the Dutch seem to have a nose for finding great naturist places more than any other nationality.
At the B&B, three of the five rooms were occupied by French guests. We didn't talk much with them but we expect that they were from the region. Looking for a couple of naked days, away from the busy cities where they live. But that's just a guess. We did get pretty good at guessing the who's, why's and how's of naturist travelers though.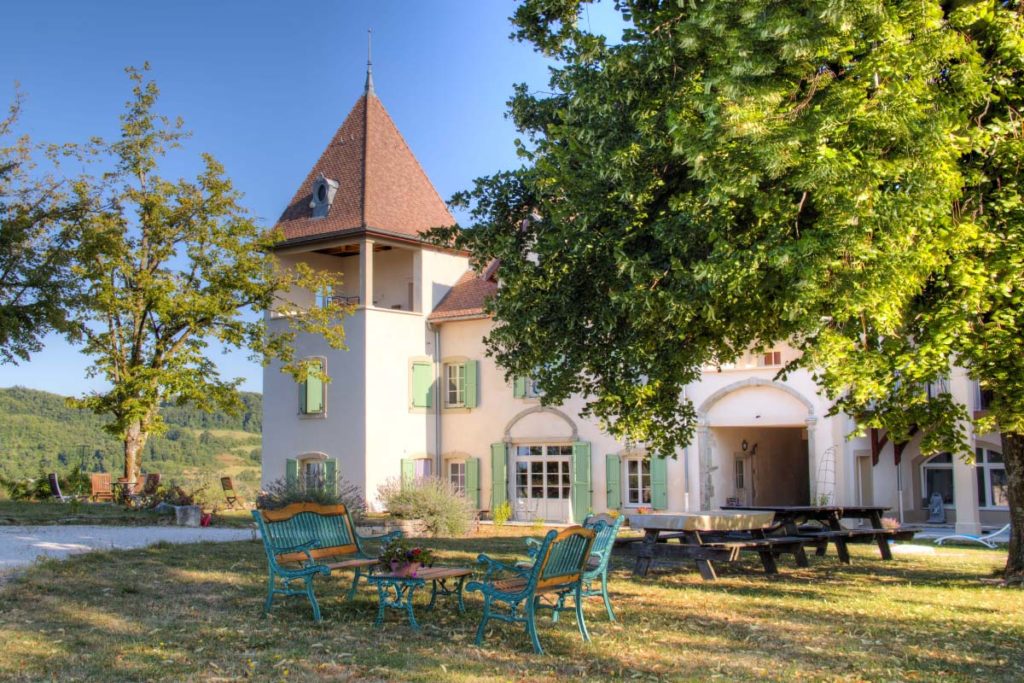 Reservations & Contact
We traveled to Le Pont d'Adèle during the COVID-pandemic of 2020, which means that things are a bit different than normal. If you're also visiting during the pandemic, it's best to contact the owners first before planning your trip.
Normally, the campsite is open from May to September, and rooms at the B&B can be rented year-round.
The best ways to make a reservation are:
✅ Their Website: https://lepontdadele.com
✅ Phone: +33 (0)9 54 46 36 55
It's possible to communicate in French and English.
Summary
Le Pont d'Adèle is one of those naturist pearls which you don't often encounter. Just when you wonder why nobody has ever told you about it, you realize that they just want to keep this place to themselves. If you don't believe us, go have a look for yourself. You'll be happy that we told you about it, but you'll wish that we didn't tell anyone else.
---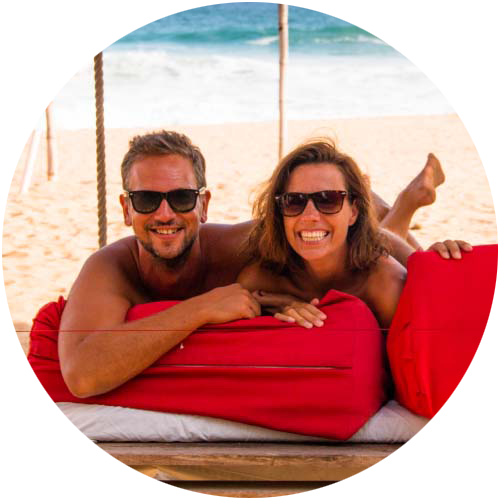 Support Naked Wanderings
Do you like what we do for naturism and naturists? Did we make you laugh or cry? Did we help you find the information you were looking for? Then definitely join our Patreon community!
---