Sometimes, we wonder how much longer we can travel before we stop being surprised. Before we stop ending up at places that really move us. The day when everything we see will just be another "I've seen this before" thing. It's the fear of every long-term traveller. When will everything just start looking the same? When will we lose the excitement of seeing something new?
It happened to us before, when we arrive at a waterfall or a village and just think that we've seen better and more beautiful. Several times before. And then we start questioning why we keep packing our bags every other day. But there are also times, like just the other day in South Africa, when we visit yet another nude beach (as we've been to hundreds before), but it just blows our minds. Its beauty almost literally blows the clothes from our bodies. Those are the days when it's all worth it again. When we remember why we are travellers, nomads, people who search for amazing places and get all excited when we finally find them.
How Mpenjati become South Africa's first official nude beach
The beach we're talking about is Mpenjati beach, located in a nature reserve about an hour and a half south of the city of Durban in South Africa's KwaZulu-Natal province. Pretty much every large coastal city in South Africa has its own nude beach. Durban has Mpenjati, East London has Freedom Beach, there's Secrets Beach at Port Elizabeth, and Sandy Bay in Cape Town. All of them are unofficial nude beaches though. Places where naturists get together and claim their own piece of sand and ocean, but unrecognised by the public or the authorities.
At a certain point, the South African Naturist Association (
SANNA
) decided to make a move and started taking steps towards making Mpenjati the first official nude beach in South Africa. It would be a huge step forward for naturism in the country and it was taken very seriously. There was lobbying, there were meetings, and eventually, by the end of 2014, everyone agreed that these 500 meters of the 3000 kilometres of South African coastline would officially become naturist-friendly.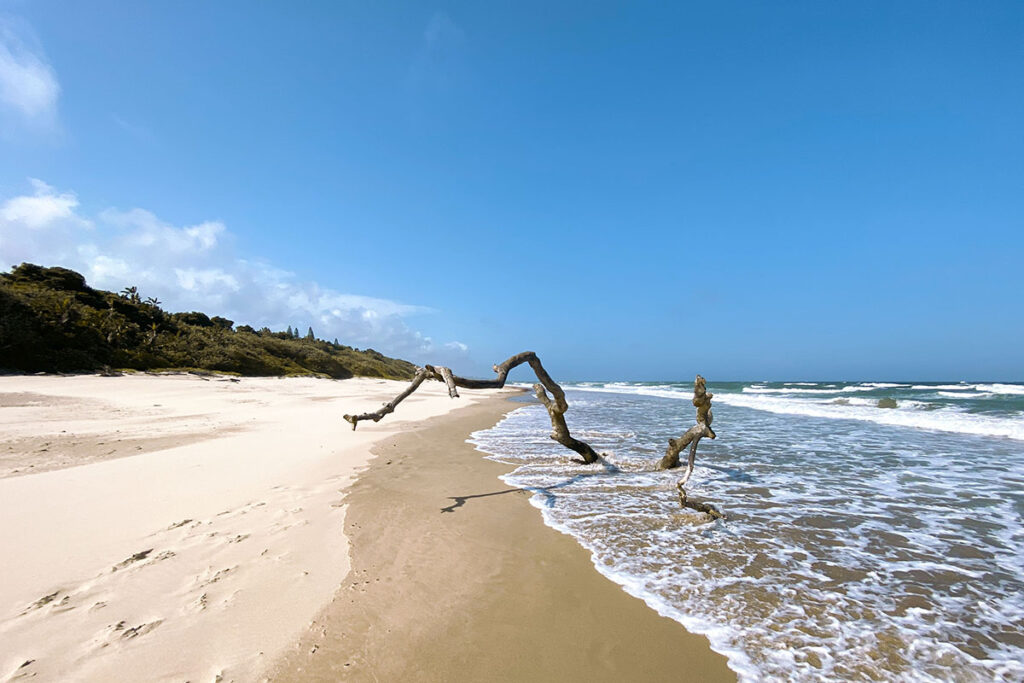 But it didn't last for long
South Africa is the kind of country where different movements keep trying to use their influence to prove or improve their power. Naked people had been seen on Mpenjati beach for decades and the locals really could not care anymore. But the church did. A number of pastors filed a request to revoke the decision to make Mpenjati an official nude beach and unfortunately, they succeeded.
After just a few months, Mpenjati was not an official nude beach anymore. On a local level, not much has changed though. Naturists have been coming here for long and this decision did not stop them from going there again. When we visited Mpenjati nude beach on a sunny Saturday morning, there were plenty of local naturists to be found. Local naturists… And that's where the difference is.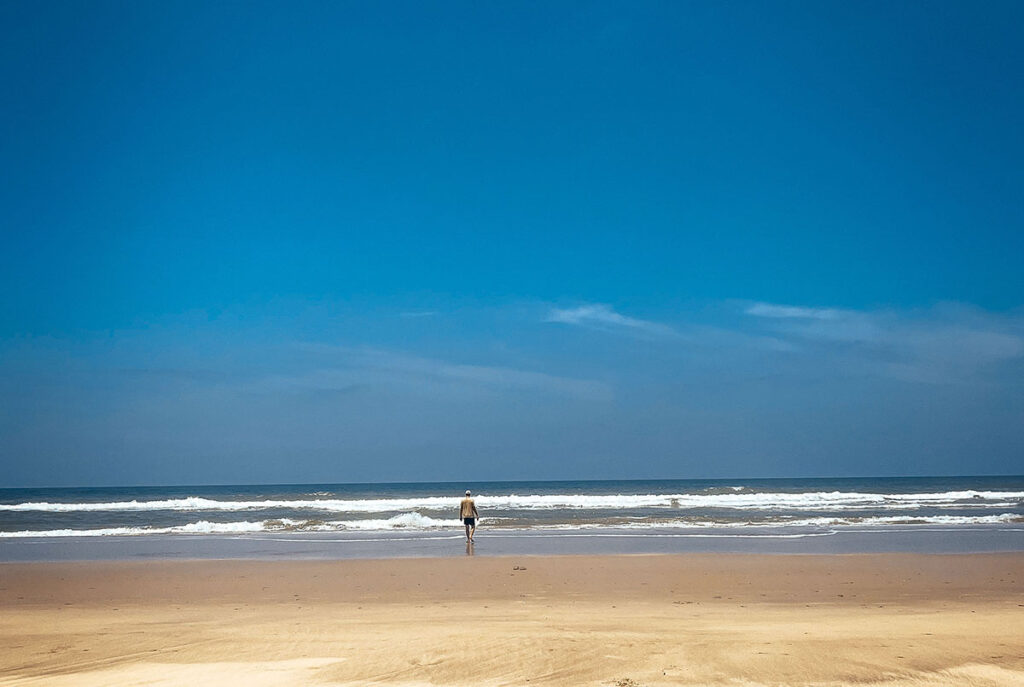 The importance of official nude beaches
We've been to many unofficial nude beaches before. We enjoy doing the online research, we enjoy arriving at the beach and looking behind rocks and bushes to find the occasional naturist, and we enjoy reporting about those places on this website. But this is us. This is what we do. Most international naturist tourists don't want to go through that hassle, they just want to get to a nude beach and have a great naked time. Knowing that they are allowed to be naked there by law.
It's really hard to overestimate the economic potential that a beach like Mpenjati has. First of all, nude beaches in the southern hemisphere (that get excellent summer weather when the northern hemisphere naturists are covered in snow) are few and far in between. When international naturists come, they eat in local restaurants and sleep in local hotels. You don't need to be a rocket scientist to understand the economic advantage for the small surrounding towns.
Something like this is also super important for the local naturist federation. The first beach is the most difficult to get. Once there is a precedent, it becomes much easier to also make the other nude beaches official and eventually create a growth in national naturism as well as put South Africa on the map as an international naturist destination.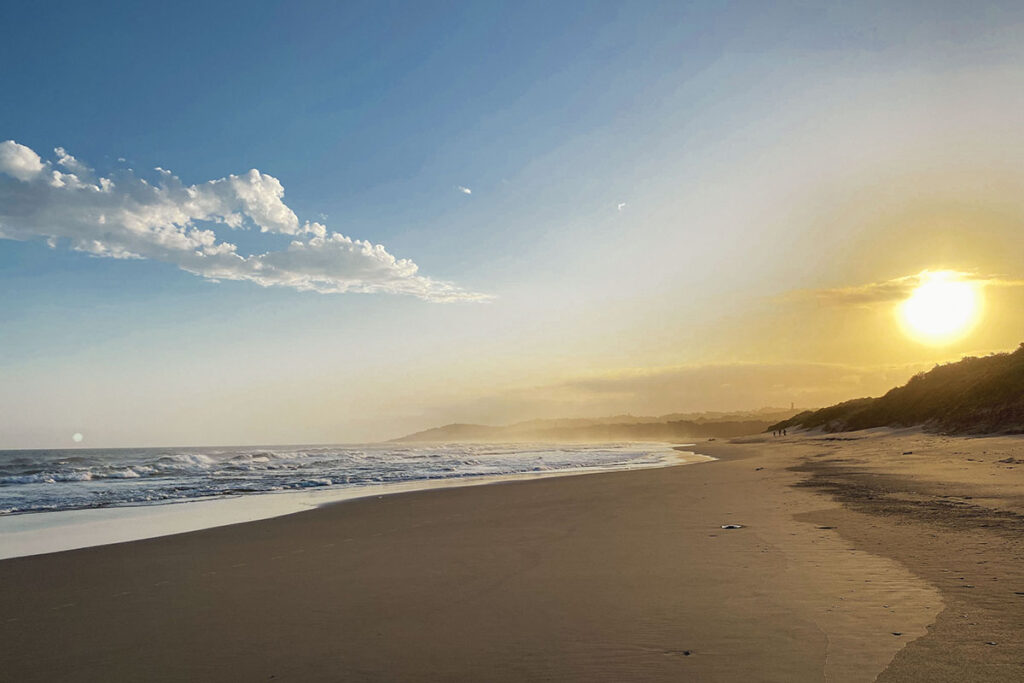 Where did it go wrong?
We don't know enough about South African culture to make a decent estimate of what should have been done differently. For us, West Europeans, it's almost impossible to imagine that the church has the power to revoke a decision of such economic potential. But this is not Europe. Maybe the naturist federation shouldn't have made such a big fuss about it. When newspapers are involved, people get annoyed, so maybe they should have kept this decision on a lower level. We honestly don't know.
What we do know, is that this was probably not the choice of the people. A number of textiles passed by when we were sitting naked on Mpenjati beach, not a single one looked shocked or surprised. A couple of days later, we were on a textile beach somewhat 200 kilometres to the west called Port St. Johns and noticed several local people change into bathing suits without doing to "towel dance". Obviously, these people did not make a big deal about nudity, and we can't imagine that they would have such a problem with a nude beach.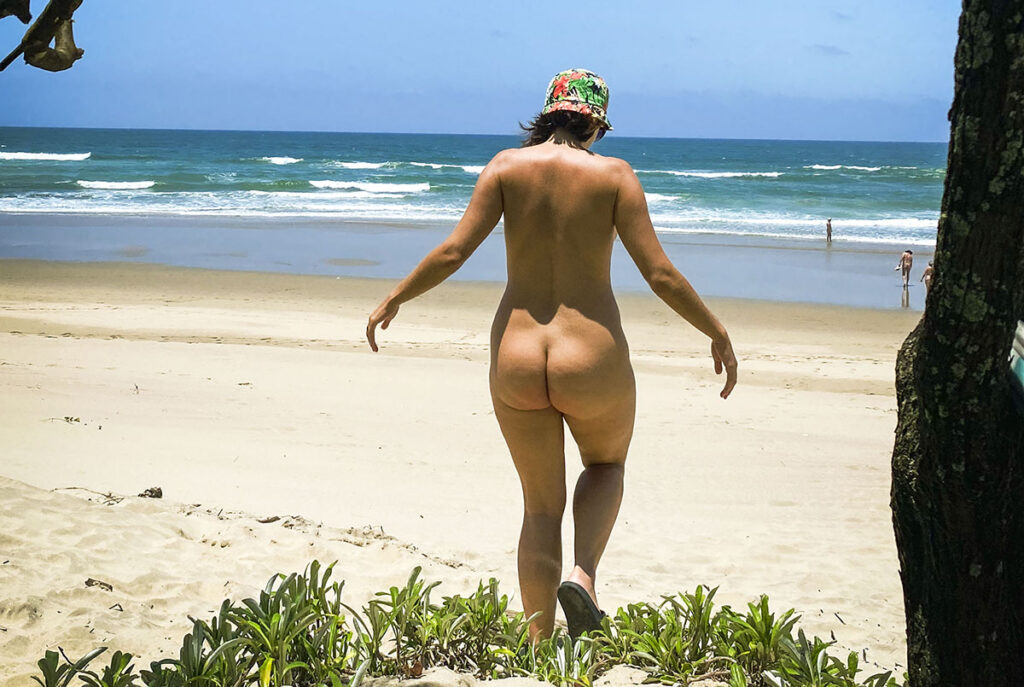 Should you go to Mpenjati?
The good news is that except that there's no nude beach sign, you won't really notice that this is not an official nude beach. We had agreed with local friends to go on a Saturday, but we were already in the area on Thursday and there was no way that we will waste a sunny Thursday afternoon at a textile beach when we have a nude beach at our disposal. So we already went to have a look. We were there all alone. We got naked, we sunbathed, we refreshed in the ocean (note that we did not swim, the South African coast is shark territory and we've seen every Jaws movie), and we had a great time.
When we visited again with our friends on Saturday, there were quite some other naturists. Given the size of this beach, everyone had lots of own space to relax, but the social atmosphere was similar to many other nude beaches we've visited before. Naturists are a friendly and social species, no matter if you're in Europe, Africa, or anywhere else in the world.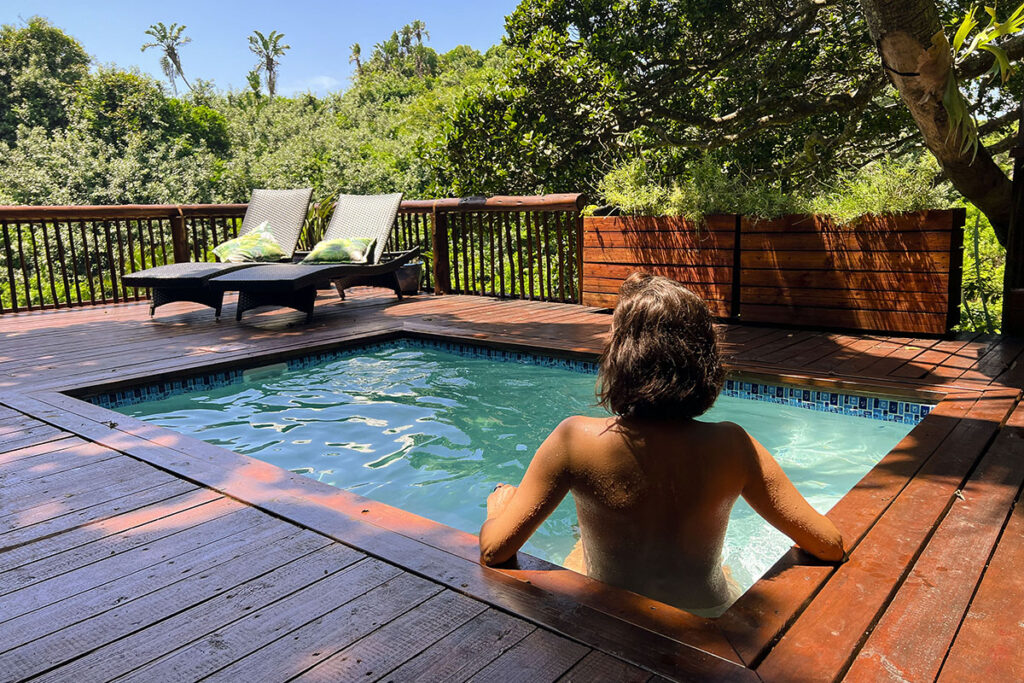 How to get to Mpenjati
Mpenjati nude beach is located at the eastern side of the mouth of the Mpenjati river in the town of Trafalgar. The way to get there is to take the R61 coastal road to the west side of the river and park at the Mpenjati Nature Reserve parking. The cost of the parking is about 15 or 20 rand (1 euro). From there you can just walk the beach to the other side of the river.
If you want to stay in the area, we stayed at
Kingfisher Resort
, which is not naturist but has very private glamping tents so you can easily be naked in and around your tent. Another option is
Palm Beach chalets
in Port Edward, about 20 minutes from the beach. The owners are naturist friendly, so you can check for the options. Other than that, there are plenty of
accommodations to be found in town
.
---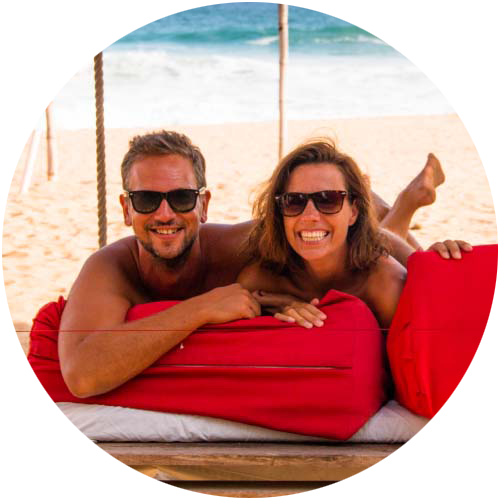 Support Naked Wanderings
Do you like what we do for naturism and naturists? Did we make you laugh or cry? Did we help you find the information you were looking for? Then definitely join our Patreon community!
---