Meanwhile, we've visited the Mexican nudist destination Zipolite twice. Once back in 2018 at the end of the high season and again in 2020 for the famous
Zipolite Nudist Festival
. In total, we have spent more than two months in this little nude beach village, stayed at several of the hotels, had lunch and dinner at many of the town's restaurants and had plenty of beers and cocktails in
Zipolite's beach bars
.
For us, Zipolite is the kind of place that we would like to keep a secret. Our little piece of paradise. But on the other hand, we like it so much that we just want everyone to know about it and have an equally great time as ourselves. To make sure that also you get the best from Zipolite, we'll give you an overview of where to stay and our favorite bars and restaurants.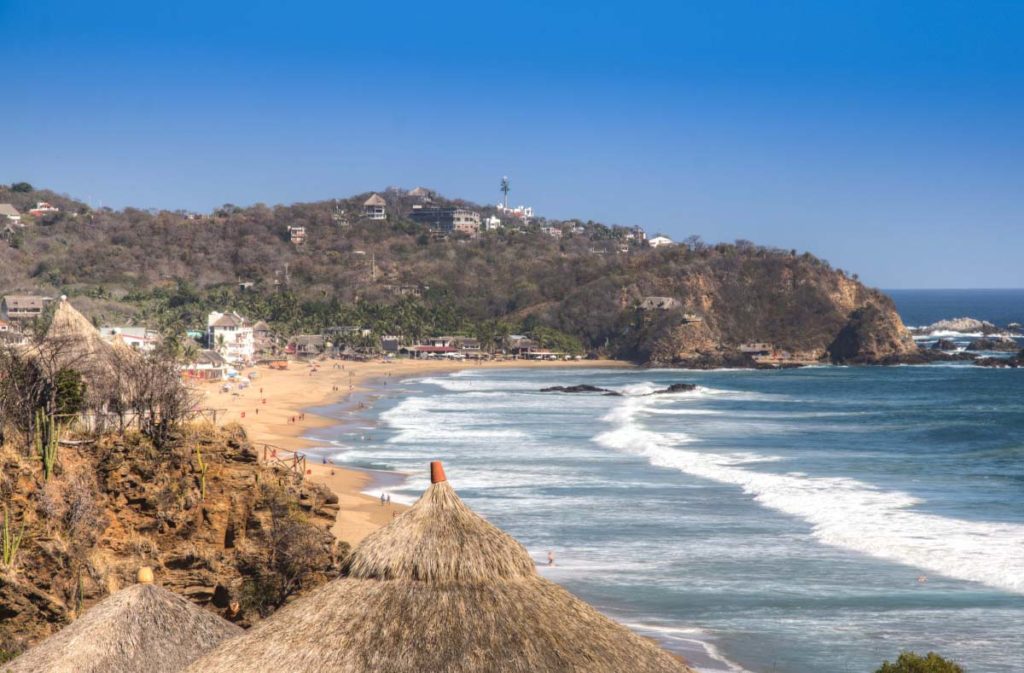 Hotels in Zipolite
Given the small size of Zipolite, the town does have an abundance of accommodation options. Most of the hotels and guesthouses can be booked upfront via
Booking.com
or
Airbnb
, but several places stick to the old-school "walk-in"-system. Most of the time, you can just arrive in town and find yourself a place to stay. If you're not too picky of course. During public holidays and the
Nudist Festival
or if you want to make sure to end up in a clothing-optional hotel, it is highly recommended to book a place upfront.
The majority of the hotels in Zipolite are not clothing-optional. Since this is a nudist travel blog, we're not going to mention those. What follows is a list of the hotels where you shouldn't worry about what to wear. Or anything at all.
We've divided the hotels into three price categories. Please note that these are the standard prices for the high season (November to April). They might be higher during public holidays or the Nudist Festival.
$ = less than $30 USD per night
$$ = $30 – $70 USD per night
$$$ = $70 – $120 USD per night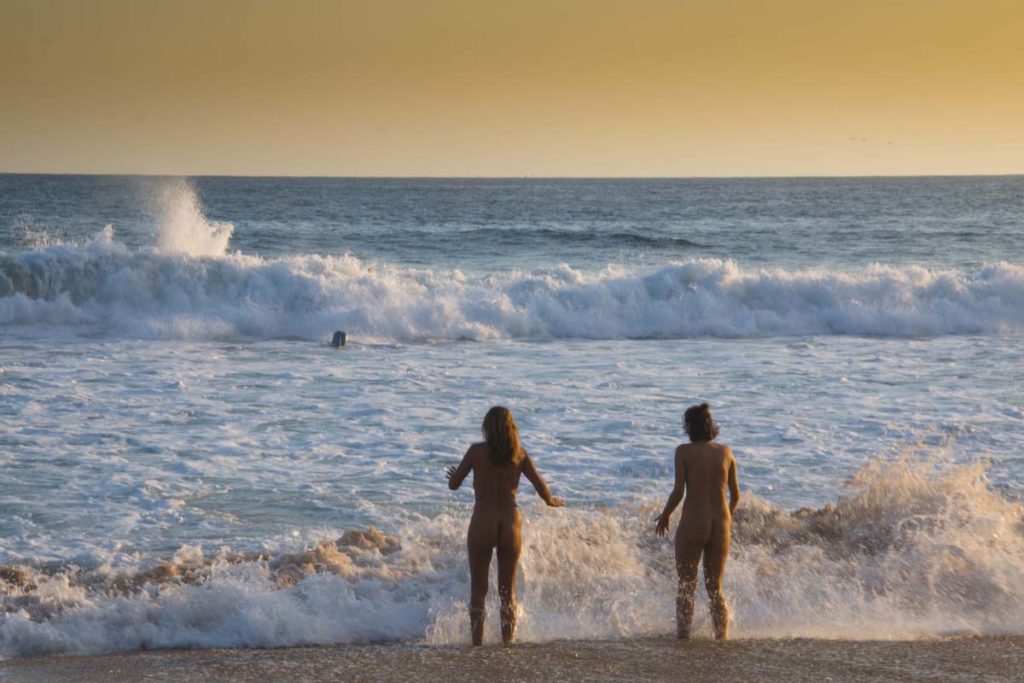 On the beach
Hotel Nude
is the most famous clothing optional hotel in Zipolite. It was the first hotel in town that decided to cater to the nude traveler and is still one of the most popular options. Hotel Nude is located at the western end of the nude beach, where most of the nudists like to hang out. The hotel has its own swimming pool. Most shops and restaurants are only a short walk away.
Hotel Buda Mar is one of the younger clothing-optional hotels in town but is quickly growing in popularity. It is located near the center of the nude beach, just a short walk away from the main street and most shops and restaurants. Hotel Buda Mar has its own swimming pool.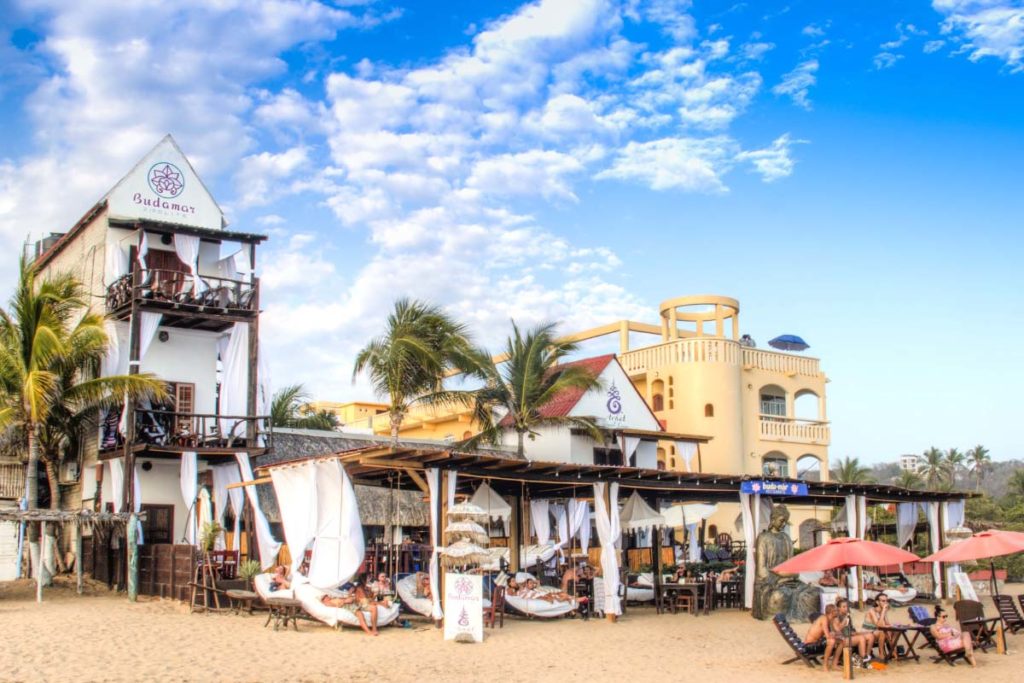 Two-star hotel Neptuno is one of the cheaper clothing-optional beach-side hotels. It is located at the eastern (and quieter) side of the nude beach, at about a 10-minute walk from the main street.
Club Demetria guesthouse, located near the center of the nude beach, is a popular choice among the gay community. The hotel is located at about a 5-minute walk from the main street.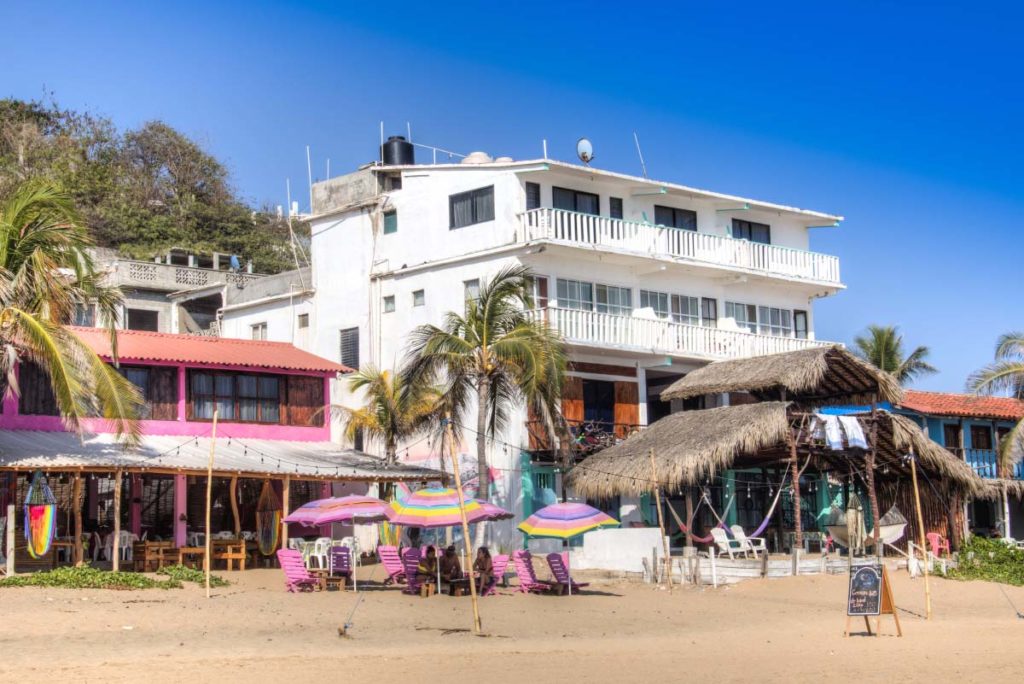 La Habana ($)
La Habana is definitely one of the cheapest options in town and tends to attract a large backpacker audience. The hostel has several basic beachside bungalows and camping space right on the nude beach. The main street is about a 5-minute walk away.
Another good option for the budget-minded nudist is the Lyoban Hostal at the eastern end of the nude beach. The walk to the main street shouldn't be much more than 15 minutes.
TIP: During high season, the whole beach has a nice atmosphere with lots of bars and restaurants. In shoulder seasons and low season, most of the action is concentrated in the central/western part of the beach (close to the main street), making the eastern part look a bit desolated. Previous visitors have mentioned that they didn't always feel 100% comfortable on the east side of the beach.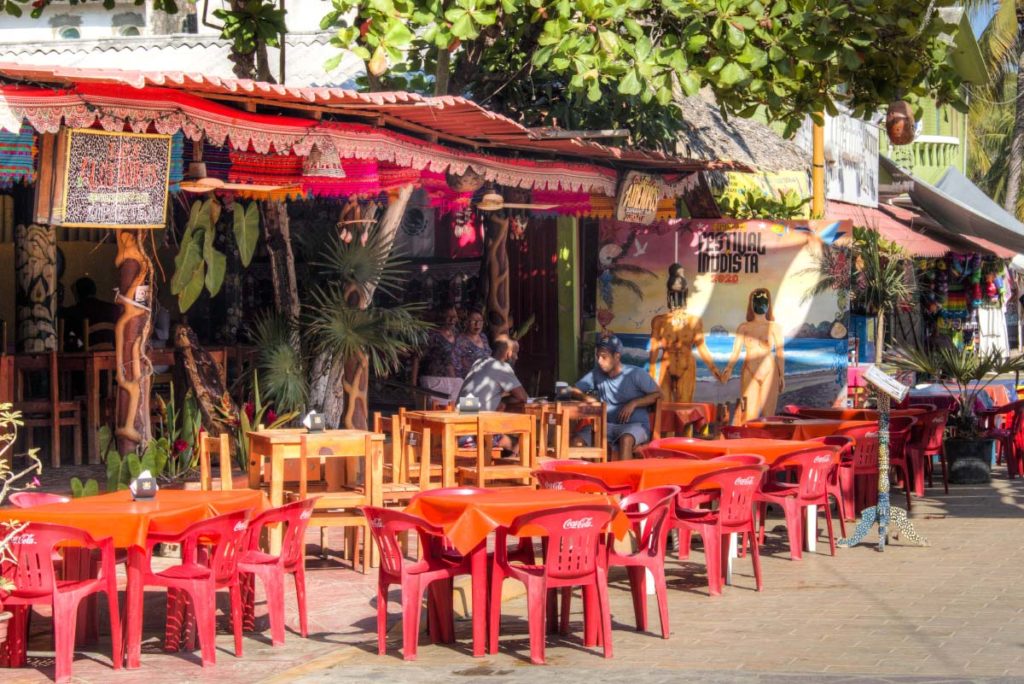 Within walking distance from the nude beach
Villa Aikia provides its guests with luxury suites, a swimming pool, and a restaurant. The bohemian vibe at the hotel relates very much to the atmosphere of Zipolite town. Villa Aikia is located at about a 15-minute walk to the nude beach and downtown. Coming back might take longer because it's uphill.
Heven has 6 fully furnished apartments and two suites, giving the place the looks of a villa rather than a hotel. From Heven you get excellent views of both Zipolite beach and the much smaller bay Playa Camaron. The walk to the nude beach takes about 10 minutes, the walk back a bit longer as it is uphill.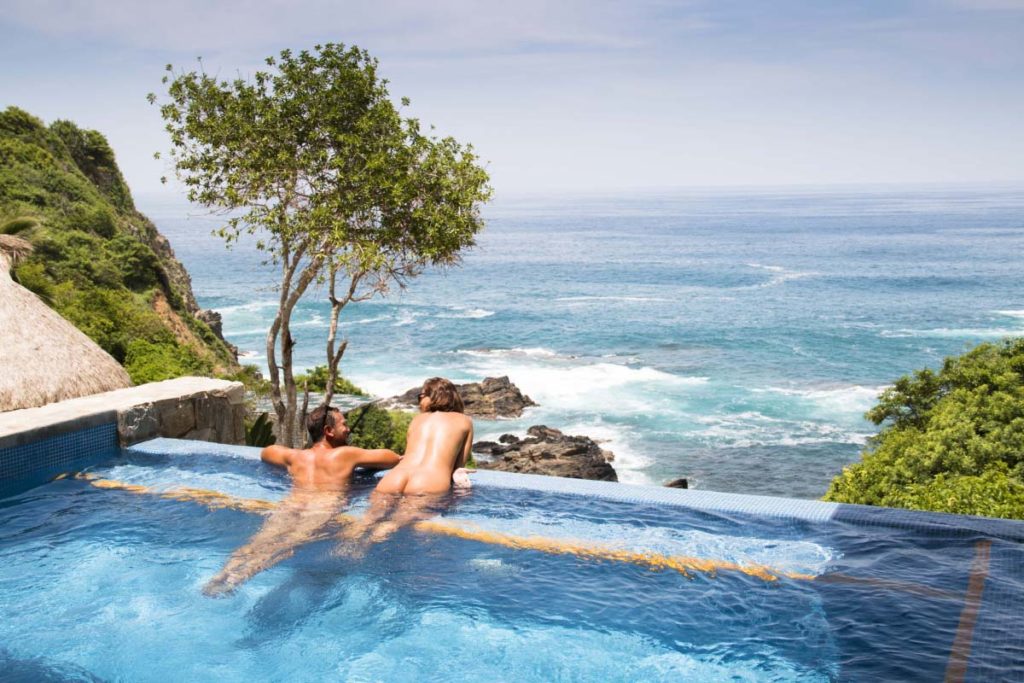 A Canadian owned guesthouse that is proud of its Canadian level of comfort.
Casablanca Guesthouse
has 4 self-catered studios with terrace and ocean view. There are several communal spots to relax as well as an infinity pool. The walk from Casablanca to the nude beach and downtown takes about 15 minutes. Coming back might take longer because it's uphill. Scooters are available for rent.
The newest kid in town is still being built at the time of writing but will provide a unique concept in Zipolite by the end of 2020. Unlike the name suggests, CAMP is not a campground. The focus of CAMP will be on creating a community. The resort will have a swimming pool and sauna and several communal spaces that can be used for art and expression. CAMP will mostly focus on attracting groups for creative residencies but will also receive individual visitors. The walk to the nude beach is about 5 minutes. At the time of writing, the prices of CAMP have not yet been published.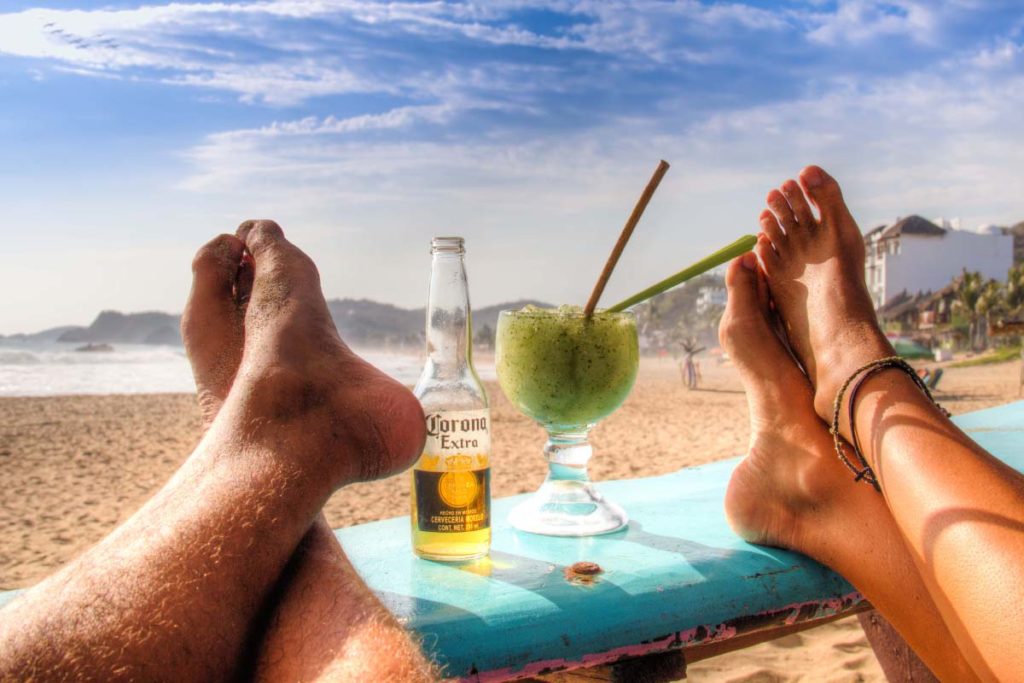 Where to eat and drink in Zipolite
Zipolite has an abundance of bars and restaurants. Also, most of the hotels on the beach have their own restaurant. This blog post would become incredibly long if we had to mention every single one of them, so we will limit this by our personal preferred places. If we happen to miss your favorite bar or restaurant, do let us know about it in the comments section!
Important to mention is that the large majority of bars and restaurants in Zipolite don't allow nudity. Even most of the places on the nude beach. Yet, there are some interesting exceptions.
On the nude beach
This is one of the most high-class (non-nudist) hotels on Zipolite beach and also its restaurant provides classy food and more than classy prices. El Alquimista is probably the most expensive restaurant in town but the setting is worth paying for. Especially in the evenings when the candles come out, it could hardly get more romantic. Nudity not allowed.
The restaurant of Hotel Nude is quite expensive for what you get, but for us, this is one of our most favorite places to hang out and have some beers. There comfortable beds and chairs make you stay longer than initially expected and as a customer, you can also have a skinny dip in the pool. This is also one of the few nude-friendly restaurants.
A Nice Place On The Beach is exactly what its name suggests. At a great location on the nude beach, you can enjoy very reasonably priced drinks and snacks. We are particular fans of their ceviche. The bar is open until late in the evening, but the restaurant is only open for breakfast and lunch. Nudity not allowed.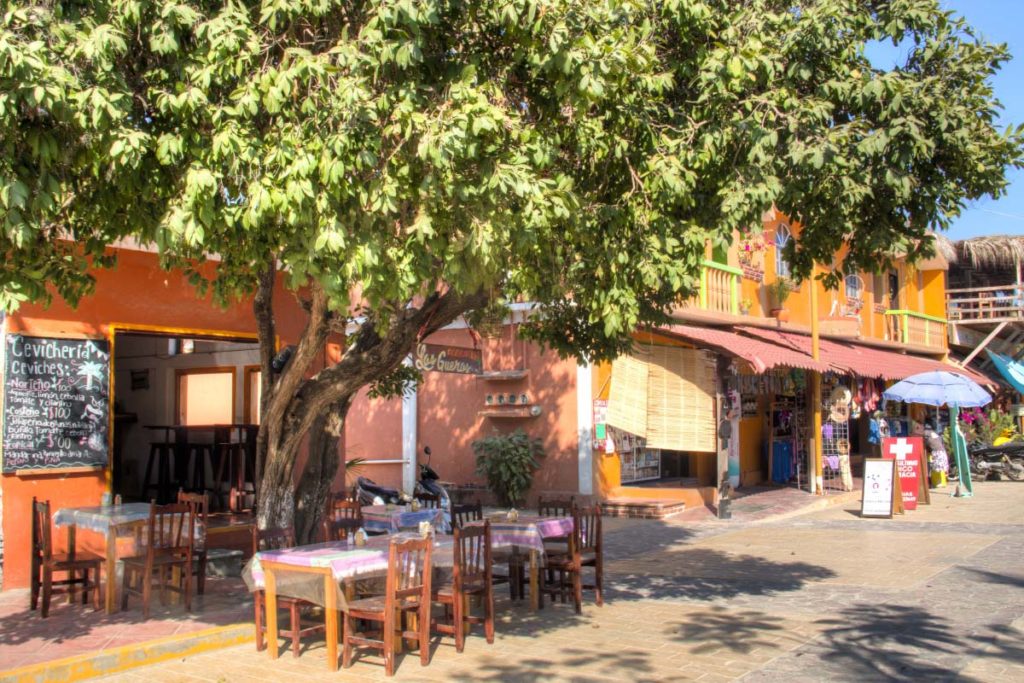 While the bar of Hotel Nude tends to have more of a party atmosphere, Buda Mar is where you come to relax or read a book. Their outside beds are very comfortable and will probably invite you for an afternoon nap. The food prices at Buda Mar are quite high but well worth it. Buda Mar is nude friendly.
Sal y Pimienta is one of the most popular restaurants for dinner on the beach. Their prices are very affordable and the burgers are absolutely delicious. Also, the seafood options are well worth a try. Normally nudity is not allowed at Sal y Pimienta, but chances are low that you'll be chased away if you're not wearing any clothes.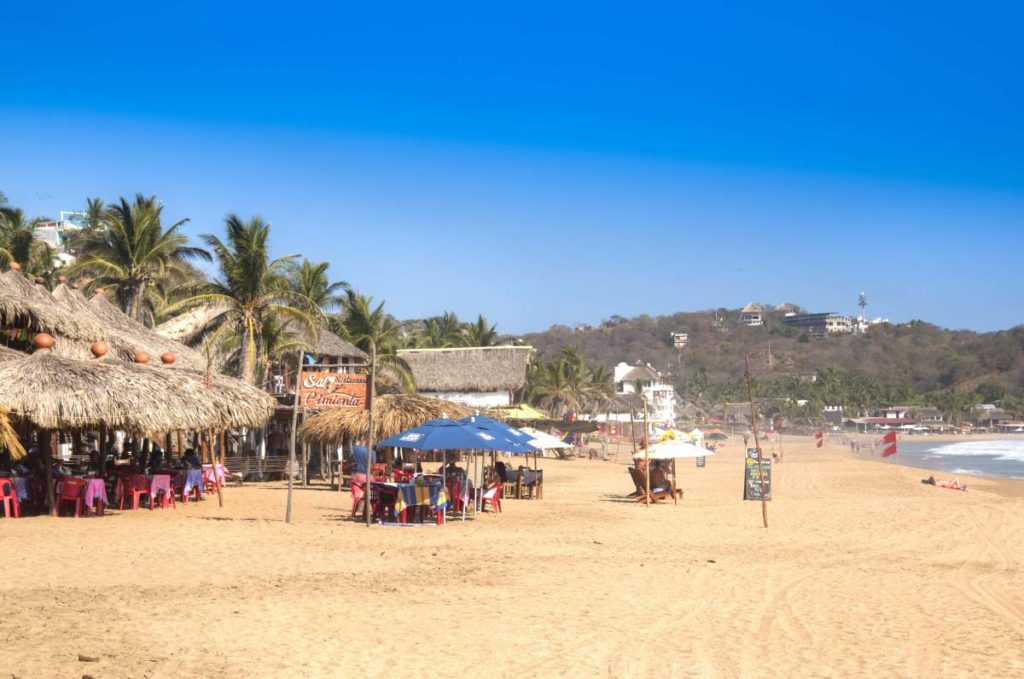 We never had lunch or dinner at Lolaslino, but like the place very much to hang out with a drink. Being at the far eastern tip of the nude beach, you get excellent views of the whole beach and are at the perfect spot to watch the sunset. Drinks at Lolaslino are cheap and there are often happy hour deals. Nudity is not allowed.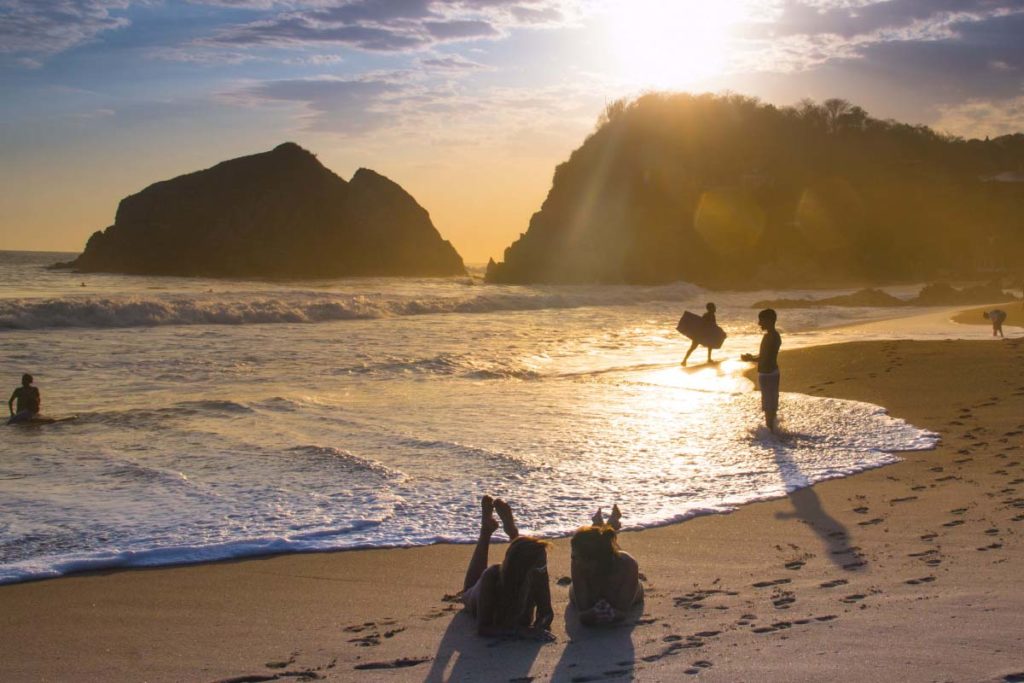 Near the nude beach
Oralé is often said to be Zipolite's best breakfast place and definitely the town's most popular one. The menu has a mix of international options (like tuna sandwiches) as well as local delicacies with a foreign touch. You'll never find a veggie omelet with so many vegetables anywhere else in Mexico. Oralé is breakfast only, nudity is not allowed.
If we're not at Oralé in the morning, we can definitely be found at Le Castelet. This breakfast place serves a variety of Mexican specialties, eggs in many different ways and a range of sweet and salty crepes. They also have some of the most delicious coffee in town. Nudity is not allowed.
La Providencia is known as Zipolite's most high-class restaurants. Its menu could easily be stolen from a restaurant in Paris. The prices at La Providencia are higher than average in Zipo, but the food quality is well worth it. Due to its popularity, it's required to make a reservation at La Providencia. Nudity is not allowed.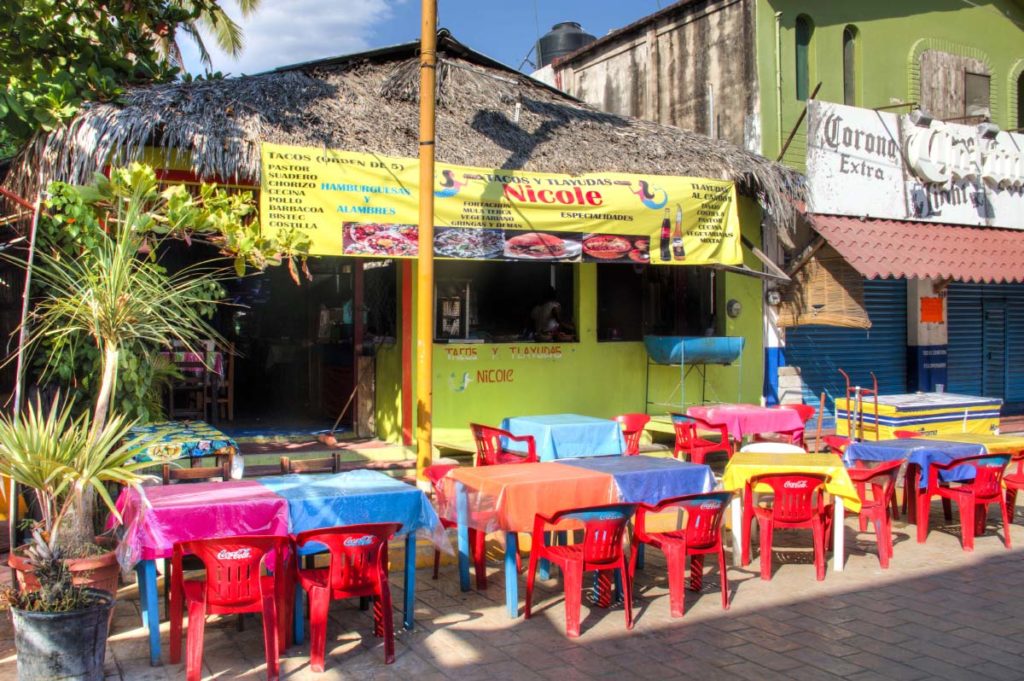 If price is a deciding factor in your choice of restaurant, nothing will beat Nicole's taco place. Even the beers are cheaper than anywhere else in town. For only a couple of dollars, you'll get 5 tacos or a large tlayuda (a typical dish from Oaxaca). Nicole is great for an evening snack, although we often just went there for dinner as well. Nudity is not allowed.
In this small Italian restaurant, we've had more dinners than everywhere else in town. They sell excellent food for very reasonable prices. We are specifically big fans of their fish in white wine sauce, but also their pastas are delicious. El Mare quickly fills up during the high season and it's not possible to make a reservation. We had to wait at the bar for a table to become free quite often, but rarely more than half an hour. And it's well worth the wait. Nudity is not allowed.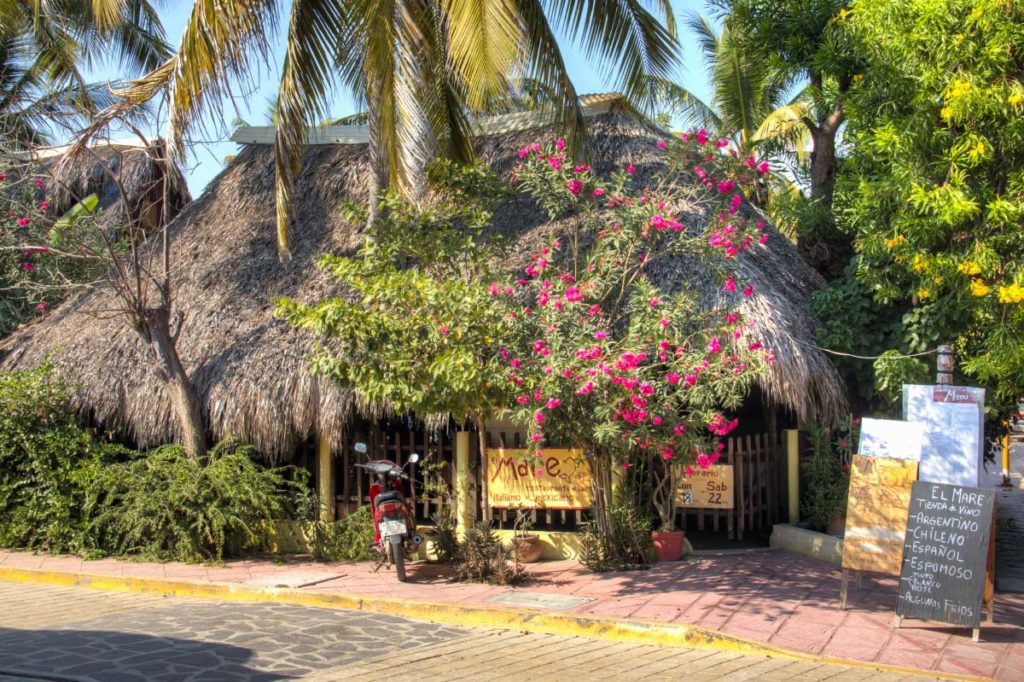 An even better place to wait for a table at El Mare is right across the street, in the tapas bar Chipirin. With each glass of wine, you'll get a couple of small tapas, but their menu has plenty of other options to fill a large cheese and meat plate. Nudity is not allowed.
Another place we frequent often for many different reasons. First of all, the pizzas and vegetarian casserole dishes are absolutely delicious. Then there are the very reasonably priced bottles of wine. The cozy bohemian atmosphere of the garden by night. And most of all, this is the only restaurant off the beach where you are allowed to dine without clothes.
Naked Wanderings' Ultimate Guide for Nudism in Mexico ebook

Are you looking for great nudist and clothing-optional resorts in Mexico?
Are you looking for the best tips for a nude vacation in Mexico?
Then our ebook will be the perfect resource for you!

Learn More
Need help with planning your trip? Check out our Resources Page for an overview of the best companies we use during our travels
---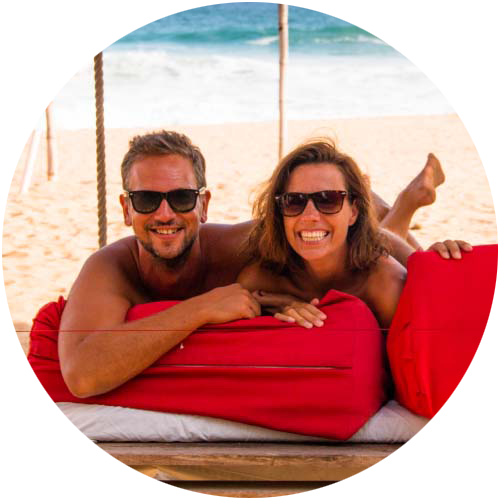 Support Naked Wanderings
Do you like what we do for naturism and naturists? Did we make you laugh or cry? Did we help you find the information you were looking for? Then definitely join our Patreon community!
---