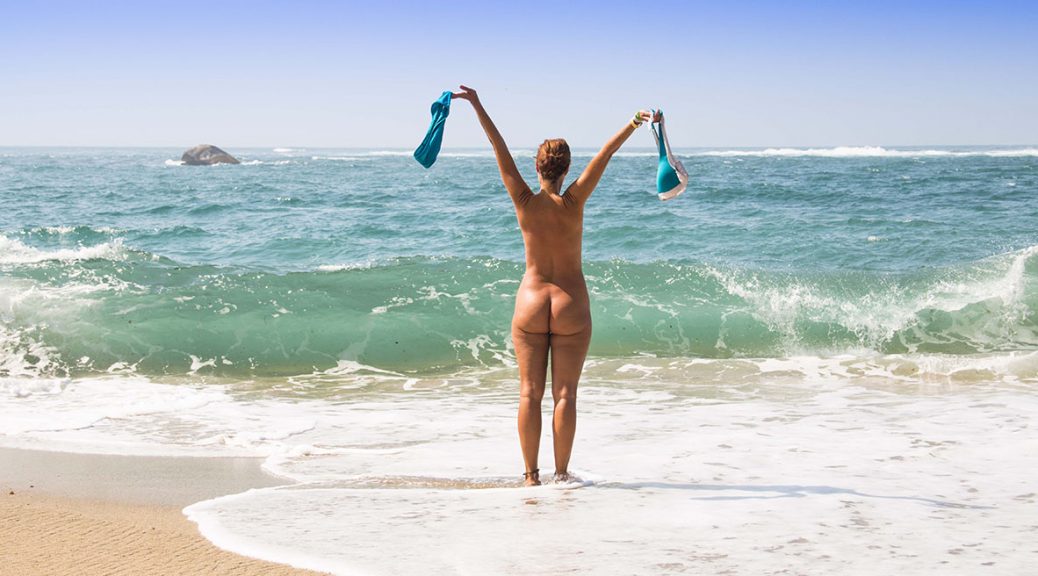 The Very Best Nude Beach Packing List
The Very Best Nude Beach Packing List
This post was last Updated on August 26, 2020
Summer is here, the temperatures are going up and the sun is out.
You know what time it is.
All winter you have been waiting for this moment.
It's time to hit the nude beach! Finally!
Maybe you're still checking out the
best travel deals
, maybe you have just been browsing through one of our
Ultimate Naturist Destination Guides
or maybe you've already decided on this year's
nude vacation spot
. But there's one thing you better consider before placing your naked butt on one of the world's best nude beaches: What should you bring along?
Luckily we can help you. After years of experience, we're pretty sure that we have been able to put together the very best nude beach packing list in the world. No need anymore to create your own list and then figure out that you forgot something. Too late of course.
So goodbye packing stress!
You're welcome.
Note: This blog post contains affiliate links. By using them you're not paying a single cent, penny or rupee more, but you do help to sponsor Naked Wanderings.
Nude Beach Basics
A Beach Bag
Remember, you're going to a nude beach. The comfort of pockets will unfortunately be something you are not taking advantage of. Believe us, at the nude beach your beach bag will be your best friend. Except maybe for your partner, but is he or she going to carry all your stuff? We believe not.
A towel
It's common
nudist etiquette
to always put a piece of fabric between your nude self and whatever you decide to sit on. Then again, the beach is just sand and few others will care if you decide not to sit on a towel. Chances are though that sooner or later that sand will be going to places where you'd wish it didn't. That's what your towel is for. You can both use it to sit on or to discretely wipe some sand away. You could even use it to dry yourself, but we strongly recommend the joy of wind-drying instead.
Sunscreen
Maybe you're one of those people who never get sunburned or your skin is already turning red by just thinking of the sun. It doesn't really matter. Direct sunlight in the heat of the afternoon isn't healthy for any type of skin. The best way to avoid skin cancer is to stay away from the sunlight, but then how will you get that equal tan? A decent sunscreen is the answer.
Make sure to give extra attention to your body parts which don't often see the sun. You'll thank us in the evening when you can still comfortably sit down.
Lip balm
The combination of sun and an agreeable salty wind might be the best feeling in the world (we strongly agree with that) but can also be a serious attack on your lips. Avoid feeling the disgusting urge to also put sunscreen on your mouth and bring lip balm instead.
Hand sanitizer
Remember when we said that it's actually okay to place your naked butt directly on the sand? Well, that's the same sand you'll be touching later on. Together with the salt of the ocean, the mayonnaise on your sandwich, some spilled beer, a stray dog, and whatever else you'll decide to touch during your day on the beach. We don't really want to know. Just make sure to clean your hands before you shake ours.
Nude Beach Clothes (really?)
A coverup
We must be kidding, right? You've come all the way to the nude beach and now we're telling you to cover up? Not exactly. On the nude beach, you can be naked as much as you want, but you also have to get there. Nude beaches have the tendency to be a bit secluded and are most of the time not right next to a highway or a parking lot. Some walking through textile zones is often required.
Many nudists don't like the hustle of getting undressed at the nude beach. For men it's simple, just wear shorts and nothing else. For women, a Coverup is a perfect solution. You can be nude underneath and it only takes a second to take off.
Water shoes
Some are lucky enough to visit one of those wonderful white sand nude beaches, but in many cases, for example on nude beaches in
Greece
or
Croatia
, there will often be pebbles or rocks. Once in the water, walking on rocks can be extremely difficult and often painful. Avoid looking like you're dancing some kind of water-Macarena and use water shoes instead. Even if you end up on a postcard beach, there still might be sea urchins or jellyfish from which you'd also like to protect your feet.
Beach hat
Although it appears to be a
myth that the head is the body's radiator
, it's still never a bad idea to cover it when you're sitting directly in the sun. Chances of a sunstroke will be significantly lower and if you're a bit fashion-minded, this is the only piece of clothing you're allowed to wear.
Sunglasses
Protection of your head may be important but this specific part is even more so. Direct UV rays might result in cataracts and the blue light from the solar spectrum increases your risk of macular degeneration. Sounds pretty scary, doesn't it? Protect your eyes and use decent sunglasses.
And you can actually stare at nude people without them noticing, right? WRONG! That's certainly not their purpose and we find people with those reflecting sunglasses always a bit suspicious. Pick yours carefully.
Nude Beach Comfort
A water bottle
"Don't forget to drink a lot when you're in the sun", our mothers used to say. In fact, they still say that and we don't think that they're talking about beer. When you're at the nude beach, avoid dehydration, and listen to our mothers. If you're a bit concerned about the environment, it's much better to take a reusable water bottle. In fact, if you're a bit concerned about your wallet it's also better because, in many countries, bars and restaurants are obliged to give you free water.
Beach umbrella
We've talked about sunscreen and hats and sunglasses and all the nasty things the sun can do to you. The very best way to avoid all that is to stay in the shade. You could hope for an empty spot under a palm tree or you could limit the risk by bringing your own shade. In the form of an umbrella. This also limits the chances of a coconut landing on your head, by the way.
Beach chair
Sitting butt naked on the beach is not really comfortable, we've talked about that earlier. A beach towel is a good solution but if you want to hit the nude beach like a nude boss you want to bring a beach chair instead. They come in all shapes and sizes but we believe that the regular models are often still the best ones.
Portable cooler
A disadvantage of many nude beaches around the world, except
the ones in Brazil
, is that they often don't have their own bar or restaurant. We all know the drill: Getting dressed, run to the bar, buy a beer, run back, get undressed. Repeating every half hour until we're sick of running and decide to drink warm beer instead. Which we definitely regret later on. If there does happen to be a bar or restaurant, these often do their very best to give you the least quality for the most of your money. So be smart and bring your own food and drinks.
Reusable cutlery set
We used to forget this every single time. Before going to the beach we stop at a store to buy lunch, only to figure out that we'll have to use our fingers to put the tuna salad on our sandwiches. It takes away a lot of the romance, we can tell you that. What's also annoying is that many beach bars will give you plastic cutlery. Then we can't stop thinking that by the end of the day this plastic fork will probably end up in the belly of a sea tortoise. Not really a romantic thought either. Save the planet and bring your own cutlery.
Insulated cups
Until recently we had no idea that these things existed but they are probably the best invention after the
Pizza Scissors
. There we were with our good bottle of white wine in our fancy portable cooler, we would pour two glasses, take a sip, have a quick swim, and find out that we now have glühwein. There were only two options: drink warm wine or drink like we're back in high school. But not anymore, insulated cups brought the solution.
Trash bags
There's a general agreement among nudists: Whatever you bring you either drink, eat or take back home. That's why our beaches are so much nicer than the textile ones. If you don't want your beach bag and everything in it to smell like beer and tuna salad, bring a trash bag to put your trash in so you can keep it away from the rest of your stuff. You can also turn this into a game, "whoever collects the most trash can use the
Pizza Scissors
tonight. A great way to keep your kids and often even your husband busy.
Nude beach fun
Beach games
If your kids (and husband) have been fooled too many times by the trash collecting game, you'll need something else to entertain them. Luckily there are many games available that are perfect for the beach. Paddles, petanque, and corn hole are the most popular, although the latter may be only in
Canada
. Beach games are a great way to enjoy yourself if you're not the type who likes to sunbathe all day. It's good exercise and nude games are just so much better than clothed ones.
(e-)Book
With all the stress in our hurried lives, we rarely get the chance to fully indulge in the adventures of Harry Potter or Hercule Poirot. The beach is the perfect place to catch up on your reading, having a nap or two or five in between chapters. Some prefer an old fashioned book, others like the light weight and unlimited choice of an e-reader. That's up to you.
Waterproof phone pouch
There was a time when everything that even looked like a camera was strictly forbidden at nudist places. With the uprise of the smartphone, those days are gone. Whether this is a good or a bad thing is a discussion we're not going to have right now, but we all know that the chances are very high that you're going to bring your phone. If it's not for taking
selfies
, it might be to check your
Facebook
,
Instagram,
or WhatsApp. Sand and salt are among the worst enemies of all electronics and unexpected waves might ruin your dear phone completely. Don't be a fool, cover your tool! Pun intended.
That's it. There's only one more thing which you should not forget to bring and that's your biggest smile. Have a great time at the nude beach!