These days, you can find a book for pretty much everything you'd like to try. We all know (and often own) the
For Dummies
series, for example. With more than 2 500 titles, they have a guide for almost everything. Wanna learn about the World of Narnia, beach Babies Jigsaw Puzzles, or Zombies? There's a For Dummies Guide for that. Some even have a double "for", like eBay For Canadians For Dummies. But there's no For Dummies Guide that will tell you about visiting a nude beach for the first time.
Okay, how hard can it be? You go to the beach, take off your clothes, and that's it. Right? But if it was just that, why are so many people reluctant to give a nude beach a try? Why are internet forums full of questions about what a visit to a nude beach is like? Why does visiting nude beaches still appear on
bucket lists
?
If you've visited a nude beach before, you'll probably agree that the first time is more than just putting your feet in the sand and stripping down. If you've never visited one before, here are some good tips for you!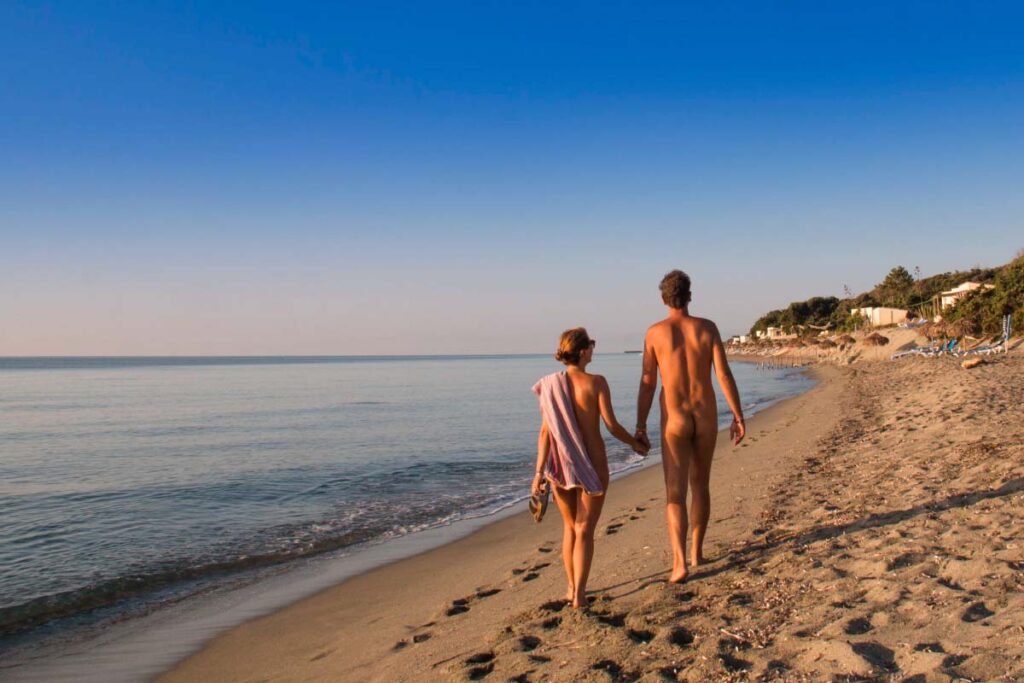 1. It's better to come prepared
Some nude beaches really have it all: A cozy beach bar, showers, toilets, people renting out chairs in the morning and selling ice cream and cold beers in the afternoon, food vendors, souvenir vendors, someone who keeps asking around for a lady called Mary Jane, you know, the whole beach experience. But those nude beaches are rather rare. In most cases, you'll find… ehm… not much more than sand and water.
Beautiful sand and water, no doubt about that, but if you like some comfort, shade, or a cold drink, you better bring it with you. It's also not very common that the local bus drops you off right at the nude beach. In many cases, you're up for a walk before you get there. Hey, it's all part of the experience and you'll be rewarded with a piece of natural paradise. But be prepared.
2. Nude beaches are not always marked
So now you know that you may need to be prepared for a walk, but in which direction? The internet will definitely give you some instructions, or even GPS coordinates. But how can you be sure that you didn't just drop your pants in the wrong part of the beach?
Nude beaches are often indicated with a sign. Depending on which part of the world you chose for your skinny dip, the sign may say "nude beach", "nudist", "naturist", "clothing optional", or "FKK". Sometimes there won't even be words, but an image that indicates that bathing suits are not necessary or appreciated. And sometimes, there's no sign at all. The only indication there are other naked people.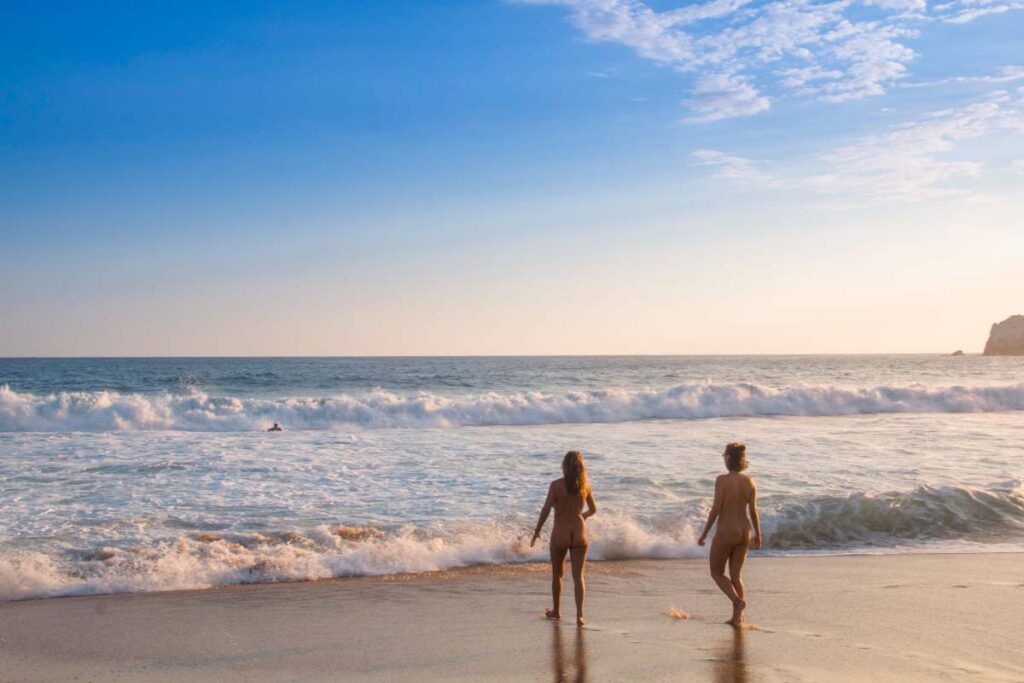 3. It's not a competition
In modern society, it has almost become a habit to rate people on their appearance. Dating apps are the best example of this. On Tinder, how you look determines whether the person on the other end will swipe left or right. It doesn't really matter whether you're the smartest, sweetest, and funniest person in the world. Your looks directly influence your popularity. We can go on and on about this, but that's
another story
.
The thing is, we take this mindset with us. So it's incredibly daunting to get into a situation where we literally can't hide our flaws. A situation like… ehm… a nude beach. But here's the other thing: Everyone has flaws. Everyone has body parts they wish would be different. And once these are all exposed, they just blend in. Nobody really has the biggest this or roundest that. Most importantly, nobody on the nude beach really gives a damn about how you look.
4. It's more mental than physical
As we mentioned in the introduction, the physical aspect of visiting a nude beach isn't all that hard. You don't need to be athletic or have special skills. You don't need a certain age or skin color. You just need to be able to get there and take your clothes off. Then why are we making such a big fuss about it?
The mental step is a bit more difficult to take. For one, throughout your childhood, people you love and care about have been telling you to put clothes on and to hide certain body parts. Clothes have almost become more natural than our own skin. Getting naked among others for the first time might be a very uncomfortable thought. A step out of your comfort zone. Like skydiving or Korean food.
Take it from a couple with lots of nude beach experience, for us, visiting a nude beach is the most comfortable thing in the world. In fact, we find it more comfortable than visiting a clothed beach. It's something you get used to and sometimes we wish that we could experience the thrill of our first-time nude beach visit again.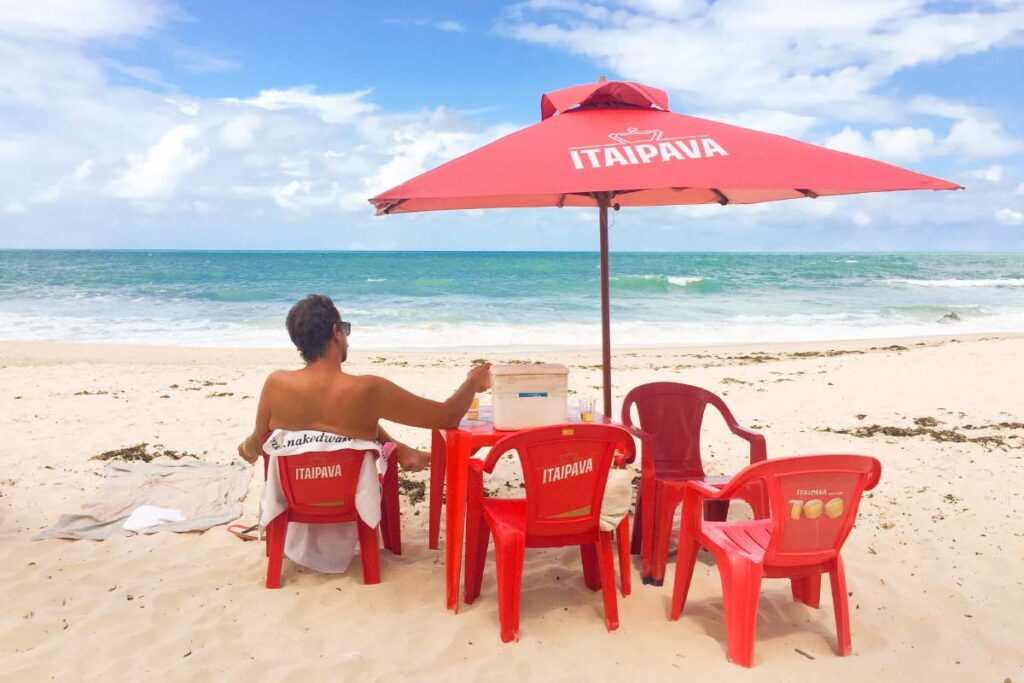 5. Nude beaches are not always nude
If you visit a nude beach, your intention has to be to (eventually) enjoy some naked time. If that's not the case, there are millions of other beaches waiting for you. Unfortunately, not everyone shares this idea. Some just go to nude beaches because they're beautiful, quiet, unpolluted, and full of nice people. We get that, but it's a bit annoying to go to a nude beach and find it full of clothed people. It disturbs a fragile balance.
What can we do about it? Not much. Sometimes, there are local naturist groups who try to inform the visitors that nude beaches are really meant to get naked. But legally, on public beaches, it's not common that people can be forced to undress. So we have to live with that. If you end up on a nude beach full of clothed people, you have two options. Either you walk away and find yourself another nude beach, or you strip down anyway. It's a nude beach after all, and from experience, we know that once we get naked, others often follow.
6. You don't have pockets
Now we're getting there. You found the nude beach, brought all your stuff, and took the mental leap. What's next? Having a stroll of course. You stand up, take your wallet, phone, e-reader, and what other valuables you brought and put them into your pock… wait a minute… Where do you put them?
If there's one thing that's not comfortable about being naked, it's that you don't have pockets. Most nude beach visitors will bring a small bag to put their stuff in when they go for a walk. Or they just ask friendly neighbors to keep an eye on their things.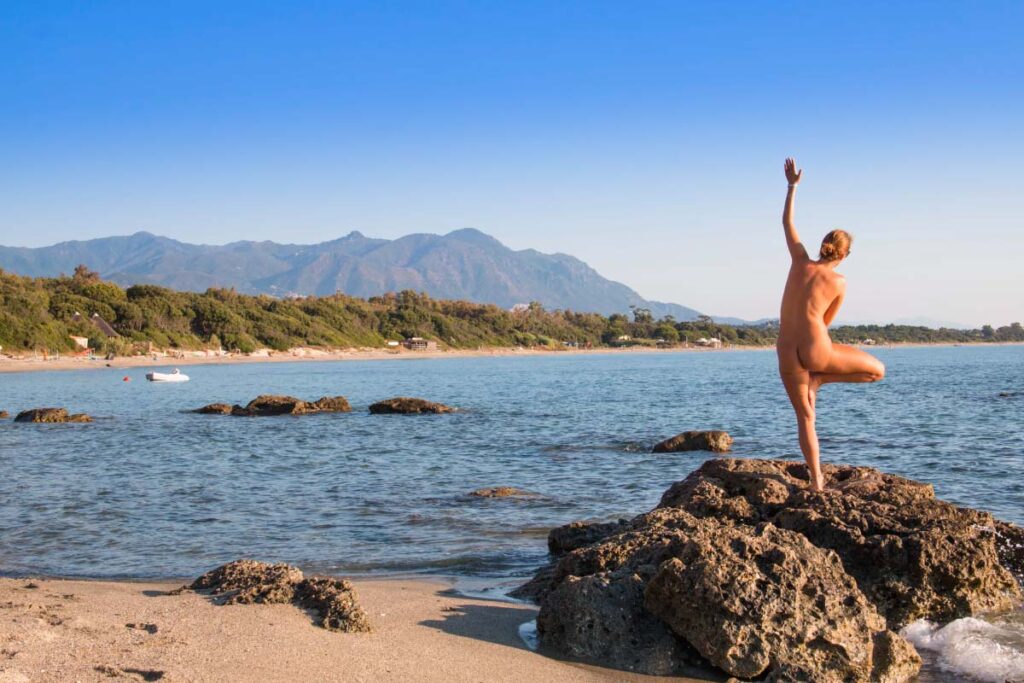 7. Landscape shots are not appreciated
Thanks to digital cameras and large data storage technologies, we take more pictures than ever. We take more pictures in one day than the average family in the sixties took in a lifetime. We document everything we see, our cat, our food, and a million times ourselves. And, of course, we want to take pictures of every new experience.
Starting to take shots of the nude beach and everyone on it is rarely a good idea. Most of the other nude beachgoers will feel nothing for ending up on your phone or Instagram feed. The general idea is that what happens on a nude beach stays on a nude beach. Even though what happens is not much more than naked people chilling, sunbathing, and swimming. If you want to take a selfie, that's fine. But remember the name: self-ie.
8. Some bodyparts are not used to the sun
We mentioned before that people at the nude beach don't care about how others look. That they've all seen so many naked bodies in their lives, that no specific one can stand out. But that's not a hundred percent true. If there's one thing prestigious among nude beach visitors, it's the equal tan. One shade of golden brown from tip to toe.
Not that your pale white butt will be the joke of the day though. In fact, people will recognize that you're a newbie and might give you extra credit if you do something awkward. But you need to keep into account that such brown skin didn't get there in one afternoon. And that your white behind is much more likely to turn tomato-red if you don't take care of it. Sunscreen is your new best friend, trust us.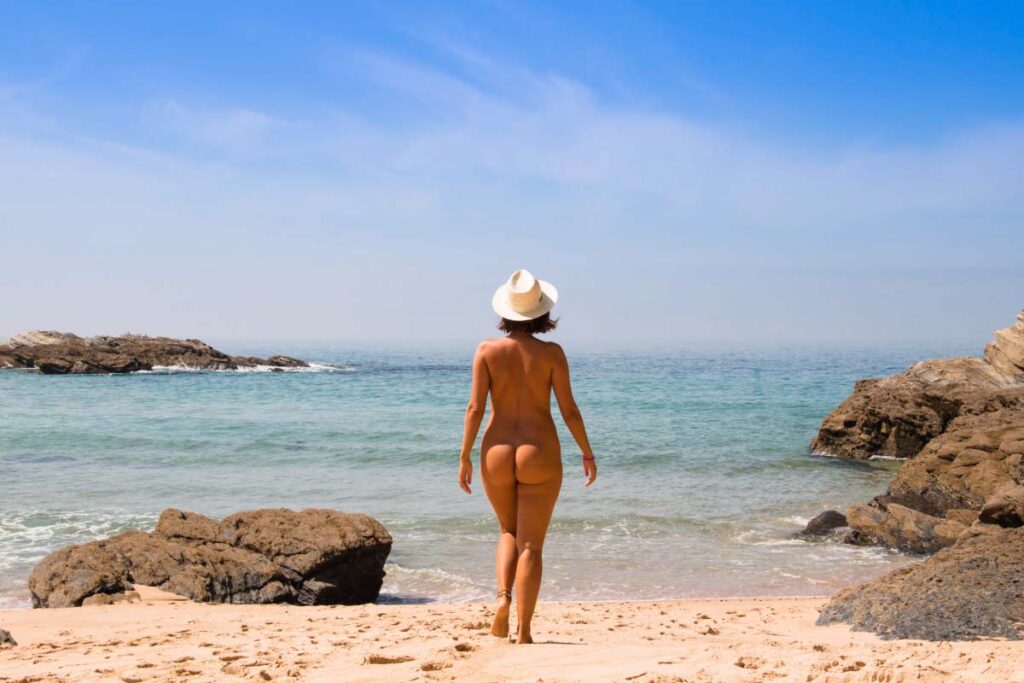 9. Sand goes a long way
Who doesn't dream about sunsets over the ocean, sipping cocktails under a palm tree, and feeling the soft white sand between their toes? Those dreams consistently forget to tell us that sand loves to travel. Soon we'll also find it on our back and in our hair. Days later, it keeps reappearing in the car and the bathroom. Can you guess where we're going with this story?
Personally, we've learned to appreciate rocky beaches. They may not be as idyllic and soft as sandy beaches, but at least they leave us somewhat clean. And most of all, rocks tend to stay at their place. If we do visit a sandy beach, we make sure to keep our beach towel clean and to wash away the sand before we leave.
10. Skinny dipping is the most awesome thing in the world
You may think that all that we've written here is just ridiculous. That we are crazy to expose our naked bodies to strangers (and beach sand), that such a step is too far away from your comfort zone, that you rather just take the easy road and keep your bathing suit on. That's definitely your right and we are not nude beach prophets. We're not telling you that nude is the only way to sunbathe.
But we can tell you one thing though. Nude is the only way to swim. Really, a bathing suit has no purpose at all in the water. It's sticky, it moves into places where even the sand stays away from, and it remains wet forever. Once you've experienced the joy of skinny dipping, there's no way back. Consider this be a tip or a warning.
---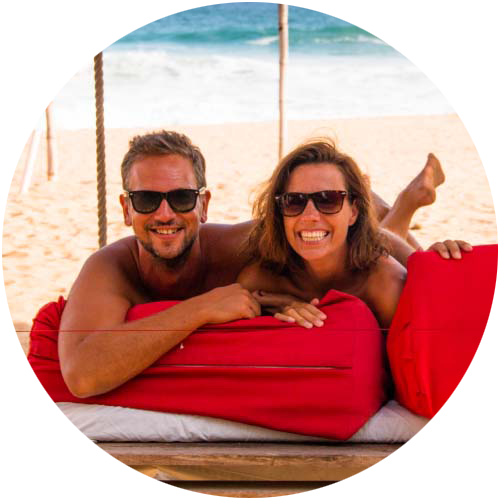 Support Naked Wanderings
Do you like what we do for naturism and naturists? Did we make you laugh or cry? Did we help you find the information you were looking for? Then definitely join our Patreon community!
---