We've all heard the stories… Dirty old men sitting in the corner of a nude beach or behind a dune while looking at you (or your partner). Teenagers in board shorts passing by, checking out the "merchandise". Couples giving each other just that little too much attention just that little too close to you.
And these stories about nude beaches are true, people don't invent them. Although they might exaggerate a bit, but that's what we all do when we have an exciting story to tell, no?
Unfortunately, when it comes to nudism, when it comes to exposing your nude self and all the things you have been hiding for others for so many years, those exaggerations do make a big deal. Those are things that actually stop people from trying nudism.
And then you google "nudism" and you see all these candid photos of people having a nap at the nude beach, not knowing that some weirdo was watching them from behind the dunes with his telelens … it's terrifying.
What if my boss gets hold of these nude photos of me? What if my family does?
These are scenarios that we clearly don't want to happen. But is it really something we have to be afraid of? Every day we see pictures in the newspaper of people who got injured or died in a car crash, did it ever stop us from driving to work (or to the bar)? Not really…
Then how much should we care about those perverts?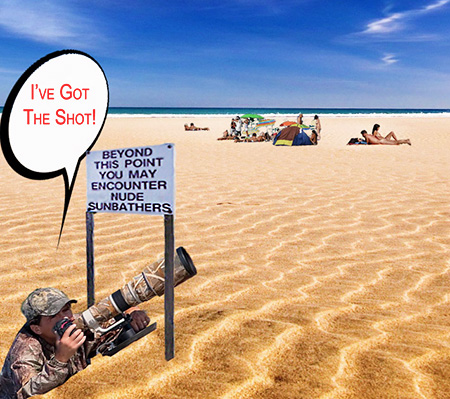 Male and female perverts
When we hear about incidents in nudist places, the offender is always either 16 or 61 and male. Whenever we ask someone about their negative encounters on a nude beach, it always had to do something with a man. A man who was staring too much, a man who got too close, a man who got an erection at the wrong moment,… As far as we know, or at least what we've heard from the stories, there are no female perverts.
Is that really true?
Of course not. The reason why we think that is because men are in these cases… well… just plain stupid. Some men seem to think that keeping eye contact and at the same time playing with their penis stimulates women (it does not). Others think that walking around with a huge boner will soon get him in bed with the babe of the nude beach (it doesn't either). People will think he's a freak.
The other way around, if a woman stares at a man for just one second too much, the guy will feel happy, noticed. If his wife says something about it, he'll go "no honey, she was just being friendly" and afterward he thinks "alright! I've just been eye fucked!". Male perverts have very little to win. Female perverts have very little to lose.
And of course, women don't have any anatomical signs that they get excited or you must have noticed the greed in her eyes. So are there dirty-minded women at the nude beach as well? Probably yes, they're just way better in hiding it.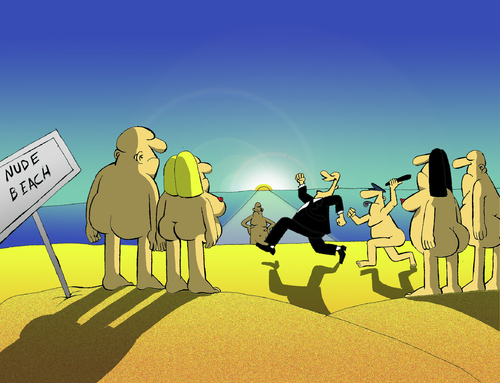 Different types of nude beach perverts
We have been quite active nudists for about many years now, of which the years we've basically been moving from one nudist place to another. We've been around. All kinds of places, naturist clubs, FKK campings, nude beaches or nudist resorts have seen us pass by. We can honestly tell you that our encounters with misbehavior are very rare and that we have never actually felt the need to leave a place.
But weird situations doo happen and then it's up to you how you deal with the situation.
Do you walk away?
Are you going to punch the pervert in the face?
Or call the authorities?
And most importantly, do you let this change your idea of nudism?
We've talked with several owners of naturist businesses and they all say the same: Everything depends on the situation and the persons involved and all incidents are different.
But we can put them into categories:
Public sex. Some couples feel the need for an audience while they're doing their thing. They enjoy the idea that they might be watched. It's hard to drag a line here. Giving your girlfriend a massage is most often completely accepted but giving your boyfriend a handjob is certainly not done. That's clear. But there's a huge gray zone in between the two. We were once told that the cover image of our First Time Nudist Guide could be seen as sexual. It all depends on who you're dealing with.
The exhibitionist. This is the most common type and most of the time they mean no harm. They just like the idea that people are looking at them (just like the previous) while they're parading up and down the beach. Most of the time the exhibitionist is funny to see, it only becomes annoying once they get some kind of sexual pleasure from it and things start to go up.
The voyeur. There are different degrees in voyeurism, and the "regular" voyeur is the least harmful. He or she comes to the nude beach to watch naked people. They often prefer clothing-optional places because then they don't have to get naked themselves. They can be found either in a corner of the beach so they have a good overview or very close to other people.
The masturbator. The masturbator is the kind of voyeur that needs immediate pleasure. They can't wait until they get home or they don't trust their mental images to bring enough excitement. So while they're looking around they start playing with themselves. Some are very good at hiding it and others gain extra pleasure knowing that people have seen what they're doing. Which makes them in such case an exhibitionist as well.
The paparazzi. This is the voyeur who brought a camera. Before the uprise of the smartphone they were very easy to spot. "Oh but I brought this huge telelens for photographing birds"… Nobody believed it. But now things are different. Every one of us carries devices that are able to make decent quality photos and we need them for a million other things as well. Only when they follow you with their phone as you're passing by, you know that they're not texting.
What can we do about perverts?
Unfortunately, as long as there are people, there will be dirty minds as well. There's no way to avoid this. We can try to implement rules and more rules and security guards and membership cards and identity checks and we're sure that all of that will help. But it won't solve the problem. We may get a false idea of security but we'll never be 100% sure that nothing can or will happen.
Pretty scary, isn't it?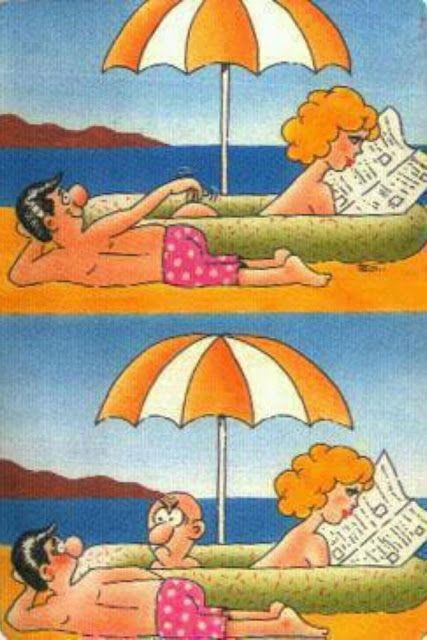 The good news is that we can decide ourselves how we handle these cases. How much of a deal we make of it, how much a certain incident changes our ideas about nudism.
Do we allow other people, the wrong people to ruin our day? Will we allow them to change our idea about a wonderful lifestyle like nudism?
At private nudist resorts there's only one solution if you would encounter misbehavior: Talk to the staff. They probably have experience with such things and they know better than anyone else how to handle those cases. And of course, they have the authority to kick people out.
At public places like nude beaches this is a bit more difficult. You could call the police but chances that they arrive way too late are pretty high. In the case of people having sex in public or exhibitionists you could decide to move to another spot away from them. Or you could walk over to have a chat. Like "hey man, great that you love your wife so much but there are motels nearby where you can do those things".
In the case of voyeurs, especially those that are taking pictures, talking to them is the only option. Ask to see their latest pictures. When they have nothing to hide they'll show you right away. If you appear in any of those pictures or you see that other nudists appear in them, ask to delete the pictures in front of your eyes.
When someone refuses to show you the photos or to delete them, take a picture of that person as well. With the mention that you might take it to the authorities. That will often change his/her mind.
Those things do happen, unfortunately, but the cases are rare. We like to consider it a calculated risk. Like crossing the street after ten beers or riding a bicycle in central Brussels. We know that maybe a negative situation could occur, but is that really a reason to miss out on all the fun?
Naked Wanderings' Complete Guide for the First Time Nudist ebook

Do you still have questions about nudism or naturism?
Are you looking for even more tips and tricks?
Our ebook will be the perfect resource for you!

Learn More
Picture credit: The photos in this post are coming from Google and Twitter. If you find one of yourself and you don't want it to be on our blog, let us know and we'll remove it.
---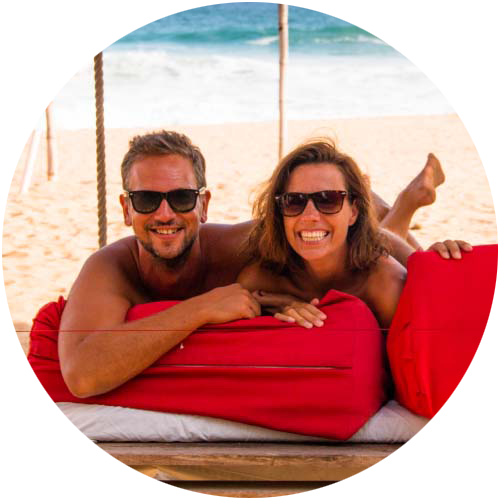 Support Naked Wanderings
Do you like what we do for naturism and naturists? Did we make you laugh or cry? Did we help you find the information you were looking for? Then definitely join our Patreon community!
---