The other day, we took part in an interesting Twitter conversation (if we had a dollar for every time that happens) about whether or not naturism should become more commercial and whether there is a need for naturist business models. Will it improve naturism as we know it? Or will it backfire and take down the whole non-profit concept on which naturism was initially built? Will fully embracing capitalism be the next step towards normalizing nudity? Or will it just open the door (even more) for naturism to become sexualized?
Naturism should always be free
Let's start with the beginning, a tweet from our friend
Hector Martinez
who is known not to fear throwing controversial topics on the table:
"Until naturism becomes a profitable industry, society and our institutions won't see the value in it. Morality is flexible when it comes to capitalism. Want to normalize nudity? Make naturism a profitable industry."

Someone immediately threw in a big "NO". No, because naturism should be a human right and should always be free. Of course, this person was absolutely right. Of course, everyone should be free to undress and spend some time in the nude. But that was not the point that Hector wanted to make.
Compare it with exercising. It's 100% free to exercise. You can wake up in the morning and do a couple of push-ups, sit-ups, squats, and planks, and nobody could ever charge you for that. But yet, there's a billion-dollar industry built around exercising. There are workout videos, workout magazines, attributes you can buy, gyms where you can perform better than at home, private coaches who make sure that you do everything right, there's even a whole food industry focusing specifically on those who like to exercise.
What's a naturist business?
Just like ourselves, Hector is a "naturist content creator". Someone who creates videos, photos, blogs, etc with the purpose of informing people about naturism and all its different facets. We're both making a living from this, through advertising and sponsorship (like
Patreon
), and by selling
guides
and
merchandising
. Our businesses are as capitalist as can be, because they totally rely on the law of supply and demand. If nobody's interested in what we do, we won't make any money and our businesses will fail. Period.
Naturist content creators are still rare, at the moment. A much better-known type of naturist business is the resort. Just like the gym in the previous example, a resort provides facilities for naturists. Yes, you can be naked at home or in nature for free, but you may not have your own pool, volleyball court, or sauna. Or you may want to meet other naturists, but don't exactly want to invite them all into your own home. That's the service that is provided by naturist resorts. A service you need to pay for.
The advantage of naturist businesses
Over the years, we've seen many naturist content creators come and go. They start with the best intentions but quit soon after because they run out of inspiration, or didn't realize how much time and effort goes into writing blog posts, creating videos, or editing photos. It's a hobby that takes a lot of your time (and costs quite a lot in equipment) and it can take a long time before you get any return in terms of readers, followers, and engagement.
Because this is our job, and a job we wouldn't want to lose for the world, we aren't just able to put a lot of hours into this, we're also taking this very seriously. The same applies to resorts, many of the best resorts we've visited around the world are professional organizations rather than non-profit clubs. If a resort needs to depend uniquely on volunteers, the things they can accomplish also uniquely depend on the skills of those volunteers. If they can hire paid staff, on the other hand, their only limitation is money. And if you have a great idea, it's just much easier to find a loan than to find a qualified person willing do to it for free.
The danger of commercial naturism
Does this mean that the future of naturism would be a lot brighter if it completely became commercial? That's something you'll never hear us say either. There are quite some examples of naturist businesses gone wrong once money got involved. The most known one is probably "naturist village"
Cap d'Agde
. It started out as a paradise for naturists on the French Mediterranean coast. But then investors started to realize that they could hugely increase their profits if they expanded their market. As a result, the first thing we saw when we entered Cap d'Agde was a billboard announcing a swingers party.
In content creation, there are similar pitfalls. While some naturist content creators just disappeared, others realized that there's a huge audience out there that's willing to pay for "sexy naturist content". It's not a coincidence that you'll find many more young naturist women on the internet than at any naturist resort. Or even at all naturist resorts combined, probably.
Finding the balance
Long story short, we don't believe that naturism can grow (or even survive) if it completely depends on a non-profit mindset. Nor do we believe that it can survive if money will be the most important driver. We believe that the combination of ideology and a business model is the way forward. Knowing how to make a naturist business or organization profitable, while keeping the values high.
This is how both we and Hector run our businesses, and only the future will tell if we made the right decision or if this whole blog post is just completely baloney. Well, the future and you. Because if you stop reading our blog posts, following us on social media, or watching our videos, our whole naturist business model will collapse.
So here's an obvious question: What do you think about naturist business models?
---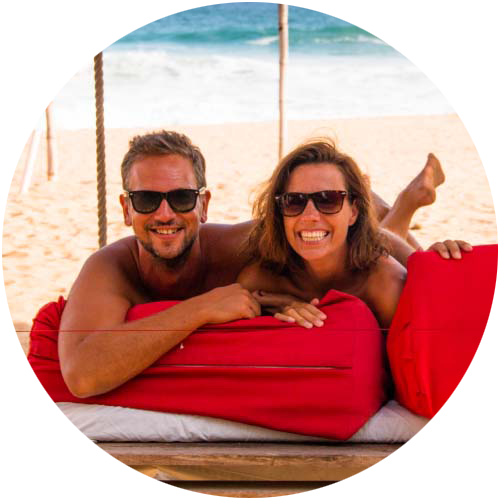 Support Naked Wanderings
Do you like what we do for naturism and naturists? Did we make you laugh or cry? Did we help you find the information you were looking for? Then definitely join our Patreon community!
---