Nude beaches have the tendency to be hard to get to. You'll rarely find them near very urban areas or where all the action is happening. Even if there's a parking space, there might still be quite a hike to be done before you can finally take off your clothes. This does have its advantages though. This is one of the main reasons why nude beaches are rarely crowded, less polluted, and why they tend to have a wild feel. If you don't really want to go to that beach, you just don't bother doing the effort.
In the case of the official nudist beach at Tayrona National Park in Colombia, this is an understatement. Both are understatements. Not only is it really hard to get to, but what you'll find if you do eventually get there is one of the most pristine nude beaches that you may have ever seen.
Tayrona National Park Nudist Beach
Tayrona National Park is one of the most popular destinations in Colombia for nature lovers. It's an impressively large jungle, right at the Caribbean shoreline, boasting of wildlife. You can hike for hours surrounded by lush greenery, awing at the most colourful birds and the monkeys in the tree tops, and take breaks at spectacular white sandy beaches. Many other travellers compare Tayrona with national parks in Costa Rica. Except that Colombia still attracts much fewer tourists. It may not seem like that if you see the crowds in
our video
, but that's because we made the "mistake" of visiting the park on a bank holiday.
One of the many beaches is called Bocas del Saco, but received the nickname "nudist beach". This is quite interesting since Colombia is still a conservative country and nudism is not something illegal but definitely something you don't talk about, all the official maps in the national park will point to "nudist beach" rather than to Bocas del Saco. We tried to figure out how nudism originated in such a remote place, and why it seems much more accepted here than in any other place in Colombia but failed to find an explanation.
We used to think that someone must have noticed its commercial value. Caribbean nude beaches are rare, so promoting the beach as such could attract nudists from around the world. But given the fact that the beach is so hard to get to, and the few other nudists we've encountered, we would think that if there were commercial reasons behind this, they are not doing their work.

Getting to the Nudist beach
We keep saying that the nudist beach is so hard to get to, but that's only half the truth. There is a faster option, by taking the boat from Taganga, a suburb of Santa Marta, to Cabo San Juan where it's only a 15-minute hike to the nude beach. But beware, depending on the weather conditions, this boat ride can be very bumpy and uncomfortable and sometimes even really dangerous. And it's not cheap either, for the 50-minute boat ride, expect to pay $20 or more one way.
We've visited Tayrona National Park twice, and our preferred transportation option has always been the hike. The main gateway is Santa Marta, from where you can take a bus or taxi to the park's main entrance. The park has different entrances, to visit this part it's best to start from the El Zaino entrance. From the entrance, it's another 4 kilometres to Cañaveral point, where the hiking trails start. If you're really on a budget, you can hike this part, but we would recommend taking the shuttle bus as you'll be mainly walking on concrete and you may want to save your energy for later.
Canaveral point is where the cool part starts. You'll be hiking through the jungle, over beaches, and past settlements. Every turn you take will give different views, one even more spectacular than the next. When you pass by Arrecifes, you're about halfway the hike. Several beaches later, you'll arrive at Cabo San Juan, the most touristy place in the park and where most visitors end their hike. But the nudists want to follow the trail about 15 minutes longer, to end up at the nude beach.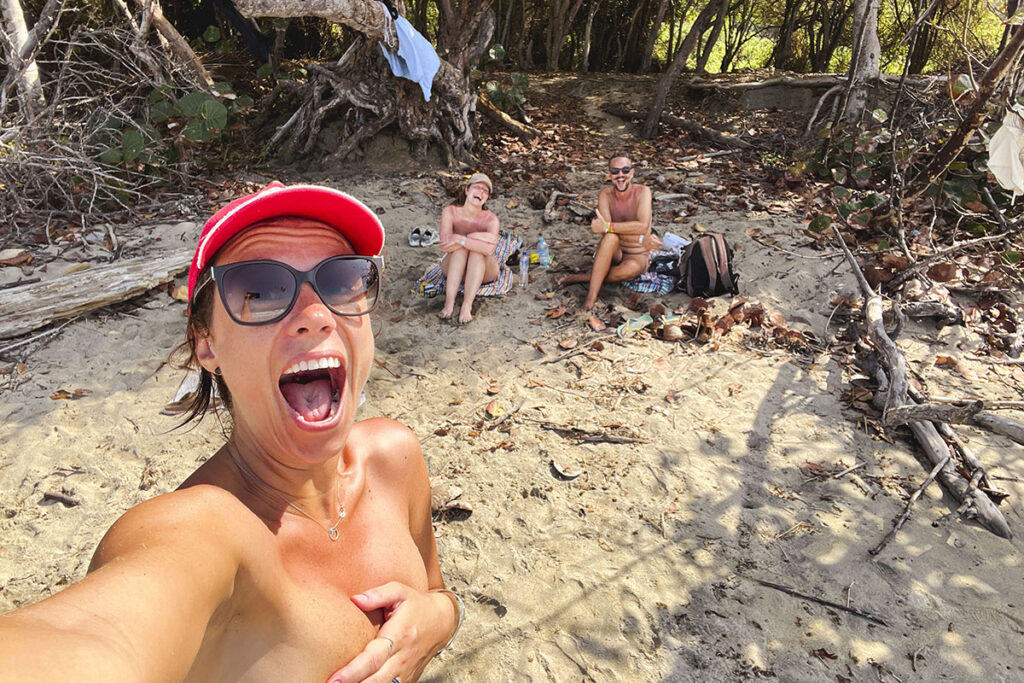 Staying overnight at Tayrona National Park
If you continue hiking at a regular pace, you should be able to get from Canaveral point to the nudist beach in about 3 hours. Quite a long way, considering that you'll have to hike all the way back too. Some people do this in a day, but we would not recommend it. This is just not the kind of place where you want to keep looking at your watch all the time or be stressed out about missing your bus back.
Luckily, there are several options inside the park to stay overnight: Bungalows, tent camping, and hammock camping. The bungalows are obviously the most comfortable option, but also the most expensive one. And also important, there are no bungalows anywhere near the nude beach. The nearest bungalow resorts are in Cañaveral and Playa Brava, relatively about 3 and 5 hours walking away.
Tent and hammock campsites are much closer to the nude beach. The closest can be found at Cabo San Juan, but both times we went to Tayrona, we camped at Arrecifes, about 1.5 hours hiking away from the nude beach. Arrecifes might be further away, but it's a lot quieter. Which is something we can very much appreciate. Camping in the jungle just doesn't feel the same when the only thing you hear is human voices.
The first time we stayed overnight in Tayrona, we rented a tent. It was okay, but due to the humid climate, our mattress was very damp and smelly. Being so close to the ground also makes it easier for bugs to find you. The last time, we stayed in a hammock. This wasn't only cheaper than a tent, but actually also more comfortable. Our hammock did smell as well, though.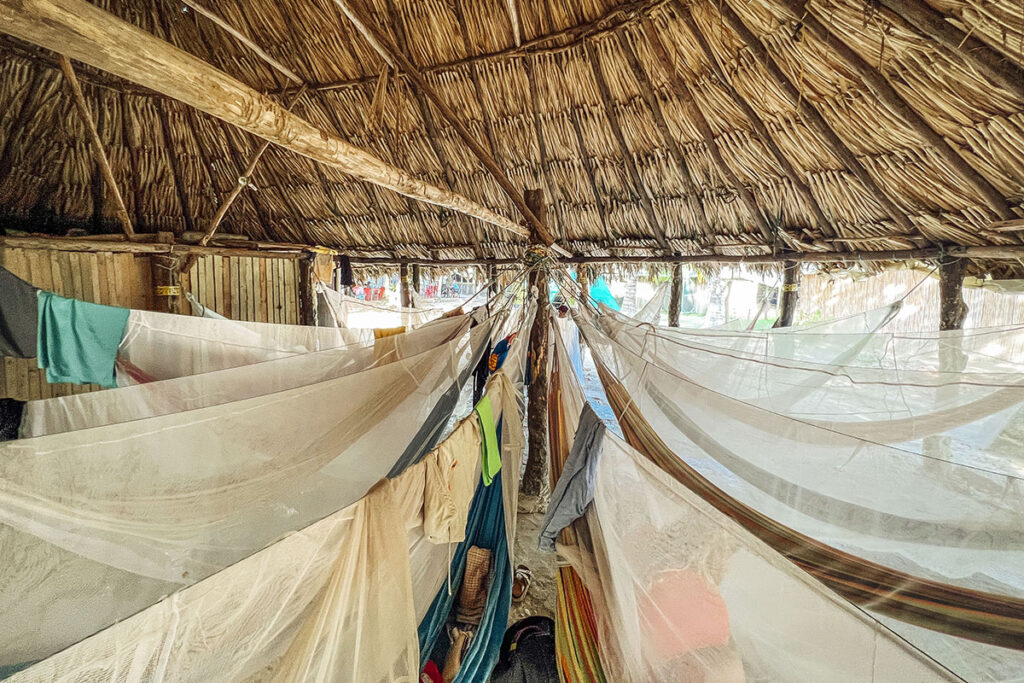 Who goes to the nudist beach?
One thing you may be wondering is who does so much effort to get to a nude beach, except for a couple of nudist bloggers? Well, apparently not too many people to be fair. While the people on the beach of nearby Cabo San Juan were packed like sardines, we always had plenty of space on the nude beach. Of course, there were also some textiles who tried to escape busy Cabo, but we always found other nudists as well.
Most nude visitors are either couples, single men, or groups of women. Both foreigners and Colombians. As Tayrona has the only nude beach in Colombia and is in such a wonderful setting, it's not a coincidence that Colombian nudists come from all around the country to have their holidays here. All in all, we would say that the atmosphere at the beach is great. Everyone is friendly and other than one guy who kept passing by us and was obviously trying to catch every possible glimpse, most visitors just mind their own business.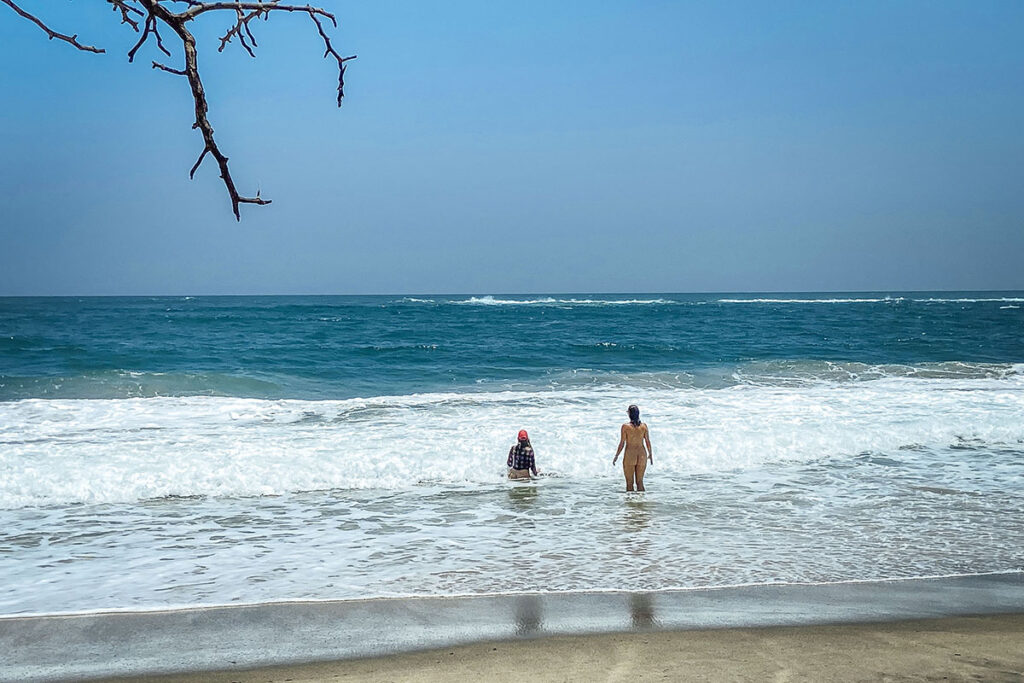 Practical tips
As you probably (hopefully) realise by now, a visit to the nude beach of Tayrona is not just a quick visit for a quick skinny dip. It's an experience that includes much more than just the nude beach.
If you want to visit the national park and the nude beach as well, here are some tips to make your visit more comfortable:
✅ Bring enough water: This is a hot and humid jungle and you'll find yourself drinking a lot. There are places where you can buy water, but these are often far between.
✅ Bring drinks and food: Everything in the park is expensive, this is not a coincidence, because everything needs to be brought in by horse. So if you travel on a budget, better bring your own food and drinks.
✅ You can buy food and drinks: If you don't travel on a budget, it is possible to buy food and drinks in the parks. There are quite some restaurants that sell burgers, pasta, and delicious seafood.
✅ Don't bring drugs or alcohol: These are not allowed in the park and your bags are checked at the entrance. You can buy beers in the park though. And maybe drugs too, we didn't check.
✅ Buy drinks before going to the nudist beach: The nearest place to the nude beach to buy drinks is in Cabo San Juan, a hot 15 minute walk away. Better stock up before going to the beach.
✅ Don't bring all your luggage: The hike is long, so you don't want to carry too much. It's better to leave everything you won't need at a hotel where you'll stay before and after your visit.
✅ Check the location of your resort: If you're planning to stay in a (bungalow) resort, do check its actual location before booking. Many resorts advertise to be inside the park, while they're actually outside the entrance.
✅ Bring cash: Some places accept credit cards, but most places don't.
---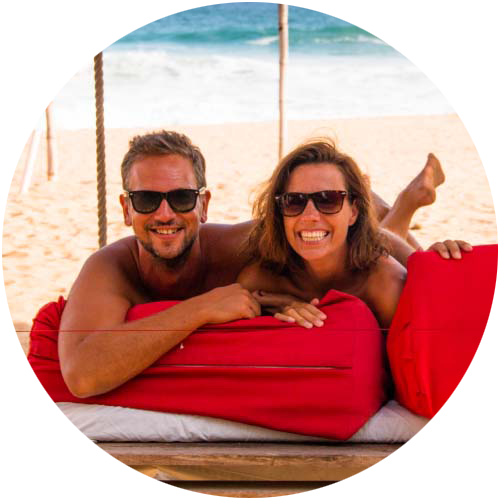 Support Naked Wanderings
Do you like what we do for naturism and naturists? Did we make you laugh or cry? Did we help you find the information you were looking for? Then definitely join our Patreon community!
---