One of the big advantages of being full-time naturist travel bloggers is that we get the opportunity to visit some of the most famous nudist resorts in the world.
Bare Oaks
in Canada,
CHM Monta
in France,
Hidden Beach
in
Mexico,
or
Oriental Village
in
Thailand
, only to name a few. And all of that in little more than
a year
. But what we like equally as much (if not more) is when we can find one of those hidden gems which are not yet to be found on most
naturist maps
.
Rincão Clube Naturista for example. Hidden in the hills of Guaratinguetá, about halfway between São Paulo and Rio De Janeiro, we found a naturist resort we had never heard about before. Only by asking around online, Rincão Clube Naturista was brought to our attention. We had no idea what to expect when our
Uber
driver dropped us off at the entrance, but what we found certainly beat every expectation.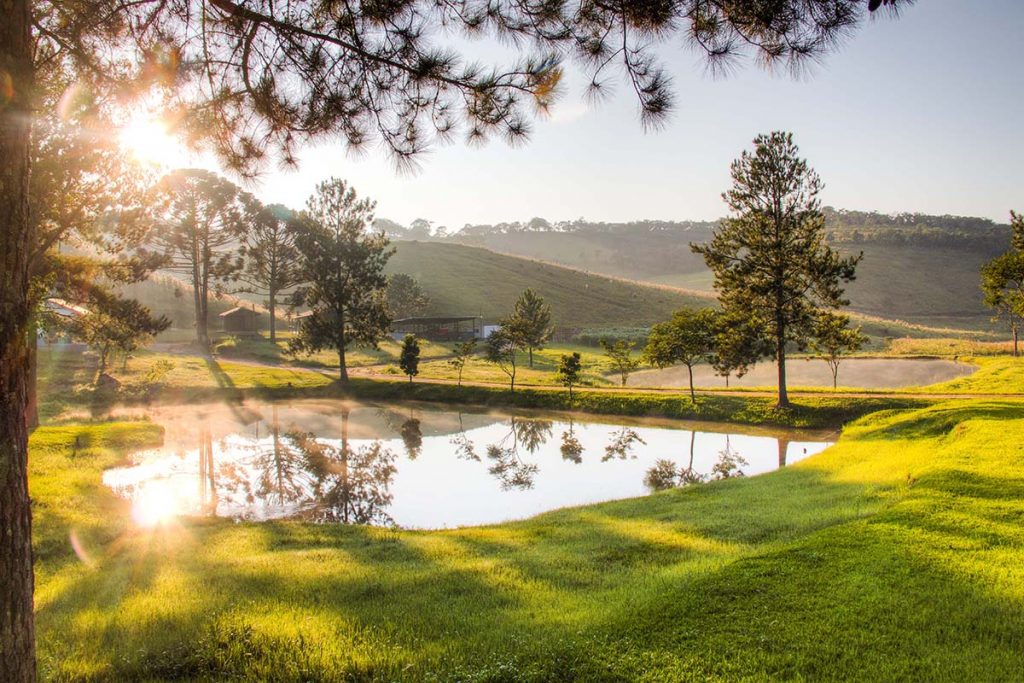 Location
For foreign visitors, the location of Rincão Clube Naturista could hardly be much better, right in between São Paulo and Rio De Janeiro. Not only two very famous Brazilian cities but also cities with major international airports. Depending on which country around the world you're flying in from, you're most likely to arrive at either the São Paulo Guarulhos airport or at the Rio De Janeiro Galeão airport. If you have the option, getting to Rincão Clube Naturista from São Paulo is slightly easier than from Rio.
An
Uber
from São Paulo to Rincão Clube Naturista will cost about 100 – 120 USD, one from Rio De Janeiro will be around 120 – 150 USD. Official taxi prices are about double.
A more economical way will be to take the bus from Rio or São Paulo to Guaratinguetá and get your
Uber
from there, which will only cost you less than 15 USD.
Important to remember: For your return, you won't find any Uber drivers in the area of Rincão Clube Naturista, so ask the phone number of your driver or agree on a certain date and time for your pickup.
Of course, renting a car is certainly an interesting option as well because it will give you the opportunity to visit the beautiful area as well. Both Rio and São Paulo airport have plenty of car rental options, have a look at our
Resources page
to find our preferred car rental websites. Whichever direction you're coming from, you want to take highway 116 to Guaratinguetá and from there drive south towards Cunha. Turn right on Joao Martins Correa road and then left where you see the Rincão Clube Naturista sign.
Don't forget to enjoy the wonderful landscapes along the way.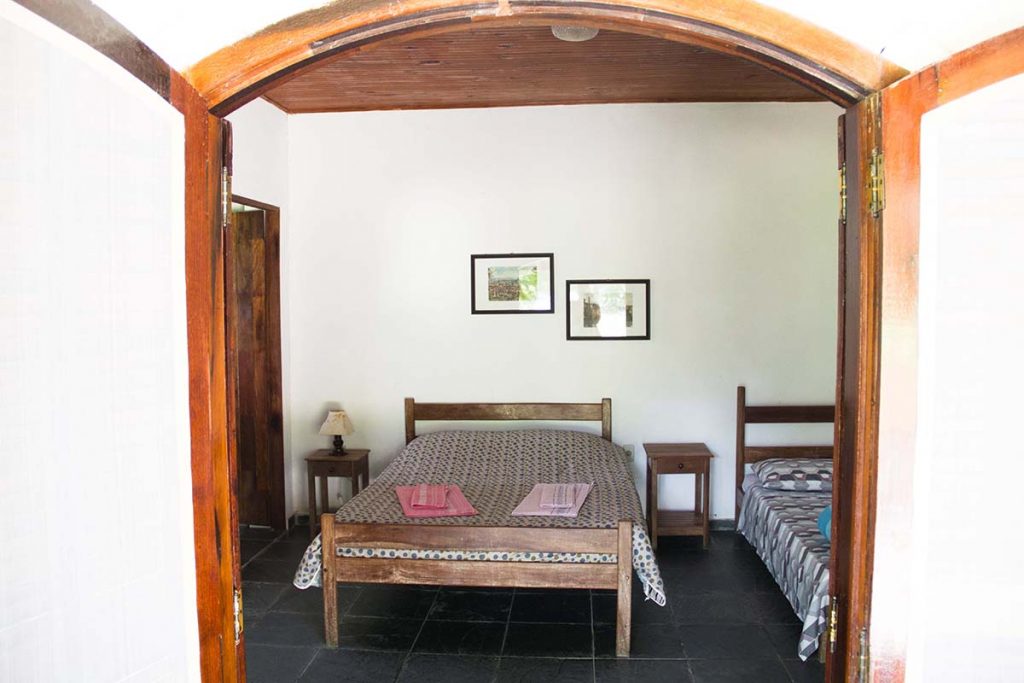 Accommodation
Accommodation options at Rincão Clube Naturista come in four different forms: Camping, a room in the guest house, a bungalow or chalet. We stayed at one of the spacious rooms of the guest house which come with a private toilet. Showers are at a communal shower block.
Bungalows are larger and accommodate up to 4 persons. Each of them has a private bathroom. For even more luxury you could also pick one of the 4-6 person chalets which are fully furnished.
The cheapest option is to pack your tent which you can place on the designated camping area between the swimming pool and one of the lakes. A separate shower and toilet block is provided for campers only.
The club advises its guest to only visit during the weekend because that's when the restaurant is open and there are no communal cooking facilities. Campers who bring their own cooking gear can of course stay during the week as well as other guests who don't mind driving back towards the main road where you can find restaurants.
We were very happy that we were informed about this, after our issues with the closed restaurant at
Colina do Sol
. So we planned our stay from Friday to Sunday.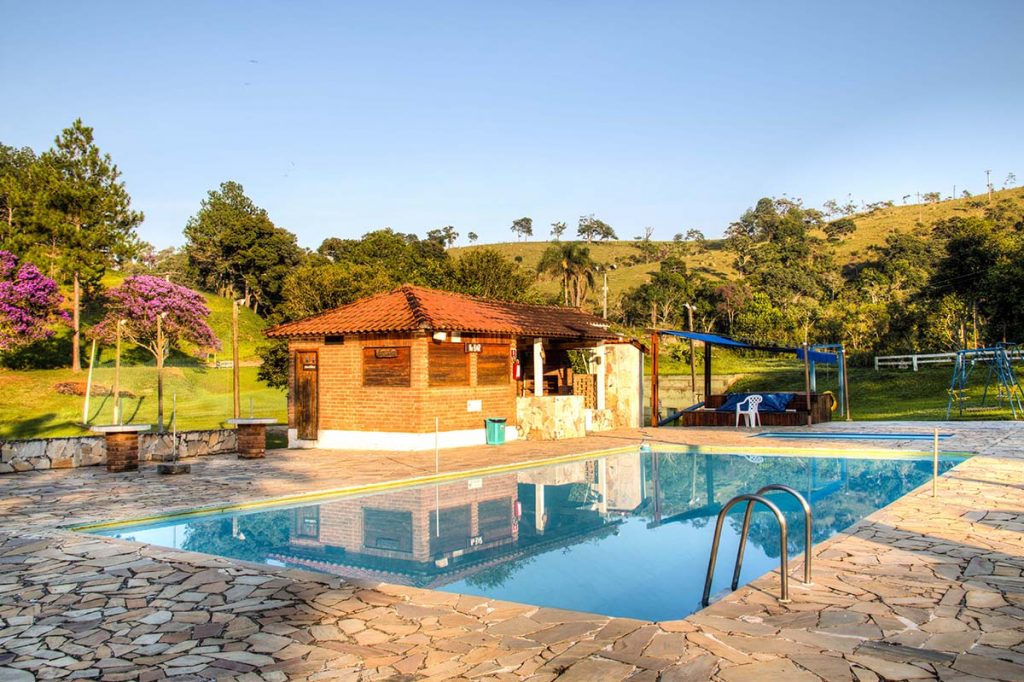 Facilities
When a certain naturist resort doesn't get quickly on our radar is not always a good sign. So we kind of expected to end up at some old fashioned naturist club where we would rather not be… This couldn't have been less true. Rincão Clube Naturista is not only in a beautiful environment, it has plenty of very well maintained facilities as well!
Lots of green fields are perfect for sunbathing next to one of the several lakes in which you can also fish. There are a badminton and a volleyball court and a large and small swimming pool with a self-service pool bar, sun deck, and jacuzzi. And there's a shuffleboard court, which appears to be the Brazilian variant of Petanque.
Here's a fun fact, by the way, while petanque is still very popular in naturist places all over the world, several countries are also implementing variants. Like shuffleboard in Brazil, Kubb in Europe, or Cornhole in Canada (or in
Canadian owned guesthouses in Mexico
).
For chilly evenings there's also a sauna available, but the main highlight of your stay at Rincão Clube Naturista is certainly the naked hike to the waterfall. Truth to be said, there are much nicer waterfalls to be found in Brazil but at this one clothes are optional. And not just at the waterfall, the whole 30-minute hike which will take you through meadows and jungle and provide some awesome views of the surroundings can be done completely naked. Ask the staff about the trail to the waterfall (which is "cachoeira" in Portuguese).
Once a month there are theme parties that attract many guests. If you like to socialize, you might want to plan your stay according to these.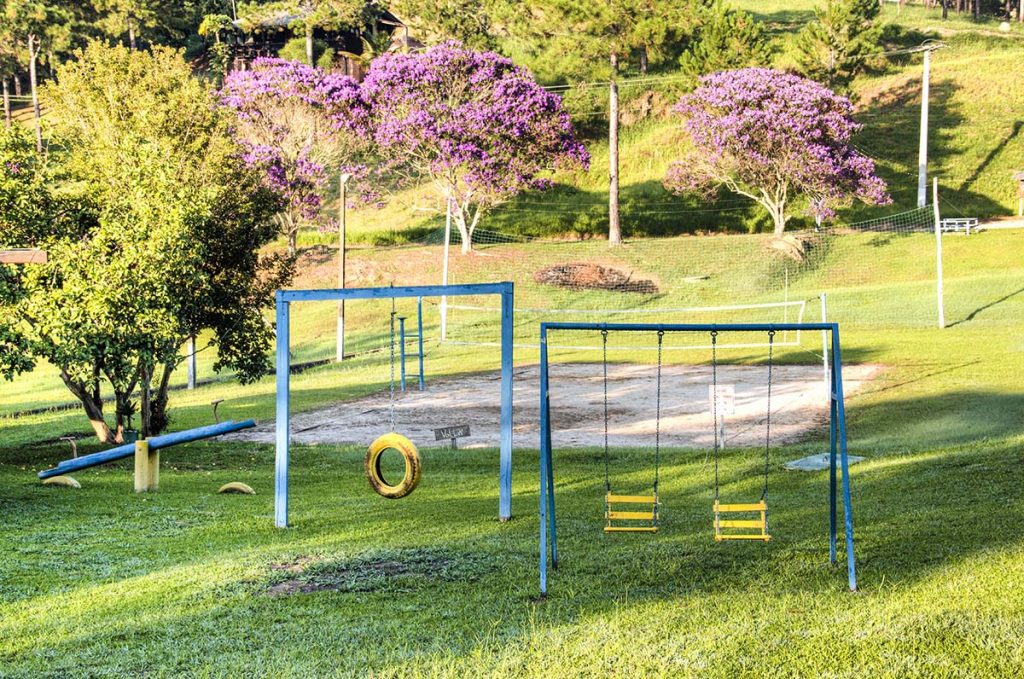 Surroundings
Rincão Clube Naturista is located in a beautiful natural area and the roads around the resort will certainly give you some awesome views. For more amazing nature you can drive south towards Cunha where you will find several waterfalls (at these you do have to wear clothes though). From the Pedra da Macela peak in Cunha you can see the whole bay of Angra dos Reis on a clear day.
More south you'll find Paraty city in the Rio De Janeiro state which has a very nice historical center with cobbled stone streets and colored houses covered in Bougainville plants. Plenty of trips can be organized from Paraty like boat trips in the bay, jeep tours to the jungle, or a visit to some of the surrounding beaches. The Praia Brava beach at nearby Trinidade is said to be frequented by nudists. While we were there, frequent thunderstorms and lots of rain did not allow us to go check it out.
North of Rincão Clube Naturista you'll find Guaratinguetá which center is good for some shopping but doesn't provide many sights. The main sight in this area is about 10km further in Aparecida where you will find one of the largest Roman-Catholic churches in the world. An extremely impressive building that can already be seen from the highway, towering above the other buildings.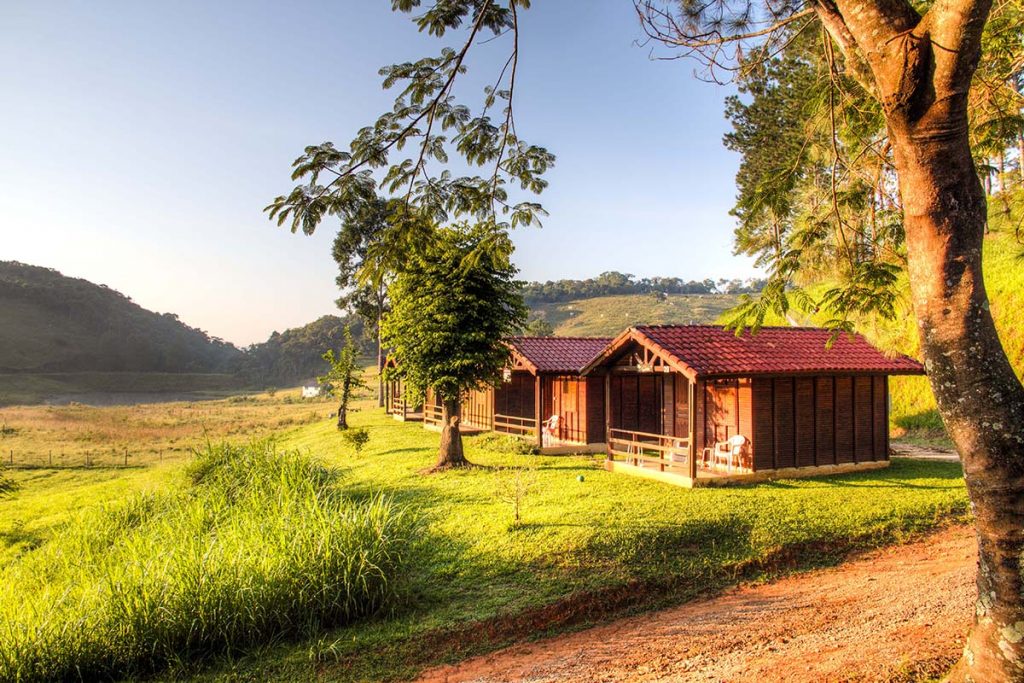 Staff
The ladies of the house who greeted us at arrival and made sure that we were well fed are Sônia and Sandra. There were several other people working around the property whose names we never got and we don't know whether we should count Marcio and his wife as staff, but they were certainly the people who took the most care of us. They are members of Rincão Clube Naturista from the early beginning and know pretty much everything about the place. They're a great source of information about naturism in the area and Marcio is also a great guide to take you on the naked hike to the waterfall.
Guests
The large majority of the guests come from either São Paulo state or Rio De Janeiro state. Brazilians from other states visit as well but foreigners are quite unlikely to encounter. A pity, but probably because there's so little information to be found about this resort. Especially in English. So now we're going to change that! We believe it's our duty to tell the world what a wonderful naturist place can be found in the São Paulo hills!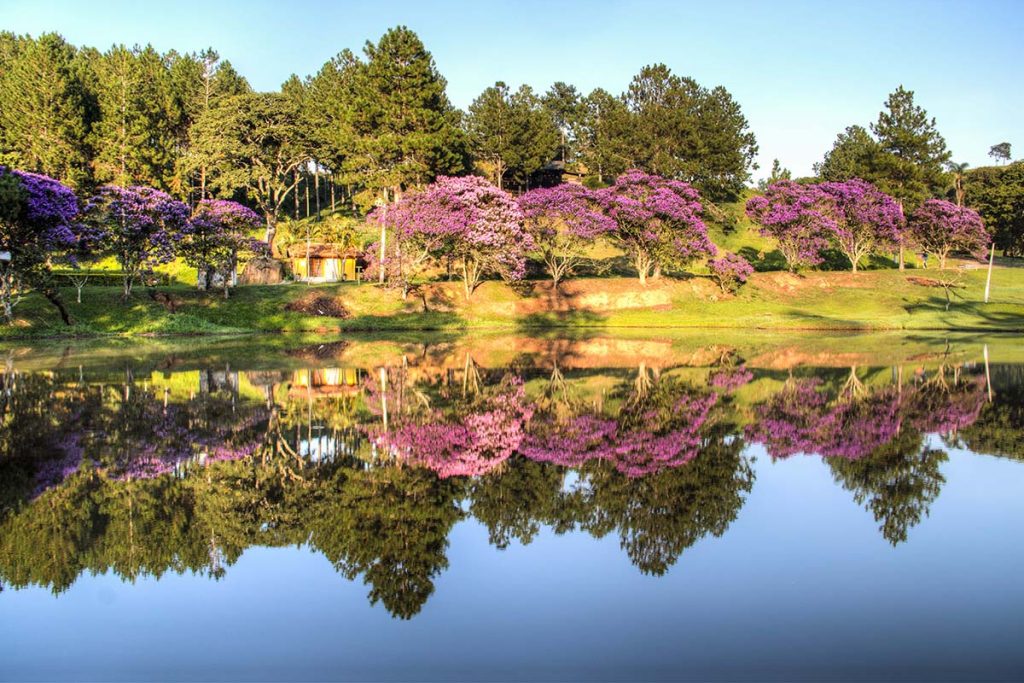 Reservations
The rental accommodations can be hired in a package which also includes breakfast and lunch. Which we found pretty convenient.
Important to know for families is that children below the age of 11 stay for free and teenagers between 12 and 17 stay at half price.
FBrN
(Brazilian naturist federation) members receive a 10% discount.
Reservations can be made via e-mail at
[email protected]
But like everywhere in Brazil, WhatsApp works better:
Juvenal (club president):
+55 (11) 5572-9309
Sônia (staff):
+55 (12) 99773-6252
Summary
We had to make quite a detour on our trip to get to Rincão Clube Naturista, but we are so happy that we did! Wonderful nature, a very relaxed atmosphere, friendly people, and nice facilities were the perfect cocktail for a great naked weekend away.
Read more about Rincão Clube Naturista on  
NUDE
More info: https://www.rincaonaturista.com.br/
Disclaimer: We have been invited as guests of Rincão Clube Naturista, but of course all opinions are our own. We are super confident you will love this place as much as we did!
---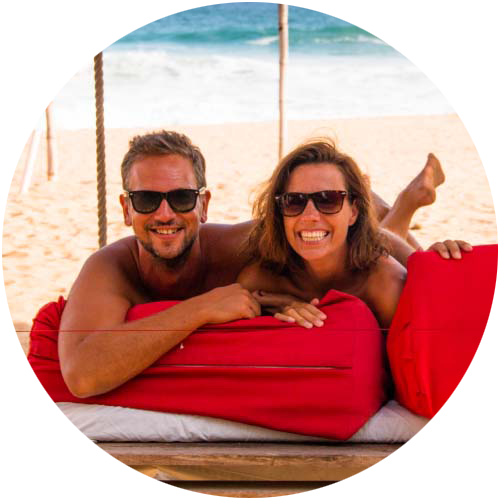 Support Naked Wanderings
Do you like what we do for naturism and naturists? Did we make you laugh or cry? Did we help you find the information you were looking for? Then definitely join our Patreon community!
---