When you travel a lot, your mind tends to play a trick mixing up different locations into one. It's like those weird dreams in which you realise that something is just not right. If only you could put your finger on it. Like that time when we woke up from an afternoon nap in one of our lounge chairs at Monte Naturista O Barão. Still a bit hazy from sleeping under the afternoon sun, we wondered how we ended up in the African Savanna. Or was this the wild west?
The flat trees, the wide-open space and the heat gave us all the right signals. We would swear that within minutes either a giraffe or Clint Eastwood would pop up from behind a tree. Neither of them did. This was still southern Portugal and once we noticed that we were both naked, we knew exactly where we were. At a wonderful naturist camping which we were going to call home for the next days.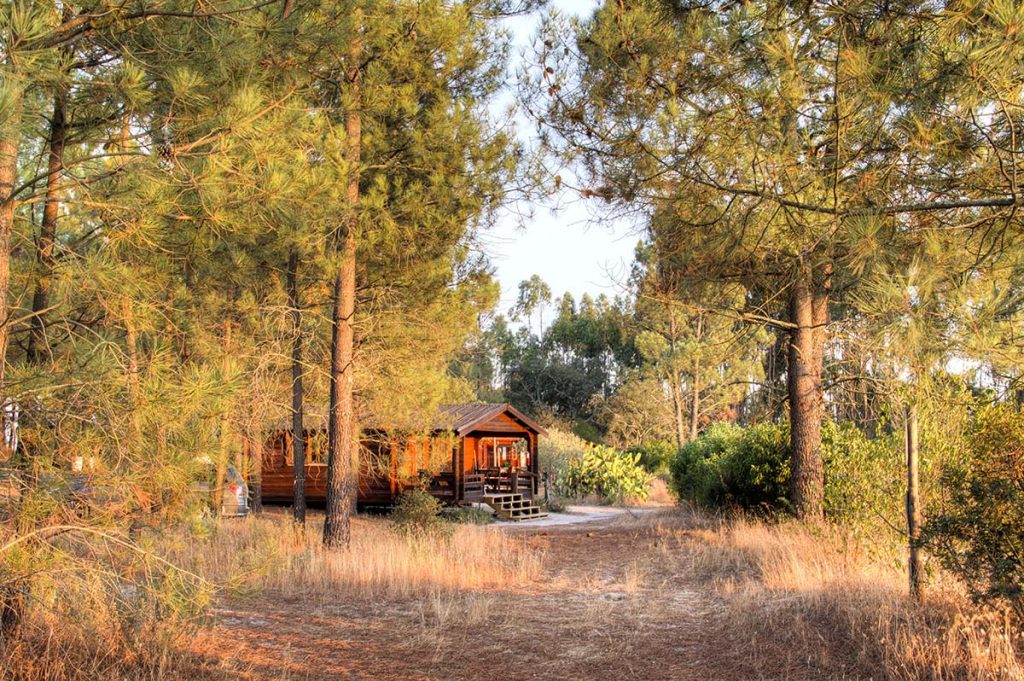 How to get to Monte Naturista O Barão
Monte Naturista O Barão is located about halfway between Lisbon and Faro. If you're coming from the south, take the E1 up from Faro to Lisbon and if you're coming from the north you want to take the same highway but of course in the other direction. You want to get off near Ermidas do Sado, from where it's only a short drive to the camping. Coming from southern Spain, you could also follow directions to Beja and from there towards Grândola. In any case, the end of your trip consists of some unpaved roads, so a GPS is well recommended.
If you're not travelling in a camper or mobile home, a fly-and-drive is definitely also an option you want to consider. There are many low-cost airlines flying into Faro and Lisbon and car rentals in Portugal are pretty cheap. Both Faro and Lisbon airport have connections to all over Europe and Lisbon also to many other parts of the world.
If you prefer to travel by public transport, both Faro and Lisbon have train connections to Ermidas do Sado. From there you can hike the last 9 kilometres or get a 10 euro taxi ride. Keep in mind that to explore the surroundings, having your own transportation is pretty much a necessity.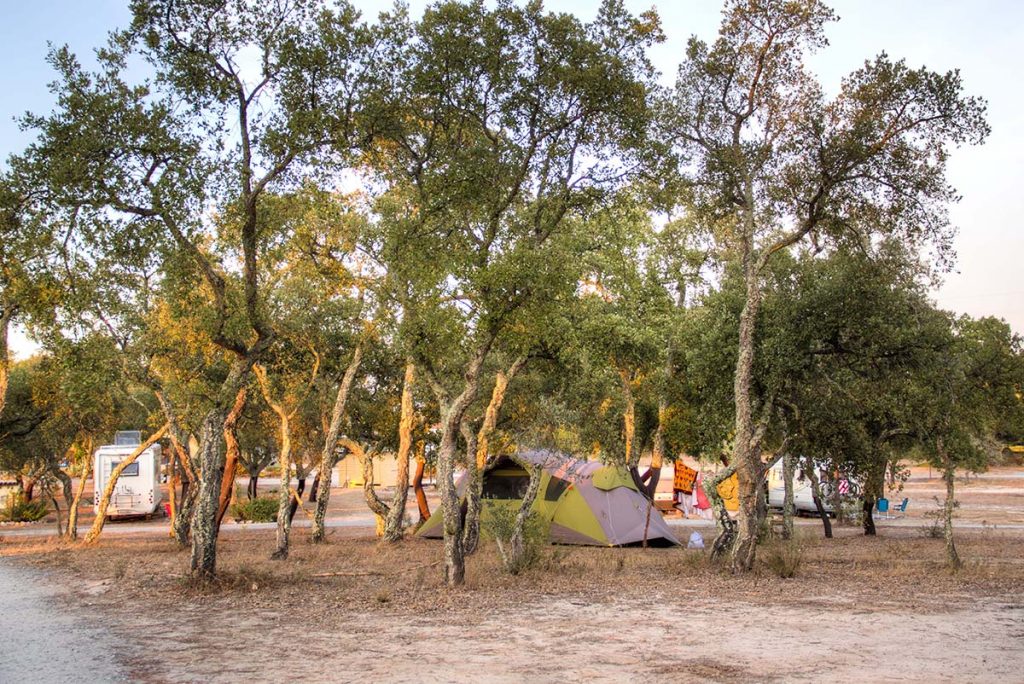 Where to stay at Monte Naturista O Barão
When you're staying at Monte Naturista O Barão and happen to run into one of the owners or long time visitors, it's definitely worth it to ask if you can see some of the photos of the early days. The camping literally started from scratch: A 7-hectare wild domain with a small ruin. The domain was cleared and the ruin turned into a bar. A wooden shack became the toilet. Monte Naturista O Barão 1.0 was a fact. One of Portugal's first naturist campings.
Today, things are quite different. With new facilities and rental accommodations, the camping has grown a lot. But the original atmosphere didn't change much. This is still a wild place, the kind of place which can get you confused with the wild west when you're still a bit sleepy. The kind of place where you are not obliged to put your tent or camper in a carefully marked rectangle. It's a place where you can feel free and comfortable. Naked in nature.
For those like ourselves who don't bring their own home, there are several rental options at Monte Naturista O Barão which come in the form of five cosy lodges and an apartment. We stayed in the large Papa Figos lodge which has a comfortable bedroom, a spacious bathroom, a fully equipped open kitchen and a living room with TV. If the Portuguese TV channels mean as little to you as they did to us, you'll probably also spend most of your time on the sunny terrace. Dozing away with the sound of nature.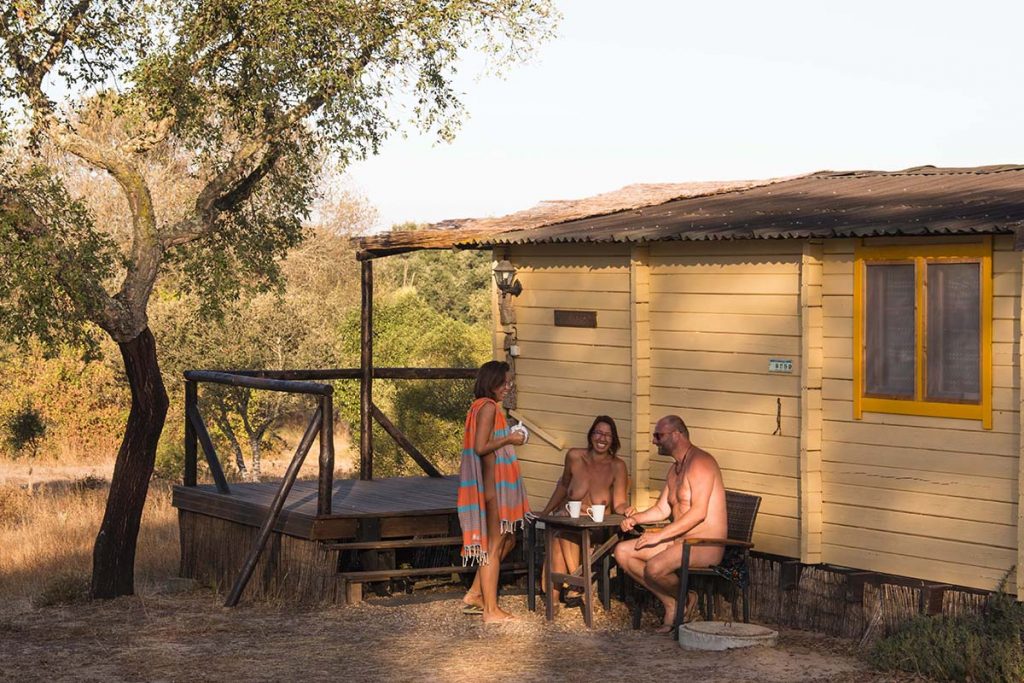 What to do at Monte Naturista O Barão
Monte Naturista O Barão is a place where you come to do as little as possible. The large domain filled with cork trees is perfect to enjoy nature to the fullest. At most of the camping, you'll hear nothing but silence. Can you think of a better way to disconnect from the daily rat race in the city? Add to that about 300 sunny days per year and you can imagine why this is a great destination for relaxing nude vacations.
Nature is everywhere but it's never the same. The savanna-feel which we experienced was largely because we visited Monte Naturista O Barão in early September. The hot summer sun and the lack of rain had turned the whole region into different shades of blond, brown and orange. Depending on your time of visit, it could be completely different. By the end of the year, greenery will come back and in spring thousands of flowers will turn the region in as many different colours.
By now we've probably convinced you that nature and peace and quietness are high values at Monte Naturista O Barão, but there's definitely more. The swimming pool and bistro can be seen as the heart of the camping and are exactly where people come together. For a skinny dip, a beer or a chat. A cool thing about that bistro is that it always seemed to be open. Or at least during the times that we were awake. Sandra and Gerry make sure that you get refreshed in the dry southern Portuguese heat and serve you some great food in case you get hungry.
Because of the all-round mild climate, this is also an interesting winter destination. Even on new year's day, it's often possible to spend a couple of nude hours under the sun. For this reason, several naturists from more northern European countries have already chosen Monte Naturista O Barão as their winter residence. The sauna and organised communal dinners definitely add a lot to this nude winter experience.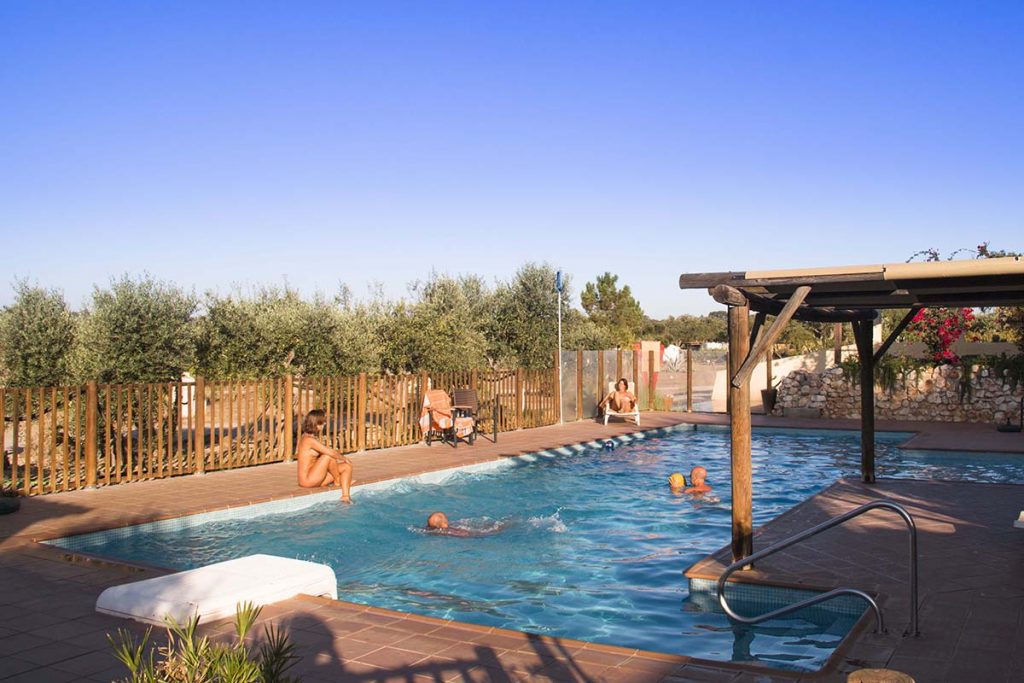 Around Monte Naturista O Barão
The nature and solitude of the camping can also be found in the near area. Many kilometres of paths and dust roads make the region perfect for hiking and cycling. Those who do make the effort of putting on clothes and wandering outside the gate are rewarded with wonderful landscapes and typical villages on which time has never gotten its grip. People in the region still live from what mother earth provides them and let you enjoy some of their delicacies. Goat cheese, olive oil, black pork and excellent wines are just a grip from the offer.
What we particularly enjoyed about the southern Alentejo region is that it has all the good things of the Algarve without the thousands of tourists who flood the place every summer. Some say that this is the "real" Portugal. From what we've seen, there's definitely some truth in that.
Another very interesting advantage of staying at Monte Naturista O Barão is that the beautiful coastline, the Costa Azul, is only a 20-minute drive away. And (lucky you!) there are several easy to reach naturist beaches. The long sandy stretch of Praia do Monte Velho is the nearest. Then there's the wonderful Praia Do Salto cove and only a little bit further Praia do Malhão. For those who don't mind a bit of a long drive there's also Praia dos Alteirinhos and Praia das Adegas further south.
Other interesting day trips include the fishing villages Porto Covo, Sines and Milfontes and of course Lisbon and Faro which are both only an hour and a half drive away.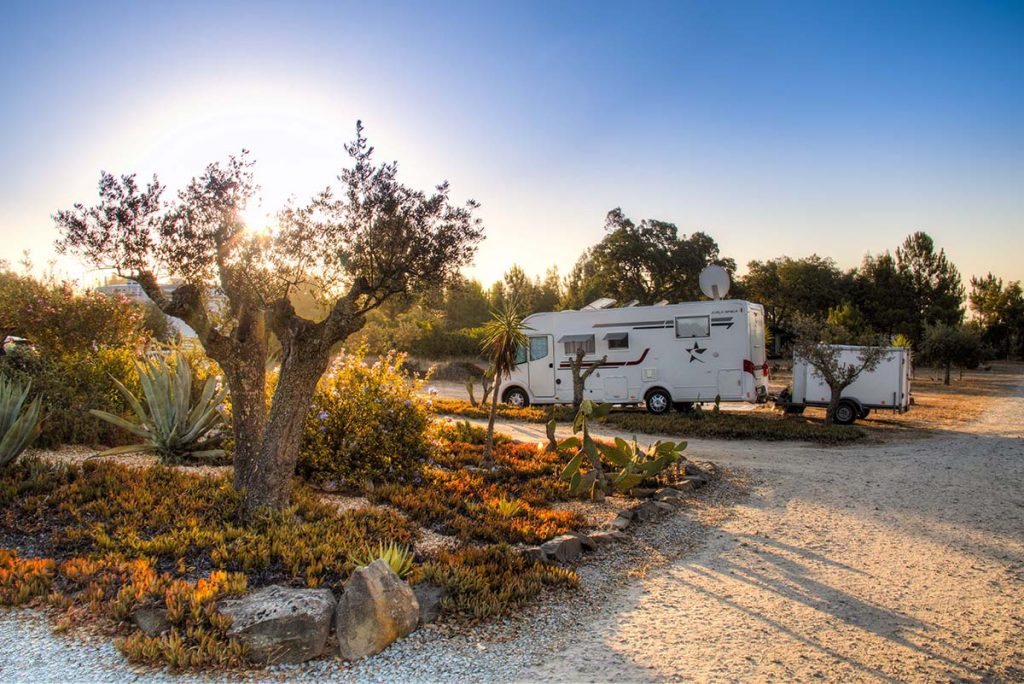 Staff of Monte Naturista O Barão
The staff whom you're very likely to run into during your stay at Monte Naturista O Barão are two Dutch couples: Laura and Jeff and Sandra and Gerry. Laura and Jeff are the owners who decided more than a decade ago that it was time to wave The Netherlands farewell and move to a warm place where they could be naked as much as possible. As an early-thirties couple, they started building on what would become Monte Naturista O Barão.
Sandra and Gerry on the other hand have been running hospitality businesses in warm countries pretty much their whole life. Beach bars, restaurants and hotels, they've tried it all. Until recently when they found out that Laura and Jeff were looking for someone to run their bistro. An excellent opportunity apparently. Gerry makes sure that you get some great food presented which Sandra will serve to you together with your drinks and a never-ending smile.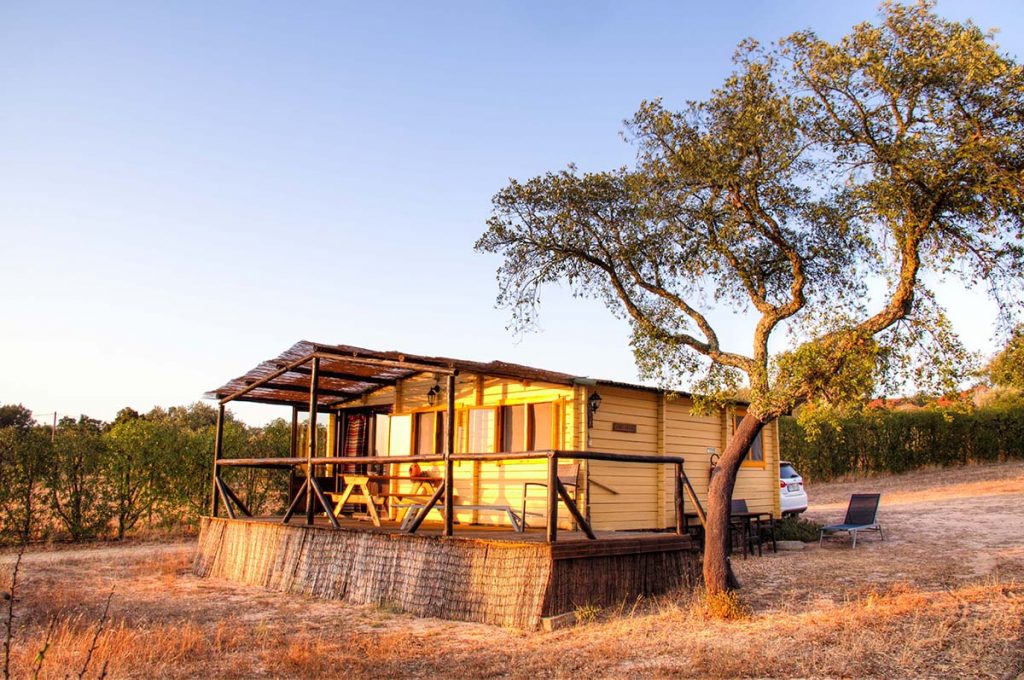 Guests at Monte Naturista O Barão
Just like the colours of nature at Monte Naturista O Barão, also the guests seem to differ with the season. During the summer months and especially in August the camping receives lots of Portuguese families. While outside of the season and in winter it's mostly northern Europeans looking for a fresh dose of vitamin D.
As mentioned before, several of the guests already decided that ever leaving Monte Naturista O Barão is basically just a waste of time. They would be back soon anyway so decided to just stay there. Some for the winter months, others almost year-round. Now we have to say that a camping with residents sometimes comes with a disadvantage. In the form of a clique which tends to be closed to other visitors. None of this at Monte Naturista O Barão though. From the first day, we were accepted by a group of common visitors. Among whom our neighbour who happily offered us the usage of his personal wifi since the camping wifi didn't reach all the way to our lodge.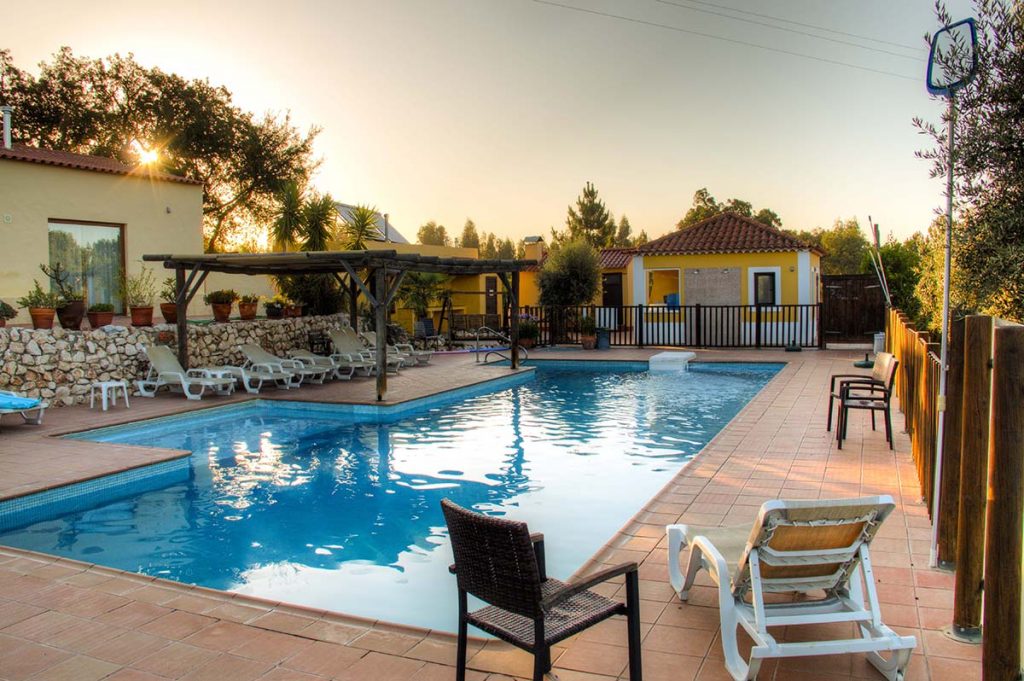 Reservations & Contact
If you're arriving at Monte Naturista O Barão with a camper or tent, there's no real need to make a reservation. Except maybe in the heat of the high season. For rentals, it's of course very much recommended to reserve upfront.
Reservations at Monte Naturista O Barão are preferably made via:
✅ Website: https://montenaturista.com
✅ E-mail: [email protected]
✅ Phone: +351 936 710 623
It's possible to communicate in English, Portuguese, Dutch, German, French, Spanish or Italian.
Because of the mild climate in Portugal, Monte Naturista O Barão is open year-round and becomes more and more popular as a winter destination for European naturists.
Summary
If relaxing in the nude between the cork trees and under the warm southern Portuguese sun sounds like an excellent way to spend your nude holidays or maybe even the rest of your life, you don't have to search any further. Get yourself a spot at Monte Naturista O Barão.
Disclaimer: We have been invited as guests of Monte Naturista O Barão, but of course all opinions are our own. We are super confident you will love this place as much as we did!
---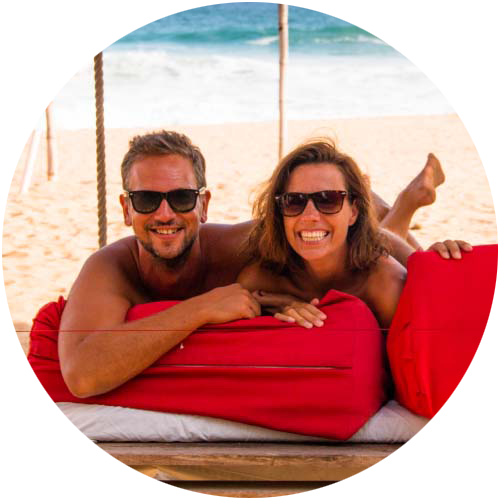 Support Naked Wanderings
Do you like what we do for naturism and naturists? Did we make you laugh or cry? Did we help you find the information you were looking for? Then definitely join our Patreon community!
---