Last month our friends at Get Naked Australia have put a sad but understandable
message on their Facebook page
. They were going to stop posting the pictures they receive from their following and which have made them world famous in the first place. And not for the obvious reason that
Facebook
would put them in their jail, but because of the comments these pictures are receiving. Meanwhile they've reconsidered this and restarted posting pictures, but the issue remains.
Everyone who's creating nudist content on social media or who's moderating nudist chat groups or nudist pages has encountered this problem somewhere along the way. A perfectly genuine nudist photo or video is posted and (especially if it contains a nude woman) comments like "nice ass", "I so want to do her" and "give me her number" start popping up.
SPECIAL WARNING: While reading this post you may become depressed, lose your confidence in humanity and start thinking that this world is full of perverts. Just know that there will be some good news at the end!
Hot or Not?
For some reason, there are people who think that everything that is posted online is just one big "Hot or Not" contest and they feel like they have to express their sexual feelings towards the person in the photo or video. Preferably without beating around the bush (pun intended). One could say that this is a human thing. Every man has seen a woman with a beautiful butt walk the streets and punched his buddy so he could enjoy the sight as well. Or just let his thoughts slid away. And women aren't really any different. And that's totally fine. But who would yell for the whole street to hear, including the owner of the butt, that he would "so do her"?


It's a thing of the internet. Suddenly people seem to think that they can say whatever they want in whatever way to whoever out there. Just because they can't get a physical punch in the face, all boundaries seem to get lost. And we wonder.… What's the purpose?
Do they think that when they congratulate a girl in a faraway country about her "nice ass" that she'll reply something like "oh thanks, I'm taking the first plane to have hot sex with you"?
Do they think that they will impress their friends because they dare to say such things to a girl several thousands of kilometers away?
Or do they think that the world is interested in their opinion about some girl's physical appearance?
If you're such a person, please let us know because we can't understand… What goes through your head when you decide to comment "I would so want to do her" on a picture of a complete stranger?

Online nudism is a man's world
When we started with Naked Wanderings and got into the whole online nudism scene, we were surprised about the gender imbalance. While in "real life" we found many women to be nudists and to be promoting nudism, online this seemed to be a lot less.
It didn't take long before we got an indication about why this is, in the form of a number of dick pics. Posting nude pictures of ourselves didn't help much either and soon we received comments saying "I would love to be that guy". Referring to Nick, standing next to Lins. Or worse, some were just ignoring Nick and started sending messages directly to Lins, which didn't leave much space for interpretation.
And we wonder.… Do these guys do that in real life as well? Just walk up to a couple, ignore the guy completely and start talking to the girl about her butt and how much he would like to do completely inappropriate things with it? Of course not. These guys probably don't have the balls to walk up to a woman in person and therefor use the online world to prove to themselves that they do dare to talk to a woman. They even dare to say weird sexual stuff to her.

Honestly, if it wasn't for Naked Wanderings we would probably not be sharing naturist things online either. And this is unfortunately how many naturist women feel. Many are reluctant to even comment on an article about naturism just because of the 50 friendship requests that follow every single time.

And then it got worse
One could say that it's not really that bad. In the end, those messages and comments could be seen (with some imagination) as compliments. Of course they are not. If you post a picture online of your summer holiday, whether it's in a nudist resort or not, and the majority of the comments you receive are about your physical appearance, there's something very wrong with this world.

But what if you actually want to bring a message? Some time ago we shared a video from Dr. Victoria Bateman on Twitter, You may have heard about her as the "naked economist". This Cambridge professor gained world fame when she was giving a lecture about the Brexit and at a certain point stripped down completely, having "Brexit will happen over my naked body" written over herself.
Since then she has been using her nudity to express other problems to the world. In the particular video we shared, she talked about the oppression of women.
There is *so* much to be gained by challenging the notion that women's bodies are sinful – & by standing up to the presumption that if a woman's body is on show, she is trashy, stupid, worthless & deserving of less respect. That's why I for one will *not* be told to cover up. pic.twitter.com/8mVg1LkVrW

— Dr Victoria Bateman (@vnbateman) February 7, 2019
We don't expect you to share her ideas about this topic and we don't expect you to agree with the way she chose to bring those ideas. And we don't think Dr. Bateman does either. By using the controversial way of nudity she actually engages people into conversation. Her video was watched more than 2 million times on Twitter alone and our retweet produced about 50 comments. Something we would normally be very happy about if it wasn't that the large majority of the comments were about… her pubic hair.




Seriously? Let's just summarize that. So there's a professor at Cambridge, one of the world's most renowned universities. Who talks about a controversial topic being oppression of women and women's rights. Which she does in a controversial way: completely nude. And what do people talk about? Her pubic hair. Please keep this in mind the next time you wonder why few women are open about nudism and body freedom on the internet.



Important side note: It would be easy to blame the sexual mindset of men again, but in this case several of the comments came from women as well.
Micro-harassment
Back to online nudism. As nudist bloggers we (unfortunately) had to become used to online harassment and actually it doesn't bother us as much anymore as it used to. We've become insensitive about it. When we receive another sexual comment or dick pick we just block the account and report them to the social media company. Hoping that one day they might actually do something about it.
A more difficult issue is what we call "micro-harassment". Difficult because the other party often doesn't know that they are doing anything wrong.

You've certainly seen this before. A woman enters a nudist chat group, says "Hi, I'm Lins" and receives many replies saying "Welcome Lins, we're happy to have you, if we can do something for you, etc". A man enters the group and says "Hi, I'm Nick". He receives one or two or three "welcome Nick" and that's it.
Similarly how women receive many comments on how nice they look. Somehow it seems like these groups are full of men who have been waiting for a woman to appear and then every single one of them tries to be as nice as possible to her. It's often with the best intentions, but it's suffocating.

What can we do about this?
When you're being harassed or receive inappropriate comments on things you post on the internet, there is one thing you always have to remember: It's not because of you or your content. You can't help it that some people have a messed up mind. It's like if you would post a picture of a baseball bat and someone replies that he or she would like to hit someone with it. It's not your fault. Or the fault of the bat.
Just block and report the person.

When you're considering to make a comment about someone's appearance, please remember this: There's a saying that women love to hear how good they look. This doesn't really count when it comes to nudism. So basically, if someone doesn't actually ask for your opinion, it should not be given.
Another good tip is this: Your idea about how much you would like to "do" someone is never, we repeat: NEVER, appropriate.
And a last one: Before you start a chat with the next new woman in the group or on the page or send them a friend request, ask yourself a question: "Would I do the same if this was a guy?". If not, you may want to reconsider your reasons.

The good news
We've promised you some good news, right? Well, here goes and please keep this in mind as one of the most important messages in this post:
"The real life nudist world is nothing like that at all !"
Really, we can't stress this enough. Harassment of female nudists is something that pretty much uniquely exists on the internet. Which proves our statement that the harassers are just sad little people who only dare to speak out online. The real lfe nudist world is free of those people and is one of the safest environments to be.
---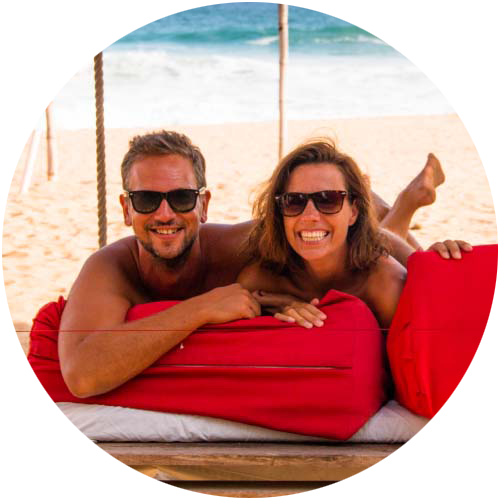 Support Naked Wanderings
Do you like what we do for naturism and naturists? Did we make you laugh or cry? Did we help you find the information you were looking for? Then definitely join our Patreon community!
---