The opinions about whether or not naturism can flourish in Brazil tend to differ. One side claims that due to the fact that Brazilians are already known to wear as little as possible at the beach it should be easy for them to also leave those last square centimeters of fabric behind. The other side will tell you that it's just those little patches that make the step so difficult. When you're only cherishing little, you cherish it more. So to say.
Interestingly, these opinions often come from outside of the country. From people who only know Brazil from TV and the newspapers and who often haven't ever set foot on its grounds. We wanted first-hand information and we found the perfect place to start. Colina do Sol is a nudist resort in the state Rio Grande do Sul in the far south of the country. It's the first naturist resort in Brazil which isn't on the coast and on the 15th of August the club will blow out 24 candles. The moment we walked in, we loved the place.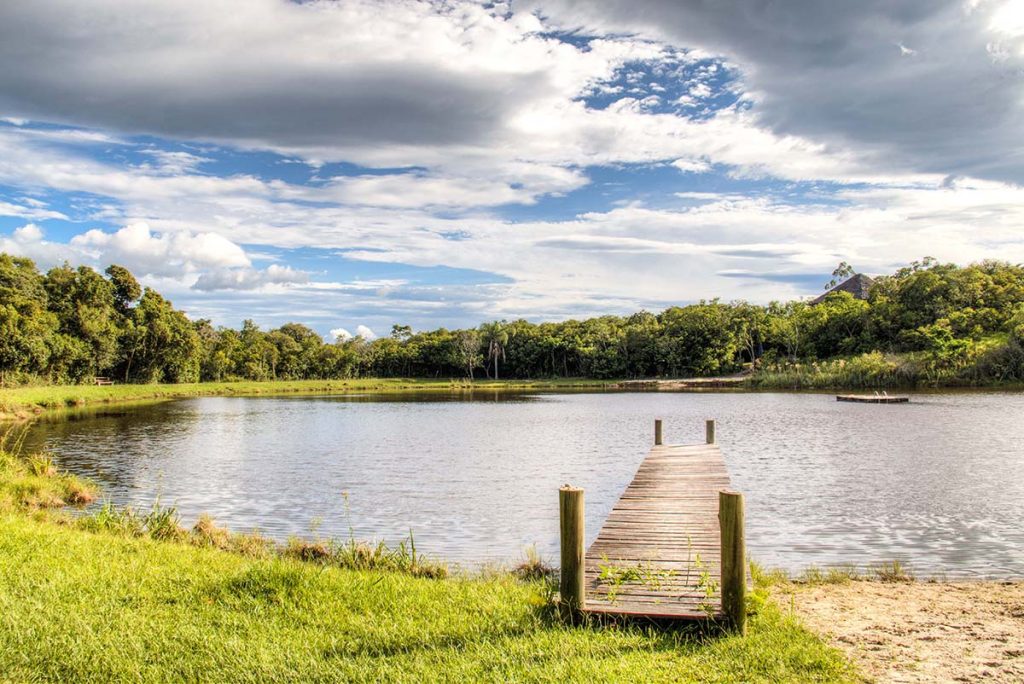 Location
The capital of Rio Grande do Sul is Porto Alegre, a colonial city at about an hour's drive from Colina do Sol. If you're arriving by plane, this is also where you're most likely going to set foot on the ground. Porto Alegre's international airport Salgado Filho has flights from most South American countries and with
TAP Air Portugal
also directly from Lisbon.
Coming from any other country you'll have to take a connecting flight in Rio De Janeiro or São Paulo.
There are several options to get from Porto Alegre to Colina do Sol. The most economical is to take a bus towards Taquara and ask to get off at Mercado Nemo (around km 117). From the Mercado, it should be possible to arrange a taxi for the last 8.5 kilometers. It's the cheapest but also the most complicated option. A better way is to take a taxi from Porto Alegre or ask the people from Colina for a pick-up service. Both will set you down about 150 reais (40 USD). We found out that taking an
Uber
from Porto Alegre was actually cheaper, only 120 reais (32 USD). After little more than an hour, our
Uber
driver dropped us off right at the gate.
Having your own transportation is certainly an advantage at Colina do Sol (read more about that later). From our experience,
RentalCars.com
often gives the best prices in Brazil. Rental car offices can be found in any major town or city.
Coming from Porto Alegre or more south by car you have to take the RS-020 to Taquara and turn left at Mercado Nemo (Fazenda Fialho). From there you'll find signs to Colina. From the North, you take the RS-020 to Porto Alegre and turn right at Nemo. If you have a decent GPS you'll find more scenic roads from Taquara as well.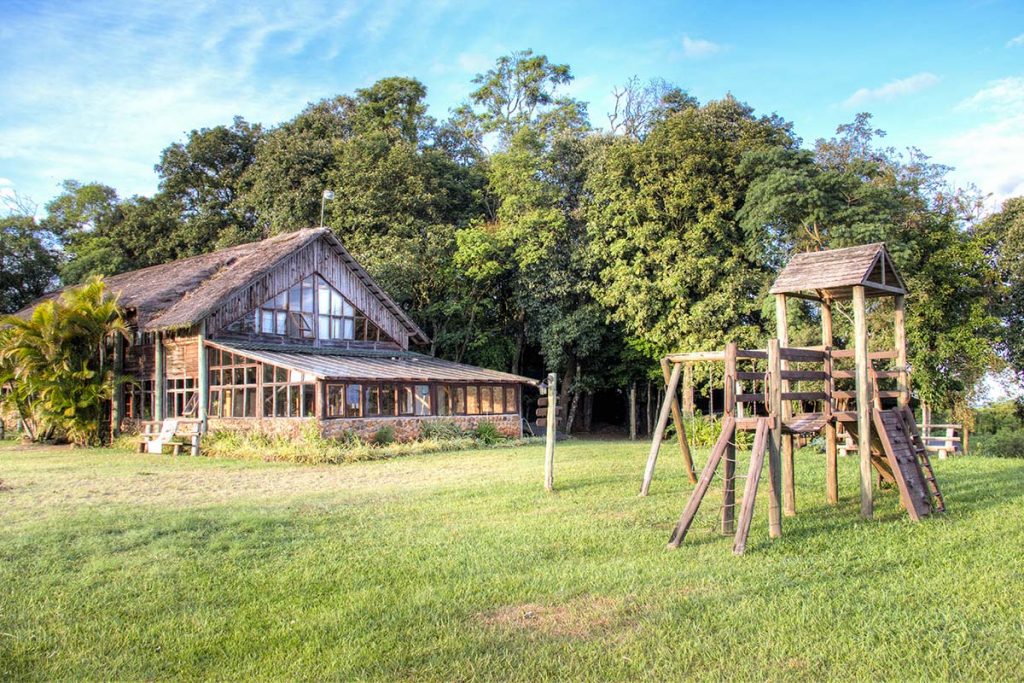 Accommodation
Colina do Sol is a 64-hectare nudist domain in a beautiful hilly landscape. One of the things we appreciated a lot about this place is that it has accommodation options for every budget. Honestly, it has taken us a while to figure out how the whole accommodation system works, so now that we know we'll explain it to you.
First of all, there are the camping and the pousada which are both owned by the club. These are the most economical options to stay at the resort. The camping provides secure pitches which will also protect you from heavy rain. At the pousada you'll find basic rooms with a fan and shared bathroom. There's a shared kitchen that can be used. We've spent several nights at the pousada and for us, it was quite fine. But if you like more luxury you might want to look at the other options.
Next are the bungalows which have different owners. Collins and Eta have several bungalows which they rent out to visitors and can be contacted online (see further). Several others rent out their own bungalow but we haven't been able to find out who or how to get in touch with them. Anyway, the bungalows always have two rooms, a living room, a bathroom, a kitchen, and often a nice terrace. The different bungalows have different facilities so ask about them before you book.
Important to know is that Colina do Sol has different regions. Some are quieter, some have more parties, some are close to everything, some allow pets, and so on. If you inform the owners about your requirements they'll help you pick the perfect one.
The option that is most chosen by foreigners is the hotel which provides rooms with king-size beds, fridge, microwave, and TV.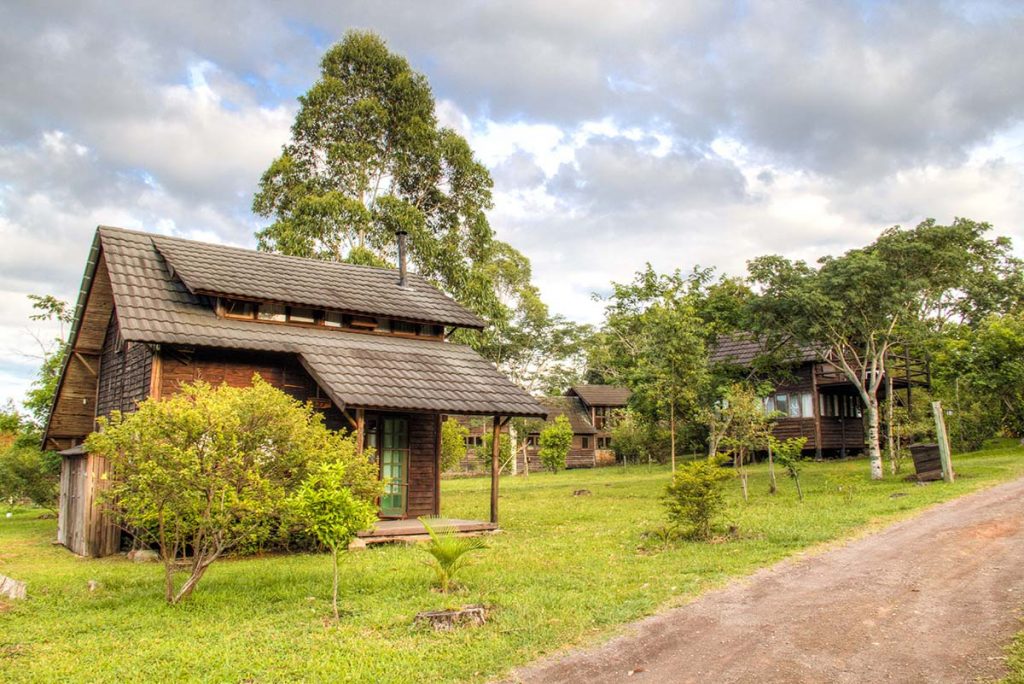 Facilities
This is where the real WOW-factor of Colina do Sol can be found. The natural beauty is purely magnificent. Maybe the fact that this was the first naturist resort we ever visited with jungle vegetation had something to do with it, but you just have to see this for yourself. Lots of green and flowers in all kinds of colors, several lakes of which at least one is suitable for swimming, trails through the woods, birds, lizards, you name it.
The large lake at the restaurant which has its own beach is certainly the place to be during the day. If you're not a fan of sandy butts you can also get your tan on one of the huge grass lawns and skinny dip in the two swimming pools. There are a volleyball court, a tennis court, and a common space filled with books and kid's toys. Other than that there is a museum about the history of naturism and the one of Colina in particular, a shop with clothing and Colina do Sol gadgets, a grocery store, and a restaurant.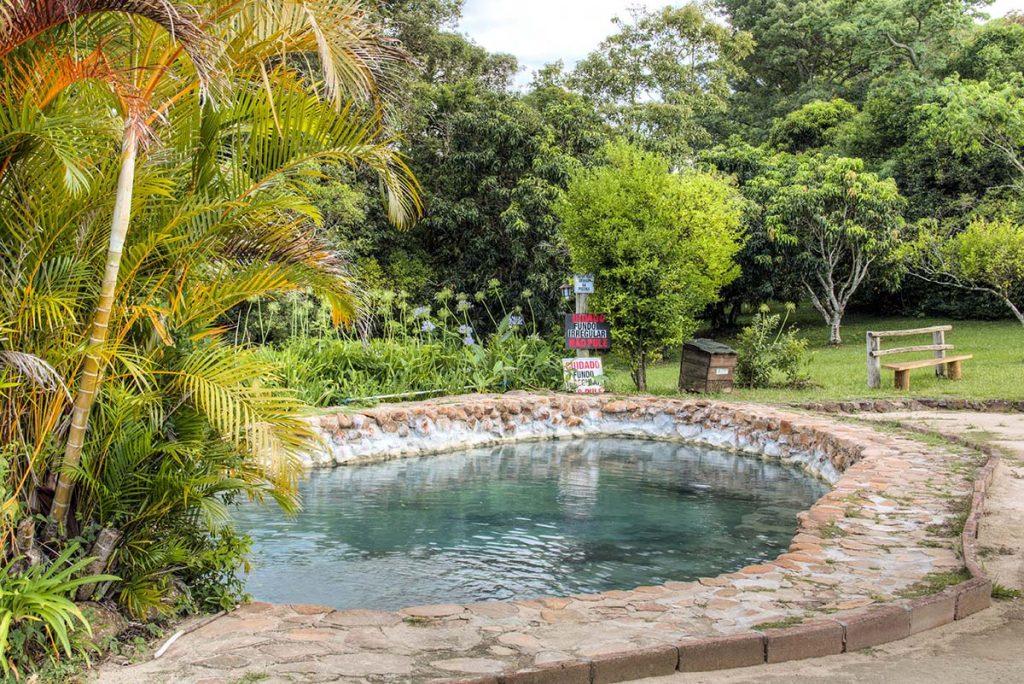 If we do have a remark, it's about the latter. The restaurant serves delicious food but only has a veggie and non-veggie option. Where the first is actually the same as the last but without meat.
Anyway, that was fine. A bigger problem was that the restaurant has a closing day: Tuesday. Which means that we would not be able to get food for a day. Luckily problems have the tendency to solve themselves in Brazil and it didn't take long before someone figured out our food-issue and invited us for lunch.
Nevertheless, it's an annoying feeling to know that you won't have anything to eat in case you'll get hungry. While the owner of the restaurant had clearly told us that they would be open again on Wednesday, they were not. It was a cloudy day and maybe the lack of day visitors made them decide that it wasn't worth it. Unlucky us. But again, we found enough stuff in the grocery shop to prepare a basic pasta.
So here's probably the best tip we can give for your visit to Colina do Sol: Stack up on food! Especially if you don't have your own transportation to drive to the supermarket (8.5km away). The hotel, the pousada, the bungalows, and even the camping have options to prepare your food, you just need to have it. Even though we're certain that people will invite you for lunch or offer to give you a ride to the supermarket, it's just more comfortable if you don't have to depend on anyone.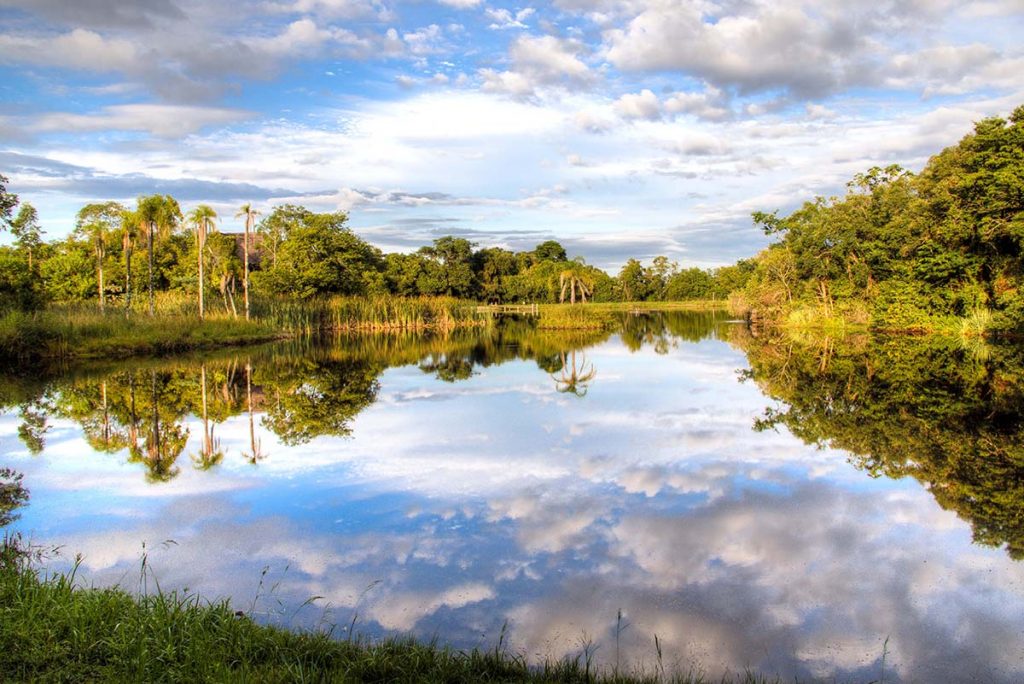 Surroundings
Colina do Sol is a place that attracts day visitors, not really one that you want to leave for the day. But if you would get bored, there are several options. Porto Alegre has quite a nice city center with lots of historical buildings and free museums. Make sure to visit the wonderful Casa de Cultura Mario Quintana and the Cathedral square.
If you're European and feeling homesick or you just like to have a taste of Switzerland in southern Brazil then Gramado is where you want to go. This small city at about an hour's drive from Colina do Sol is full of German and Italian architecture. You'll even have the chance to eat a Swiss fondue.
The top attraction of Rio Grande do Sul (at least if you ask us) is probably also Brazil's best-kept secret: The National parks near Cambará do Sul. Until today we still don't know why these parks don't attract millions of visitors per day. They are a natural beauty which you'll rarely find in the world! Several large canyons up to 1km deep, many hiking trails and waterfalls, enough to spend several days in awe. If you have your own car it'll take about 2.5 hours to get to Cambará so a day trip is possible if you're willing to get up early.
But we would recommend to at least stay over for the night and take the time to go to several of the canyons. You can visit them on your own pretty easily but with a guide, it's easier.
We can recommend
Pousada Fortaleza
both for their tours as their accommodation.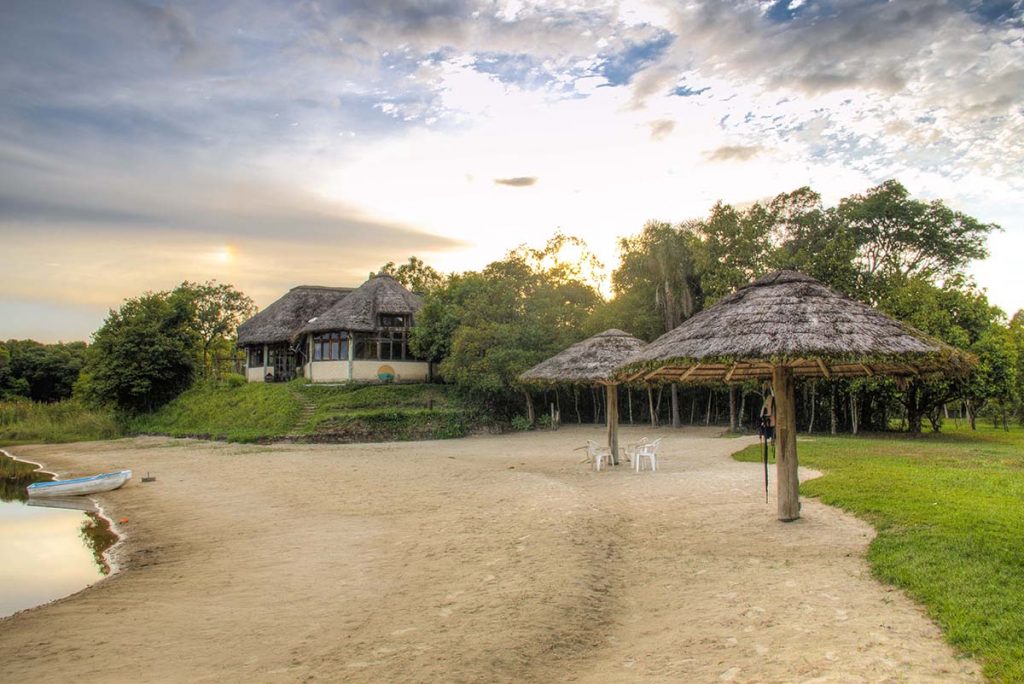 Staff
Just like it was hard to figure out how the accommodation rental at Colina really works, we also found it difficult to see who's actually working there. Of course, there are the somewhat 40 people who are living full time at the resort and take care of their own homes and gardens. Some of them are running a private business like accommodation rentals, the restaurants, or the shops so you can also see them working there. But technically Colina do Sol has only 8 staff members. The first ones you'll probably get in touch with are Tata and Rosane. The two lovely ladies who are working at the reception. One of the reasons why we enjoyed Colina so much and the main reason why we didn't starve when the restaurant was closed was because of Tata. She took care of us like a mother and made sure we had all we needed and more. If you have the chance to spend some time with her, please do so!
The name we heard passing by the most was Celso Rossi, but unfortunately, we didn't have the chance to meet him. He's the founder of Colina and the founder of the Brazilian naturist federation. A writer of several books and a big name when it comes to naturism in Brazil. Tuca who's running the campground has also been at Colina from day one and is certainly someone you like to meet as well. An all-round friendly guy who can tell you where the next churrasco (barbecue on a stick) will take place.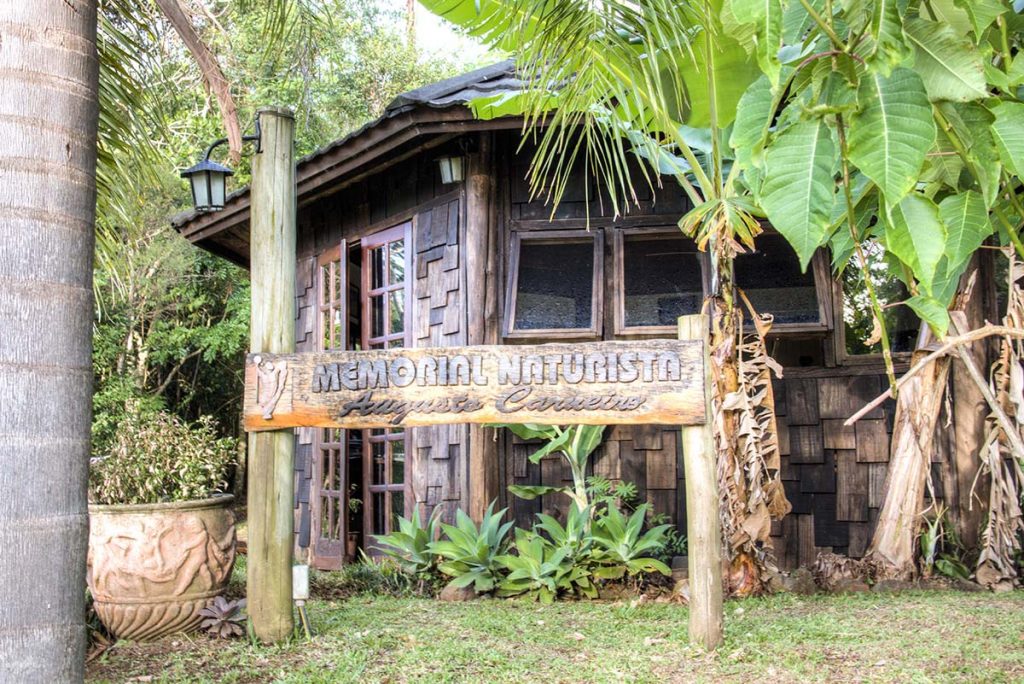 Guests
Now and then during our stay at Colina do Sol we felt catapulted back to Canada. The nature is as magnificent as the one at
Sunward
. The large spaces between different accommodations made us think back about
La Pommerie
and the atmosphere was just like at
Bare Oaks
. Not only the friendliness of the other guests but also the diversity. It rarely happens that we see such a good mix including young people, families, and groups of women.
The club itself counts about 200 members and the majority of the visitors come from southern Brazil,
Argentina
, and Chile. High season is from December until March when the temperatures are the highest but the resort is open year round. We can imagine that even when the temperatures do not allow you to be naked outside it's still a wonderful place to be.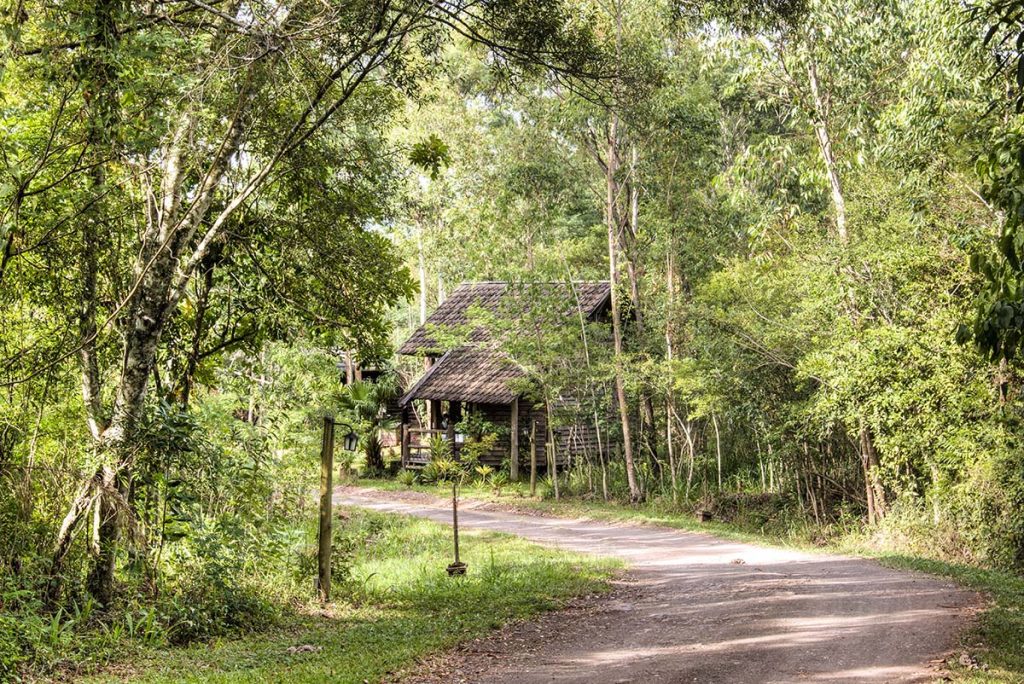 Reservations
As we mentioned before, there are different types of accommodations at Colina do Sol which have different owners. The central point of contact is the reception and if you contact them they will normally forward you to the right person. But it's much easier to contact the owners directly.
Do note that the standard way of contact in Brazil is Whatsapp. You can try to send them an e-mail but you may have a long wait before they reply. If they reply. So avoid the hassle and just send them a Whatsapp message.
Reception : General info and pousada: +55 51 99 59 34 90
Camping : Tuca: +55 51 99 85 84 010
Bungalows: Eta: +55 51 99 37 97 174
Bungalows: Collins (speaks perfect English): +55 51 96 83 19 27
Hotel: +55 51 99 35 79 111 
Summary
How many times before did we say that we've found a naturist place unique in the world? Probably a lot. And yet we've found another one of those… Colina do Sol is an oasis of rest and natural beauty inhabited by wonderful and friendly people. Although Rio Grande do Sul is not a popular tourist destination in Brazil, Colina is certainly worth a detour.
Read more about Colina do Sol on  
NUDE
Disclaimer: We have been invited as guests of Colina do Sol, but of course all opinions are our own. We are super confident you will love this place as much as we did!
---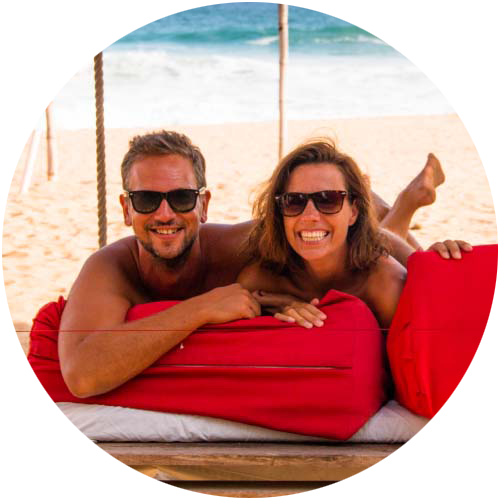 Support Naked Wanderings
Do you like what we do for naturism and naturists? Did we make you laugh or cry? Did we help you find the information you were looking for? Then definitely join our Patreon community!
---