We ran into an acquaintance on the street the other day and she said: "Oh my God, I almost didn't recognize you guys with clothes on". A line many of you might be familiar with. It's probably the most popular joke among naturists. After hearing it a million times or more, we still smile and reply something cheesy like "Sssst. We're incognito. We're trying to avoid the paparazzi".
Although the joke does get a bit old after a while, we started to think about it. Our bodies are unique. Nobody else has the same body as we do. But our clothes come from the store, where they have a whole rack with identical shirts, dresses and shoes. It's definitely possible that one day you'll run into someone who's wearing the exact same clothes, top to bottom, as you do. Seen from that point of view, it actually makes sense if we joke that our clothes are our disguise.
Clothes as protection
This introduction is of course pretty hypothetical and since the most recognizable part of the body is still the face, putting on clothes to avoid paparazzi is probably not all that effective. Another line we've been hearing more than often since we're traveling a lot to naturist places is: "Dressed when practical, nude when possible". This reflected much more the reason why we were wearing clothes. Although only one block away from the nude beach, we were walking on a public street in Mexico. Yes, it would have been more practical if we had been walking around in the nude. But much less if a cop or an angry Mexican would ask for an explanation.
Now that we're talking about naturist quotes, you would be surprised how many times we got the question "Isn't being a naturist very cold in winter?". The first couple of times we heard this, we were stunned. Do they really think that we'd prefer to freeze to death just for the sake of being nude? The astonishment moves to their face when we tell them that in winter we just wear clothes. "Oooooooh". You got to be kidding us.
Naturists don't only wear clothes to protect themselves from cold weather. Many years ago, clothes were invented as a protection against the teeth of mammoths and saber-toothed tigers. Today, the naturist still uses them against the teeth of their chainsaw. Or against the splatters of hot bacon in butter. The New York Times recently wrote a whole article about the latter. Not really worth a read, we rather recommend you to read
the response on it by The Meandering Naturist
.
What is practical?
Something we've learned during our years of traveling is that "practical" and "possible" are very personal terms. Well, at least practical is. Many of the advocates of naturism will tell you that the naturist should try to spend as much time in the nude as they can without losing their jobs or ending up in jail. "15°C, come on, that's warm enough! Are you a naturist or not?". We are lucky to spend a lot of our time in warm weather. 15°C doesn't just mean clothing time for us, it means long trousers and a jacket.
The thing is that those die-hard naturists, who often have the biggest mouth on social media or at the bar of the local naturist club, make us look bad. There they are in their birthday suits, enjoying the last rays of the winter sun, while we look like we just came back from the north pole.
It's good that those people are there, they form the strong foundation of the naturist community. Even if they only have 5 minutes between coming back from work and picking up the kids, they will get naked. Even when it's only 15°C. Even when the bacon splatters are flying everywhere. They WILL get naked. Because it's possible.
Important to know is that they don't represent the whole naturist community, but just a fraction of it. For the large majority, the "practical" aspect is more important than the "possible" one.
The freedom of being a naturist
What bothers us is when the die-hard naturists start to feel better than others. Start to feel "more naturist". And start to force their personal vision of naturism upon others. Which, in our point of view, makes them actually less a naturist. By feeling better than others, the equality factor of naturism fades away. But also the freedom factor. If someone feels forced to be nude even when he or she doesn't think it's practical at the moment, naturism becomes very restricted.
On the other hand, when everyone has their own level of practicality, we do create a huge gray zone. Making it very easy for people to come up with excuses to wear clothes even when the circumstances are perfect to be nude. We'd love to turn this blog post into another one of our
advocacies for clothing optional
, where pure freedom comes in having the absolute choice of wearing clothes or not. But let's stick to naturism here.
During our travels through naturist resorts in Europe last year, we noticed that clothes became the most common dress code at the dinner table. On average, we would say that at least 70% of the naturists would go to the resort's restaurant dressed, even though they are allowed to be nude and in many cases, the temperatures were still agreeable enough to do so, even for us. When we asked people about it, they told us that they felt more comfortable dining with clothes. Or that it's rather a habit. "When we go out for dinner, we dress up. That's what we are used to doing".
Why are you wearing clothes?
Should we tell naturists who prefer to dine clothed that they violate the naturist etiquette? How about those who love to swim and sunbathe nude, but feel nothing for wandering around or riding a bicycle without at least a sarong? How about women who prefer to wear a bottom when in their period? What do we do with teenagers entering the dark years of insecurity and the unsynchronised growth of their body parts?
If we allow exceptions, will there have to be any regulations about who will be pardoned and who won't? And what do we do with the inevitable restriction on our naturist freedom that comes with such rules?
Or can we just all get along? Care less about whether some prefer to wrap themselves in a sarong while doing grocery shopping at the campground store or wear clothes during sports activities? In the end, naturism is about our freedom to be nude. Should we really care about why you are wearing clothes?
Naked Wanderings' Complete Guide for the First Time Nudist ebook

Do you still have questions about nudism or naturism?
Are you looking for even more tips and tricks?
Our ebook will be the perfect resource for you!

Learn More
---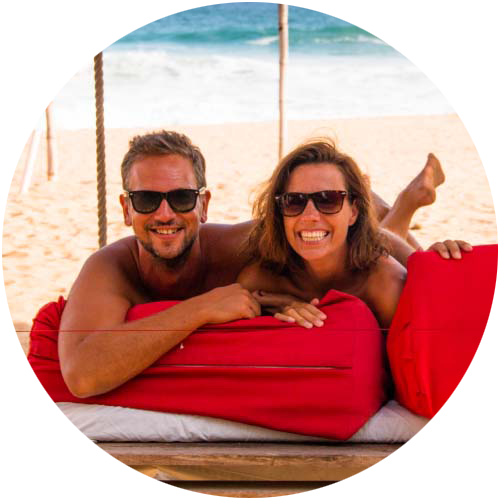 Support Naked Wanderings
Do you like what we do for naturism and naturists? Did we make you laugh or cry? Did we help you find the information you were looking for? Then definitely join our Patreon community!
---