The European summer is already a couple of months behind us, and we've visited so many places that it took until today to publish an overview of the last part of our summer journey. But what a part. A road trip through the southwest of France, from the Atlantic coast to the foot of the Pyrennees mountains. Along the way, we visited 6 naturist resorts. All very different and yet so very alike.
Before we get started, it's important to note that the resorts mentioned below are not the only ones in the region. There are many more that we already visited during the last few years. For a good overview, check out our
Naturism in France page
or have a look at our
Nakation Map
. And, of course, there are some others left that we hope to visit in the coming years.
Upscale naturism at La Jenny
Our road trip started at the Atlantic coast, at a resort that had been on our wishlist for quite a while. La Jenny is the only place in this overview that is not a campsite, but a naturist holiday domain with only rental accommodations. Other than that, La Jenny is also known as an upscale naturist place. It has its own naturist golf course! Need we say more?
The landscape of the resort is very similar to the other naturist resorts on the Atlantic coast, in the sense that it's huge, hidden in a pine forest, and has access to a seemingly endless nude beach. Other than the golf course there's a large pool area, several sports facilities, a restaurant, bar, and shops. In fact, everything you need so you never really have to leave the domain. What we personally liked a lot is that all bungalows are more or less in the same style, which often gave us the feeling of being in some kind of hidden fairytale village.
Naturism in an authentic wine chateau
When we continued our journey in the direction of Bordeaux, the typical wine castles started popping up around every corner and on every hilltop. Our next stop would be Chateau Guiton in Entre-Deux-Mers, the largest wine region around Bordeaux. Chateau Guiton is an authentic wine castle, well, was an authentic wine castle. Now it's a naturist guesthouse inside an authentic wine castle. In the gardens around the chateaux are several camping pitches and glamping tents.
If you're into good wines, this is definitely a region you want to explore. But also if you're just looking for a relaxed naturist destination where time doesn't really seem to exist, this is the kind of place where you want to go. We doubt that it gets more French than this.
The philosophy of naturism
Every naturist resort is different, that's something you'll probably all agree with. We're not just talking about how they look, but also about the mentality of the guests and the way naturism is experienced. Campsite Le Champ de Guiral inspired us to create a video about the
philosophy of naturism
, and that was not just a coïncidence.
The campsite used to be a farm with a large garden, this garden has been completely redesigned with an abundance of fruit trees and a number of camping pitches and mobile homes. The farmhouse became the central building and a swimming pool was added for cooling down during the hot summer months. The owners try to run the campsite in the most sustainable way. For example, all the food that they offer in the restaurant either comes from their own garden or (the things they can't produce themselves) from a nearby farm.
The typical cozy family campsite
When we traveled further south, the weather started to turn against us. This was already the second half of September, and even in the south of France, this is a tricky period weather-wise. It was raining cats and dogs when we arrived at Le Fiscalou. Luckily, their rental bungalows are among the largest that we encountered during our travels in France, with lots of space to stay inside on a rainy day.
Like a touch of magic, the clouds completely disappeared during the second day and we got the chance to see what the campsite looks like on a sunny day. Shortly summarized, to us Le Fiscalou felt like a no-nonsense naturist campsite. One where you don't need to expect the most activities or facilities, but that has everything you need for a great camping vacation. Including a large swimming pool and an even larger forest with hiking trails.
Endless views at Les Aillos
On the outskirts of Toulouse, we got to our next stop on this naturist road trip. To understand the geography of Les Aillos, it's best to have a look at the
drone shots in our video
. Basically, the domain is a long stretch of valley, surrounded by farmlands. We imagine that Les Aillos would feel pretty cramped if it had been fenced off. Luckily, that is not the case and in fact, this is what made Les Aillos really special to us. The views from the campsite are spectacular and can be enjoyed sans-clothes.
Other than this, Les Aillos is a 4-star campsite and the facilities like the pool, the bar and restaurant, and the rental accommodations definitely prove that they are worth such a rating. What we also liked a lot about Les Aillos is that although there are quite a lot of pitches and rentals, these are very nicely divided into many different areas, so we doubt that the campsite will ever feel crowded. Even not when it's totally full.
Revisiting L'Eglantière
We've meanwhile visited almost 50 naturist resorts in France. This may seem like a lot, but this also means that there are at least that many more that we haven't been to yet. So every time we are in France, we try to explore new places instead of revisiting the ones we've been to before. But now and then we make an exception. We had only a handful of days left before the summer would end and we were in the Toulouse region. We just knew that L'Eglantière would be the perfect last stop for this road trip.
And we were right. Going back to L'Eglantière kinda felt like coming home. We stayed in exactly the same bungalow as two years ago, we went on the exact same guided hike through the huge forest, and we found back our favorite spot next to the river where we would soak up the warm afternoon sun. This was the end of yet another naturist road trip through France, and we couldn't be happier that we were spending those last days here.
---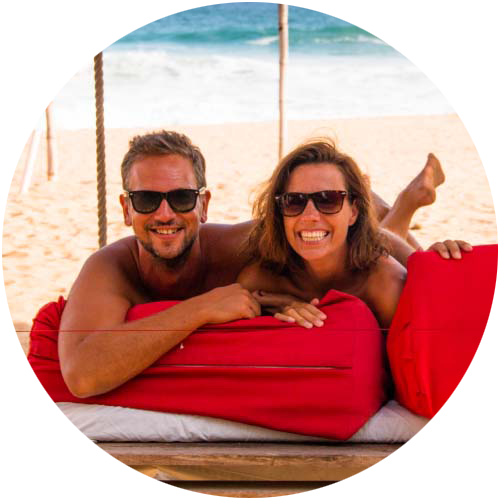 Support Naked Wanderings
Do you like what we do for naturism and naturists? Did we make you laugh or cry? Did we help you find the information you were looking for? Then definitely join our Patreon community!
---