This is the question that kept us awake one night in the early spring of 2020. We had been active on social media as naturists for years and although we managed to create quite a genuine community, we were still often disappointed, discouraged, and disgusted when we received yet another dick pic or sexual comment. Had these people learned nothing from our posts? Was all our promotion of non-sexual nudity just an illusion? And most of all, what do aspiring naturists think when they do their research online and get confronted with all this? Would it be possible to create an online platform for naturists without harassment and perversion?
Our epiphany
Let's rewind a couple of days because this question didn't pop up in our heads just like that. We had tried out several naturist social media and had long given up on the idea that it was possible to keep them creep-free. That was the first thing that we said to our friend George when he pitched us the idea of creating yet another naturist platform. We just couldn't see how ours would be different from the others. How we could discourage the dick-pic-enthusiast from polluting our platform and the voyeur from stealing the photos of our members.
It just wasn't possible, we believed. But George had planted an idea in our heads that we couldn't get rid of. How did other social media cope with this? Obviously with their strict "no nudity" policies and extensive moderating teams. Two things that we couldn't afford. What did Pinterest do? YouTube? TikTok? WhatsApp? Google?
Suddenly, around 3 AM, we were sitting wide-eyed, straight up in bed. Well, we like to remember that it was in the middle of the night for the dramatic effect, but it could well have been in the late afternoon. Anyway, Google! When Gmail got started, you could only get an account if you were invited by someone who already had one. For them, it was a brilliant marketing strategy, but for us, it could be the golden ticket to a genuine platform.
Naturist Hub v1.0
We talked to George the next day and he agreed. This could be our chance for success. Many Zoom calls and a lot of technical stuff that we don't really understand either later, Naturist Hub v1.0 was a fact. We had a platform with exactly 2 accounts. George and ourselves. From there, the snowball effect would have to do its trick.
Our number one rule to keep the platform safe was "to only invite people who you are willing to vouch for". That's when it dawned on us. We may have a huge network with many thousands of readers, viewers, and followers, but we don't actually know all those people. We can't vouch for all of them. And as co-founders of the platform, the last thing we wanted was to be the ones who let the first creep in.
Luckily, we do know some naturists from around the world of whom we are sure that they would be the perfect pioneer members. Linda, Scott, Gerardo, and several others joined, and Naturist Hub became our fun little online naturist club. Which was absolutely great, but not what we had in mind. With fewer than a handful of posts per day, we couldn't call ourselves a serious platform. And many of the new members got discouraged by this rather empty box and never took the effort to log on again.
The AANR-Effect
Fast forward to the summer of 2021. Naturist Hub had become a great and safe community. It was growing steadily, but the snowball we had been looking at refused to increase in size. We had embarked on a
naturist cruise on the Adriatic Sea
, and when we returned to the mainland it was as if a bomb had been dropped. During the time that we were offline, the number of Naturist Hub members had at least doubled.
The reason for this sudden growth was that the American Association for Nude Recreation (AANR) had, with the launch of their
new website
, also embraced Naturist Hub. And they made it possible for their members to
request an invitation
. This was the push in the back that we had been looking for.
The Future of Naturist Hub
This sudden growth has more consequences than one would initially expect. Our Zoom calls with George are now filled with words like "network speed", "disk space", "servers", and "load balancing". And while we used to know every single member of the platform, it's now filled with strangers. Or rather, friends we haven't met yet.
All of this forces us to think about the future of Naturist Hub. Technically, but also organizationally. Where do we want to go from here? What do we want our platform to become? There is still a lot to consider, but we can already tell you this: Both George and ourselves believe that we need to stick to the initial concept: To create a safe online environment where naturists can be themselves and feel free to express themselves. This is, and will always be, our value and our goal.
A question that is probably burning on your tongue right now is whether have we been able to remain creep-free. Unfortunately, we have not. Even in our protected area surrounded by an invitation-firewall, some people with the wrong intentions have managed to get in. Just like they get into resorts from time to time. But we are happy to tell you that we can still count those cases on one hand. Which is, given that this is the internet, quite a success if you ask us.
How to become a member
Before you start asking us to invite you to Naturist Hub, we would like to remind you of the one thought that made all of this possible. The epiphany that came to us at 3 AM (or PM). We can only keep this place safe by working with a "friends invite friends" concept. So we are really sorry, but if we don't know you personally, we won't invite you.
The good news is that because we now have so many more members, there is quite a chance that you already know some of them. So our tip for you would be to just ask around. Do a shoutout on social media: "Can anyone invite me to Naturist Hub?". Ask the people from your federation or club. Ask your friends, colleagues, and your aunt Amy (we have 3 members who are called Amy, one of them is certainly your aunt!). This is the only way to ensure that if you do become a member, you will know that you are in a safe place.
NOTE: As Naturist Hub is a secure and private medium, we can't publish photos from the platform. So we've used some Instagram photos instead 🙂
---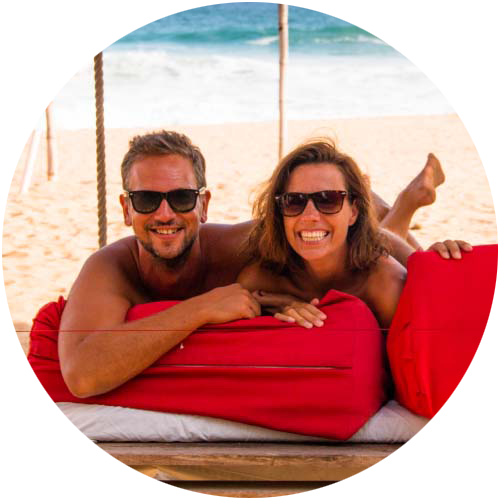 Support Naked Wanderings
Do you like what we do for naturism and naturists? Did we make you laugh or cry? Did we help you find the information you were looking for? Then definitely join our Patreon community!
---