The weather in the southwest of France can be pretty unpredictable. This is something we learned first hand when we were making our way to Le Fiscalou, the next naturist destination on our itinerary. During the last weeks, we had been enjoying excellent late summer temperatures, and clothes had never been needed except for early in the morning or very late in the evening.
Just overnight, the temperatures had dropped and dark clouds had chased the blue skies away. Bad weather is never fun when you're going to a holiday destination, and we were a bit afraid of what would happen to our pictures and our video. Luckily, just one day later the weather turned once again and naturist temperatures were all around. That is the weather in southwest France, it can change really quickly and can go either way. But this is not an essay about the French climate, so let's talk a bit about Le Fiscalou instead.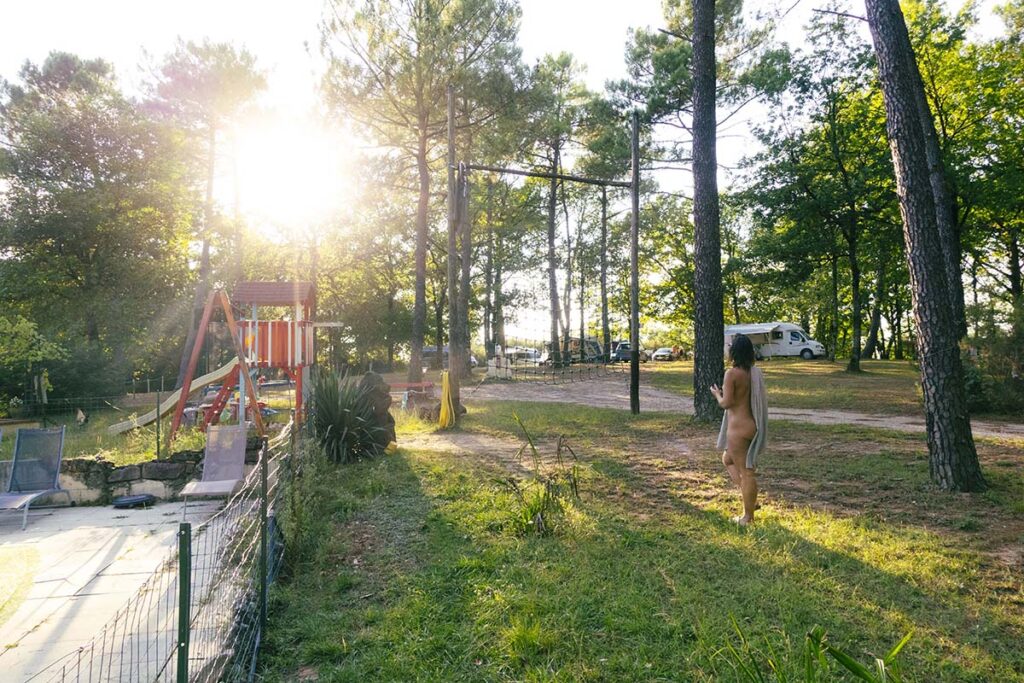 How to get to Le Fiscalou
We've probably said this many times before when we wrote about naturist campsites in France, but we'll have to do it once again: Having your own transportation is a must because public transport can't bring you all the way to your destination. And even if it would, the Tarn region is not to be missed and you'll need some transportation to get around.
Le Fiscalou is located near the city Montauban, just north from Toulouse. If you're driving from the north, you want to get the A20 in the direction of Toulouse and get off at Montauban. Coming from the east, you also want to make your way towards the A20 and from the south of France, you can take the A9 coastal highway and in Narbonne switch to the A61 direction Toulouse. Once you've passed Toulouse, you'll get to the A20. Coming from Spain is pretty much the same but from the other direction. Although you could also take the mountain road that passes by Andorra.
French highways are infamous for being expensive and having quite a lot of traffic jams, so unless you're bringing your own accommodation (or a lot of stuff), we highly recommend doing a part of your trip by public transport. The nearby city Toulouse is on the high-speed train network and has an international airport. From there, you can easily cover the last part with a rental car.
During our road trip through France, we used the website
Orbit Car Hire
for our car rentals in France and can highly recommend them!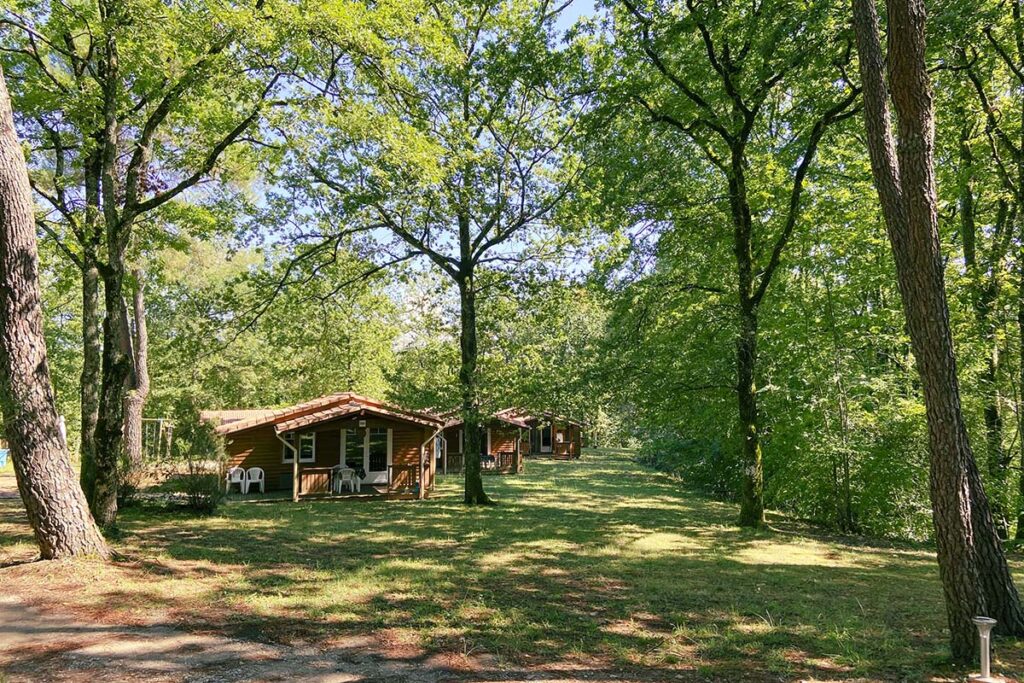 Where to stay at Le Fiscalou
As this is a campsite, there are obviously camping pitches for those who are coming with a tent, camper, or caravan. Most pitches are located in a large area between the entrance and the central part. It's a large field, but thanks to the many trees you'll always find a spot with enough shade. Other camping pitches can be found further towards the forest, they are a bit further away from the facilities but give a much more natural feel.
If you didn't bring your own accommodation, there are several rental options as well. Mostly in the form of rental tents and chalets. We stayed in a Forester type chalet, which was probably the largest accommodation we've stayed at during this road trip. There are two bedrooms, a bathroom and separate toilet, a large kitchen, a large living room, and a large terrace.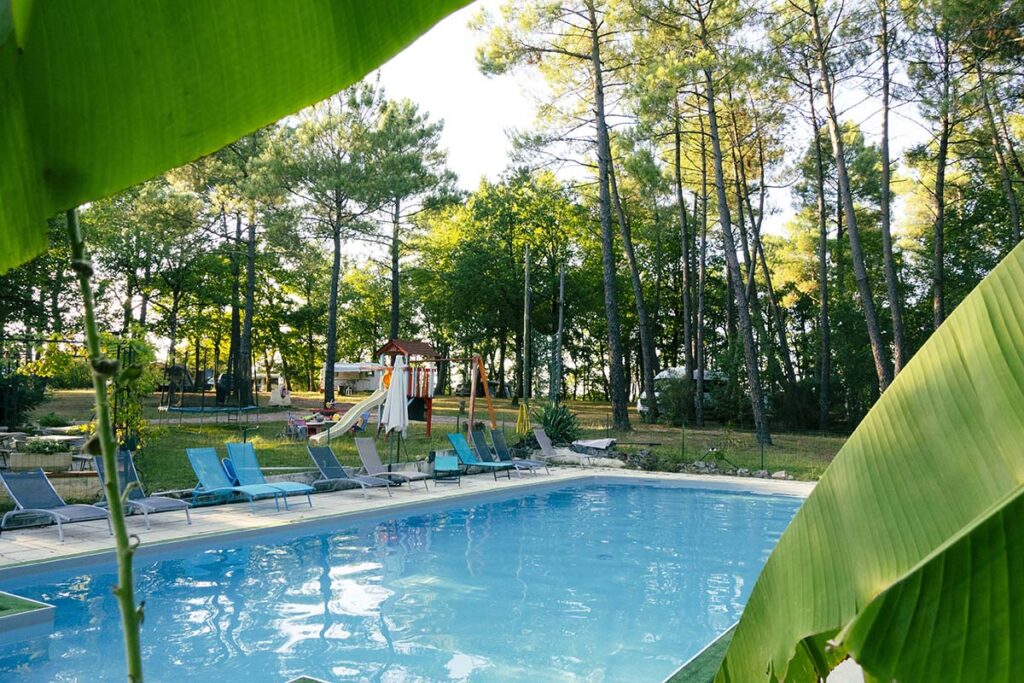 What to do at Le Fiscalou
Since Le Fiscalou is a 3-star campsite, you can expect to find most of the popular naturist facilities. The central area consists of the swimming pool, a playground, and the restaurant/bar. Then there are a number of sports facilities like volleyball, petanque, arching, and table tennis. As we visited Le Fiscalou by the end of the season, there weren't many activities going on. But we heard that during the summer months there's pretty much something every day for both adults and children.
One activity that we could still participate in was a communal dinner. And we have to say, it was one of the best communal dinners we ever had. Not just because of the atmosphere, which was really great and we believe that the large majority of the guests were there. But also because of the food. Pascale has set up a huge barbecue and the main dish of the evening was roasted gambas. Now that's a nice variation to the typical chicken or pizza night!
For us personally, one of the highlights of the campsite is the forest trails. A large part of the campsite is lush forest and thanks to the several trails it's great to walk in the nature or to escape from the sun on a warm day.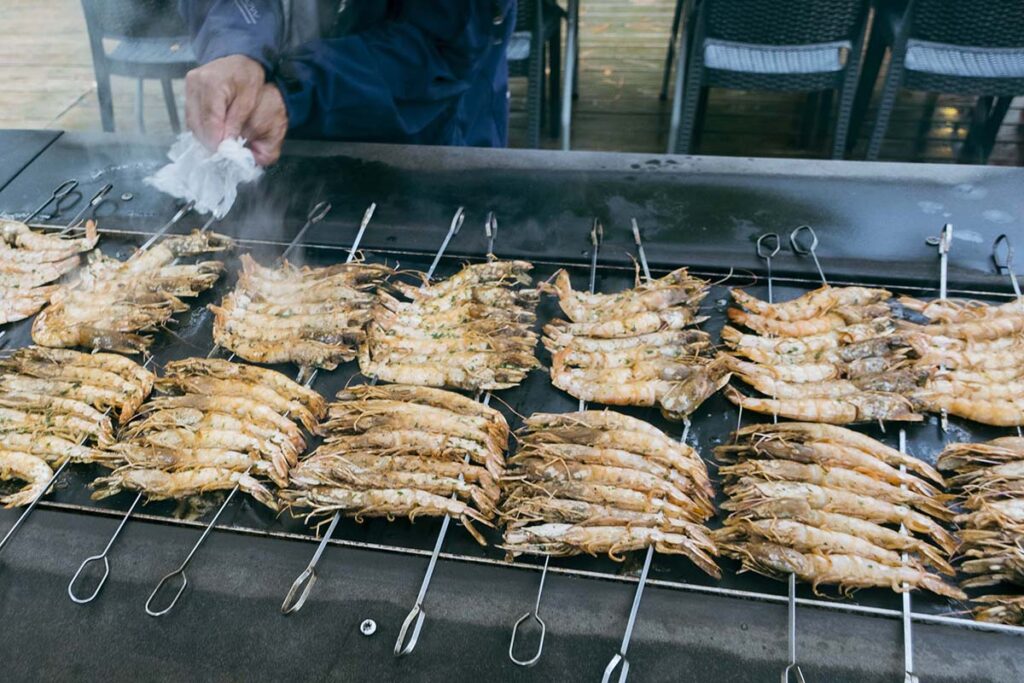 Around Le Fiscalou
As the weather wasn't really naturist-friendly during the first day, it was a good opportunity for us to head out and explore a bit of the surroundings. Just outside Le Fiscalou, we found the medieval village Puycelsi, which is said to be one of the most beautiful villages of France. We imagine that lots of villages say this about themselves, but Puycelsi is actually on the
official list of the most beautiful villages
. We explored the town and could easily see why it's on that list.
The region is dotted with beautiful fortified villages. Others that should be included in your itinerary are Castelnau-De-Montmiral and Penne. Nearby cities that are worth a visit are Montauban for its red bricks and Gaillac for its wine culture.
The Tarn region is more than historical towns and villages. It's a very green region that's not too hilly, which makes it great for hiking and cycling. More adventurous sports can be found in and on the Aveyron river. And don't get us started about the local food and wine… Well, there's actually one great tip we got from one of the guests at Le Fiscalou, which we want to share with you as well. If you like garlic, you can find some excellent purple garlic on the local markets. We tried and definitely approved it.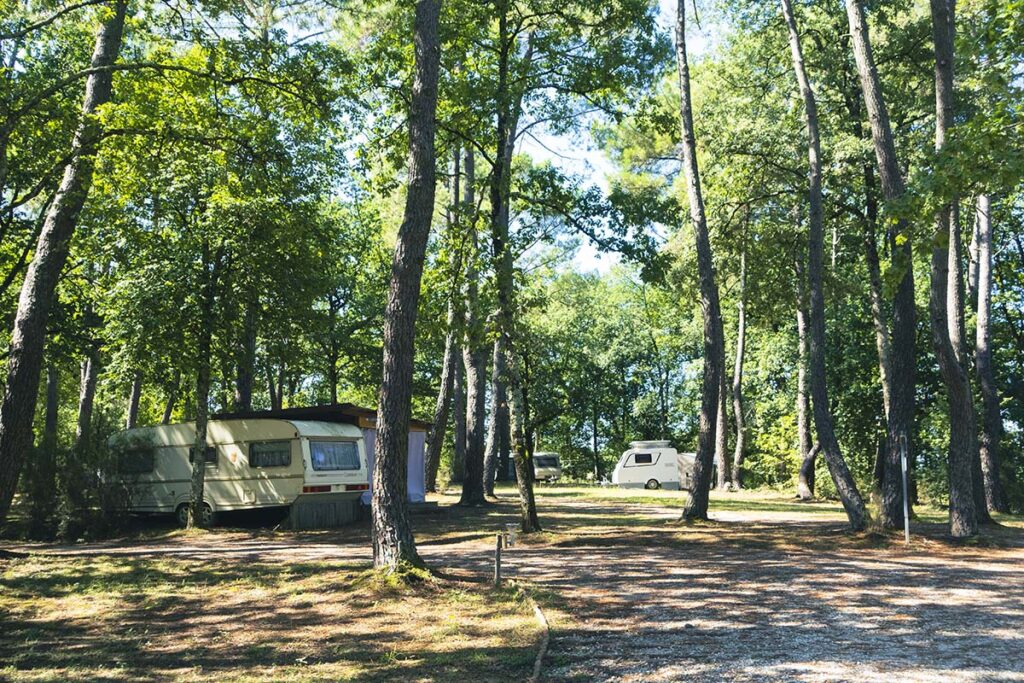 Staff of Le Fiscalou
For a number of years, Le Fiscalou has been owned by Anne Sol and Pascal, a French naturist couple. Of course, they can't manage such a large place all by themselves so they get the help of their three children and a number of volunteers. But it does seem like they are everywhere all the time. We didn't have that much contact with Anne Sol and Pascal, so we can't tell you all that much about them. The campsite was running really smoothly though, and that is what really counts.
Guests at Le Fiscalou
During our stay, the majority of the guests were French, Dutch, and Belgian. But as mentioned before, we didn't come at the best time. It was already late in the season, and since it had been raining the days before we arrived, many of the guests had left towards the Mediterranean coast where the weather forecast was more promising. So we can't say if the guests who we found are really representative of the campsite.
What we did hear from the others is that many keep coming back year after year and they all said that it's because of the atmosphere. We get that, Le Fiscalou is a small family campsite, which makes it really easy to meet others. But thanks to its abundance of nature, the campsite is also a good fit for those who don't really want to socialize and enjoy nature instead.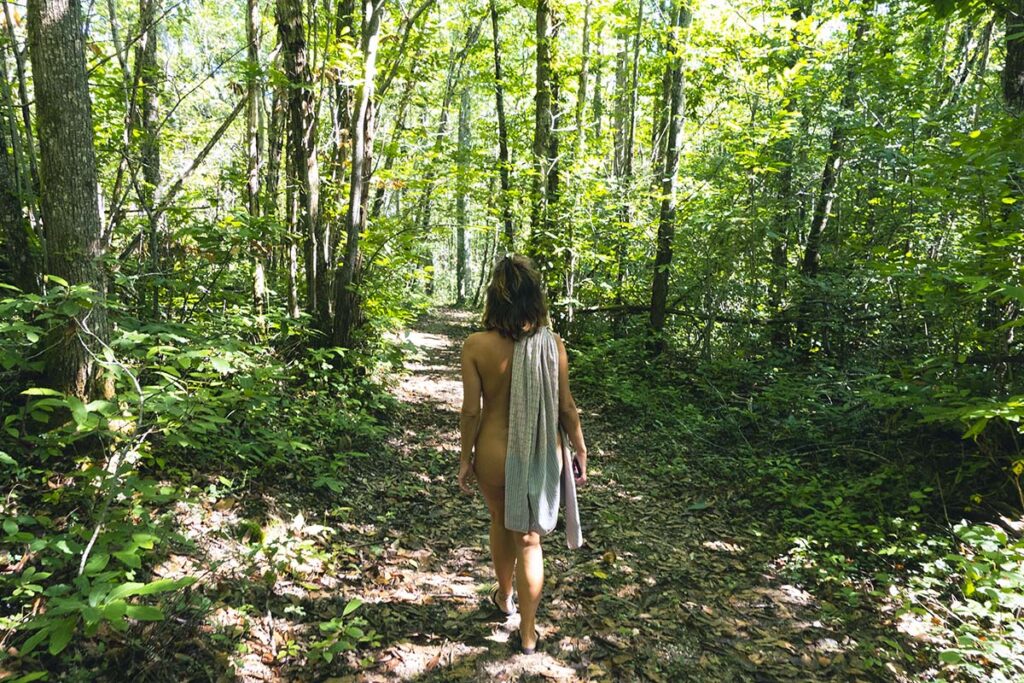 Reservations & Contact
Le Fiscalou is open from early May to early October, the best way to book your stay is via:
Languages: Both French and English are spoken.
Summary
Le Fiscalou is one of those typical mid-sized naturist family campsites. The ones that don't leave you stunned from the first moment with their beauty or range of facilities, but leave a much softer impression. So that when it's time to leave, you feel like you just want to stay a little bit longer.
Watch the video
---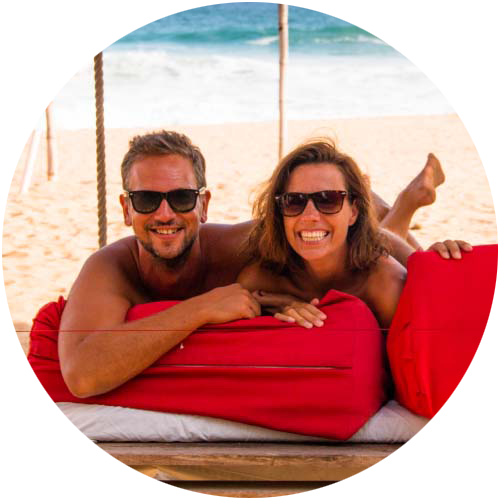 Support Naked Wanderings
Do you like what we do for naturism and naturists? Did we make you laugh or cry? Did we help you find the information you were looking for? Then definitely join our Patreon community!
---