Meanwhile, we're almost two weeks far in our
Big Nude French Road Trip
. The main reason why we decided to go on this naturist camping tour was of course COVID-19. We wanted the flexibility of traveling with our own transportation. Not having to rely on trains or planes, which can get canceled any minute. Camping also seemed like the safest option. We would be able to bring our own gear, sleep in our own tent, and naturist camping spots, in general, tend to be spacious, making social distancing little to no issue.
On the other hand came our curiosity. As naturist travel bloggers, we wanted to know how travel is during these strange times. We wanted to learn how resorts manage to stay put when they have to implement a range of health measures. And we wanted to know who else would be on the road. Who else would be traveling now and how they are handling the situation.
One thing that's sure, is that traveling during COVID-19 times should not be taken lightly. There is the obvious health risk, but also the risk that new quarantines and lockdowns might be put in place. From what we learned during the last weeks, traveling is definitely still an option. But a little more care than usual is a must. The following tips will help you prepare a comfortable naturist road trip of your own.
Check the regulations and government advice before you leave
The days when you could jump on a plane and end up on the other side of the world are definitely gone for a while. Even short distance traveling comes with certain consequences. As mentioned before, more planes get canceled every day than the Pope can say "hallelujah". You may be required to fill out forms before entering a country or have COVID tests at arrival or departure.
This is why we decided to travel in one country throughout the whole summer. We would avoid border controls and reduce the risk of getting stuck or having to go in quarantine at a certain point. If local lockdowns would appear, we can easily change our plans and avoid certain regions.
So the very most important thing you have to do before leaving is to check the local regulations of the country you're going to visit, and the advice of your own government. Learn about possible restrictions during your road trip and when you return home.
Bring masks and wear them
When we returned from Mexico to Europe, wearing a mask on the plane was obligatory. Including a 3-hour delay and boarding procedures, we have been constantly wearing a mask for more than 15 hours. We can tell you, that wasn't the most fun experience. But it was a necessity, and that's what kept the itchy piece of fabric over our noses and mouths the whole time.
Masks are among the most important precautions you can take. Now that we're writing this blog post, on a hill at a naturist campsite with not a single human in a 50-meter radius, we're obviously not keeping our faces covered (nor the rest of our bodies). But when social distancing can't be maintained, the masks come out of our pockets. They are a great way to keep ourselves and the people around us safe.
If you're one of those people who don't believe in the effect of wearing masks, that's your full right. But keep in mind that masks are becoming obligatory at more and more public places, including bars, restaurants, and shops. So bring them anyway.
I made this video yesterday in the hopes that if nothing else, maybe my tits will get enough people to #wearafuckingmask that we can #flattenthecurve like we should have MONTHS ago, hopefully before y'all kill my high-risk mom and/or the rest of us. pic.twitter.com/ErJSMxpesI

— Heinous Female Nipples #ImpeachTheMFer (@ToplessTopics) July 14, 2020
Wash your hands, a lot
Another great way of keeping yourself safe is by washing your hands. A lot. It's not the hardest thing in the world to do, it's just something you always want to keep in the back of your mind. If you touched something that wasn't yours, give your fingers some soap before sucking your thumb or picking your nose. You'll be surprised about how quickly this becomes a habit. One that will even keep you safer after COVID.
Plan your supplies strategically
We are not food planners at all. Whenever someone asks us what we're going to have for dinner, we give them a blank stare. "How am I supposed to know? Is that really something I have to decide right now? It's barely noon". We're used to going to the shop pretty much every day. Sometimes more than once a day.
This significantly changed this summer. Shops and restaurants are the typical places where you run into a lot of strangers. People who may not have read this blog post and who don't really care about their health or yours. They touch their carts, half of the milk bottles, and pretty much every tomato before deciding which one will end up in the salad. It's easy math, the less time you have to spend in a shop or restaurant, the less chance of picking up the virus.
Another reason why you want to plan your shopping and restaurant visits is that they might have changed opening times. For the safety of the staff and the customers, they might open late, close early, or implement a "siesta". Some restaurants may not be open at all on days when they used to. Or work on reservation only. Or only allow a limited amount of guests. Another important first-hand tip is that public toilets in shops may not be public anymore. So better plan your pee too.
Stay away from crowded places
During the first days of our road trip, we were at not much more than a stone's throw from Paris. You know, the Eifel tower, Montmartre, the Louvre, Notre-Dame cathedral. We visited none of those. We didn't even enter Paris. The same will happen later on this trip, when we'll be passing by Marseille with its beautiful port and busy markets, Montpellier with its many bars and terraces and the pink city Toulouse.
Those cities aren't going anywhere. We'll have plenty of time to visit them once the pandemic is over. But now we want to stay away from crowded places. Instead, we're going to spend our time in nature. In parks and forests and sleepy villages. Places which, ironically, might actually not be here anymore in a decade or two.
Think about who you meet up with
One of the most difficult parts of this road trip will be reducing human contact with the other naturists. Naturist campsites tend to have a social atmosphere, which is in fact one of the reasons why we like naturism so much. It's so easy to strike up a conversation with the owners of the tent next door and ending up many hours later sipping wine with half the other campsite guests. This year, that will be different. The friendly "bonjour" from everyone we pass by is still there, but the hugs, kisses, and cozy campfire reunions don't happen as much as they used to.
When traveling in Europe, we also love to meet up with friends. People we've met during other trips or long time friends from home who decide to join us for a couple of days. They too carry an increased risk. One that we need to think about.
The hardest part of it all is finding the balance. Honestly, we'd rather get sick than to turn into cold asocial beings. But if avoiding a handshake can keep us from spending a part of this trip in the hospital, it's something we do need to consider. Will we still take unnecessary risks? Definitely. This trip on itself is more dangerous than locking ourselves up somewhere. But alarm bells are ringing more regularly than they used to.
Spend your time outside
Our choice to go camping also comes from the idea that we'll be spending most of our time outside. As naturists, the outdoors were already our most favorite place to be and now even more. The virus just doesn't spread as easily in the open air as it does inside buildings. When the summer temperatures around the Mediterranean coast will hit their hights, we'll probably be craving for that empty table inside the airconditioned restaurant. But we won't take it. We'll look for a shady spot on the terrace instead.
From what we've learned during the first weeks of this
nude camping trip through France
, traveling isn't all that different than staying at home. We're doing the same things with the same care. In fact, being surrounded by strangers, we're probably even more careful than when everyone would be family. If you're doubting about hitting the road or not, we would say go for it. Just use your common sense and keep our tips in mind. And go to naturist places, they're not only safe, they're also awesome!
IMPORTANT SIDE NOTE:
The
last time we wrote about traveling in times of COVID-19
, we had to add a special notice to that blog post only weeks after it was published. What seemed like ordinary flu at the time of writing, turned out to become a pandemic. So we'll tell you right away: If this thing becomes bad again and if new quarantines would be put in place, we will stop traveling. And we sure hope that you will too.
---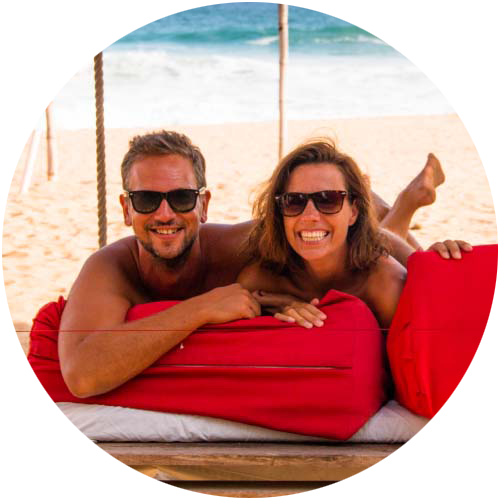 Support Naked Wanderings
Do you like what we do for naturism and naturists? Did we make you laugh or cry? Did we help you find the information you were looking for? Then definitely join our Patreon community!
---