We had explored some of the naturist options in France before, but there are so many that we could just keep coming back for years and years and still find new nude places. In the summer of 2019, we were going to visit 12 naturist resorts in the south of the country. If we would do the same every year, it would take us about 25 years to visit all of them. In case no new ones would appear of course.
Why going on a nude vacation in this part of France?
There's probably no need to further convince you that France is one of the world's top destinations for nude vacations. And especially for naturist road trips because the distance between naturist places can easily be covered in a couple of hours or less. But why specifically this part of France?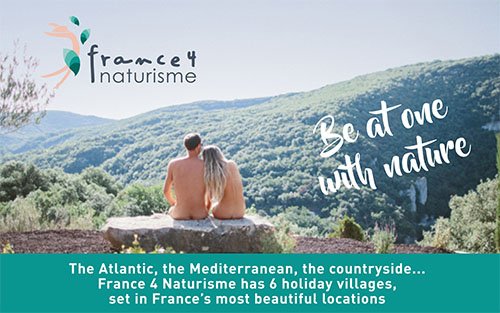 During this naturist road trip through the south-west of France, you'll have the chance to discover some of the most wonderful regions of the country. There's a little bit of everything all within one vacation. Also in terms of naturist campsites, you will get a nice variety between small family-run places in the middle of pure nature and larger campsites with many more activities and facilities.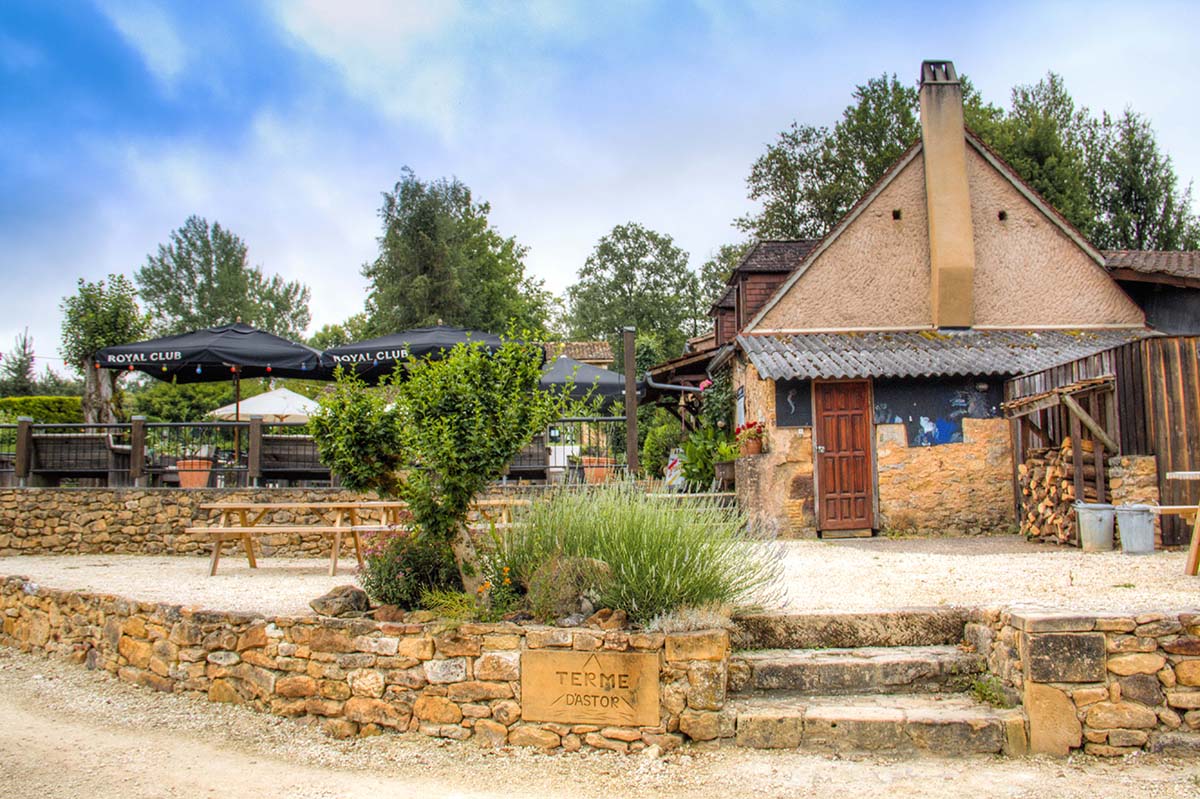 Relaxing in the Dordogne: Naturist campsite Terme d'Astor
(Y)Our naked road trip through France starts in the famous Dordogne region. For a very simple reason. After some busy weeks or months at work and who knows how many hours in a car with bored kids in the backseat, we want you to relax. We want you to be able to take a couple of deep breaths and leave all the stress behind. Right now.
The Dordogne is easy to fall in love with. Rolling hills, historical villages, lots of nature, castles and chateaux, excellent wines, and great food. It's France as it's supposed to be. But the cherry on your relaxed nude vacation cake will definitely be naturist campsite Terme d'Astor. It's one of the smoothest running naturist places we've ever been to. Everything just falls into place from the first minute.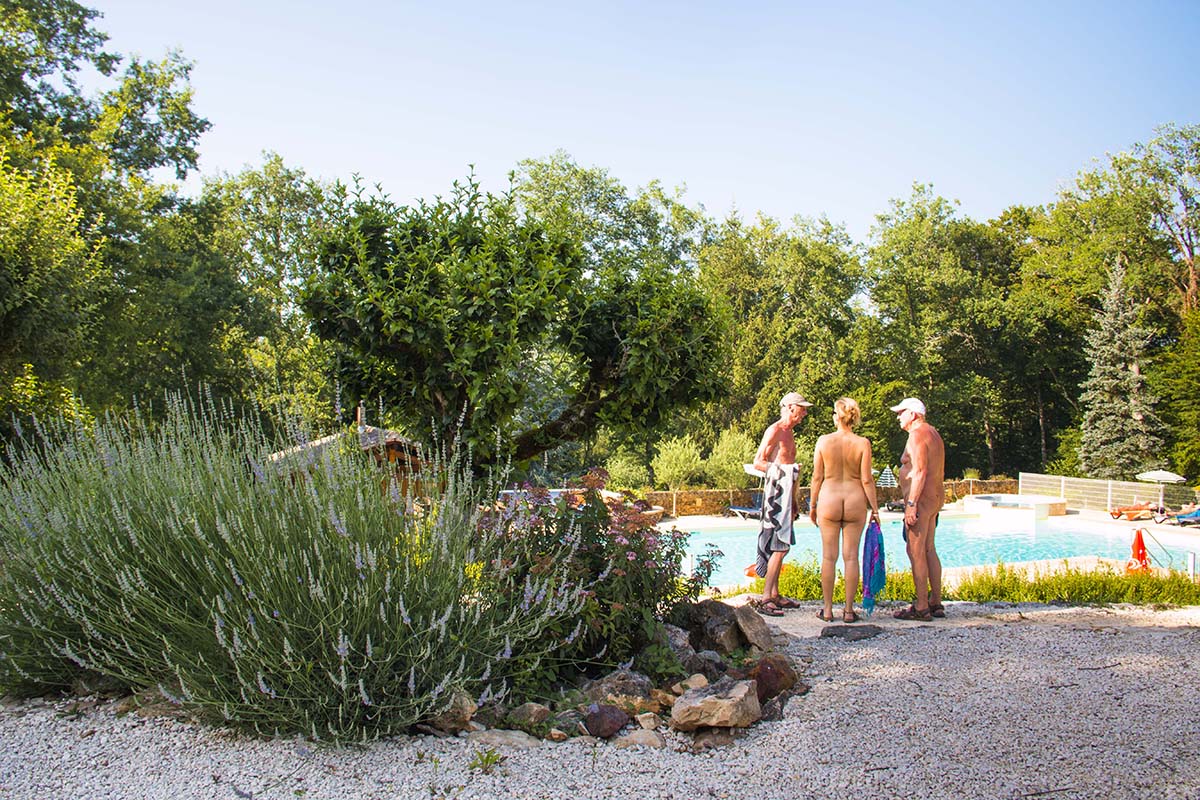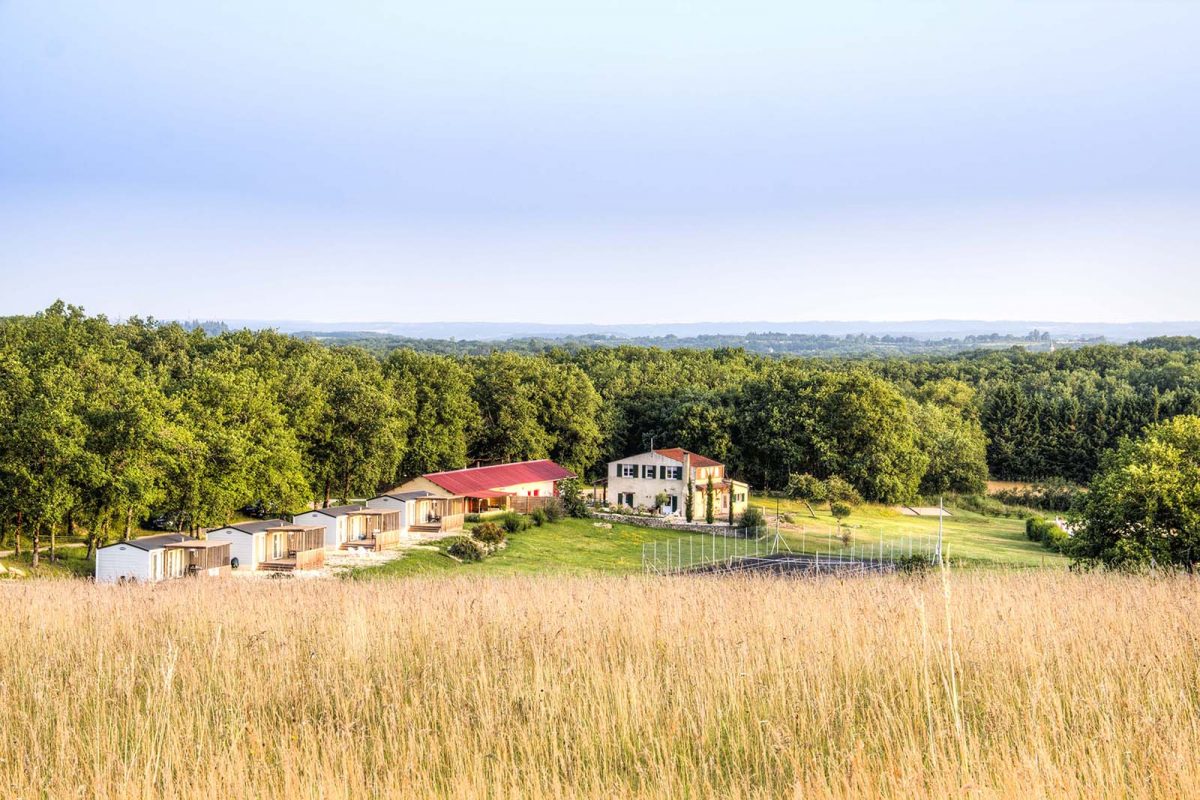 Nude in the Lot: Naturist Campsite Le Clos Barrat
Our next stop at less than an hour's drive south will bring you to another wonderful naturist destination: naturist campsite Le Clos Barrat. Yolanda and Johan, the Belgian owners, have bought Le Clos Barrat when it was in bad management and for the last years, they've dedicated their hearts and souls and not to forget all their time in giving back Le Clos Barrat the status it deserves to have. A true naturist campsite in beautiful natural surroundings.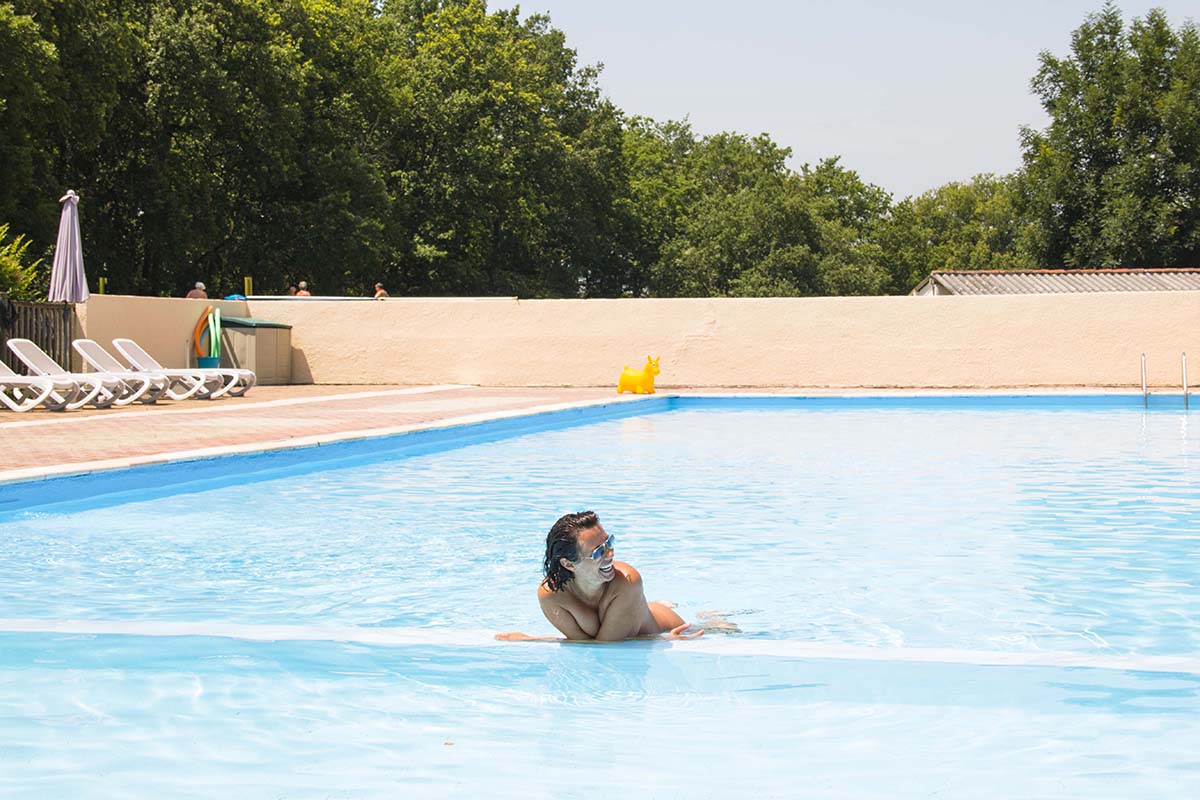 The main focus of Le Clos Barrat is to bring naturists together. This reflects in the many fun activities that are almost organized at a daily basis. But Le Clos Barrat is much more than that. If you've become relaxed at Terme d'Astor, here is where you'll become completely zen. With the help of yoga sessions, Tibetan scales and massages.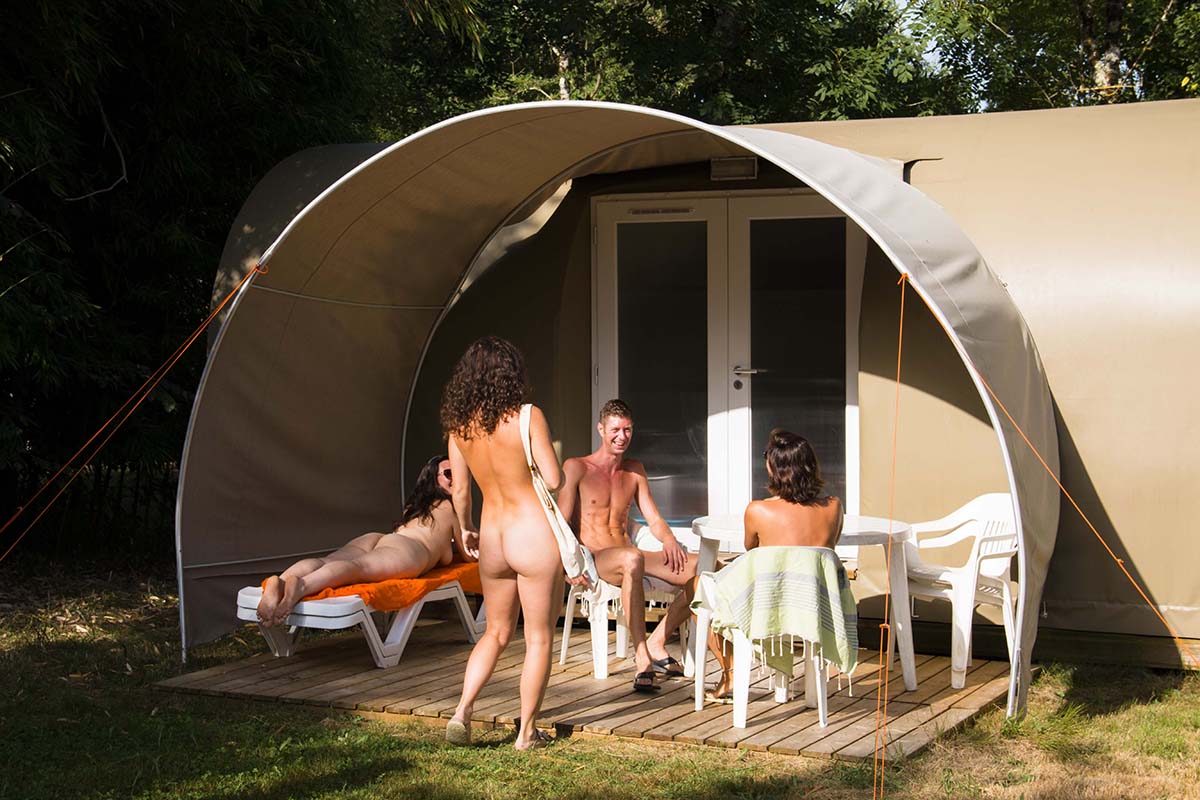 A mix of France and Spain: Domaine Naturiste L'Eglantière
It's hard to put naturist campsite L'Eglantière in a specific category. It's definitely a natural place. The 50-hectare domain has no more than 120 camping spots so you can imagine how much forest and fields can be explored nude. There's even direct access to the Gers river for a refreshing skinny dip.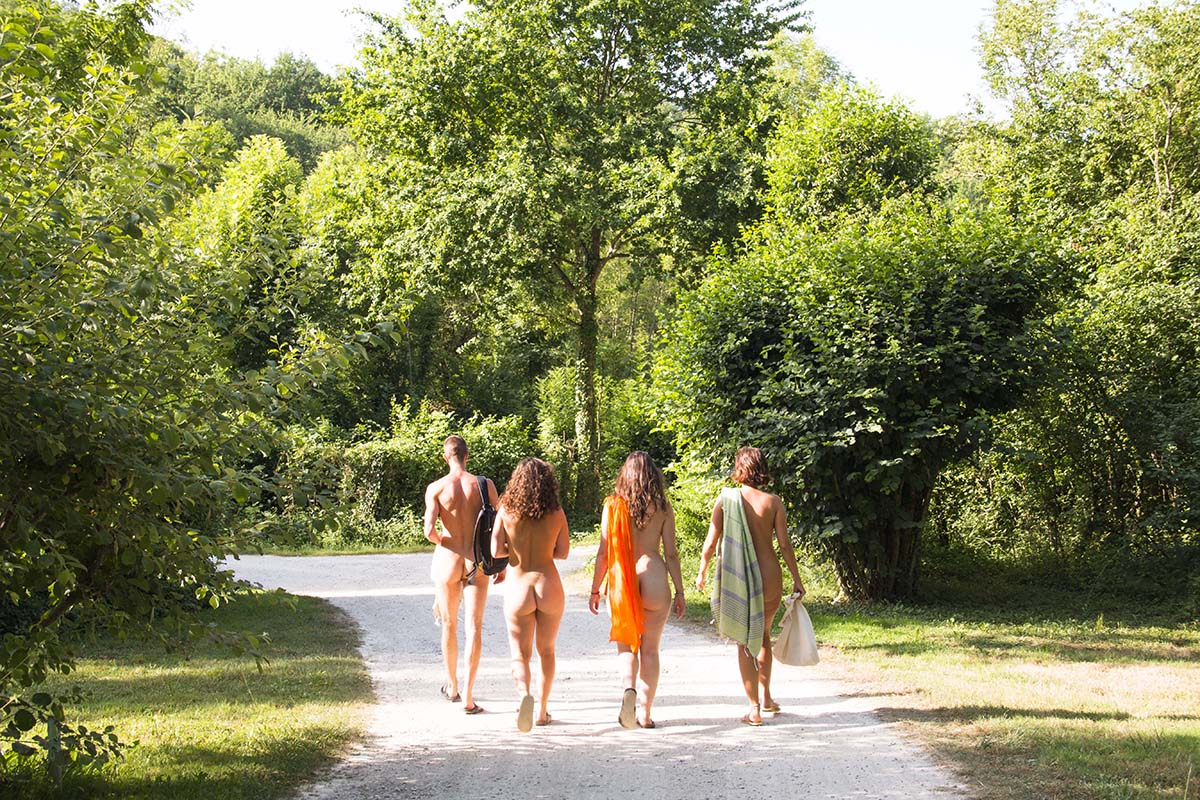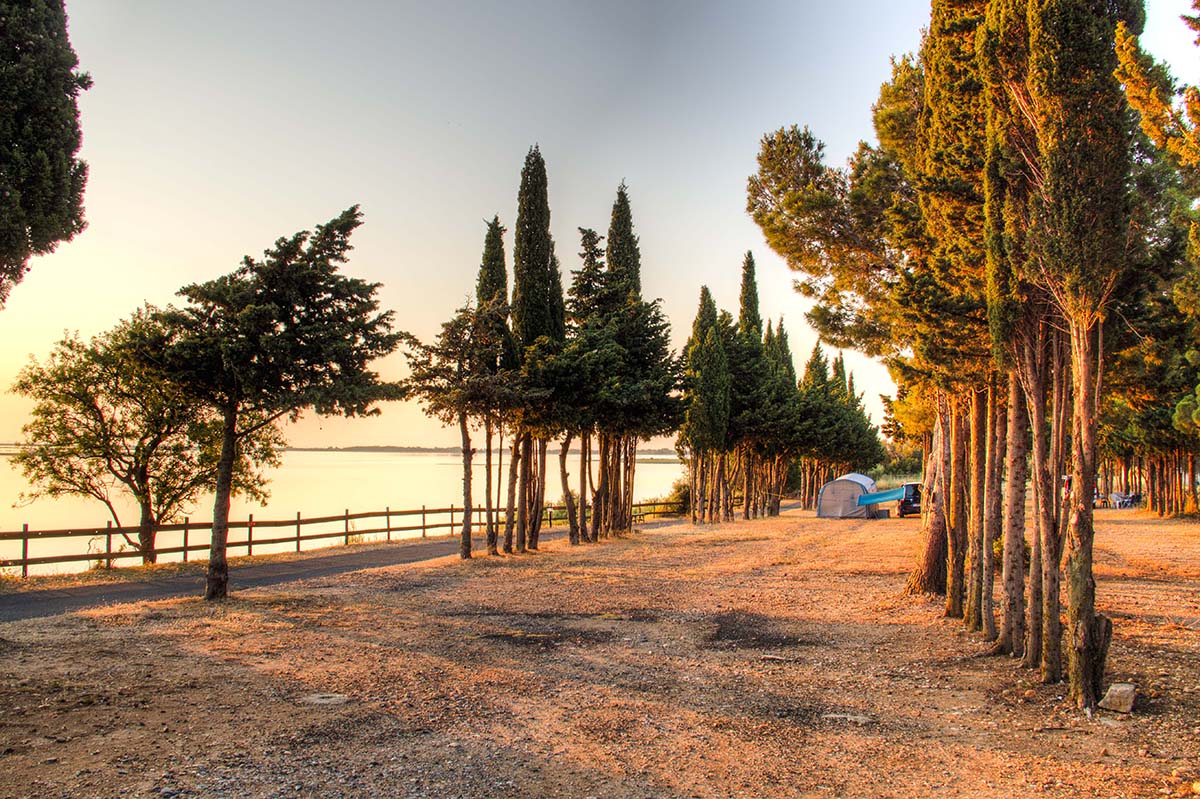 Nude at the French coast: Le Clapotis
A naturist road trip through France wouldn't be the same if you didn't visit the Mediterranean coast at one point. Lucky you, that's exactly where we're heading to next! We remain in the near proximity of the Spanish border, which means that you'll get some of the best of both. Paella and tapas flushed down with French wine, we could have that every day of the year.
Your home base for exploring this beautiful part of France is naturist campsite Le Clapotis. Here you wake up with a magnificent view over the lake, have a morning swim in the large pool, and head out to drive through wine fields to the typical local villages or to the most fun village of them all: Leucate Naturist Village! Relax on the large nude beach and don't worry about putting on clothes to wander the streets back to your car. Some guests of Le Clapotis don't even bother putting clothes on to drive from the campsite to Leucate.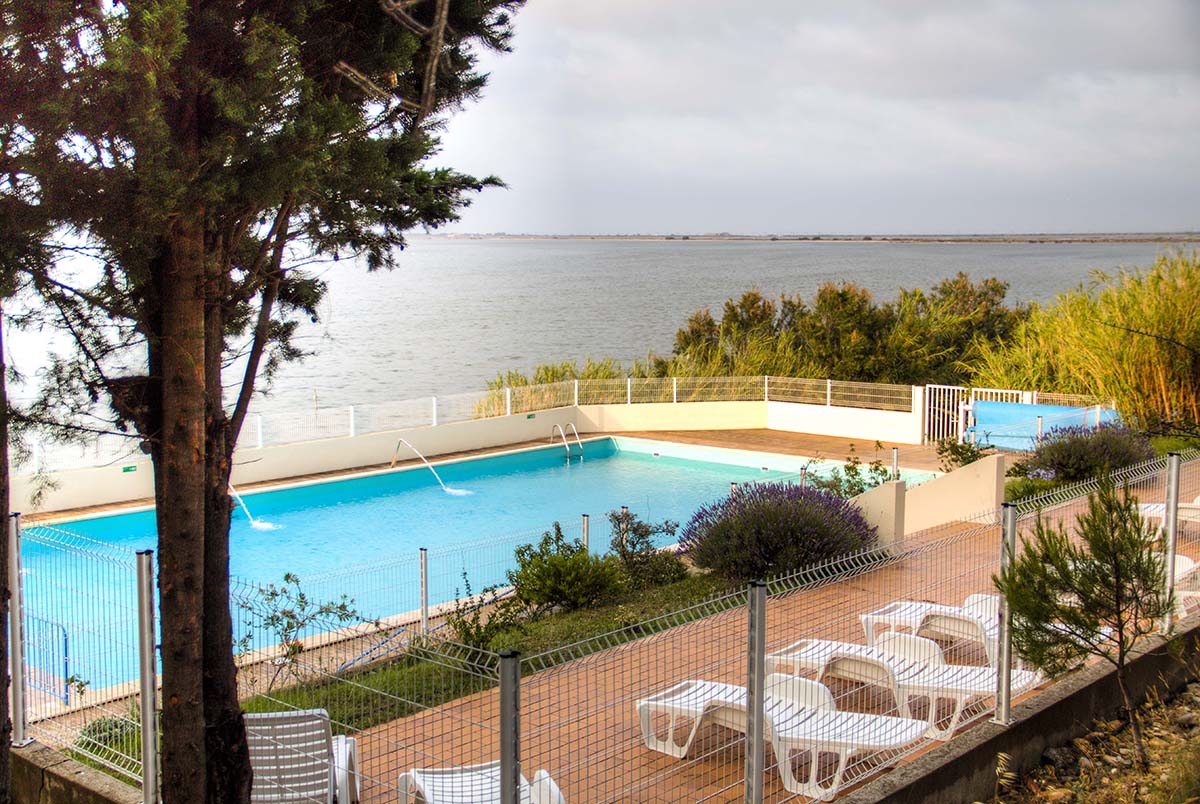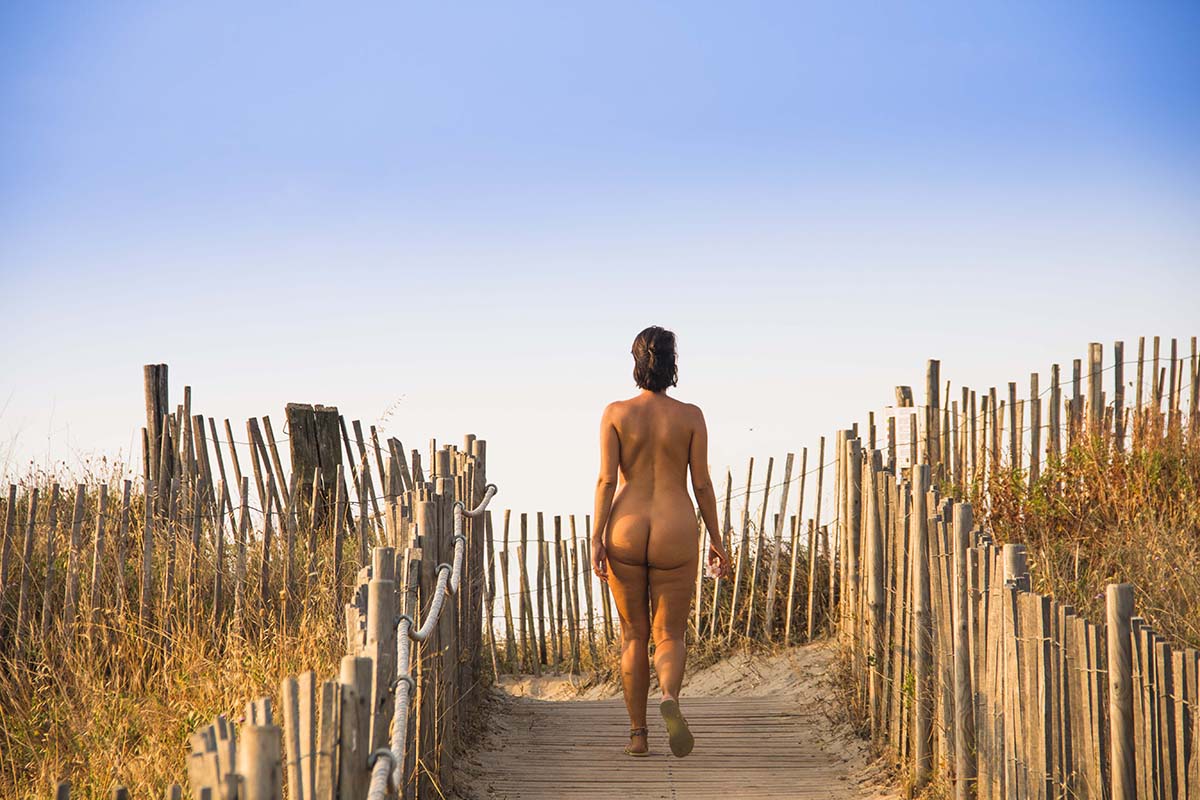 Naturist camping in style: Sérignan Plage Nature
All good things come to an end, they say. And so does unfortunately also your naturist road trip through the south-west of France. But we're not going to let it end just like that, it's going to end in style! We're taking you to one of the most high-class naturist campsite in France: Sérignan Plage Nature!
From the moment you walk into Sérignan Plage Nature, you'll notice that it's different than most of the other naturist campsites you've ever visited. And then you still have to pass by the large modern swimming pool and you haven't even set foot yet in the luxurious spa area. You haven't even had dinner yet in one of the two classy restaurants. And you still have to splash your nude body in the Mediterranean sea. Yes, you heard it well, your nude body. Sérignan Plage has its own nude beach.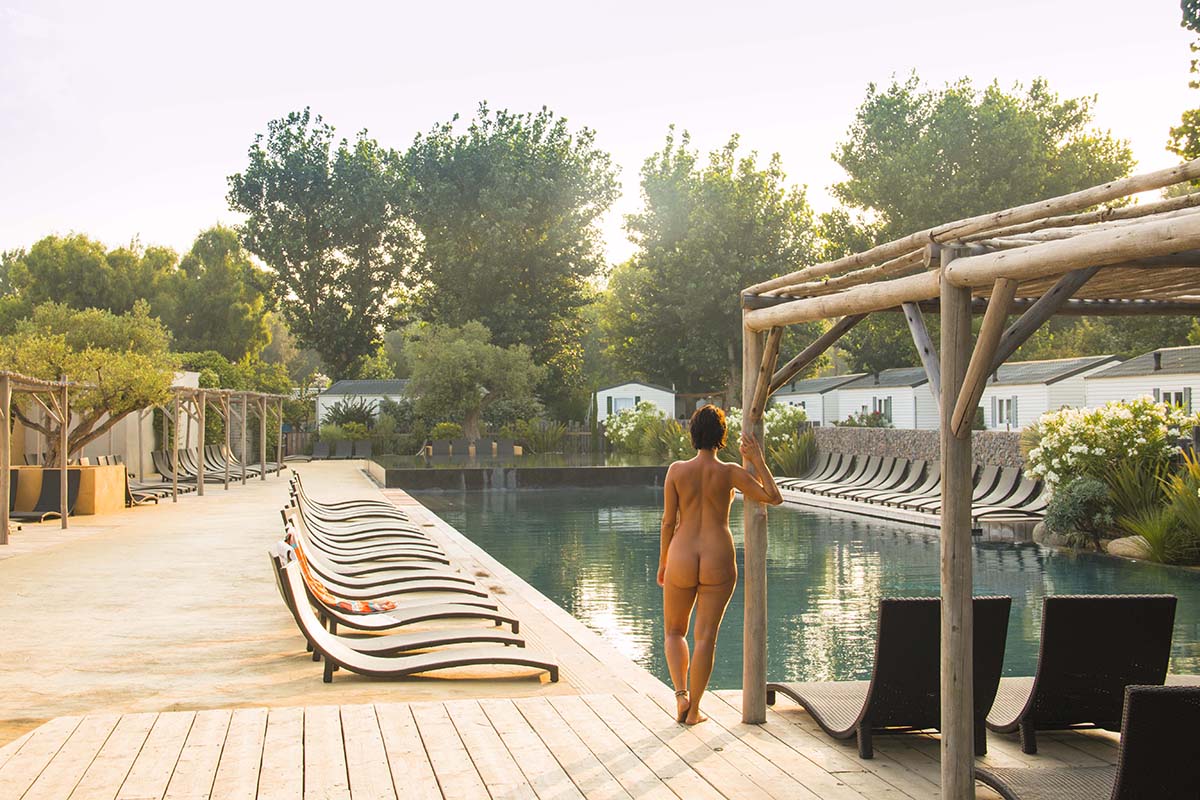 Optional: Cap d'Agde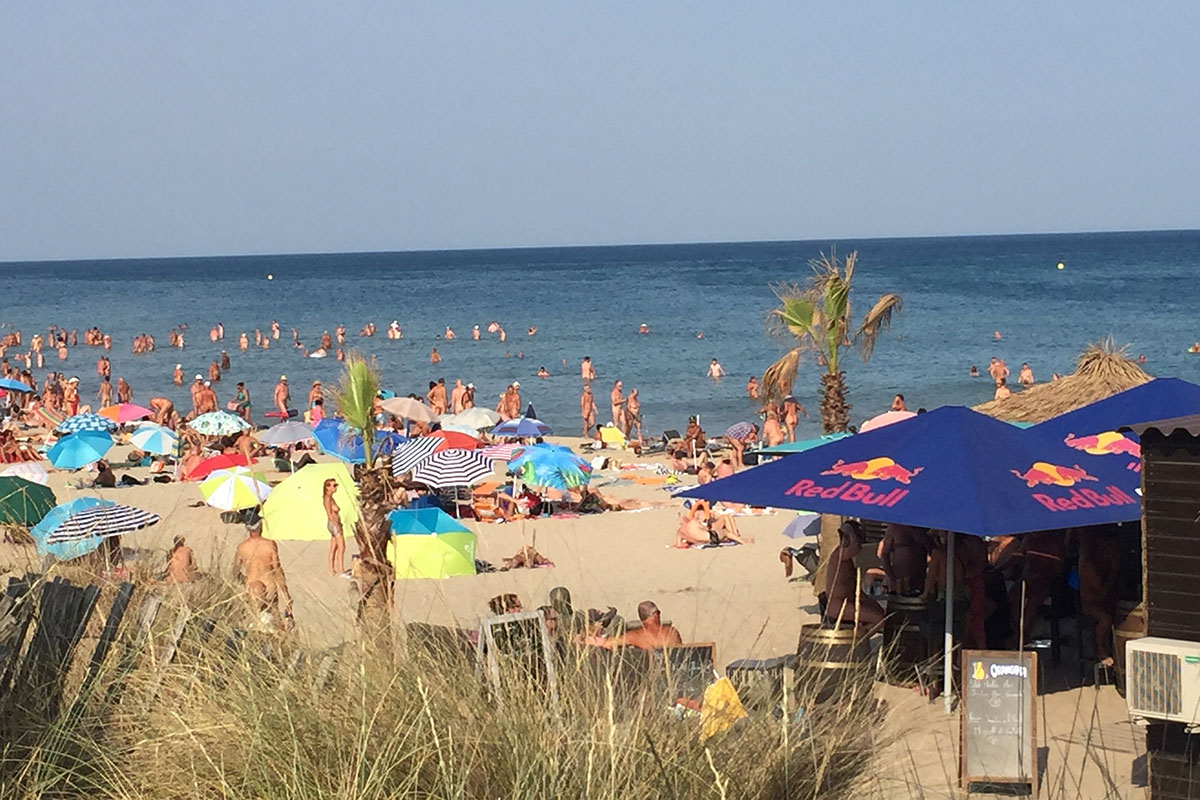 Practical information for this naturist road trip through south-west France
Accommodations
During this road trip, we take you to several naturist campsites in different regions of south-east France. So bringing your own accommodation in the form of a tent, camper or mobile home is definitely an option and also the most economical one. Nevertheless, rental accommodations are available at every campsite. These come in the forms of rental tents, bungalows, or mobile homes. So if you like a bit more comfort or if traveling with a tent or camper is not a practical option, you can definitely take this road trip as well.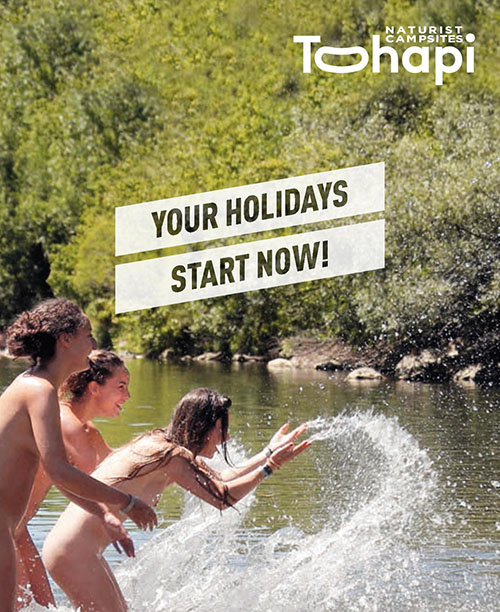 Transportations
Most of the places we visit during this road trip are not easily accessible via public transport. In fact, most naturist places in France aren't really. So having your own transportation is a must. If you aren't coming by own transportation from home, it's very much recommended to rent a car in the airport or train station when you arrive in France.
Our trip in this blog posts starts near Bordeaux and ends near Montpellier, both cities are connected to the French TGV (high-speed train) network and have airports with connections to all over Europe. So if you're not driving yourself, these two cities are where you want to aim your arrival and departure. In which direction you take the nude road trip is of course completely up to you.
Timing
To complete this road trip in a comfortable way, we recommend that you spend about 3 to 4 weeks in total. If you have less time, it might be better to skip a place instead of rushing through them.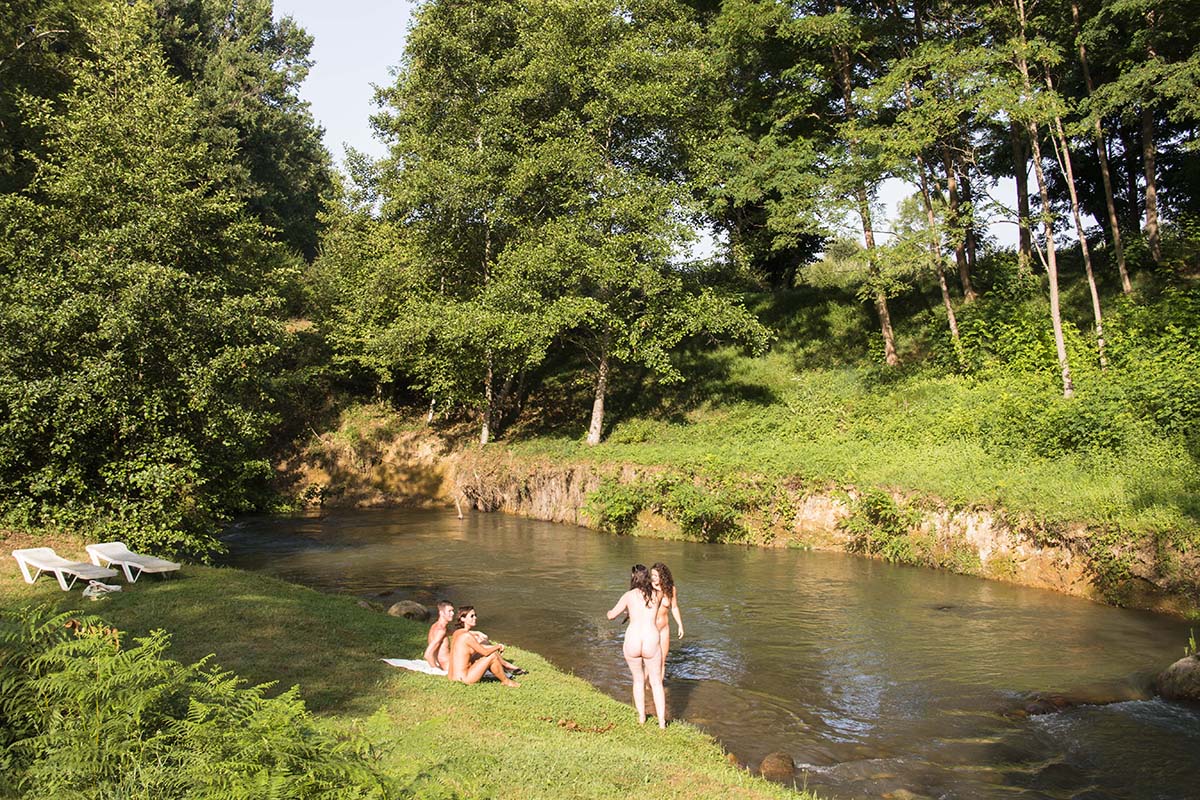 The language
This being said, at the naturist campsites there's no real need to speak French. At all the places we visited during this road trip the staff speaks at least English, Dutch, and German. Often even some Spanish or Italian as well.