If you've been following this blog or our social media for a while, you know that we can very much appreciate a good glass of wine. This is one of the reasons why we like France so much. On one hand, there are more naturist resorts than most people can visit in a lifetime, and on the other hand, there are enough different kinds of wine to get even Gérard Depardieu saturated.
In France's Entre-Deux-Mers region, we found the perfect combination. This is the largest Bordeaux wine-growing region and there is a wonderful naturist resort on the domain of an ancient wine chateau. Reason enough to get our naked butts over there.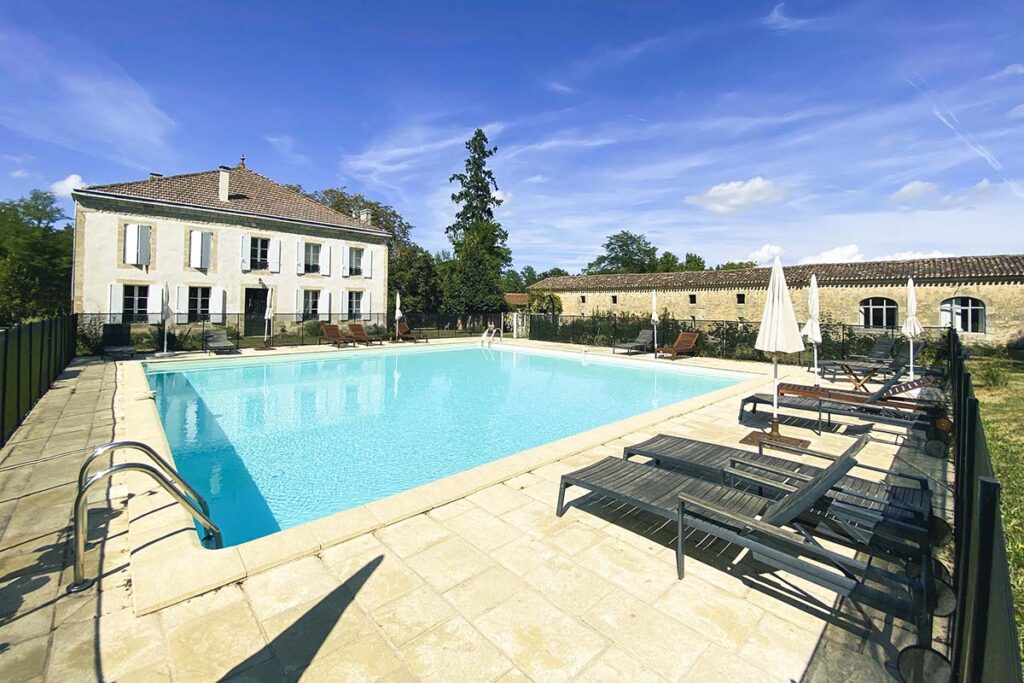 How to get to Chateau Guiton
As is the case for most naturist resorts in France, having your own transportation is quite a must. But at Chateau Guiton that doesn't necessarily mean a car or camper. The resort is located near the popular
V80 Cycle route
, which goes all the way from the Atlantic coast to the Mediterranean one and many cyclists who are looking forward to throwing off their sweaty clothes choose Chateau Guiton as one of their stops.
Unless you are living in the area, you will need to get there of course. If you're coming by car, no matter from which direction, you want to drive towards the city of Bordeaux. Just outside of the city you switch to the N89 to Arveyres from where you follow the D18, D19, and eventually the D119 which will bring you to Frontenac, where you'll find Chateau Guiton.
Driving is one option, but if you're not bringing your own accommodation we highly recommend you to come by public transport instead. Bordeaux has an international airport that connects to plenty of cities around Europe and a train station on the High-Speed Train (TGV) network. Even if you are arriving in Paris, the train ride to Bordeaux is only 2 hours.
Both the train station and the airport have a variety of rental car offices. We recently found an excellent website to help us find the best car rental deals:
Orbit Car Hire
. We've booked our rental car in France through them and can highly recommend their service.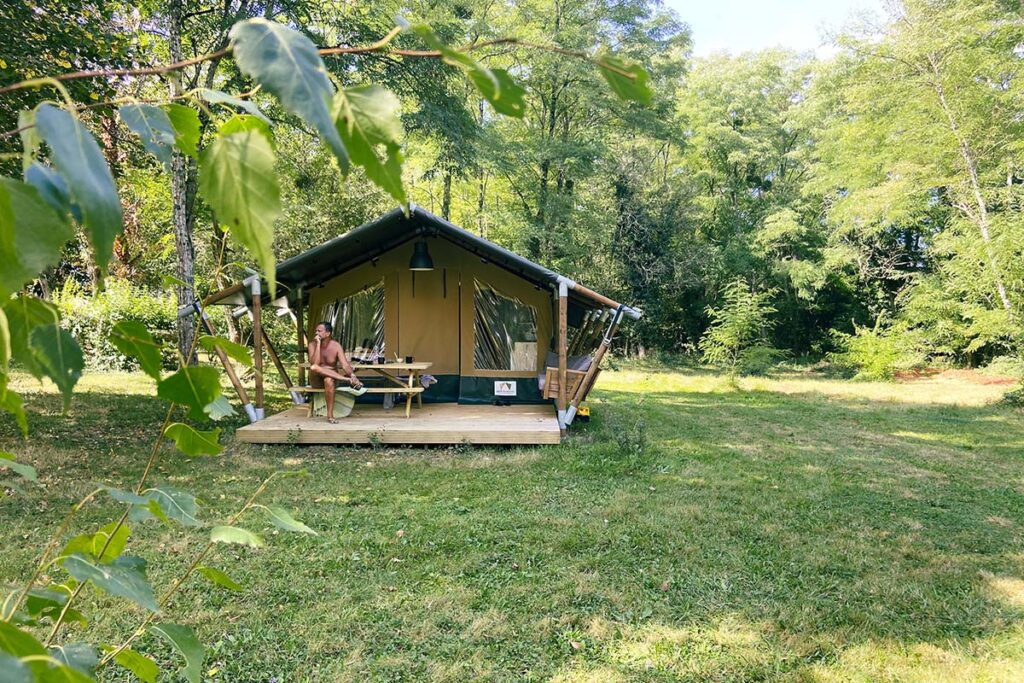 Where to stay at Chateau Guiton
The best way to describe Chateau Guiton is as a bed and breakfast slash campsite. Although given the number of different rental accommodations, one could even use the term "holiday park". We'll leave that up to you. What we can assure you is that Chateau Guiton has something for every budget and every level of comfort.
Let's start with the campsite, which occupies the largest part of the 4-hectare domain. If you're coming with your own accommodation, there are about 30 camping pitches to choose from. We chose to stay in one of the two safari tents, which provide a decent level of comfort while still having the feeling of camping in the woods. A cheaper option would have been one of the new "cyclo tents", which are basically a tent on top of a small eating area with a fridge. These are ideal for cyclists (hence the name) who are stopping for the night, but probably less for guests who want to stay several days. Unless you're traveling on a budget.
The campsite has two other holiday rentals in the form of "the cube" (which is a bit like a hotel room without the rest of the hotel) and a mobile home. And then there are the two gites, which are studio apartments inside the historical building.
The owners were kind enough to give us a little tour of their chateaux and honestly, the next time we visit we will definitely be staying in one of their guestrooms. They are absolutely stunning. Not just because of the abundance of space or the magnificent views through the windows, but most of all because of how they are decorated. If you ever wanted to know how it feels to wake up in the 18th century – but with the comfort of central heating, hot water, and wifi – this is where you want to stay.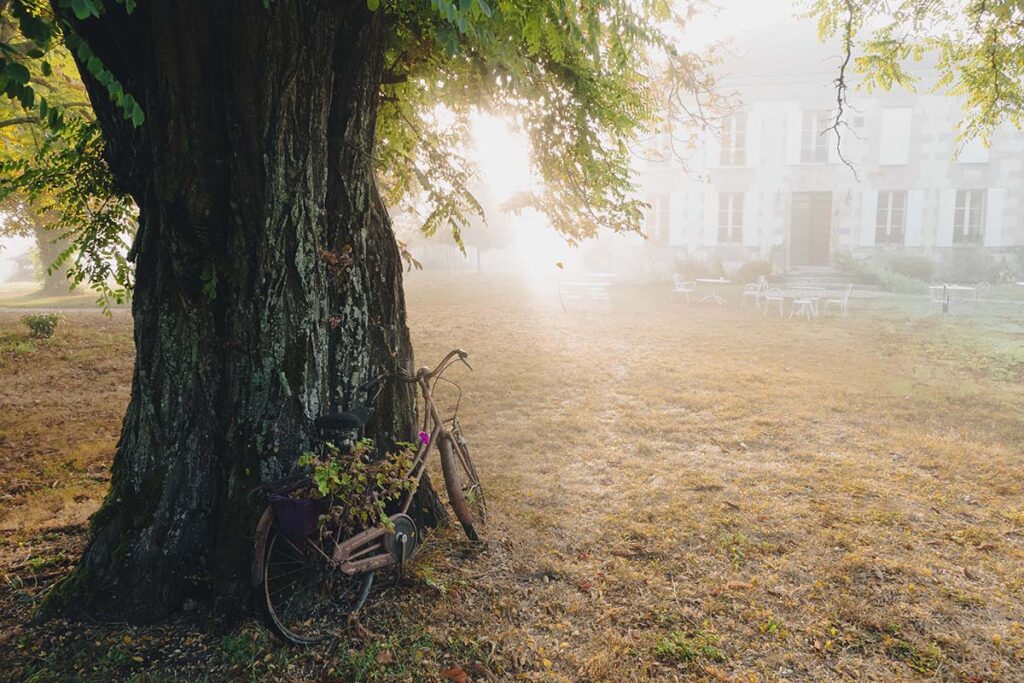 What to do at Chateau Guiton
To us, Chateau Guiton is the kind of place where it's very easy to get absorbed in French life as we've seen it in the movies. The kind of place where it's totally fine to open a bottle of wine at 11 in the morning and spend the rest of the day doing not much more than nothing. Maybe a dip in the pool when the heat – or the alcohol – is getting too much of a grip on you. Or a stroll around the domain. Or just read a good book.
If you like to socialize, you'll often find some company on or around the petanque court in the late afternoon. Or at the restaurant in the evening where you get the chance to try some local delicacies and even more delicious wines – If you're starting to see a theme in this blog post, that's not a coincidence.
By far the best way to meet the other guests is during the weekly communal dinner. Pizza night was the first and only time during our stay when we realized how many people were actually staying at the resort. Many more than we expected, in fact.
Video Tour
Around Chateau Guiton
If you do like to get active during your vacation, it's best to put some pants on and discover the surroundings of the resort. As mentioned before, this area is heaven for cyclists with well-maintained paths that will bring you through breathtaking landscapes.
For art, history, and culture, Bordeaux is the place to be. Most of the city center is UNESCO World Heritage and the medieval character of the city will catapult you back in history. During warm summer days, a stroll next to the Garonne river is definitely recommended, and also worth exploring is the
Cité du Vin
.
You don't really need to go all the way to Bordeaux to find wonderful historical buildings. The Entre-Deux-Mers region is dotted with picturesque villages and the wine culture is never far away. Plenty of chateaux are worth to visit and you'll find yourself driving through endless vineyards. Here's an interesting anecdote: When we asked the owners for a good place to fly with our drone over vineyards, they seemed to hesitate. As if they couldn't immediately think of such a spot. Later we learned that pretty much every road we took gave wonderful vistas over vineyards.
Last but not least, there is also the Atlantic coast. It's about 100 kilometers away from Chateau Guiton, so it's perfect for a day trip. This part of the coast is known for its emptiness. It's long, wide, sandy, and surrounded by high dunes and pine forest. Also important to mention is that it's known for its oysters.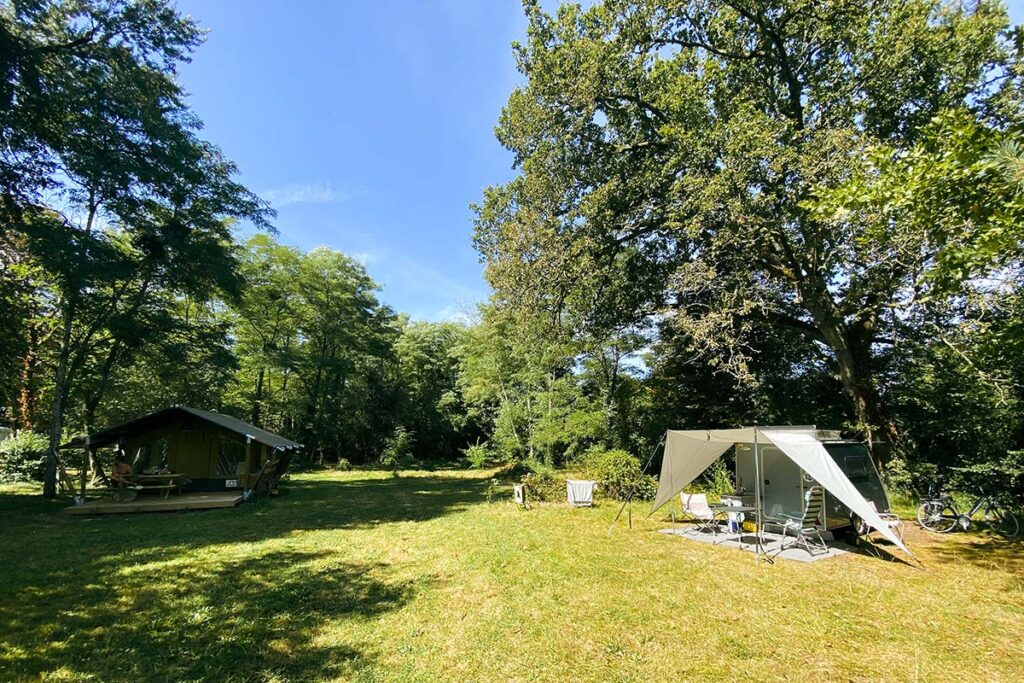 Staff of Chateau Guiton
Vincent and Paul, the couple who owns Chateau Guiton, take care of literally everything. From the check-in to the cleaning to the cooking of the dinners. They've earned their stripes in a resort on Ile-du-Levant, so needless to say that they have lots of experience in the naturist hospitality sector.
Be careful, if you're planning to open a resort yourself, you might get a false impression. They make everything look so easy. They do all those things and still seem to have plenty of time for the occasional chat. If you're visiting as a regular guest, however, you'll be charmed by their hospitality and inspired by their knowledge of the region.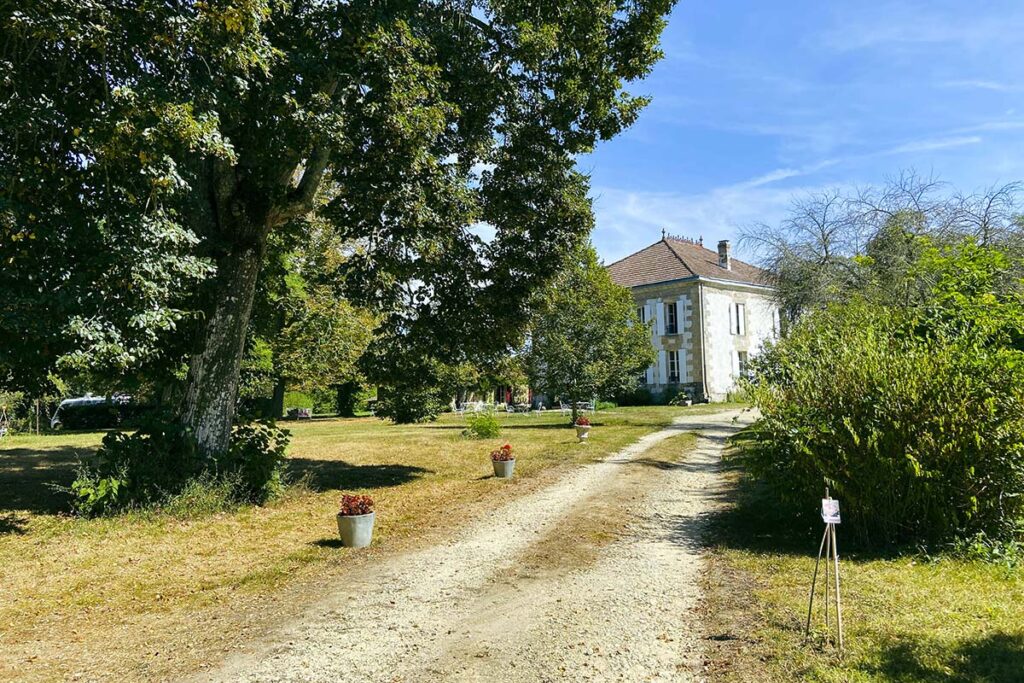 Guests at Chateau Guiton
We visited Chateau Guiton in mid-September, so out of the high season. It was relatively quiet on the campsite and the other guests appeared to be mostly French and Dutch. But we did also meet an English and a Belgian couple.
As mentioned before, Chateau Guiton is not the kind of place to go if you like loud parties or an abundance of activities. This reflects on the guests of the resort. Most people we met came for peace and quietness and to enjoy nature and food.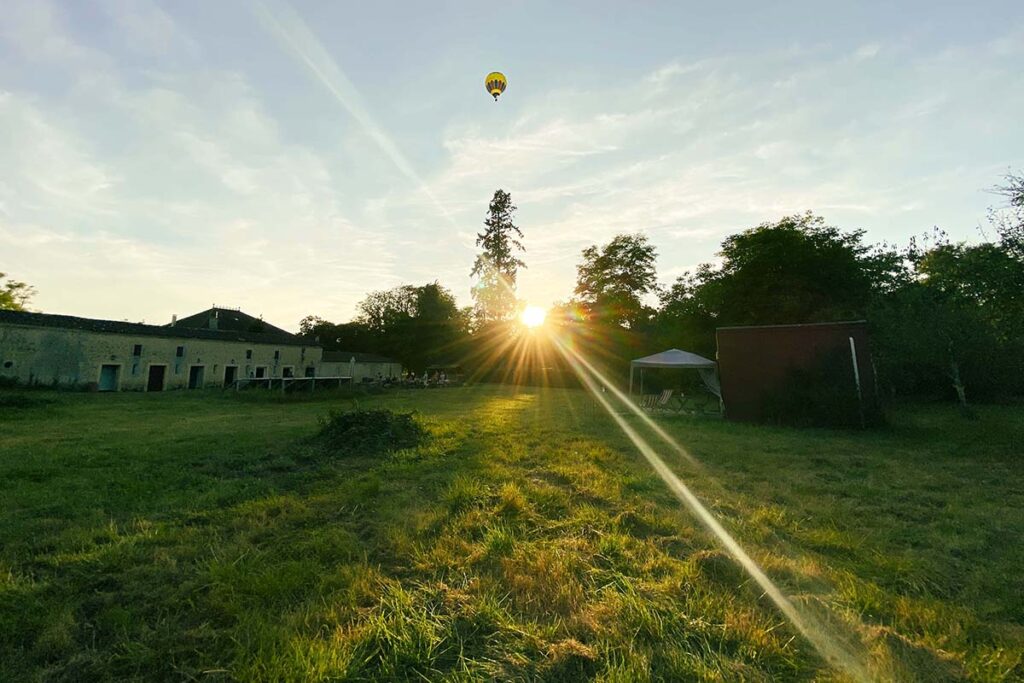 Reservations & Contact
Chateau Guiton is open from May to September, the best way to book your stay is via:
Both French and English are perfectly spoken.
Summary
For wine lovers like ourselves, the Entre-Deux-Mers region can't be missed and Chateau Guiton is really the cherry on the cake. And even if you don't like wine but just want to escape from the outside world for a while, this is where you want to be.
Watch the video
---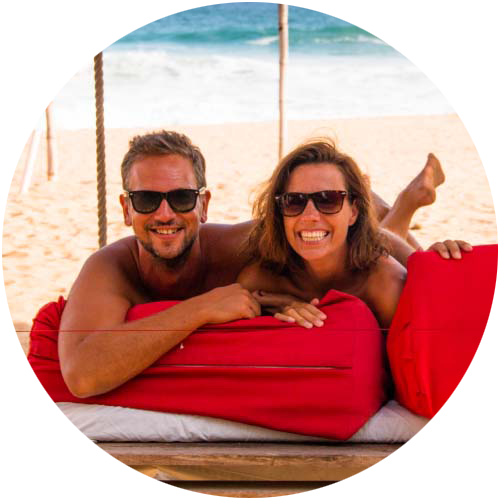 Support Naked Wanderings
Do you like what we do for naturism and naturists? Did we make you laugh or cry? Did we help you find the information you were looking for? Then definitely join our Patreon community!
---