We've talked about
naturism and sex
before on this blog, and it's a topic that has been discussed more than enough in naturist circles. Or is it? The reason why we decided to tackle this once again is two comments on our content during the last week that show that there still is quite some misunderstanding.
By now, we believe that most people already understand that naturism is not a synonym for orgies and that naturist clubs aren't secret sex venues. But the details seem to remain fragile. Or the practicalities, if you wish. What does non-sexual social nudity really mean? How does it work? And is there a gray zone?
View this post on Instagram
The confusion about naturism
One of the before mentioned comments was posted on
our latest Live Q&A video
, and says that
"naturists are frowning upon and/or straight-up forbidding sex, and therefore perpetuating the false idea that sex is unnatural and shameful"
. This one sentence really surprised us, because that is not how we experience naturism at all. We've never considered naturism to be sex-negative, but we do understand where this comment is coming from.
Ever since people started wearing clothes by default, not just for protection purposes, the nude body slowly but firmly became sexualized. It was not something for others to see, except for those with whom you share the bed. Nudity in the presence of others was completely linked to sex, with the only exception being communal showers, which had a very practical explanation.
For the early naturists, this posed a huge problem. Non-sexual nudity didn't just not exist, to many, it seemed plainly impossible. Obviously, desexualizing the naked body became a main focus point for the early naturist organizations. And even today, we still seem to feel a need to tell everyone who wants to listen that what we do has nothing to do with sex. But is that a good thing?
View this post on Instagram
How do we desexualize nudity?
We're not just saying that naturism is non-sexual, we're actually applying this as a certain standard on our resorts and beaches. There are several reasons for this. First of all, we want to discourage people with the wrong intentions to visit our venues. But we also want to make sure that the non-naturist doesn't get the slightest opportunity to question our way of living. It's almost as if there is this anti-naturist big brother looking over our shoulders, waiting for us to make a mistake. Just so he could say "Aha! I knew it".
This results in a set of spoken and unspoken rules, that basically need to make sure that nothing we do can be considered sexual. At some resorts, these are applied stronger than at others. We've been to places where putting sunscreen on your partner's body is frowned upon. Ambiguous jokes are better to be avoided and so is talking about sex in general.
This is what we think that the commenter on our video wanted to say. By avoiding the topic of sex and making sure that everything we do can't be considered sexual in any way, aren't we making sex a taboo? We love to say that naturists do the same things as everyone else, except without clothes. Then why can we openly talk about sex in any bar except for the bar of a naturist resort?
View this post on Instagram
The truth about naturism and sex
It feels as if we, naturists, are overcomplicating things. Because the truth about the link between naturism and sex is actually super simple. There is no link. From this point of view, naturist places are exactly the same as textile places. And the exact same rules apply. If you're wondering whether something is appropriate at a naturist resort or not, just imagine that you're in the Hilton hotel, the local swimming pool, the city park, or any other public space. Nobody ever wonders if it's fine to have sex in the lobby of a hotel, well it's exactly the same at a naturist resort. It's not fine. If you want to have sex, you go to your room.
The naturist resort
Costa Natura
has a sign in the hot tub that says
"No sex in the hot tub"
. We love this resort, but that sign bothered us tremendously. Why do we feel the need to point this out? Does the hot tub at the Hilton also have such a sign? And doesn't such a sign work counterproductive? It actually hadn't crossed our minds that we could have sex in the tub until we saw that sign. It could as well have said:
"Wanna do something thrilling? Why not have sex in the hot tub?"
. For the record, we did not, but you get what we're saying, right?
Why don't vegans feel the need to say that veganism is non-sexual? No need to answer that, it's a rhetorical question. But imagine that someone invites you to a vegan restaurant and says "you're very welcome to visit our restaurant, but you have to understand that it has nothing to do with sex". Or that a sign at the door would say: "No sex on the tables". How awkward would that be?
Aren't we stuck in a chicken or egg situation here? Do we have to keep pointing out that naturism has nothing to do with sex until we think that really everyone understood it? Or is the next step in normalizing naturism just to stop mentioning that it's not something sexual?
View this post on Instagram
The scope of social nudity
We get this point of view, but putting these 3 things on the same line does kinda bother us. Maybe it's because we are naturists and because of this lifelong struggle to explain to people that those 3 things are unrelated. We think that by writing it like that, "3 categories: naturist/nudism, exhibitionism, and swinging", it makes it seem like they are all very connected. While there is only one common denominator, and that is the social nudity factor.
For a while, we've tried to incorporate the term "social nudity" into this website as an alternative for naturism or nudism. But we realized that this would be a mistake. Because social nudity is actually the perfect way to show the difference between the above-mentioned categories. The way we see it, social nudity is at the top level. It's everything one does naked among others (that are not partners or close friends or relatives). Immediately below that, we need to make the distinction between sexual social nudity and non-sexual social nudity. The former contains swinging and the latter contains naturism and nudism.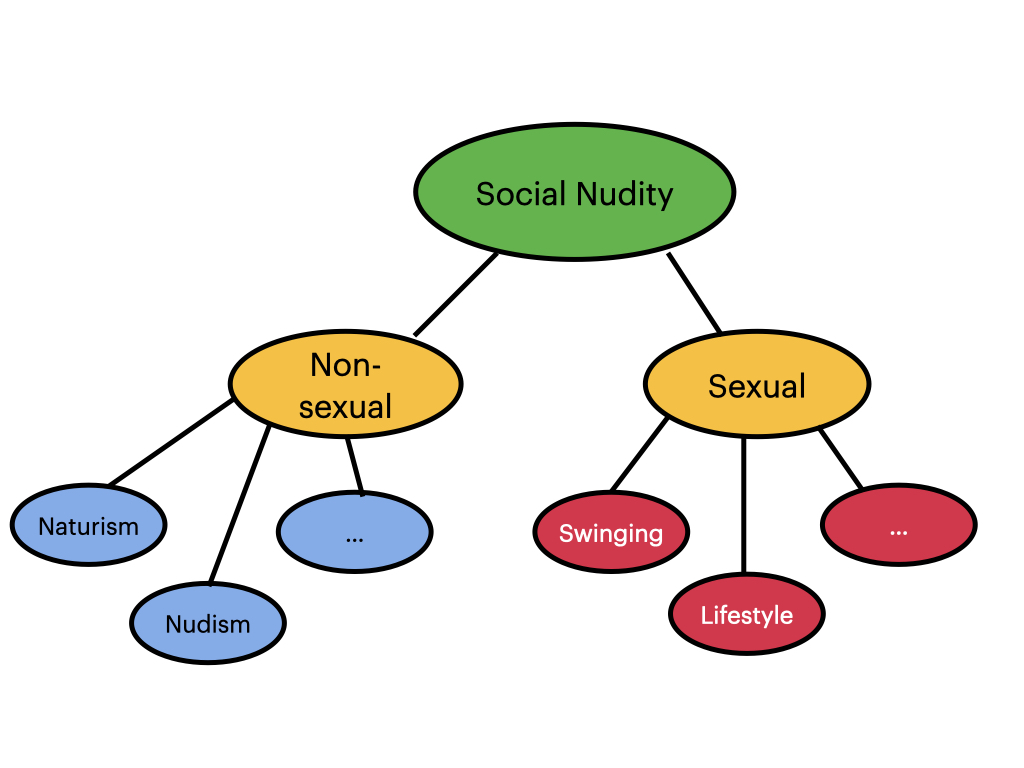 Some of you may want to further define the pyramid and add several other layers, and that's totally fine, but this has to be the basic structure. This does not mean that you have to pick one or the other. Some will identify with several segments, or maybe with all of them. And that's totally fine too. But this structure will make it very easy for clubs, resorts, and individuals to explain what they are about.
Is there a gray zone?
Further in the Reddit comment, the commenter talks about exhibitionism for sexual and for non-sexual reasons. This kinda ruins the whole idea of our pyramid, because this would mean that one category (exhibitionism) can fall under two higher-level categories. How do we tackle this?
According to the Britannica dictionary, exhibitionism is: "derivation of sexual gratification through compulsive display of one's genitals". In other words, it's always sexual. There is no such thing as non-sexual exhibitionism.
While we were at it, we also searched for a definition of voyeurism, and also this falls clearly under the sexual segment: "achievement of sexual arousal through viewing the sexual activities of others or through watching others disrobe".
We understand the confusion though, these are some of those cases where we get stuck in terminology. We sometimes misuse the word exhibitionist to describe a poser or a show-off. And this doesn't always include sexual gratification or "compulsive display of one's genitals". It's just something else.
View this post on Instagram
What do we want to accomplish with all this?
Honestly, we find it a bit disturbing that we can write such a long blog post about something this simple. We could have reduced this 1500-word text to just one sentence: "Naturism is not about sex, Basta". But this is what naturist organizations have been doing for decades and it still seems like there is a lot of confusion.
On one hand, we believe that it's important to explain what naturism is not. But it is much more important to explain what naturism is. That is why we only write this kind of blog post once every so many years. We all know people who can't be convinced. We could make them read this whole blog from front to back and back to front and they will still think that we are going to orgies. These are not the people that we should invest our time in.
Instead, there are many others that might be interested in naturism if they knew about it. That are open-minded enough to realize that social nudity doesn't have to be sexual by default. They are the ones that deserve our efforts. So the next time you feel the need to explain the link between naturism and sex, just pass on this blog post. And you can spend your precious time telling fun stories about naturism. You're welcome.
---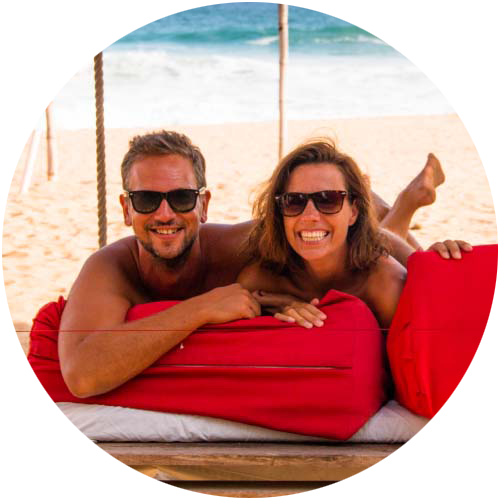 Support Naked Wanderings
Do you like what we do for naturism and naturists? Did we make you laugh or cry? Did we help you find the information you were looking for? Then definitely join our Patreon community!
---