Some time ago, we received a message from one of our readers asking how she should position her legs in a nudist venue or at a nude beach. More specifically, what the maximum acceptable distance between her two knees would be. Within the same week, we stumbled upon an entry on a naturist forum of a woman saying something like "according to the nudist etiquette, I never bend over and always go through the knees".
These two cases were enough to make us dive deeper into the subject. What does the nudist etiquette actually say? Who decided on this? And most importantly, how accurate is it still in the second decade of the 21st century?
What's the Ultimate Nudist Etiquette?
The difficulty starts with trying to find a document that exactly describes the dos and don'ts of the nudist. As far as we know, this doesn't exist. Instead, we found lots of different opinions, designed by nudist club representatives, nudist federation secretaries, and nudist resort owners. They all look pretty much the same with the obligatory Thy Shall Look Into The Eyes and Thy Shall Always Sit On A Towel and then some specific interpretations of the other rules.
A couple of things that we immediately noticed were:
1. Many of the rules are dependent from club to club, resort to resort, and even beach to beach.
2. Many of the rules are unspoken.
3. Some of the rules are outdated.
4. Some of the rules are different for men and women.
Things you have to check with the naturist resort
Although some die-hard believers of the
nudist freedom
tend to dislike the often very long set of rules that nudist resort staff presents to their visitors, we also believe that you make friends by making sound agreements. In the end, if you can't live with a certain rule at a certain resort, you are free to go somewhere else. The rules that specifically depend from resort to resort are meant to create uniformity and to keep the visitors safe.
Clothes or no clothes
The general agreement at nudist places is that you have at least the intention to spend some time without clothes. When, where and which type of clothes really depends from place to place. At nude obligatory places, you are expected to be nude whenever the weather allows it. At clothing optional places, as the name suggests, clothes always remain an option. Most nudist venues, especially in Europe, end up somewhere in between. Nudity is enforced in places like the pool and the sauna. In the rest of the resort, it's rather encouraged. A sarong or towel is most often accepted, a bathing suit not that much.
Using mobile phones
In the past, all devices that can take photos were strictly forbidden at nudist places. Especially with the uprise of the internet, these rules were even more enforced because few people enjoy appearing butt naked on the web for the whole world to see. But then came the smartphone, which doesn't only have two cameras but also plenty of apps that we like to use throughout the day. At some resorts, taking out your phone in public areas is still a big no. Other resorts will provide stickers to put on your cameras, so you can still use the apps but not take pictures.
Most resorts will ask you to just use common sense. Don't take pictures of others without their approval, definitely don't take pictures of other people's children and even if you're just playing a game on your phone, try not to point it towards other people.
Genital jewelry and tattoos
There has been a time when neither of these was allowed at any nudist resort. Those days are largely behind us. Tattoos are allowed pretty much everywhere, as long as they won't disturb the peace (as in sexual tattoos, racist ones, etc). Genital jewelry is a bit more difficult. In our opinion, there are several types of nudists who wear genital jewelry. Some do so because they like to decorate their genitals, some for sexual pleasure, some because they like piercings in general, and some because they want to attract attention.
The last type, those who want to attract attention, are those who are most likely to run into trouble. Their genital jewelry is often large, plenty, and in your face. As long as it doesn't really attract the attention of others, it won't be frowned upon at most places. Family-friendly resorts tend to be more strict about the use of genital jewelry than adults-only places.
No sex on the beach
If there's one thing on which every nudist resort in the world agrees, it's that public sex is not allowed. Period. You can have sex as much as you want, but only behind closed doors. The question is: What is sexual? Intercourse is one thing, but then there is a huge gray zone, full of opportunities for the exhibitionist and worries for the resort staff. Can you smack your partner's butt during volleyball? Which body parts of others and yourself can you rub with sunscreen for the whole pool area to see?
The things that are unspoken
Suddenly, this becomes one of the unspoken rules. In our opinion, pretty much everything you do without sexual intention won't appear to be sexual to the others. And if it does, it's in their head, not in yours. For example, there are people who think breastfeeding is sexual. Does that mean that every mother should avoid breastfeeding in public? Of course not. Unfortunately, many of the unspoken nudist rules do depend on the mindset of others.
To shave or not to shave
Shaving pubic hair is a trend that started in the porn industry in the late seventies and quickly found its way into the swingers community. Needless to say that the nudists weren't big fans and often it was forbidden or very much frowned upon. But the times changed, the Brazillian became mainstream and soon all different kinds of pubic hairstyles became common. Among nudists as well.
Today, at the large majority of nudist places you will find a variety of styles ranging from the baldie to the afro and everything in between. As with every trend, also pubic hair comes and goes. Shaving is most common between the age of 30 and 60. The younger and elder generations often prefer a bit of a bush.
Where to look
Some nudists will tell you to always keep your eyes on eye-level. DO NOT believe them, it will make you look very creepy. It's much better to act as you would in any other place. It's perfectly natural to have a glimpse at other people's bodies, but even at an Eskimo party, people will get annoyed if you'd keep looking at their chest or waist. Find the balance and most importantly: Don't make people feel uncomfortable. Here's a tip: If you're wondering if what you're doing is making people feel uncomfortable, it most often does.
Social distancing
It's the term of the year 2020 but nudists have known this principle for a long time. We try not to get into other people's comfort zones, especially not the one of strangers. Therefore you will rarely see a nude beach where the visitors are packed like sardines. Some nudists need more space than others, so it's better to take a step back than to set one forward.
How to handle an erection
It's the fear of every beginning male nudist. Please, please, pleeeeease stay down. Just worrying about it can be the trigger to make things go up. Lots of endless discussions have been had about this subject. On one hand are those who say that an erection originates from sexual desire and should thus be avoided. On the other hand are those who say that erections are natural and nothing to be ashamed of. And then there are some who claim that it's beyond their control and that it just happens randomly.
If you consider that nudism is about non-sexual nudity and that we strive to create a space where everyone feels comfortable, we tend to join the first group. Erections are a sign of sexual desire and might make people feel uncomfortable. The guy you're talking to, the woman you're talking to, the husband of the woman you're talking to, the parents of the kids you're talking to, and pretty much everyone else who notices. Even if you believe that it's something natural or that it happens randomly, it takes very little effort to hide. Wrap yourself in a towel, turn on your stomach, or have a dip in the pool and it will soon go away. You can see it as taking one for the team.
How to find the perfect knee angle
Which brings us to the question in the introduction. We tried to search the internet for a general consensus but didn't really find one. From our experience, it's much more common to see a man with his legs wide open than a woman. Is it a cultural thing? Is it because decency is generally more expected from women than from men? Or is it something men invented, to avoid getting aroused and run into trouble?
We honestly don't know, but we'll tell you what we've told our reader. Just like with genital jewelry, with rubbing each other in sunscreen and with having a look around, it's all about the intention. Sensuality will rather be found in the eyes than in the genitals. As far as we are concerned, you can put your legs in every position you are comfortable with. And if someone thinks it's sexual, it's in their heads, not in yours.
---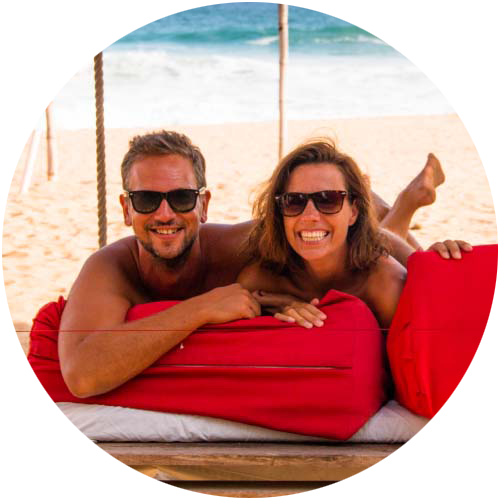 Support Naked Wanderings
Do you like what we do for naturism and naturists? Did we make you laugh or cry? Did we help you find the information you were looking for? Then definitely join our Patreon community!
---