We got into a discussion the other day because we had decided to add The Outdoor Co-ed Topless Pulp Fiction Appreciation Society to our list of
promising nudists blogs for 2020
. The other party was correct. This blog has very little to do with nudism or naturism. They don't talk about nudism or the different aspects of it. They don't talk about naturist resorts or nude beaches. There is a huge case of gender-inequality. Basically, it's just a group of women who get nude or topless together. Although their blog is largely non-sexual, in one of their latest posts they do talk about the erotic side of nudity and even about orgies.
Everyone who has just read this first paragraph will agree with our friend that this blog has nothing to do with nudism at all and that we've made a mistake adding them to our list. Then the question arises: "if they're not a nudist blog, then what are they?".
We can't say that it's a sexual blog because 95% of their posts are non-sexual.
It's has nothing to do with swinging either.
A feminist or female-liberation blog might be an option, but where do we put the social nudity in that picture?
We have a serious terminology issue here.
Labels: Love 'em or hate 'em
Naked Wanderings started as a naturist blog because naturism was pretty much the only term we knew for our nude lifestyle. Soon we figured out that this term was narrowing us down. We've met people with whom we identified a lot, but called themselves nudists. Although we love the equality when everyone's naked, we also recognize the advantages of clothing optional. Once we even visited a
sensual resort
, to find out whether we could fit in as "just" naturists, and had a pretty great time there.
It didn't take long before the labels started to bother us a lot. Why would we want to stereotype our lifestyle when we feel that there's no label that includes our complete experience? That day (long-time followers might remember) we decided to stop writing about naturists or nudists and switched to "nudies" instead. It sounds fun and playful, doesn't carry the weight that the established terms have and most of all it gives our readers the chance to identify with it. No matter if you call yourself a naturist, a nudist or nothing at all, you can find yourself in the term "nudie" if you enjoy time in the nude once in a while.
We thought it was an excellent idea. But it wasn't. The only thing it did was create even more confusion than the established terminology already did. We soon realized that to find our spot(s) in the social nudity spectrum, the terminology is a necessity.
The social nudity spectrum
Another discussion we had recently was when we wrote a blog post about the
different types of social nudity
, and included swinging. The horror! Especially on Reddit we got the full blast. How dare we? After all those decades of trying to promote non-sexual nudity, there's this couple so-called naturist bloggers who just mentioned naturists, nudists, and swingers within the same breath. Even worse, we had put them all under the same umbrella of "social nudity".
For those people, naturism/nudism is the only form of social nudity. In a world in which the large majority of humanity believes that you can only be socially nude to have sex, these people say that you can only be socially nude when sex is completely out of the question.
The terminology backfired and posed the question: What is social nudity? If you believe that social nudity equals naturism/nudism, then you're absolutely right that swinging has no place in this spectrum. But what do we do then with all those other reasons to get nude together with someone else? While lots of people complained that the social nudity spectrum in
that blog post
was too wide, we actually felt like it was too narrow.
Where do we put people who shower together after sports?
How about the girls getting dressed together before the party?
The family in which occasional nudity inside the house is not a problem?
The group of teenagers going skinny dipping after a couple of beers?
A club of New York women getting nude together and apparently engage in an orgy now and then?
Your place in the spectrum is not the whole spectrum
It's easy for us to ignore the things we don't like, don't know or aren't interested in. Have you ever heard about fierljeppen? It's a mainly Dutch sport, similar to pole-vaulting, where the goal is to cross a large body of water by the use of a long pole. To many, this will sound like a children's game or something in the "hold my beer"-category. Yet there are quite some people who practice this sport on a regular basis. For them, fierljeppen might have a more prominent place in the sports spectrum than soccer, baseball or hockey.
Analyzing the term "social nudity" isn't particularly hard. It just has two words in it. It's social, meaning that there are other people involved with whom there's some interaction and it's nudity, meaning that it's without clothes. Within this large spectrum, we can find lots of subcategories. There are naturism and nudism, but also clothing optional. There's swinging, communal showers, home nudism, online nudism and even the exchange of dick pics could be called a form of social nudity. Also, monogamous sex is social nudity. Or a late-night half-drunken skinny dip or a group of topless women reading pulp in Central Park.
Expectation is everything
When you ask a nudist what the plans are, it's pretty unlikely that she will answer "social nudity". Neither will the swinger or the fierljepping team about to enter the communal shower. Yet they will all engage in a form of social nudity. Here comes the importance of further terminology (or labels if you will) again. The nudist won't be too happy if her nudist getaway appears to be in a swinger club. Nor in the shower of the local fierljepping team.
It's all about expectations. Last year we visited
Bare Oaks Family Naturist Resort
in Canada and
Desire Riviera Maya Pearl
resort in Mexico. Both resorts could hardly be any further from each other in the social nudity spectrum. Bare Oaks is a naturist campsite, nude obligatory, strongly promoting the naturist values, and very family-friendly. Desire is a clothing-optional luxury all-inclusive sensual hotel. We enjoyed our time at both resorts because in both cases we knew exactly what to expect.
For the same reason, our visit to
Cap d'Agde
wasn't the best experience. The name "naturist village" tricked us into expecting a genuinely naturist place while it turned out to be something completely different. Similarly, we like both Italian and Indian food, yet we would be quite disappointed walking into an Italian restaurant and find only biryani and curry on the menu. Even if that restaurant would happen to be in
Italy
and prepare the curries with only Italian ingredients, that doesn't make curry Italian food. Or at least what we expect Italian food to be.
Who's in charge of the terminology?
Now comes the difficult part. Who's to say what is what? Who draws the boundaries between one kind of social nudity and another? Who creates the definition?
If we focus on our main subject, naturism/nudism, we could have a look at the official definition by the International Naturist Federation (INF-FNI):
"Naturism/nudism is a way of life in harmony with nature whose activities are not directed towards profit. It is characterized by the practice of common nudity, with the intention of encouraging respect for oneself, respect for others and respect for the environment."
This definition is pretty much as open to interpretation as the bible. One could conclude that swinging perfectly fits within naturism as long as it's done with respect and no used condoms are thrown in the bushes. On the other hand, most naturist resorts shouldn't be called "naturist" because they make a profit.
Other federations give slightly different definitions. Many include that naturism/nudism is about non-sexual nudity. Others say that naturism/nudism always has to be family-friendly, excluding the growing in popularity adults-only nudist resorts. While some federations put the natural aspect upfront, others focus more on the social nudity itself or the activities. The Dutch federation (NFN) mentions on their website that naturism is something everyone can fill in for their own. They fail to mention with what though.
The other day we saw a comment passing by on Twitter by someone complaining that a certain naturist resort isn't "swinger-friendly". The world upside down. It seems like there's still a lot of work to do.
Naked Wanderings' Complete Guide for the First Time Nudist ebook

Do you still have questions about nudism or naturism?
Are you looking for even more tips and tricks?
Our ebook will be the perfect resource for you!

Learn More
---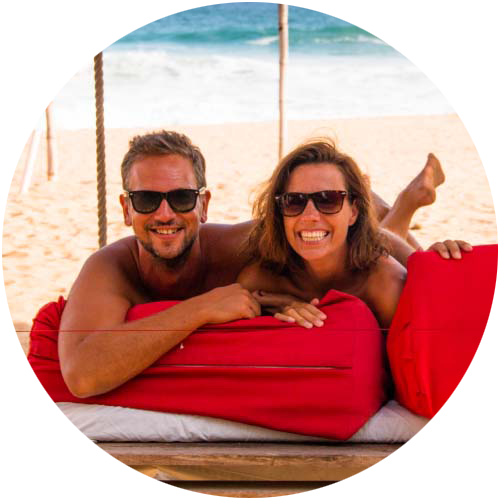 Support Naked Wanderings
Do you like what we do for naturism and naturists? Did we make you laugh or cry? Did we help you find the information you were looking for? Then definitely join our Patreon community!
---