Eco… The hair in our necks comes straight up when we hear the word. In the last couple of years, vacation makers have been misusing this term to charge more money in order to make their guests feel less guilty about the long flight or car ride they took to get to their holiday destination. And there are no rules for calling a place "eco". Many think that it's enough to recycle some waste or put a solar panel on their roof to become an eco-resort or campground.
Well… not this place. Camp Full Monte is as eco as eco can possibly be. And even better, it's clothing optional as well. Full Monte is one of the only two FKK campings (naturist campings) in Montenegro and the only one in the golden tourist triangle of Kotor, Herceg Novi, and Dubrovnik.
SIDE NOTE: We have been working as volunteers in Camp Full Monte, so our findings might not be 100% objective. But we promise to do our very best to see things through the eyes of a visitor.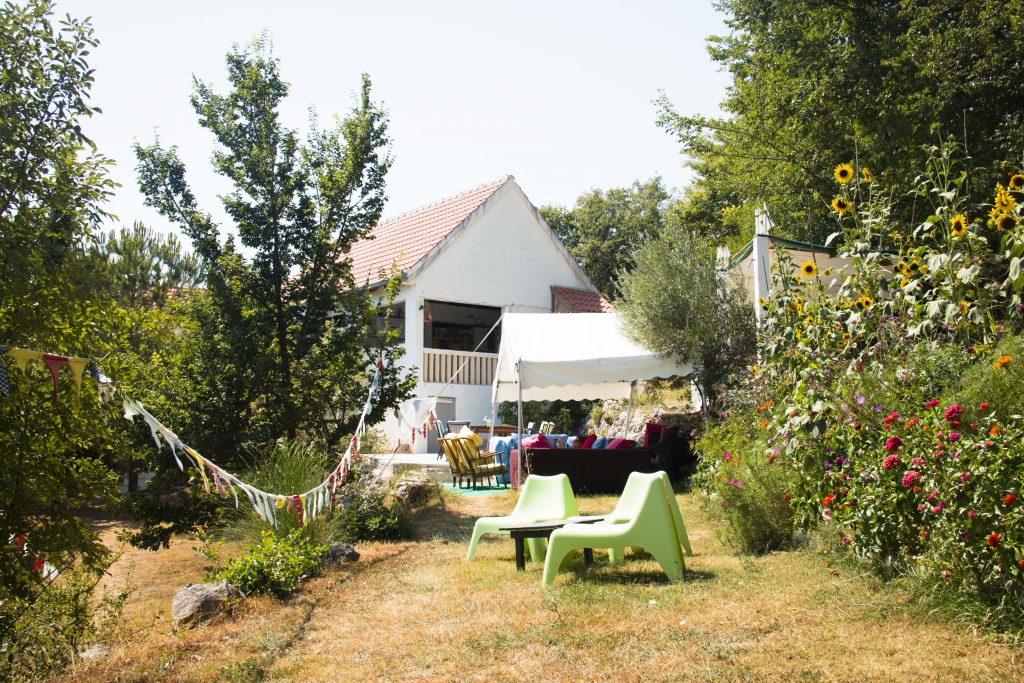 Location
It's pretty easy to get to the campground, once you know the way. There are no signs along the road, so we strongly advise you to check out the directions on their
website
before coming over. Basically, it's located in a very small village called Prijevar on the slopes of a mountain just past the border with Croatia (or just before if you're already in Montenegro). From there you follow the signs to the village until you find a parking spot with a bench where you turn left. About 100 meters further you're there.
If you're coming by public transport, it's a bit trickier. There are two buses a day from
Herceg Novi
to the village, one in the early morning and one at noon. If you manage to get to the border, it's better to call Steve (the owner) and he'll pick you up for a very reasonable price of 2 euros.
As you may have already noticed, getting to Full Monte is a bit of an adventure, but what you get in return is a beautiful campground in the middle of nature. Totally worth it.
The closest international airport in the area is Dubrovnik.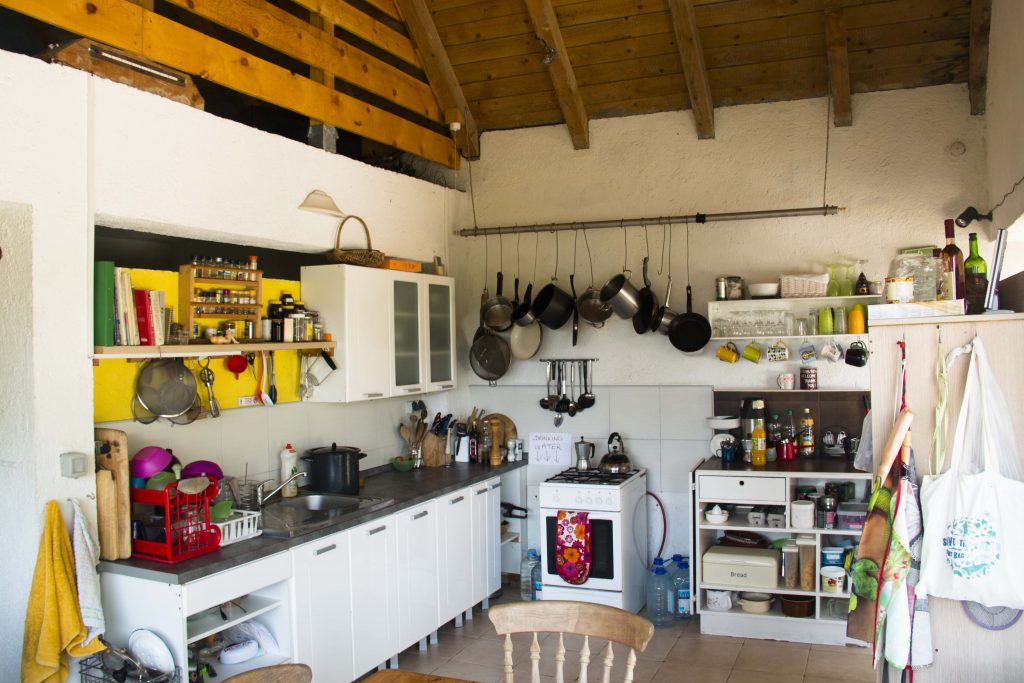 Facilities
So, the eco thing. The campground is not connected to the city water or the electricity network. Now we know what you're thinking, but this doesn't mean that you'll be required to bathe in a river and cook your dinner on a campfire. Instead, you'll be surprised about the level of comfort you get here. The owners are specialists in ecological living and are able to provide you hot showers, compost toilets (yes, that sounds a bit strange but they are actually the same as "regular" toilets but you don't have to flush. And there is no smell at all!). We won't go into details about how these things work, but all water and human waste is recycled smartly. If you'd like to know more about this, the owners are happy to tell you all about it.
Camp Full Monte is a small campground and a very social place. Other than a shared kitchen with the necessary utilities to cook all your food and a fridge with ice-cold beers there are also several places to relax and socialize with the other guests. All with amazing views of the garden and the surrounding mountains. It's in those places where you enjoy your coffee in the morning, have a chat and suddenly realize that half of your day has passed away. And you don't care at all.
For the techies, there are a couple of 12V points to charge your electronic devices and one 220V for the bigger things like laptops or camera batteries. There is even wifi, how about that?
Accommodation
The most common type of accommodation on this campground is the tent. You can choose between bringing your own tent or renting one at the campground. For campers and mobile homes, it's a bit more difficult as they can't access the site and there's no possibility to empty the waste tank or connect to the power. If this doesn't matter for you, you'll be more than welcome to stay on the field on the opposite side of the road or on the side of the road and make use of the facilities inside the camp.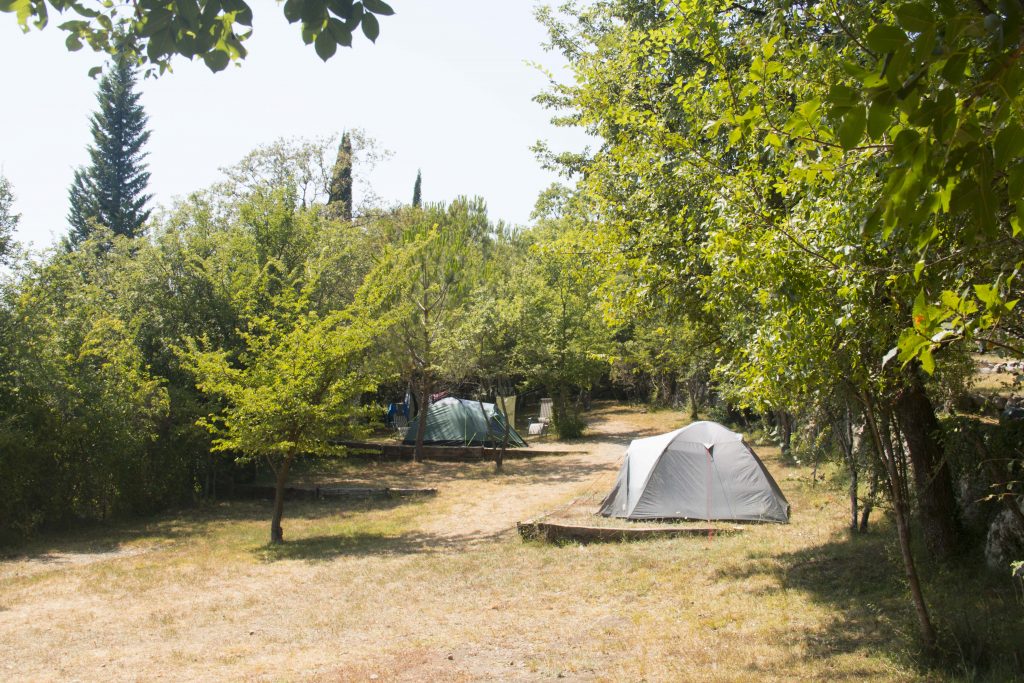 Surroundings
For both nature and culture, you're in exactly the right spot. With its location right in the middle between Kotor in Montenegro and Dubrovnik in Croatia, you can't find a better base for visiting those two highlights of the area. And in the evening you'll return to the peace and quietness of the mountain. In Croatia, you can also visit the other places in the
Dubrovnik Riviera
 or the nude beaches and on the Montenegro side, there are of course the other towns in the Bay of Kotor or the historical city of
Herceg Novi
, where you can also find a couple of beaches to bare it all.
Because Croatia is a much more mainstream holiday destination than Montenegro, many people chose to stay around Dubrovnik and visit the Bay of Kotor on day trips. But we can strongly advise you to do it the other way around, for a couple of reasons: There is actually much more to visit around Kotor than around Dubrovnik, prices in Montenegro are much lower than in Croatia and on the Montenegro side of the border you can stay in this clothing-optional campground, which you don't have anywhere near Dubrovnik. Not convinced yet? Here's another reason: The currency in Montenegro is the Euro, which means that visitors from the European monetary union don't need to change cash, and visitors from elsewhere can take their leftover cash home and change it at a much better rate than on the airport.
And then there's the nature around the campground. Nothing but small roads, little villages, and forest, forest, forest. Ideal for an afternoon walk or a morning run (if the heat allows it).
Staff
The staff was AMAZING! Because, well… half of the staff were ourselves. No, just kidding. All credit should go to Steve and Denise, a very talkative couple from the UK who decided to chase their dream and open a clothing-optional eco campground in Montenegro. They are the owners of the place and also the only permanent staff. During most of the season, they rely on the
support of volunteers
(that's where we come in the picture) to give them a hand in the garden, with the maintenance, and with the guests. These volunteers are carefully selected, so no need to worry about a bunch of teenagers giggling whenever they see a naked person.
One of the reasons why many visitors decide to extend their visit or to come back to the campground after a couple of days is because Steve and Denise do a great job in creating a very relaxed and welcoming environment. We struggled a bit with the way how to describe this place, but came up with: A "B&B style campground". All guests are camping but other than that they get the personal attention they would get in a B&B. The staff is always ready to answers all questions, they know all visitors by their first name and not a morning goes by without them inquiring about the quality of your sleep. Now that's what we call service!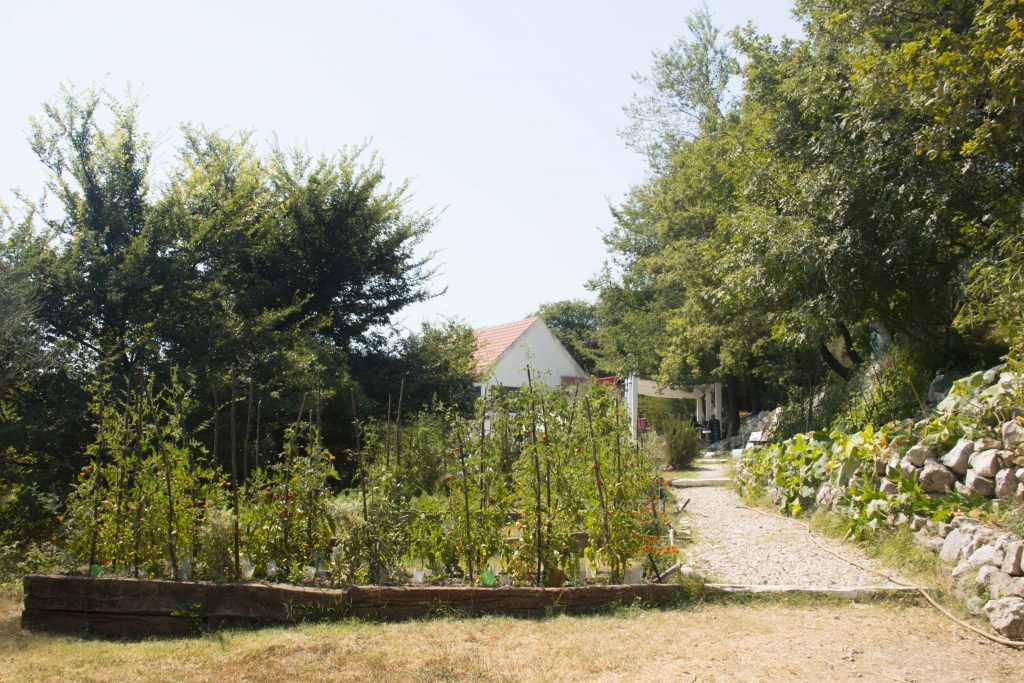 Guests
During the 12 days that we were there, we saw a very interesting range of visitors passing by. Most of them were couples with ages ranging from early twenties until late sixties, we've had two families with little children and several male and female backpackers among many others. What defined the visitors the most was a certain sense of adventure, trying to get a bit off the beaten track in order to have a more genuine experience.
The reason for visiting differed a lot as well. Some were attracted to the clothing-optional thing, others came for the eco thing and others were just looking for a nice and quiet place to put up their tent. This means of course that not all visitors are nudists. What really surprised us though was that several of the non-nudist visitors, once they had spent one or more days on the campground, decided to give nudism a try. The biggest reason for this is of course the friendly environment. The fact that people feel safe and comfortable enough in this place to put their insecurities aside says a lot about the atmosphere. When we talked about this with the owners, they told us that once they did a survey among their guests and in fact for many this was the first place where they engaged in nudism. Need we say more?
Summary
Even if we wanted to, we can't say anything bad about Camp Full Monte. Maybe it's because we were part of the crew, maybe it's because we stayed longer than the average visitor, but we strongly believe that when we were there, we haven't seen a single guest leaving with a bad feeling.
We think that everyone who's visiting the area, nudist or textile, should give this place a shot. To experience that bit of adventure, to see how it's really possible to live comfortably in an eco-friendly place, and to get a taste of the wonderful atmosphere.
Read more about this place on
NUDE
---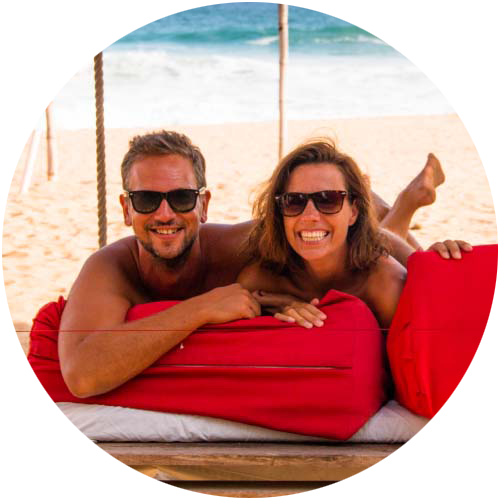 Support Naked Wanderings
Do you like what we do for naturism and naturists? Did we make you laugh or cry? Did we help you find the information you were looking for? Then definitely join our Patreon community!
---