Why would someone want to do that?
Well, even though Herceg Novi is not in the top five of must-go places in
Montenegro
, it's actually a pretty nice place to be. Of course, it's not comparable with the nearby village of Kotor, which attracts thousands of visitors each day and that's the main reason why many people skip Herceg Novi. And truth to be said, if you're driving from Kotor to Dubrovnik or the other way around, what you see while passing through Herceg Novi is not exactly promising. It's an ugly main road surrounded by huge apartment buildings. One really has to get into the city to notice its beauty and those who do stop will be, like us, pleasantly surprised. And the area does have quite some nude beaches as well.
Cool activities around Herceg Novi include:
The best place to stay in the area, and the only place where you can get naked as much as you want to, is of course
clothing optional eco campground Full Monte
. If you enjoy waking up in the nude and not having to bother putting on clothes before taking your morning coffee, this is your place to be. Or if you just like to wake up with the sounds of nature and mountain views. Or if you just like to wake up with the friendly faces of Steve and Denise. Actually, whatever you like in the morning, Full Monte will be your best choice.
But we wanted to talk about the beaches.
➡️ Click Here for great hotel deals in Herceg Novi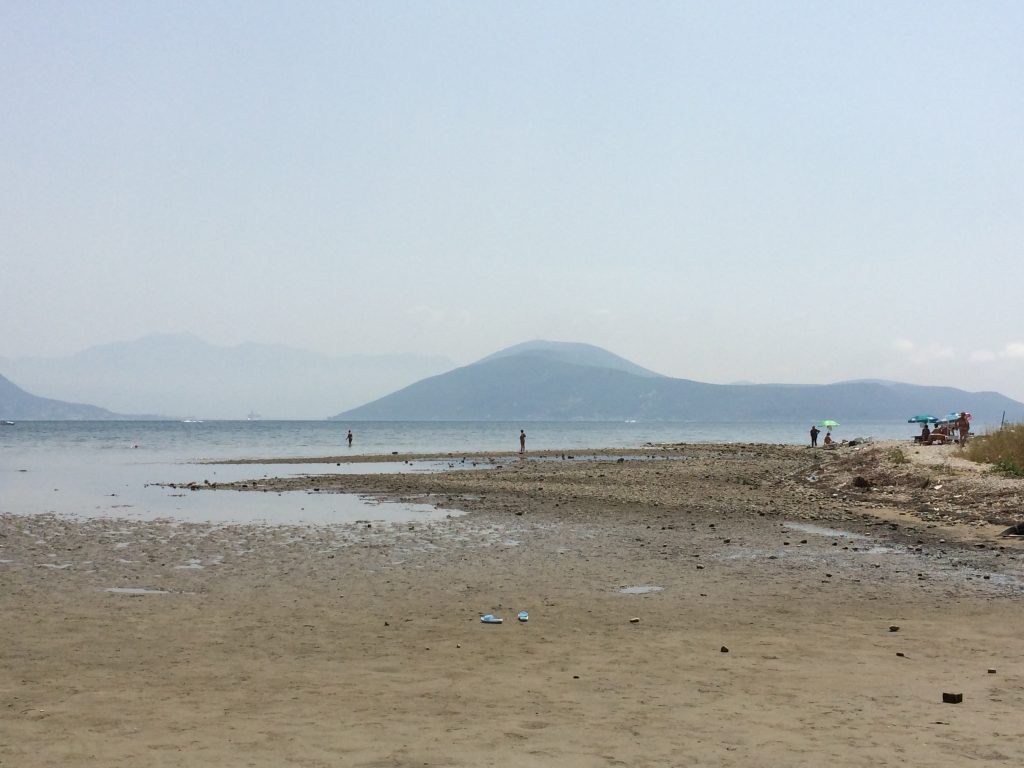 Igalo beach
Ladies and gentlemen, we have a winner!
Egalo beach is by far the ugliest nude beach we've ever been to. In fact, it's not only the nude beach, we can't think of a reason why one would choose to spend time on the textile beach either.
So please note that we're only mentioning this place for the sake of completeness and as a warning.
Well, actually we do advise you to go check out the place because it's pretty impossible to describe its ugliness. But we'll give it a try. And we know that you'll think something like "well, it can't be that bad"… Trust us, it can.
A couple of hundreds of years ago, someone had the belief (or the business model) that the mud on Egalo beach contains a lot of healthy minerals, which can help you to get rid of several pains. And mud they have enough here, the whole beach is just a pool of mud, ending up in a dirty looking gray sea. So what you find on this beach are people covering their knees, elbows, or whole bodies with dirty black mud. What people don't seem to realize is that back in the day, there weren't that many polluting boats in the bay and neither did the river ending up right next to the beach contain that much waste. We didn't want to touch the ground with our bare feet, but yet there were vendors making money selling mud in big plastic bottles. Weird.
When it comes to the nude beach, it's a rocky part right at the end of the beach. You can barely sit there (if for some reason you wanted to) and the place is just plain dirty. We didn't even bother to take off our clothes and just left.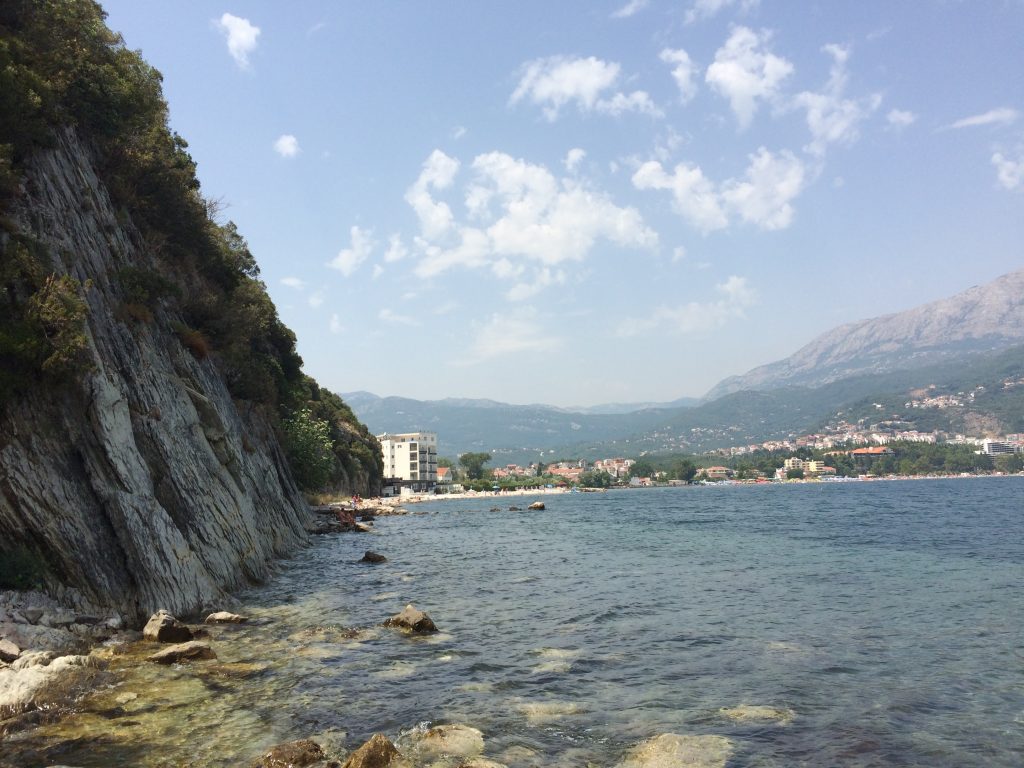 Rado Bay hotel
UPDATE 2019: A recent visitor told us that this beach is unfortunately also frequented by visitors who don't understand the "non-sexual" part in naturism. So do check around before making yourself comfortable at the Rado Bay beach.
After our visit to Egalo, things could only get better and soon they did when we stumbled by accident on another nude beach. In fact, we were trying to find a short cut via the beach towards hotel Riviera but once we turned right at Rado Bay hotel we were suddenly among the nudies.
What a nice surprise!
The beach is only a couple of kilometers further than Egalo but the difference was stunning. Clear blue waters, big rocks to relax on and a completely different atmosphere than only an hour or two before.
The beach next to Rado Bay is a pretty long stretch, we think about one or two kilometers. The number of visitors was limited when we were there, so you can easily find yourself a nice place to relax without too much crowd around. Do note that with the tides, some parts of the beach become inaccessible at certain times and you may have to wade through the water (or wait a couple of hours) before you can get back. We speak from experience.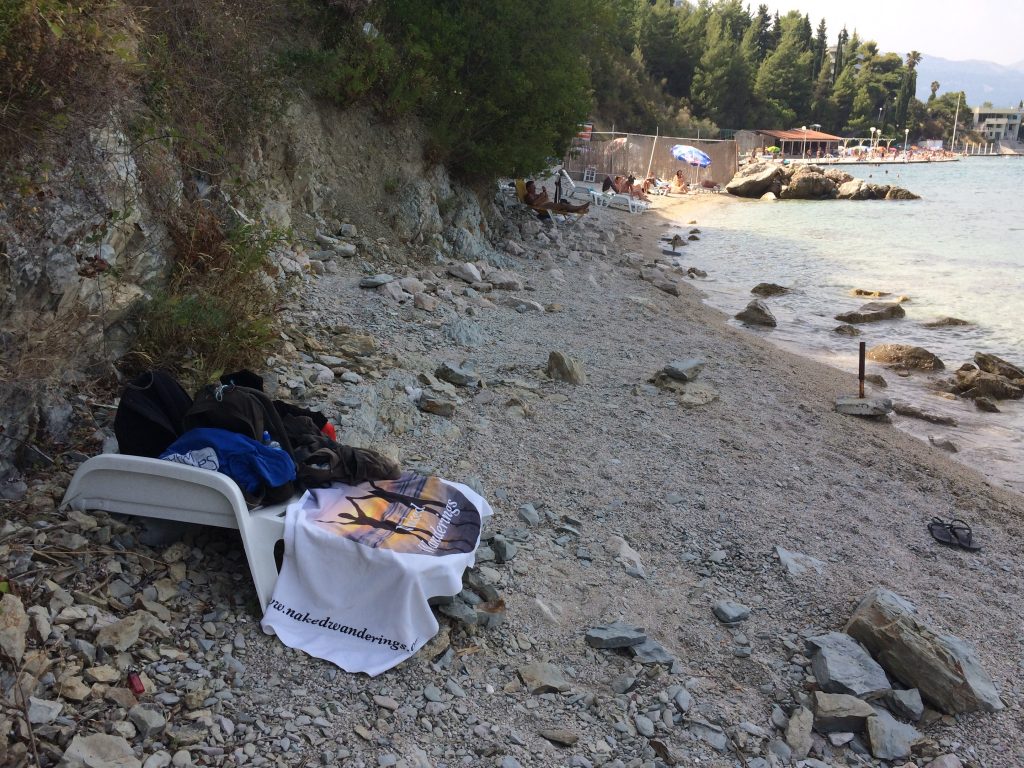 Hotel Riviera
UPDATE 2019: Unfortunately Hotel Riviera got new owners and they decided to make the nude beach textile. So this nude beach doesn't exist anymore! Thanks Camp Full Monty for the update!
This is the only official nude beach in the area and it's pretty easy to get to. Just turn off from the main road between the Croatian border and Herceg Novi into the street in front of the Hypermarket and keep following until the end.
Our visit to Hotel Riviera was quite a funny experience as well (yes, we really had an interesting day). The hotel seemed to be closed for the season, or permanently, but still, there were loads of cars and people on the property. Everyone in the area seemed to know that you can still enter the beach through the hotel. It's the busiest closed hotel we've ever seen.
When you get down to the beach, just turn to your right and you'll see a wooden fence with "no clothing" signs. There you are.
It's a nice stretch of rocky beach and blue water where you can easily spend a couple of hours if you come at the right time. Unfortunately, we had forgotten the advice we got a couple of days before to come here in the morning because in the afternoon the whole beach is shaded. We arrived there around 3 pm and guess what… Only a couple of meters beach was still in the sun and of course, most of the nudists had flocked together there. But with temperatures well in the thirties, we didn't really care about the shade, took one of the leftover chairs (which nobody seemed to charge), got our clothes off, and dived into the crystal waters while looking at the skyline one Herceg Novi on the other side of the bay.
Find the best nudist accommodation in the area on NUDE
---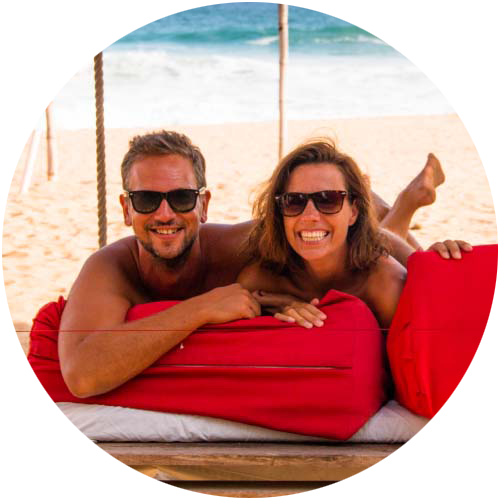 Support Naked Wanderings
Do you like what we do for naturism and naturists? Did we make you laugh or cry? Did we help you find the information you were looking for? Then definitely join our Patreon community!
---