We visited several clothing-optional resorts lately and were kinda surprised of how many questions we received about this concept. Especially on our
Instagram Stories
, because that's where you can follow our travels live (in case you didn't know this yet). Most people know naturism and/or nudism as these terms have existed for over a century. Clothing-Optional is rather new, from
what we read
, it only started being used in the eighties or nineties.
View this post on Instagram
What is clothing-optional?
As the article above describes, it started as a way to attract more people to naturist/nudist resorts. We're not sure whether it was uniquely invented for marketing purposes, but we do know that today it's a way for resorts to become more inclusive. It's also a successful strategy for normalising nudity. Although some naturists dream of an all-nude society, chances that this will ever happen are little to none. A more achievable concept is creating spaces where the nude and the clothed live happily together.
As the term suggests, at clothing-optional places, clothes are nothing but an option. You may choose to wear them, or you may not. We've seen some opinions of people who would have preferred the term "nude-optional", mostly because it includes the word "nude" and exposing the general public to this word might help get them over their fear of nudity. We disagree though. We think that by using the term clothing-optional, we're saying that clothes are the option and no clothes are the default. Turning it into nude-optional would make nude the option and clothes the default. But that's just our personal opinion.
View this post on Instagram
Who goes to clothing-optional resorts?
Generally speaking and from what we've seen, the visitors at clothing-optional places are largely the same as those at naturist/nudist resorts. But there are some exceptions. Clothing-optional resorts tend to be more popular among first-timers because they don't feel the pressure to get naked when they don't feel comfortable (yet). Also couples with one partner who likes to be naked and the other who doesn't will find their way to clothing-optional resorts. The same goes for groups of nude and non-nude friends.
Who you won't easily find at clothing-optional resorts are the die-hard naturists and nudists who believe that 24/7 nudity is the way to go and who, as mentioned earlier, dream of an all-nude world. There are also people who only feel comfortable naked when everyone else is as well. These will also prefer a nudist/naturist resort over a clothing-optional one.
View this post on Instagram
How many go actually nude at clothing-optional resorts?
This was by far the most common question we received and a very valid one. A lot of people don't mind being nude among the clothed as long as they don't feel outnumbered. This happened to us a couple of times at beaches and being just one of the very few naked people among loads of others in bathing suits is not the most comfortable feeling. But more about beaches later.
In our experience, at least 80-90% of the guests at clothing-optional resorts get naked at one point or another. Some will be nude all the time, some might take a day or maybe two to get comfortable, some will go only topless, some will only get naked in the pool or the jacuzzi and then there are the very few who prefer to keep their clothes on because they're joining a naked friend or spouse.
We yet have to meet the first person who goes to a clothing-optional resort without any nudity-related reason. Either it's because they're curious, or because they don't want to feel pressured to be nude all the time, or because they're joining someone who likes to be nude.
View this post on Instagram
What about gawkers?
Another question we get a lot is whether clothing-optional places aren't heaven on earth for gawkers. The setting couldn't be more perfect, they can just look at all the naked people without having to get undressed themselves, right? In theory, yes, but in practice definitely not. Clothing-optional resorts maintain the same etiquette as naturist/nudist resorts. The guests are required to treat each other respectfully, photos may only be taken with consent, and those who just come to stare will easily be identified and removed from the property.
This brings us back to clothing-optional beaches. Throughout this blog post, we've mostly been talking about resorts, which are private properties that have staff to keep an eye out. Beaches are a whole other story because they're free for everyone to use and are mostly unmonitored except by other visitors or the local community. Clothing-optional beaches do often have a problem with gawkers, but then again, so do nude beaches.
In most countries where beach nudity is allowed, all beaches are public property and it's often illegal to force people to get naked. Even on designated nude beaches, if visitors decide to keep their clothes on, there's not much to do about it except for walking up to them and trying to explain that the common dress code is nude. But eventually, most nude beaches can be considered clothing-optional.
View this post on Instagram
Is clothing always optional?
Something we have noticed about clothing-optional resorts is that they often have zones with different dress codes. In many cases, the water facilities like the pool, the beach, the jacuzzi, etc will be clothing-optional or sometimes even nude mandatory, while covering up is often required at the bar and/or restaurant. In some cases, they actually ask for pants and a shirt or dress, but mostly a pareo or sarong will do the trick.
The most common reason for this is hygiene, which we don't agree with because given that many people shower before dinner, their bodies are often cleaner than their clothes. Another reason we heard is that guests don't want to see full naked bodies while they're eating. We understand that for first-timers, this might be a somewhat awkward sight, but experience has taught us that seeing someone naked in the restaurant soon becomes as normal as seeing someone naked on the beach. But rules are rules and it's up to the resort to decide. If you like to be nude all the time, it's best to check this before booking.
View this post on Instagram
Will Gen-Z go clothing-optional?
We've talked to many guests at clothing-optional resorts as well as at nudist and naturist resorts. One thing we've noticed is that the older generations are often proud to call themselves naturists or nudists, while younger generations tend to be more reluctant to adopt one of these terms. They just like to be naked but feel no need to put a label on it. Especially the Gen-Z is known to be not a big fan of labels.
This generation can get more attracted to clothing-optional places than to naturist/nudist places. "Clothing-optional" is, of course, a label too, but it's not personal. You can't be a "clothing-optionalist" or a "clothing-optionaler". The label can only be used for places. Whereas a naturist or nudist resort indicates that the guests are naturists or nudists.
Our opinions about all this may be a bit biased because we very much believe in the clothing-optional concept. Even though we disagree with some elements, like having to get dressed for dinner. But in general, it creates an atmosphere of inclusivity. Clothing-optional places are places where you can wear what you want to wear and be who you want to be and be respected for that. For us, that's a great prospect for the future.
---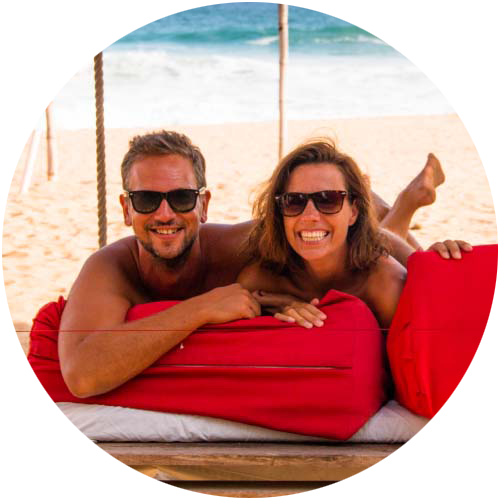 Support Naked Wanderings
Do you like what we do for naturism and naturists? Did we make you laugh or cry? Did we help you find the information you were looking for? Then definitely join our Patreon community!
---