This is one of the most common questions we've been getting lately, both from our readers as from people we've been meeting along the way. How on earth have we been able to continue our nude travels for more than a year and how are we going to manage to stay alive for at least one more year? Many think that we are nude millionaires, that we have won the lottery or that we are some kind of WizKids who started a successful internet company and live from the profit of it.
Well, let's break that bubble for you.
We didn't sell an app for millions of dollars before we engaged in this adventure. Unfortunately, because our lives would be so much easier, but maybe it's also a good thing. The struggle to try to travel as much as possible with a limited amount of money does keep pumping our creativity.
How we got the money to travel is pretty basic… We worked for it. For several years we worked a lot, were lucky to have decently paying jobs and tried not to spend too much money on things like cars, furniture, big-screen TVs or whatever we would later have to sell for a much lower price anyway.
Saving up some money is an essential part if you want to travel at least somewhat comfortably. But it's not a necessity.
We've met several travelers who are selling bracelets or bandanas on the beach and travel with the money they make from it. Much respect for them, but we prefer to have some financial security. Also because we don't want to write blog posts starting with "Yeah, we're still in
on Playa Zipolite nude beach
, it's been 6 months now but we still haven't made enough money to get to the next nudist destination…". That's not how we roll.
This is not a regular nude holiday
One big mistake that is often made when people think we are rich is that they try to compare our way of traveling with theirs. They take vacations of one or two weeks and during that time they don't think too much about money. Once they get back home they will earn their spendings back. We've met several couples along the way who easily spend 3000, 4000, 5000 dollars on their 10 day holiday. If they do the calculation what a year-long trip would cost… We can understand why they believe we are millionaires.
Truth is, what they spend on a 10-day trip can easily keep us going for 2 or 3 months.
Travel costs can roughly be divided into 4 categories:
– Sleeping
– Eating and drinking
– Transportation
– Others (visas, activities, the ridiculous entrance fee of Madame Tussauds, etc)
In a perfect world, all of those would take 25% of your budget. But we don't live in a perfect world. In
Sri Lanka
for example, everything is ridiculously cheap. Except for tourist attractions. A visit to some ruins or a cave temple can easily set you down 25 dollars per person. If you're on a 100 dollar budget as a couple, that's twice the amount it should be. In
Mexico
on the other hand, a cheap place when it comes to food and booze and even accommodation, bus tickets cost you double an inter-European Ryanair flight costs.
The solution to this is the pace of traveling. An amazing advantage we have is that we are not in a hurry. We have lots of time. If transportation is expensive but accommodation is cheap, we just stay longer at the same place. 25 dollars a bus ride is expensive if you move on every day, but if you stay for 5 days it's only 5 dollars per day. Ask Kelly and Sherry from
Casablanca Guest House in Zipolite
, we intended to stay 3 days but ended up extending our stay twice to 2 weeks (but that was also because Zipolite is such a magical place).
In
Croatia
on the other hand, even the campground fees were over budget, but car rental seemed to be pretty affordable. Because we had our own car, we were able to do more in one day, so we could travel faster and spend less on accommodation. We could also have slept in our rental car, but then we come back to the point of why we chose to save some money before leaving. We like at least some comfort.
Travel hacks for cheaper nude vacations
We have to admit, traveling long term does require a lot of mathematics. And we do understand that if you have no intention to travel for a long time as we do, it does sound very hardcore. We had the same while we were still having a job and the odd vacation in Belgium. Who cares whether that hotel is 40 dollars or 60? Who cares whether that bottle of wine is 15 dollars or 30? Let's have another one! In the short term, it doesn't make much sense, but on long term it's critical.
We use "travel hacks", however, which can easily be applied to short term and long term travels. Something we never do for example is package holidays. We know it's very easy but basically you're paying a company a huge amount of money (often 20-25% of the cost of your whole trip) just for arranging things you could easily do yourself.
Because what you need is simple: A place to stay and a way to get there. Or otherwise: A hotel and a flight.
For nudist hotels (or any other type of nudist accommodation), we obviously recommend our partner website:
NUDE
. Here you'll find the most complete overview of nudist accommodations in the world.
Unfortunately, not all of the nudist places have advanced to using the big booking websites, so it's often not possible to get a good deal. If you don't really care whether your hotel allows nudity or not because you'll be spending most of your days on a nude beach anyway, your best chances are certainly to use a booking website. Our all-time favorite is
Booking.com
. It works great, it's easy and when you've used it for a couple of times you get a "genius" account which gives you a default 10% discount at most places. Give it a try below, you'll love it.
By finding the best deals on Booking.com we've saved a huge load of money and we've been able to stay at hotels that are normally way over budget but which apparently just had a good deal while we were searching.
Next one: flights. So many people still think they need to contact a travel agency or visit the official website of this or that airline to get a flight. They are losing so much money, it's ridiculous. Today there are several websites that help you to find the best (and cheapest) flight for you. That's kind of what the travel agency does, but instead of charging their commission to you, they'll charge it to the airlines. In the past, we've used a combination of
Google Flights
and
Skyscanner.com
, but recently we found an even better one:
Jetradar.com
. Unlike the previous two, it doesn't only scan airline and travel company websites but also the websites which scan those. Confusing? Yeah maybe a little, but give it a try below and you'll see that they have some awesome deals!
If you've been used to buy package deals, we would seriously encourage you to check out the above and see what your trip could have cost you if you had used those two easy tools. You might be impressed.
Naked Wanderings is (not) a gold mine
One last bubble we're going to splash here for you is that we're earning a huge load of money with Naked Wanderings. Haha, we wish! And it's not that we're not trying… of course it's one of our big dreams to earn money with Naked Wanderings and be able to keep traveling the world from one nudist place to another for the rest of our lives, but sadly that's not how it works.
Without going into too much detail, the big advertising companies that work together with all the other bloggers, Google and
Amazon
, refuse to work together with us. Indeed… because of the nudity. Well, lucky for you… that's why you don't see many ads on this website.
On the other hand, the advertising companies that do want to work with us are often obscure or porn related, so they're not worth anything either. As much as we'd love to make some money with this, we certainly don't want to promote anything that we don't believe in ourselves.
Does that mean we really don't earn anything from Naked Wanderings? No, fortunately not. We do get some profits. Because we have grown a lot, many nudist places started to recognize the importance of our website and invited us to come over so we can talk about their place. Which means we're spending less on accommodation. It's not going to make us rich, but it will keep us longer on the road. And in the end, that's what really matters.
---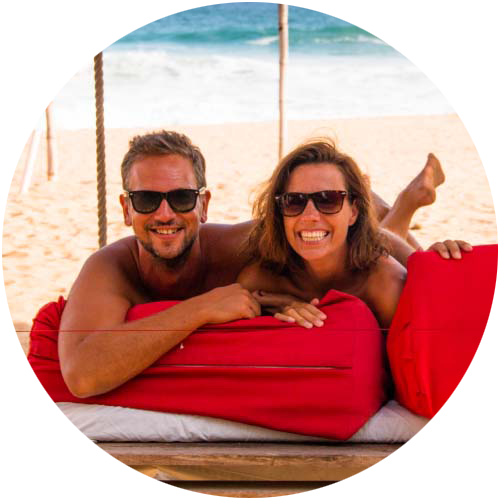 Support Naked Wanderings
Do you like what we do for naturism and naturists? Did we make you laugh or cry? Did we help you find the information you were looking for? Then definitely join our Patreon community!
---