Last week, The Meandering Naturist asked a question that most promotors of naturism are struggling with:
Is social media worth the effort in a naturist world
? Facebook, Instagram, TikTok, and the likes are often seen as the enemy because they have strict censorship rules that demonize the human body in its natural form. Why would we invest time (and let alone money) in something like that?
On the other hand, these are unique tools with which we can potentially reach millions of other people and explain to them what naturism is really about. Before, we had to rely on willing journalists who wanted to do a piece about our way of living. And then hope that they understood everything correctly and don't turn it into a big joke. Now, we have the power in our own hands. Given that we play by the rules, of course.
Nick and Lins pictures on the nude beach
We have always strongly believed in the power of social media and the advantages that come with it. Since the very beginning of Naked Wanderings, we have been practicing with our own style of censorship. If you follow us on
Instagram
, you know what that means: You can see that we're naked, but you don't see any explicit nudity.
Over the years, this has become a part of the Naked Wanderings brand and quite often people tell us that they are also making "Nick and Lins pictures" on the nude beach. Other than being allowed to keep our social media accounts and not end up in Facebook Jail, this strategy also proved to have some other advantages. We have been able to acquire a very genuine readership because our content is just too boring for those who only want to look at naked bodies. It's also easy to digest for people who are not that familiar with social nudity and you can actually read our blogs at the office without having to fear that your boss will suddenly appear behind you and there's a penis on your screen.
Does censorship hurt naturism?
We also get comments from people who disagree with our censorship. They tell us that by hiding certain body parts, we're actually sexualizing them or agreeing that they should be hidden. We can't argue with that, because there is a lot of truth in this statement. If we preach that nudity is normal and natural, we do kinda contradict ourselves by hiding it.
Probably, most of you do realize that this is how social media works and that there isn't really another option. It's either censoring or no social media at all. If we want to use social platforms, we got to follow their standards. Period.
But then we wondered: "What if social media dropped their ban on non-sexual nudity tomorrow, would we change our style of pictures and videos?". We probably would not. We would definitely be less careful and if we happen to take a cool picture that has a nipple or half a penis in it, it would get a spot on our Instagram page. But we wouldn't start posting full-frontal nudity just like that. Just because it's possible.
How to make naturism more accepted?
This is the question that has been keeping us busy for years. Many promotors of naturism are going for the "constant exposure to non-sexual nudity" strategy. We understand the idea, but we wonder to which degree this actually works. If you post a full-frontal nude picture on Twitter (the only mainstream social medium that actually allows this), how many people will think "Hey, that looks cool, I want to do that too!"?
We want those who see our pictures or watch our videos to think just that and we believe that a less explicit strategy might work much better. You can see that we are doing cool things, that we visit beautiful places, that we are having lots of fun, that we have a positive vibe, and, oh yeah, that we're not wearing clothes in all that.
It's all about relatability. For non-naturists, it's quite hard to relate to a full-frontal naked person, because the nudity is the most prominent part. If this non-naturist sees our pictures, he or she may not relate to our nudity, but might be inspired by our joy, by our nomadic lifestyle, or by all those wonderful places. And meanwhile, they also learn a thing or two about our life as a naturist.
The Naked Wanderings Vlog
On our blog, naturism and naturist destinations have always been the main focus point. When we started vlogging earlier this year, we decided to expand our scope and also show the cool non-naked things that we do. If someone searches on youtube for a video about the Spanish city Alicante, for example,
our video
might appear on their screen. If they watch it, they'll get to see some of the highlights of this beautiful place, and they'll also see that we're having a really good time at a nearby naturist resort.
With this video (and many of the others we've been making), we create the opportunity to show someone what a naturist resort really looks like without them even searching for it. And we believe that this can only be done by gently introducing the topic and by not exposing them directly to explicit nudity.
Will this strategy work? It's way too early to say, but we believe that it's worth a shot. Those viewers of the
Alicante video
may not immediately book a naturist vacation, but at least they get an idea of what a naturist place looks like on the inside. At least they get to see that it's not something weird or creepy, but actually quite normal and pretty fun.
Travel vloggers going nude
We spend a lot of time on YouTube and we follow a lot of travel vloggers to get inspiration for our own journeys (and to steal some ideas for our own vlogs). During the last month, we've seen two of our favorite travel vloggers going to a nude beach:
Travel Beans
and
Kinging-It
. Both happen to be young couples from the UK.
This is not all that unique, lots of bloggers and vloggers figured out that tag lines like "I went to the nude beach for the first time" are an easy way to attract a lot of attention. Nudity sells and in many cases this is the only reason why they create a video or blog post like that. But that doesn't seem the case for the above two. They had a genuine interest in going to a nude beach and most importantly, they talk about their expectations and experience in a very honest way.
Both the Travel Beans and Kinging-It have about 100 000 subscribers. Added together, their nude beach videos have already been watched more than 400 000 times. Since none of their previous videos have anything to do with naturism or nudity, we expect that the large majority of their audience probably aren't naturists. We're talking about many thousands of non-naturists who've now seen the first nude beach experience of someone they trust, like, and maybe even admire.
Will vloggers inspire the world to get naked?
One of the reasons why naturism is often still considered something obscure is because many naturists don't like to talk about it. At least not to their friends, colleagues, or relatives. When we became naturists, we didn't know a single other naturist. We also kept this newly found joy a secret for more than two years because we thought that if nobody else who we know is doing this, they'll probably think it's very weird.
But the more we started talking about it, the more people we knew told us that they also visited nude beaches, nude spas, or nudist resorts. Especially when we started our blog and appeared in newspapers, more and more people who we've known for a long time appeared to be naturists as well.
These are people who we love and respect for many reasons, and if we had known that they were also naturists when we
took our first steps into the spa
, we would have been much more confident. Openly talking about naturism is definitely the way forward, and vloggers can do this on a very large scale. The 130 000 subscribers to the Travel Beans channel like Alex and Emma for a variety of reasons. And now the couple has shown them what's it like to go to a nude beach. That it's not just okay, but actually fun and something they'll probably do more often.
What would happen if more travel vloggers followed in their footsteps? If they would all go to a nude beach or a naturist resort and honestly talk about their experiences? Wouldn't that be a great step towards normalizing naturism? Or do you think that we should just put full frontal naked pictures on Twitter?
---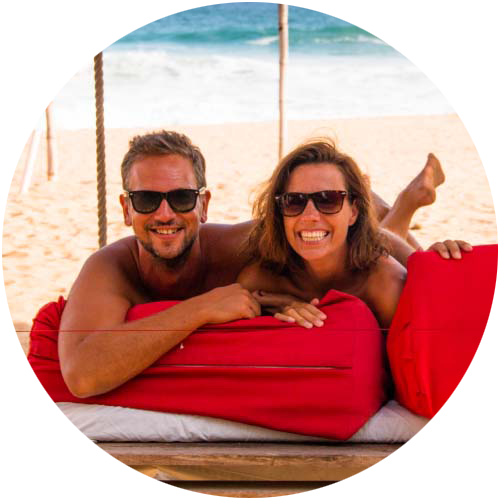 Support Naked Wanderings
Do you like what we do for naturism and naturists? Did we make you laugh or cry? Did we help you find the information you were looking for? Then definitely join our Patreon community!
---