Our third and last place to stay in Playa Zipolite and yet it was completely different than the other two. It was the only one we've stayed at which is not the laid down Zipolite beach and we have to say that we were not so sure about how it would be. In the end, Playa Zipolite is the official nude beach and we figured that staying away from that beach would not really improve our experience. But we decided to give it a try and made a reservation for 3 nights at Casablanca Guest House. We ended up baring it all for 15 nights. Spending most of our days sipping Coronas naked on the beach. Need we say more? Probably not, but we're going to anyway.
If this is the first blog post you read on this website or if you've been skipping the latest stuff, here's a quick catch-up: We're at
Playa Zipolite in Mexico
, the country's only official nude beach and we are having a BLAST! Do you know the kind of nude vacations where you think at the end that you might come back one day? This is nothing like those, we know for sure that in less than a year we'll be back at this beach again. What does this say about us? Very little. What does it say about Zipolite: That it's amaaaaaaaaaaaaaaaaazing!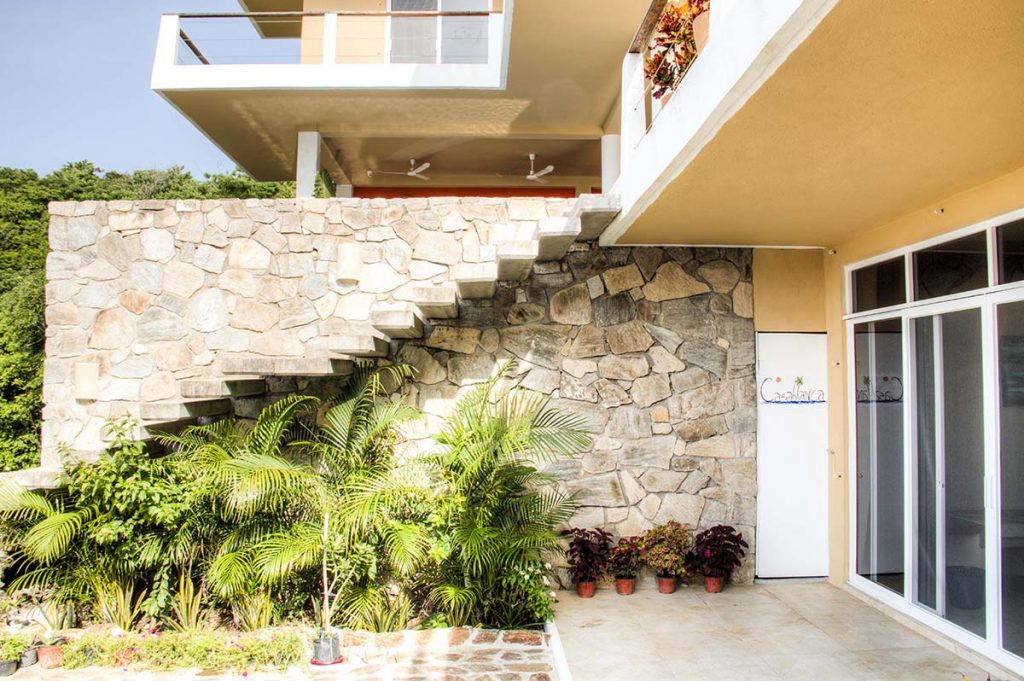 Location
Casablanca Guest House is nothing like the average Mexican hotel business, it's much more like a B&B, they only have four rooms and they treat their guests rather like long lost family members than just the other customer.
Our main concern was, however: They are not on the nude beach. Meanwhile, we consider ourselves old farts when it comes to nudism and we don't mean that in the typical "nudism is for oldies" kind of way. It's just that we've been around, we've met lots of other nudists and we know what a nudist wants. Not to wear any clothes. Especially not to walk from the hotel to the nude beach.
Well, here's a nice twist in this story, at Casablanca Guest House it's not necessary to wear any clothes if you're going for a skinny dip. They have their own beach! Okay, technically it's not their own, it's a small place called "Playa Cameron" (or "Shrimp Beach" if you like) and you can perfectly walk from the hotel towards the beach completely naked. And have your skinny dip. And get your nice equal tan. Although it's no Zipolite, you can have a great naked time there.
But we were about to give you some directions. If you're coming from Puerto Angel, you'll have to get past Zipolite, cross the river on the edge of town, and take the dirt road on your left after about two or three turns. If you're coming from the other way (from Puerto Escondido), the road to Casablanca is on your right hand in between San Agustinillo and Zipolite. Look for the signs, you can't miss it.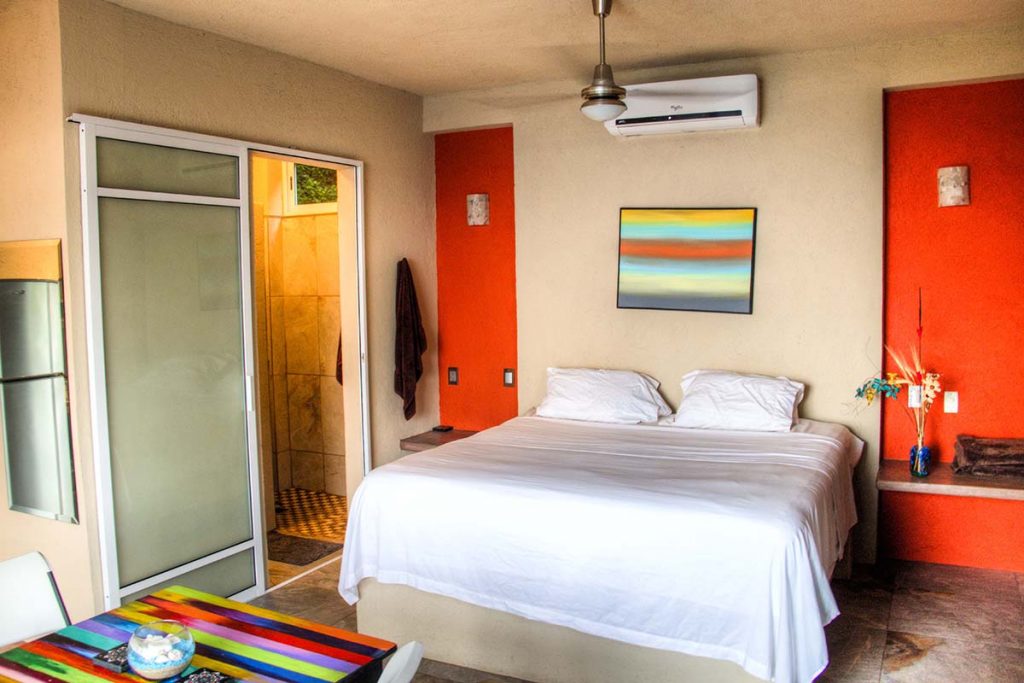 Accommodation
Casablanca Guest House is on the Mexican coast but is owned by a Canadian couple and luckily it got the best from both. The place looks like a very Mexican style open villa, you know, shiny summer colors, an outdoor kitchen, that kind of thing. But it has been completely built with Canadian comfort in mind. The rooms are very spacious, the bathroom is completely separated instead of just a small wall, the air-conditioning actually works well, the bed is probably the most comfortable in the area, the power points are at convenient places and there are enough hooks to hang the clothes and towels of the whole neighborhood. Each room has its own outdoor gas stove where you can prepare your own breakfasts or lunches and looks out over the Pacific ocean.
In summer we didn't see much more than huge waves and the occasional boat passing by, but we hear that in winter it's pretty common to see dolphins and whales as well. Because of the glass doors, you could basically be whale watching from inside your own bed. Pretty comfy, right?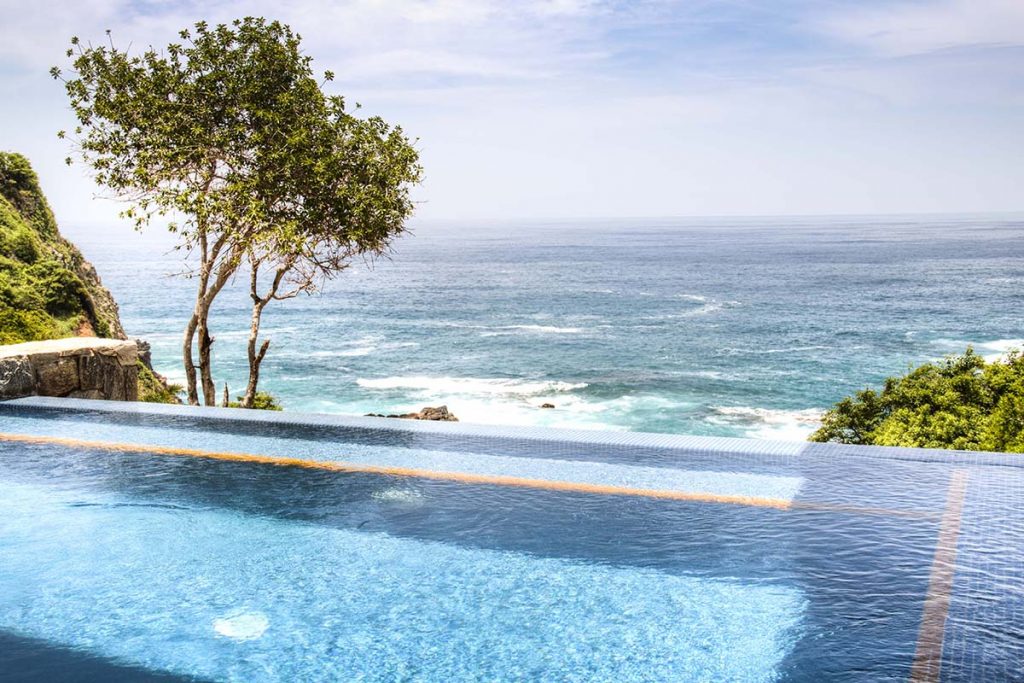 Facilities
Another sign that Casablanca is Canadian owned is that the pool is always spotless. An infinity pool by the way. You'll probably find yourself spending lots of time hanging over the edge of this pool, relaxing in the cool water while looking over the ocean down there. It's almost like being in the ocean, without the heavy waves or being all sticky once you get out.
We've mentioned the outdoor kitchen, it comes with a huge fridge and although you have one of those in your room as well, it's pretty handy to move your sixpack of Corona over here so you don't have to walk that whole 25 meters (it doesn't sound far, but trust us, after a couple of weeks in Zipo you tend to get very lazy) to your room every time you need a fresh one.
Then there's a whole range of other things to keep yourself busy and/or comfortable. Pool toys, sunbeds, deck chairs, an outdoor shower, decent wifi, some fitness equipment, a game the Canadians inconveniently called "Cornhole" but which is actually a lot of fun, and a darts board. Beware: Kelly and Sherry, the owners, are professionals at darts. Our tip: Practice a lot while they're taking their afternoon nap and surprise them in the evening with your newly gained skills!
The longer we stayed at Casablanca, the more we noticed the Canadian influences. Often it's small things. All the tap water is drinkable (try to find that somewhere else in Mexico), there are make-up wipes available in the rooms so you don't need to mess with toilet paper and talking about toilet paper… You can actually flush it down at Casablanca!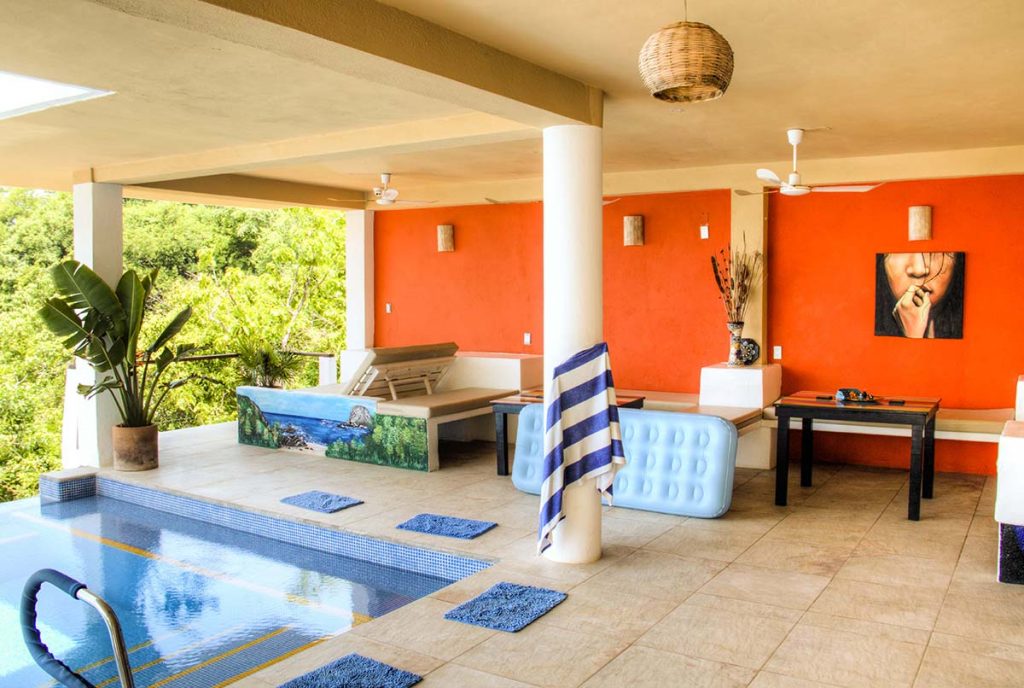 Surroundings
The number one place you'll want to visit is of course Playa Zipolite nude beach. It's at about 10-15 minutes walk if you follow the path and stairs (ask Kelly or Sherry for directions) or you could go via the road which takes a 15-20 minute walk.
Other places of interest are San Agustinillo, a small town with a very nice beach. It's not clothing optional but topless sunbathing is allowed and there you'll find some of the best restaurants in the area. Mazunte is a "pueblo magico", a magic town. A name the government gave to several places in the country because they are in one way or another unique. The town is also famous for its yoga retreats and does attract a lot of foreign tourists, but we were not really impressed.
What did impress us was the lagoon of La Ventanilla, just past Mazunte. A local cooperative provides boat tours on the lagoon for a couple of dollars and the scenery is purely magnificent. Lots of animals can be spotted including several types of birds, iguanas, and crocodiles.
At Casablanca you have the opportunity to rent a scooter at a very economical price, this will save you hours of walking and money on taxi rides. We also recommend using one of their scooters if you're going to town at night. The streets aren't lit well so it's probably safer to drive a bit drunk than to walk in dark streets with drunk drivers.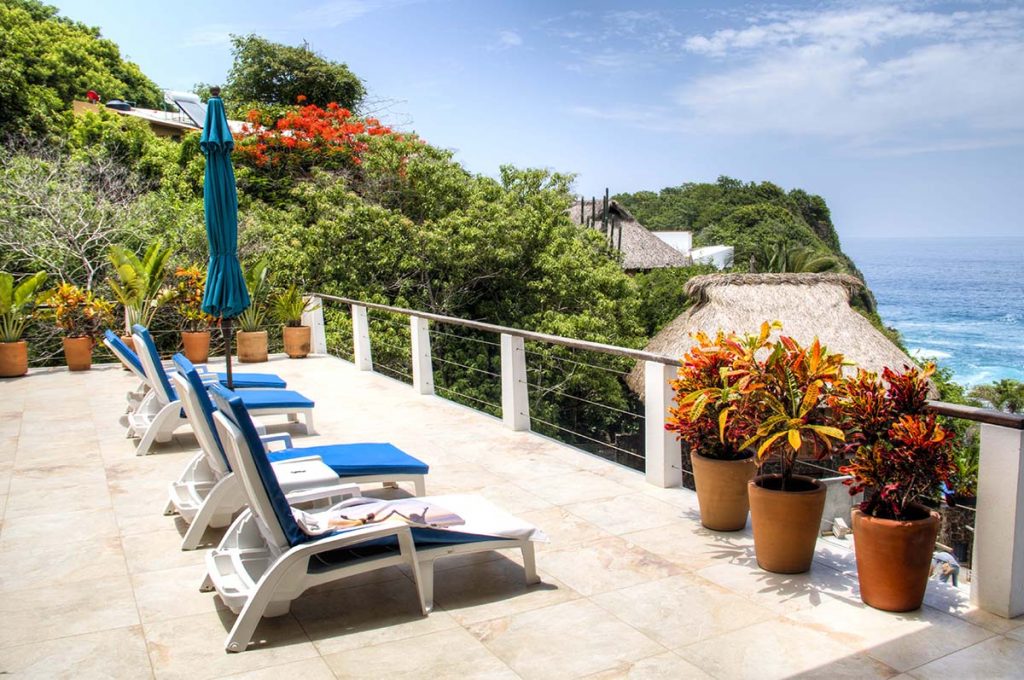 Staff
The owners, Kelly and Sherry, have been in love with Mexico for a long time. But only when they visited Zipolite they found true love. During one of their first visits to the area they bought a piece of land and started building Casablanca. About a year and a half ago it was finally finished and they started receiving guests. The hours we've spent together with them during those 15 days we were there are uncountable, they are full of stories about Mexico and Canada and can give you the best tips about places to visit and even more about good bars and restaurants. If there's a new place in town serving delicious food, they're probably the first who knows.
A great couple to hang out with but unbeatable at darts (or cornhole).
When we were there, there was also a shy Mexican guy called José who did some maintenance around the house and a maid for the cleaning of the rooms and the common area. And certainly not to forget are the welcoming team called Rocky, Luna, Bianca, and Molly. 4 stray dogs who were in very bad condition and who have been given a new (and much more healthy) life at Casablanca.
Guests
Because of low season we were the only guests at Casablanca, so we can't say much about the other visitors. If you like a relaxed and quiet place, a couple of minutes away of busy Zipo, and you like to spend your holidays with a decent level of comfort, their next guests will probably be you.
Summary
Because Casablanca Guest House only exists for 1.5 years, it still has to become recognized by the majority of the Zipolite visitors. Which results in room prices that are lower than they should be for such a place. We strongly recommend visiting Casablanca now because soon they will get known and they will become easily sold out and probably much more expensive.
Find more reviews on:


Read more about this resort on  
NUDE
Naked Wanderings' Ultimate Guide for Nudism in Mexico ebook

Are you looking for great nudist and clothing-optional resorts in Mexico?
Are you looking for the best tips for a nude vacation in Mexico?
Then our ebook will be the perfect resource for you!

Learn More
Need help with planning your trip? Check out our Resources Page for an overview of the best companies we use during our travels
Disclaimer: We have been invited as guests of Casablanca Guest House, but of course all opinions are our own. We are super confident you will love this place as much as we did!
---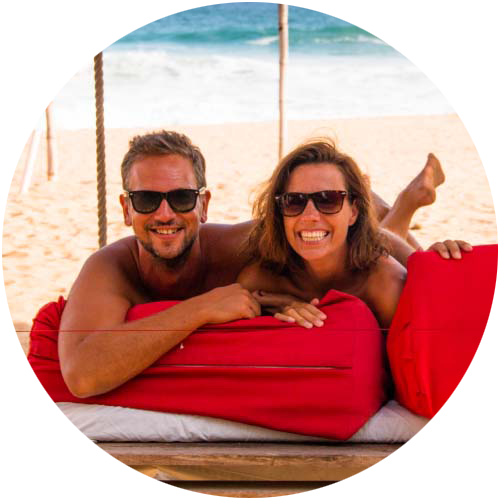 Support Naked Wanderings
Do you like what we do for naturism and naturists? Did we make you laugh or cry? Did we help you find the information you were looking for? Then definitely join our Patreon community!
---