More than often when we visit a nudist resort we are asked for our opinion about how they can attract more young people, or at least more people our age. We always try to give them some tips, but unfortunately we don't carry all the wisdom either. If that would be the case, we would start our own perfect resort and
become millionaires
. But clearly we haven't gotten to that point… yet. One thing we've been believing more and more during our travels was that naturism as it has been known for about a century really has to move on. The typical nudist camp where you're being presented a huge set of rules even before you have set foot on the grounds is so old fashioned and these are often the ones that fail completely in attracting new members. Naturism today is about so much more than the traditional values and ethics and that's exactly what we have been telling several resort owners. Expand your horizons, focus more on the nudity and less on the naturist philosophy, maybe even try clothing optional to see if it might attract a different audience. Honestly, we believed that the original idea of ethical naturism was dying a slow death…
You can probably imagine what we felt when we first visited
Bare Oaks resort in Toronto
and were asked to watch a 10 minute introduction video. REALLY? A video? Wait, it's getting worse… This video was nothing like the new stuff the airlines are successfully using these days to make people finally watch the security instructions. (if you haven't been on a plane lately, you really have to see these. They are often hilarious and work extremely well. But we digress…) Oh no, this video must have been created in the late eighties. Our expectations kind of tumbled down. Until we walked in.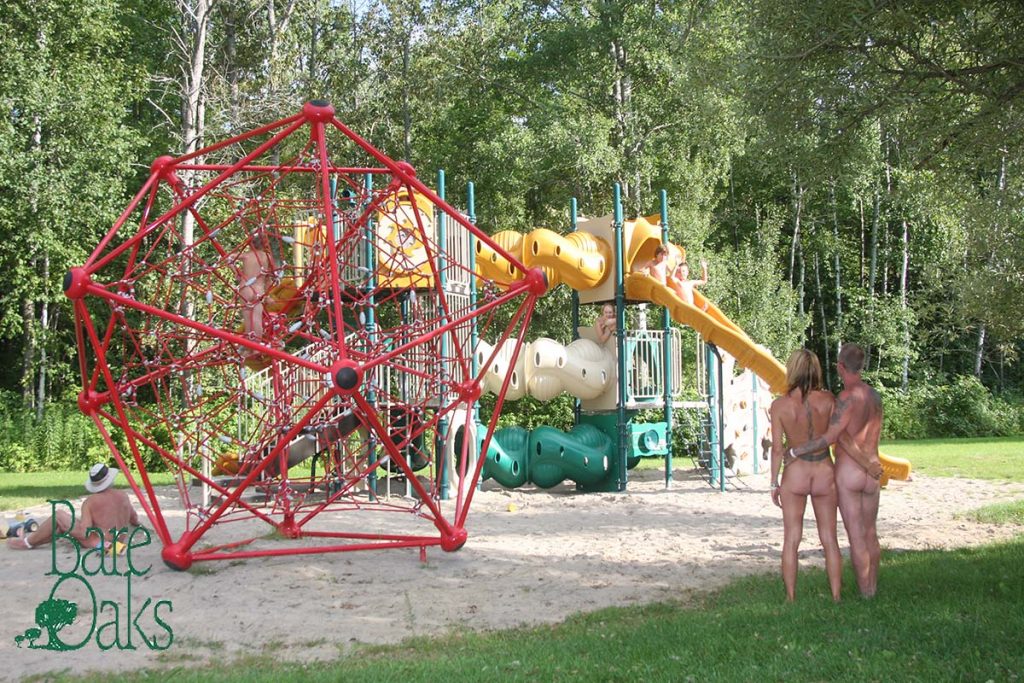 Marketing for naturist resorts is key
A bigger controversy between what we had started to believe and what we saw is hard to imagine. We had rarely seen a more diverse crowd at a naturist venue. Not only was the place packed (okay, it was a Sunday during a long weekend), there were people of all ages. Kids, teenagers, some of our age and some older. Had they all seen that same video and had to agree on that same list of rules? We could barely understand it. And yet it was happening.
Why is this place so successful while many other resorts who do exactly the same thing are failing? The answer is pretty easy, from the surface it may look like all these resorts are doing the same, but they certainly are not. Holding on to the naturist traditions is one thing but it doesn't mean that you have to be old fashioned in the way you work. Marketing has never been more important than in the 21st century and especially because it has gotten so diverse. Paying some monthly fee to the national naturist magazine or newsletter to have your ad on page 24 might sound like the perfect way to promote your business but believe us, it is not.
Don't get us wrong, these magazines and newsletters are a great source of information for the members of a certain club or federation but they rarely reach further than that. Few people in
Canada
will have a subscription to a German magazine for example or the other way around. When people want to visit a new place, guess where they're doing their research… exactly… the internet. Unfortunately still a dark and unknown place for many in the naturist world. Especially when it comes to social media.
Long before we had even considered visiting Canada, we knew of the existence of Bare Oaks. Once in a while they appeared in our Twitter or Facebook feed, sharing interesting information about naturism, and slowly the name got stuck in our heads. They got us curious, we visited their website and learned that they are a naturist resort in Canada. We started to recognise their Facebook pictures which all have a specific type of censorship. Their information got passed around the online world and thousands of others learned about their existence. Just like us.
Long before we had even considered visiting Canada, we already knew the Bare Oaks logo.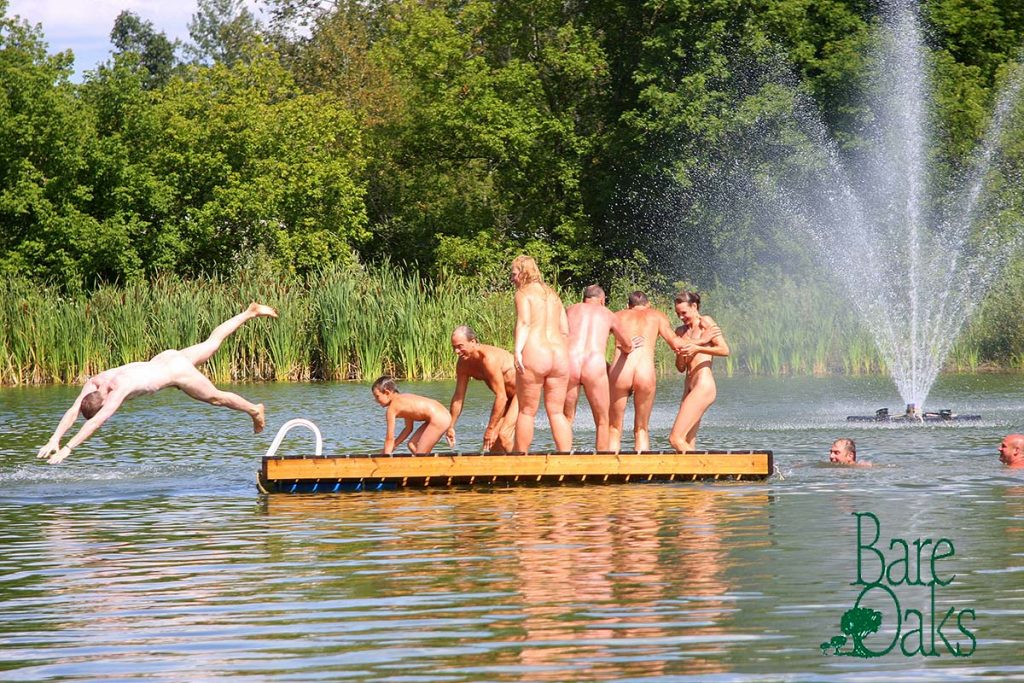 Modern nudism and ethical naturism go hand in hand
Marketing is important, that much is sure, but good marketing is no solid answer for running a successful naturist resort. The place itself has to be attractive as well, for all generations.
The traditional naturist values come in different kinds. On one hand are the pillars of naturism: it's about
non-sexual nudity
, it's about respect for others, it's about respect for nature and it's a social thing.
On the other hand are values that have more to do with the lifestyle of the early adopters. There would be no smoking, drinking or eating meat. Living in harmony with nature meant to refuse all new technology, to leave electricity and hot water behind.
At Bare Oaks they found a perfect middle way in keeping the traditional naturist values while modernising on the other points. Just like many places around the world they have embraced modern technologies like wifi and electronic gate openers while holding on strictly to the non-sexual part, the respect and the social contact.
With "holding on" we really mean that they are strict. The rules are there to follow and those who misbehave often don't get a second chance. Being kicked out of the resort usually means for life. Although we've never been big fans of strong rules, we did notice one of the advantages while talking to the other visitors. Especially to
women
and
families
. At Bare Oaks they felt safe. They knew that the chance that some misbehaviour happens is rather small and if it would be the case that immediate matters would be taken.
We happened to be there during the
annual art week
and several of the artists were women in their twenties. It was their first encounter with social nudity and all of them said the same. They felt comfortable being naked because it's such a safe environment.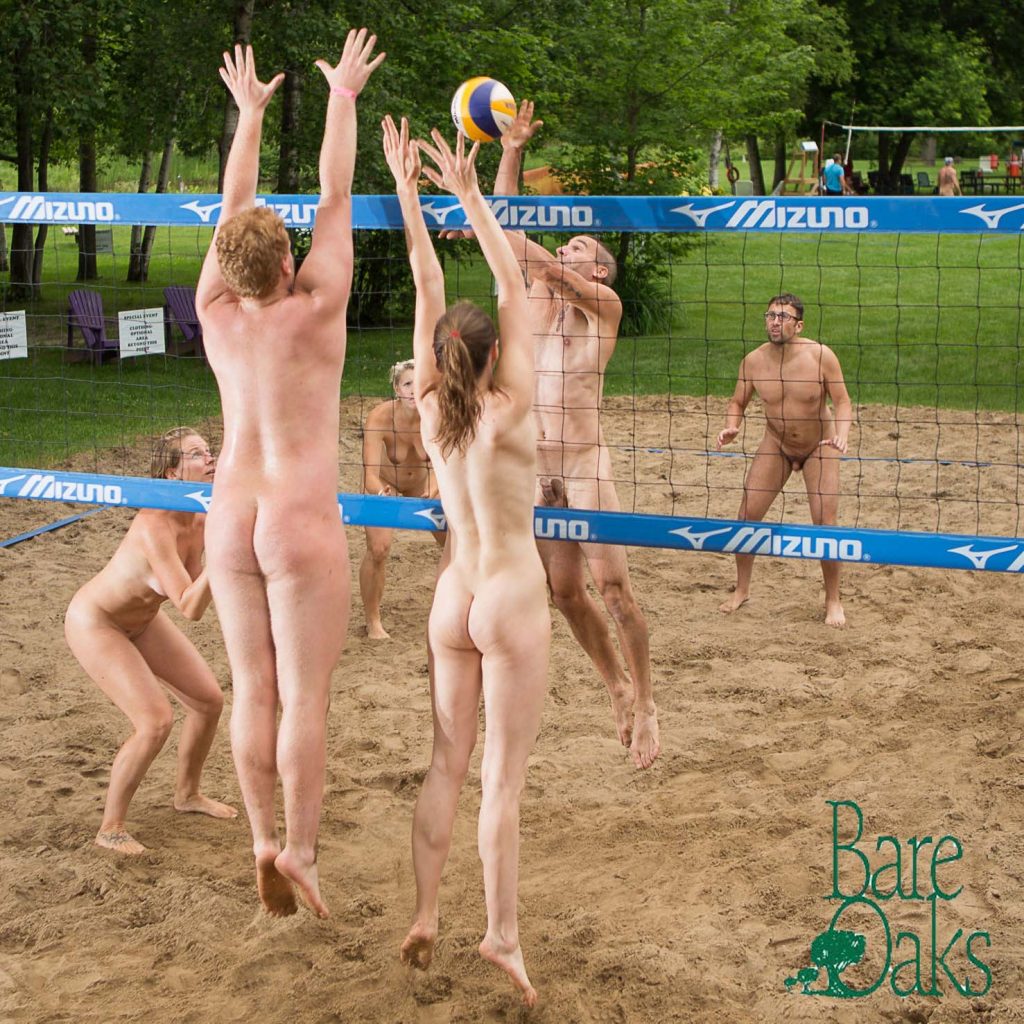 Listen to the younger generation naturists
Will creating a safe environment and a decent online marketing strategy bring more youth? It will certainly help but again it's not the one and only key to success. Teenagers and early twenty-somethings are the most difficult group to attract to naturism.
Then how did Bare Oaks manage to attract them?
We couldn't find the answer. During one of our late night discussions about the topic which again seemed to lead nowhere we decided that we would have ask them.
Who can we ask?
Well… there are the three nice girls at the reception, how young were they? 21, 22?
Oh and there's that girl who drives around picking up the garbage!
Oh and the guy who's delivering the firewood!
Oh and oooooooooooooh.
The answer was brilliant in its simplicity. If you want more youth in your naturist resort, you give them a job.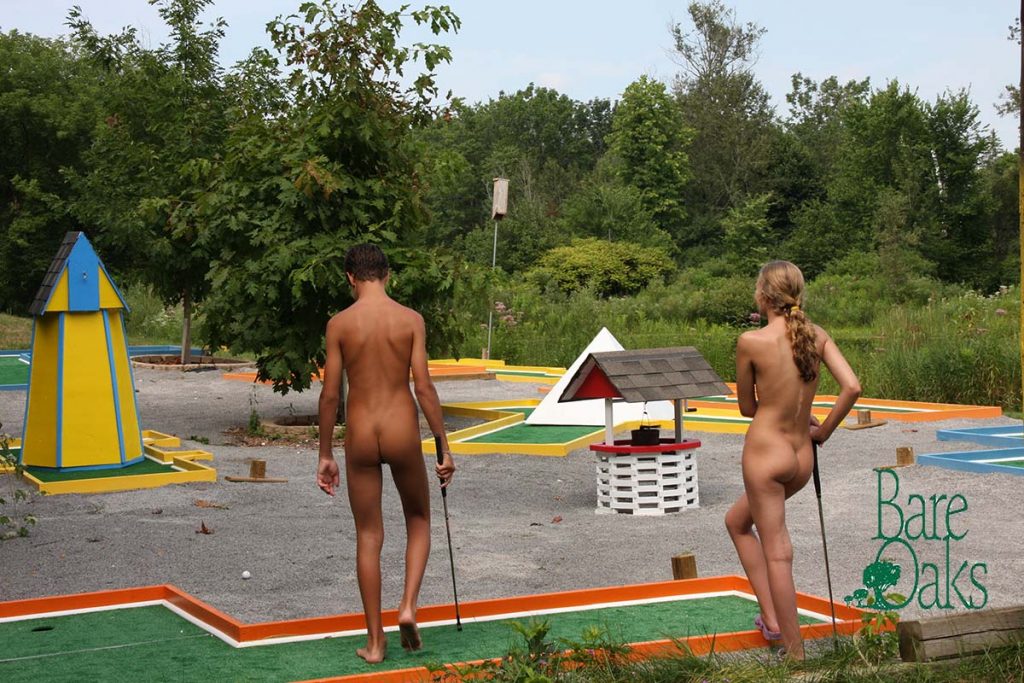 The fact that
teenagers turn away from naturism
is something we can barely avoid. Not only is puberty a very confusing phase in life, it's also the time when kids want to start building their personality. A personality which they often prefer to be different than the one of their parents.
The big question is how to get them back into naturism after this phase. Some of the kids who were raised at Bare Oaks got away from naturism and some didn't. That's how it goes, but several who went their own way decided to come back. Instead of just having to hang around all summer they could actually earn some money while being reunited with their old friends.
Generations attract those of the same generation. The more you can keep, the more others will return and eventually, the word will spread and there will be more newcomers as well.
Giving youth a job is a great way to keep them in the resort but a more important factor is to listen to them as well. Stop thinking that you know what young people want. We, although only in our thirties, often have no clue about how the younger generation thinks. When you have them available right there at your reception desk, talk to them. Give them responsibilities. Have them involved when choices have to be made. Ask them how they would make the place more attractive. Ask them to help organising new events. Ask their opinion.
It's an easy thing to say that youth is not interested in naturism anymore or that they lost believe in the traditional values and naturist ethics. During the "volleyball weekend" at Bare Oaks we saw the opposite. There was plenty of youth who had all come down to play volleyball, enjoy themselves at the waterpark that was taken over for the occasion or just to meet old and new friends.
Attracting more new and younger members doesn't go from one day on the other. An online appearance, a marketing strategy, modern technologies and a young influence, it all takes time and effort. But it works.
Naked Wanderings' Complete Guide for the First Time Nudist ebook

Do you still have questions about nudism or naturism?
Are you looking for even more tips and tricks?
Our ebook will be the perfect resource for you!

Learn More
Picture credit: The images in this article are property of Bare Oaks Family Naturist Park. Do not copy any of these images without the owner's permission.
---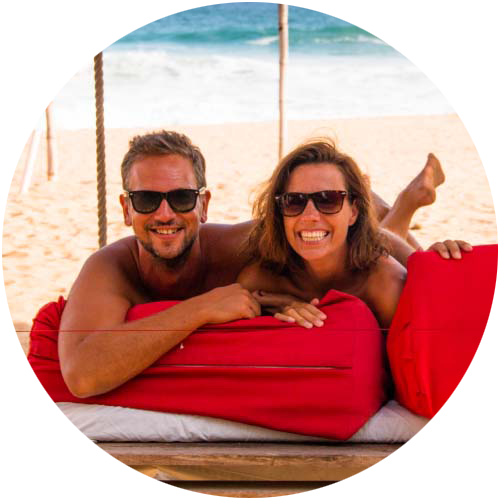 Support Naked Wanderings
Do you like what we do for naturism and naturists? Did we make you laugh or cry? Did we help you find the information you were looking for? Then definitely join our Patreon community!
---