When we travel, we prefer to stay in resorts where we can spend at least some of our time without clothes. Not just because we love to be naked or because we find it more comfortable (and time-saving) not having to stand in front of a closet or backpack picking an outfit. Equally important, because we like naturists. We like the friendly social atmosphere that is so typical at naturist resorts.
Spending time at the naturist resort is not the only thing we like to do when we travel though. We also like to explore the surroundings, visit the local attractions, explore the nearby nature, get in touch with the culture, meet the people, and try the food. If local delicacies are something you also enjoy while on vacation, you definitely want to put the following destinations on your bucket list.
France
Let's start with the very obvious. France has more than 100 naturist resorts, clubs, campsites, and B&Bs. There's hardly any region in France where you won't find accommodation that allows you to be nude. And the French kitchen is known worldwide for being delicious and diverse. From fresh game dishes in the more central regions of the country to the abundant seafood platters at the coasts. Just writing this blog post makes us want to jump on a train to France.
And then there are the wines… No matter whether you like white, rosé, or red. Sparkling or still. Sweet or dry. The options are plenty in France. And the French are proud of this, so many naturist resorts will give you the chance to taste some of the local specialties in their onsite restaurant or by organizing tastings. For a perfect combo of food and naturism, France will never disappoint you.
Italy
The other European country that yearly attracts millions of tourists just because of its splendid kitchen in Italy. If there is one thing that we learned during our recent road trip through Italy, it's that the Italians take food very, very seriously. While supermarkets with tasteless imported products are taking over the food industry around the world, Italy is still a country where fresh products are the greatest good.
The other thing that we learned is that Italy has more to offer to the naturist traveler than what most people expect. While naturism has only managed to get a foothold in Italy several decades ago, much later than many other European countries, the number of naturist accommodations and nude beaches is now steadily growing and very diverse. No matter if you prefer to stay on a campsite, in a B&B, or a hotel, you can do this without clothes in Italy.
Greece
Also European, but with very different cuisine, is Greece. This is the country where the Mediterranean kitchen meets the eastern one. Where the olive oil meets the spices. Where the vine leaf meets the rice and the cucumber meets the yogurt. Lovingly calling themselves "Dolmadakia" and "Tzatziki". The kind of food that you find in Greece is different from what you'll find anywhere else in the world. Unless you visit the local Greek restaurant, but it just doesn't taste the same if you're not surrounded by white and blue houses.
The naturist options in Greece are limited to B&Bs and hotel-style resorts. The two most famous ones are
Vassaliki
on Kefalonia island and Vritomartis on Crete island. But there are several others, spread around the two hundred islands. Much more popular than naturist resorts are nude beaches in Greece. While there are only a handful of official ones, there are numerous unofficial nude beaches. The basic guideline is: If you're away from the crowds and not in the sight of a church, it's okay to take off your clothes.
Mexico
Once the temperatures in most parts of the northern hemisphere become less naturist-friendly, many naturist travelers start looking in the direction of the equator. The best-known region for a naked vacation in Mexico is definitely the Riviera Maya, but the prices of these mostly all-inclusive resorts are not something for every budget. Important to know is that also the Pacific Coast has a number of naturist options that are more affordable, of which
Zipolite in Oaxaca
is definitely the best known.
About the food in Mexico, we can tell you this: We talk a lot and we're pretty quick with answers. But the one thing that can leave us speechless is saying that you don't like Mexican food. It just blows our minds. How can anyone not like tacos, nachos, chilaquiles, chiles, enchiladas, or quesadillas? Luckily, we don't hear that very often. And if you do believe that Mexican food is just "meh", a zip from your margarita, tequila, or michelada will definitely please your taste buds.
Portugal
The Portuguese kitchen is one of which we can understand that not everyone enjoys it because it comes with some very typical tastes. The most iconic Portuguese dish, for example, is Bacalhau (Cod Fish) that has been dried and salted. We have to admit, it's not one of our favorite dishes either. But there are many delicious dishes to be found as well, especially if you enjoy fresh seafood. And then there are the deserts. We could have a "pastel de nata" for breakfast, lunch, dinner, and midnight snacks. In fact, we believe that this once happened when we were in Portugal.
Similar to Italy, naturism in Portugal has only been on a rise for a couple of decades and the options aren't anywhere near what you'll find in Spain or France. But they are there, mostly in form of campsites, B&Bs, and self-catered apartments. And the nude beaches in Portugal are among the most impressive that you can find in Europe. They often have high cliffs and soft white sands and there are rarely any buildings nearby. Even the
nude beaches around the capital Lisbon
will give you the feeling that you ended up on a deserted naturist island.
Argentina
We have to admit, Argentina is not the most common naturist destination. The country only has a handful of resorts, many of which are small B&Bs in the outskirts of Buenos Aires that are hard to get to if you don't know local naturists. There is one exception though:
campsite Yatan Rumi
in the Cordoba province. If you like the back-to-nature style of traveling, this is the place where you want to go to. Because it's located in a huge reserve where nudity is accepted (mostly because you'll never encounter anyone else), you'll find yourself on endless naked hikes, taking the most scenic naked Instagram pictures, and skinny dip in rivers and waterfalls.
The naturist options may not be all that plenty in Argentina, the food options definitely are. Especially if you like meat. Once you've tried and Argentinian steak with chimichurri, you'll wonder what you've been eating all those years before. And then there's the Asado (barbecue), which is considered a real form of art. We're not talking about putting some sausages on a grill here. Often you'll find half animals that are being smoked and roasted for many hours. Asado is not just a way to put food on the table. It's an experience.
Thailand
Asian restaurants can be found all over the world, and that means something: It's just so damn delicious. Of all Asian cuisines, the Thai one is by far and large our favorite. Menus at Thai restaurants can seem endless and confusing and we used to have difficulties remembering what that delicious thing we had yesterday was called again. Was it Pad Thai or Khao Pad? Som Tum, Tom Yum Goong, or Tom Kha Kai? It doesn't really matter, because whatever we order, we'll probably love it. Very much recommended in Thailand is to just go to a street food stall and randomly order some things. A proven recipe for a great and cheap culinary experience.
Of all countries in Asia, Thailand is the one with the most naturist options. Due to the COVID travel bans, the number of resorts that manage to survive tends to fluctuate a bit at the moment. But we're sure that once this pandemic is behind us, Thailand will rise once again as a popular naturist destination on the eastern side of the world map.
Spain
The opinions about Spanish food tend to differ. Some absolutely love it, while others think that it's all a bit monotonous. We love a good paella or Gazpacho though, and thanks to several visits to the country, we've learned a very important lesson: If you want to eat good food, stay away from the touristy places. This is probably the same for many countries, but we found it especially true in Spain.
Even if the Spanish food doesn't mean all that much to you, your vacation is likely to be a success anyway because of the naturist options. The country counts more than 50 naturist resorts and more than 450 nude beaches and is one of Europe's most popular naturist destinations. Even if you're not such a big fan of Spanish food, we can promise you that your bocadilla and cerveza will taste much better when consumed on a Spanish nude beach.
Do you like to try local food during your naturist vacations? What is your favorite naturist foodie destination?
---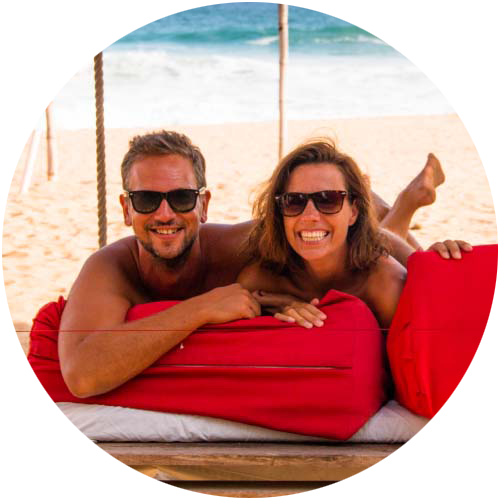 Support Naked Wanderings
Do you like what we do for naturism and naturists? Did we make you laugh or cry? Did we help you find the information you were looking for? Then definitely join our Patreon community!
---