One of the biggest struggles within naturism is the taboo that's still hanging like a dark cloud over our wonderful lifestyle. It's so incredibly annoying. We have discovered this great thing in which we feel free and liberated, where people still respect each other, where we can fully enjoy nature and where we can feel confident about our bodies. And everyone else thinks that we're perverts.
It's a common point of discussion at the communal dinner table of the naturist resort. How much we feel misunderstood. How people just don't seem to understand the beauty of naturism. We are being judged for doing something wonderful. Why don't people see what's really going on? What naturism is really about? Naturism would be so much better if the outside world would be more accepting.
And then on Sunday, we drive home, and we tell absolutely nobody about what we did last weekend.
The chicken or the egg
Of course, we don't tell anyone. That's what the conversation was all about. We'll be judged, we'll be called perverts. What we don't realize, is that we're actually feeding the taboo. That's how the human mind works. Something people don't talk about, something they're hiding, must be something wrong. If your neighbor decides to build a huge wall around his garden, one that blocks your complete view, it must be that he's doing something bad over there. He must be hiding something.
Nobody in the whole world has a good reason for wearing clothes on a warm day instead of going nude. But we've been hiding our bodies in clothes for centuries, so there must be something horribly wrong with them. Naturists understood that this is nonsense, that there isn't anything wrong with our bodies, and that we shouldn't be ashamed if others see us nude. But we're doing exactly the same with our whole lifestyle. We hide it. We build a huge wall around it. And then we wonder why the outside world thinks that we're doing something wrong.
We don't realize that we're stuck in a "chicken or egg" story. As long as the textile world doesn't see naturism as it really is and stops judging us, we keep hiding it. As long as we keep hiding it, the textile world will think that we're doing something wrong and judge us.
Naturism is for old fat men
Now don't go running naked on Times Square or London Bridge with "I'm A Naturist" body painted on your butt. That won't help much either. People will just think that you're a lunatic. Or worse, that all naturists are lunatics. A similar (although less radical) thing happened in the eighties. Human interest shows became popular on TV and the producers were always looking for uncommon stories. It didn't take long before they went on a search for the naturist.
The only naturists who felt comfortable enough to have their faces and blurred genitals shown on national television appeared to be old men with a beer belly and a strong opinion about what naturists should and should not do. It's not very surprising that even today, this is the general perception that many have about naturists. Old fat men who keep nagging on and on about naturism.
Share your secret
We're not blaming anyone here. We discovered naturism around 2008 and by 2010 not a single one of our friends, family, or colleagues knew about this. We felt like we were doing something shameful, we feared being judged. When we reflect on this now, it's almost as if we lived in two different worlds. Inside the naturist resort we were all "This is SO awesome!" and once outside the gate, we entered a different reality in which we thought that we shouldn't tell anyone about it.
We're a bit overreacting here, it wasn't that bad. Naturism was just our little secret. Our guilty pleasure. But then it got worse. We started visiting the
nude spa
more frequently, we went to naturist campings on warm summer weekends, during our road trips through Europe, we always searched for accommodations where we weren't expected to wear clothes. Holes started to appear in our Facebook profiles. Friends said, "Oh we'll be in
France
too in August, where are you staying?". Mom invited us over for dinner, so we could tell her everything about our weekend away.
The secrets became lies. Until a moment when we just couldn't stand it anymore. So we told a friend. And another one. And another one.
Be proud of being a naturist
Then the weirdest thing happened. We didn't get any negative reactions. Some of our friends felt uncomfortable talking about it and quickly changed the subject. Others were really curious and asked a lot of questions. Some just said that they hadn't expected anything else ("You two do weird stuff all the time, this is just the next thing on the ever-growing list"). And yes, although we always thought that none of our friends were naturists, by sharing our secret with them, they shared the same secret with us.
The more people we told about being naturists, the more comfortable we got with telling the story. When asked about our plans for the afternoon, we could just reply "the nude beach". This improved our overall confidence too. There's nothing wrong or shameful with what we do and the few who think differently… well, that's their problem.
Here's the thing, we are being judged constantly. If we buy a new car, change positions at work, have a new relationship, move to another place, drink an expensive bottle of wine, or buy the 4 layer toilet paper at the supermarket. We're judged when we wear a mouth mask and we're judged when we're not wearing one. There's nothing we can do about it other than accepting that some people will always think differently. Then why do we have to fear being judged for being a naturist?
Help naturism grow by taking ownership
We also have a huge herd-mentality. We constantly use our social group as a mirror. If all of our friends drive a Volvo, we're likely to get one too. If all of our friends go to the gym, it won't take long before we get a subscription as well and drop out after one week too. If our colleagues have an iPhone, we want one as well. If none of our colleagues take the train to work, we won't either, even though it's faster. If nobody we know is a naturist, why would we give naturism a try?
We (as in Nick and Lins) are often called "influencers". That's just a general term for people who share their thoughts about something online and managed to gather a group of listeners. In reality, everyone is an influencer. We all influence people in our social group. This is the power you can use to remove that dark cloud above naturism. By taking ownership. Yes, I am a naturist and if you're interested, I'll tell you all about it. If you have any questions about naturism, I'll answer them. I will tell you what naturism is really about. Because I really know.
This doesn't mean that all your friends, family, and colleagues will join you on your next visit to the naturist resort (if that is the case, you really are a great influencer and you should consider an online job) but at least they'll know what it's about. They won't judge you, they won't think that you're a pervert. And you, you'll be relieved from the secret. You won't have to lie anymore about where you're going. You won't have to feel ashamed anymore. You will feel more confident about yourself and about naturism. It's really a win-win.
---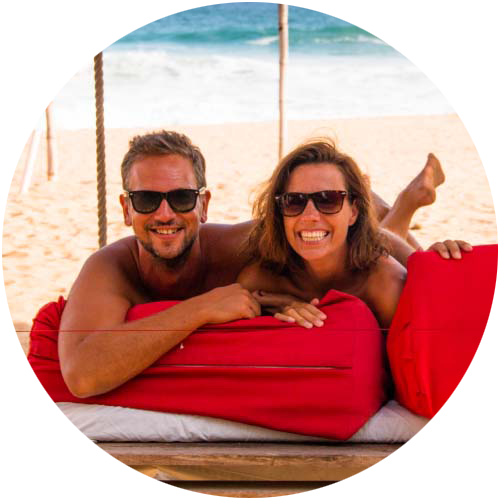 Support Naked Wanderings
Do you like what we do for naturism and naturists? Did we make you laugh or cry? Did we help you find the information you were looking for? Then definitely join our Patreon community!
---