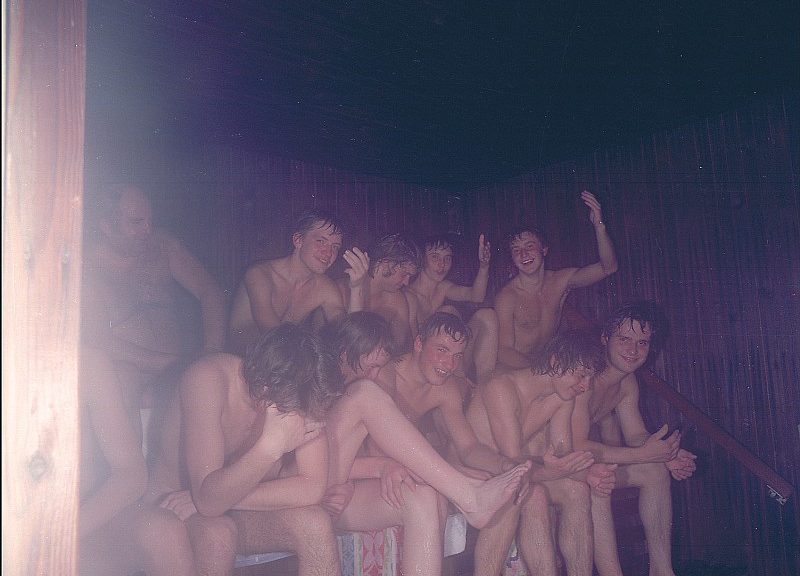 It all started with a coupon
It all started with a coupon
This post was last Updated on June 28, 2020
We love new experiences.
That's probably the main reason why we like to travel so much. We love the adrenaline of doing something we've never done before, to be lost in translation in far away countries, to have a cold shower at minus 25 in the Andes mountains, to discover that we've been eating cow stomagh while we thought it was some kind of vegetable, to jump in rivers, swim in oceans and sleep in the same room as a Tarantula.
But to be naked with complete strangers? No that was never on our list…
A coupon for the nude sauna
For Lins' 21st birthday (it's always the 21st one) we received one of those theme coupons. You know, the kind that gives you the choice between several activities in different locations but all with the same theme.
The theme we got was "Relaxation".
There were not so many options to choose from:
– massage: meh
– private sauna: sounds boring
– public sauna: that's like a sauna theme park, right? With a couple of different saunas and swimming pools? Allright let's take that one.
So we started scanning the websites of the different public saunas.
"This one looks nice… oh wait… it says no swimsuit allowed… hmmm…".
"Or this one?"
"Wow looks very nice!"
"Oh it's also no swimsuit allowed… strange…"
"Allright, this one is swimsuit mandatory! But it looks rather small and very busy… "
"hmmmm"
"hmmmm"
"euhm…. maybe we could…"
"yes?"
"well, what if… what if we went for one of those no swimsuit places?"
"Don't you think that will be strange?"
"Maybe…"
"Don't you think everybody will look at us?"
"ehm… maybe…"
"What if we end up in some kind of sex club?"
"eh… well…that would be very weird. But you know what? It's a coupon, so technically it's free. We go check it out and if it appears to be some kind of obscure place we turn around and leave."
"Sounds like a plan!
"Allright! Let's do this!"
"Wait! What if we meet someone we know?"
"Oh boy how akward would that be… That should really be avoided!"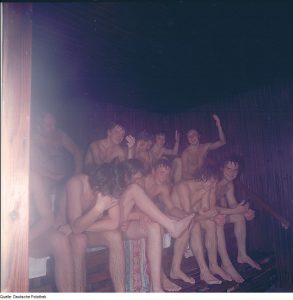 Let's get naked as far away as possible!
So we ended up booking an afternoon in a public sauna complex about 200 kilometers from home. Because of the distance we also had to book a B&B in the neighbourhood to spend the night. On a saturday morning in December we were off to our first experience with public nudity.
We hadn't told anybody about the sauna. Our friends and family thought we were just going away for the weekend. When somebody asked what we were planning to do, we lied that we didn't know yet.
We even listened to the nice lady from the B&B for half an hour explaining about all the possibilities to spend an afternoon in the area just because we didn't have the guts to tell her about our plans.
And then we were at the gates.
We probably spent 10 minutes or so in front of the gate but it felt like we've been there forever.
"So… we're going in?"
"Let's have another sigarette first"
"Ok one more and then we go in"
"Ok…"
We remember the nervous feeling as if it was yesterday… It's like those dreams you've had the night before going to a new school or before you have to give a big presentation. Everyone will be staring at you and suddenly you notice that you're not wearing any pants.
With the difference that this is not a dream, and we actually won't be wearing any pants…
The only ones staring at the nude people… were we…
We walked in, got a slight introduction about what was where, undressed, covered ourselves in the complimentary bathrope and entered the place.
Even though we were still kinda stressed out, the spa instantly felt welcoming and relaxed. There were some people around, either in their bathrobes or in their birthday suit, but nobody paid any attention to us.
We were the ones staring at them.
We spent some time walking around the place, pretending to be checking out the information plates on the different saunas while we were actually checking out the different visitors and eventually hung our bathrobe at the nearest coat rack to the jacuzi and got in the water as fast as we could.
When we got out we almost ran back to our bathrobe and put it back on without even drying ourselves.
It took some time to get used to the fact that it was complete normal to be naked.
After an hour we didn't rush anymore to get our bathrobe back on.
After another hour we didn't notice the other people's nudity anymore.
And in the end we didn't bother anymore to put our bathrobe back on while walking from the jacuzi to the sauna and then to the swimming pool.
We were naked and relaxed.
And it felt great!
For the next couple of years, on a Saturday in December, we would drive all the way to have this experience all over again.
Naked Wanderings' Complete Guide for the First Time Nudist ebook

Do you still have questions about nudism or naturism?
Are you looking for even more tips and tricks?
Our ebook will be the perfect resource for you!

Learn More
Photo credit: "The Deutsche Fotothek Sauna" by Deutsche Fotothek‎ / CC BY-SA 3.0 de