What's the deal with naturism around the world today? Is it growing or shrinking? Are naturists getting older or younger? Is gender imbalance still such an issue?
During our naturist travels to different countries and continents, we've learned that evaluating the evolution of naturism or nudism on a global level is pretty impossible. We noticed, for example, that in regions where a naturist culture is still quite new, like in Asia and South America, the average age of the naturist tends to be lower than in North America or Europe, where naturism already exists for about a century.
Naturism and culture
We also found that the local culture is a huge influence. Religion plays a large role in this, in countries where the majority of people are very religious, there tend to be fewer naturists. Or (and this is very important) fewer naturists that dare to openly talk about naturism.
Also in Brazil, we stumbled upon an interesting cultural influence on naturism. We were pretty surprised when we visited our first nude beach in the country and noticed quite a presence of female naturists. Often alone or with other women. Not exactly something we expected to see in this part of the world where gender inequality is still heavily impacted by the ancient patriarchal traditions.
Then where did those female naturists come from? We believe that this is mainly caused by an uprise of the fight for equal rights and because more and more Brazilian women are demanding ownership of their own lives and bodies. Going naked among others is, of course, an excellent way to prove to yourself and to others that you can do whatever you want with your own body and that you're proud of it.
On the other hand, machismo is also still standing strong in Brazil and for many Brazilian men, it's important to have "the largest" or at least to keep the myth alive. Additionally, the idea of getting naked together with other men may not sound all that manly and not something the hetero macho would do. As a result, groups of naked women are common, groups of naked men were a rare sight.
First sight is not always the right sight
Of course, how accurate are our observations? It's not that we visit Brazilian nude beaches on a regular basis. We don't even visit the country all that often. Can we rely confidently on those short experiences? We can not and we find proof of that in Europe.
Many European naturists have their nakations between June and September. Depending on the month, the dynamics at the naturist resorts differ a lot. Most young naturists and naturist families travel in July and August when the kids don't need to go to school and many offices close.
In June and September, you're much more likely to encounter the retired naturists who don't need to worry about the office or school hours, often prefer a more quiet atmosphere, and enjoy the typically lower prices. We noticed that the naturists who travel during those months much more often believe that young people are not interested in naturism anymore. Just because they don't see them.
Did we lose count?
In the past, the only reliable source of information about naturism was the naturist federations and pretty much every private naturist venue asked for proof of a federation membership to be allowed entrance. As a consequence, many naturists were members of a federation and this gave federations a decent idea of the demographics and geographics of the naturist.
Today, you can find everything you need to know on the internet and many resorts (especially in Europe) don't require membership anymore and this influences the statistics. According to the numbers, there seem to be fewer and fewer new naturists and the average age keeps rising. Some organizations conclude from this that young people aren't interested in naturism anymore. That's the easy conclusion. The more difficult one is that young naturists aren't interested in joining an organization anymore. Admitting that would mean that things need to change in the organization.
The availability of naturist places
We got into an interesting discussion with Charles from the
Naturist Place
website recently about why some naturist resorts seem to work particularly well, while others appear to be as good as dead. Charles made an excellent point that an interesting factor is population density. It's pure mathematics. The more people in a certain area, the more naturists. The more naturists, the more need for naturist places. When there are multiple naturist resorts in a certain area, there will be competition, which often results in better service and facilities.
If there is a low population density, there will be fewer resorts and these will be more distant from each other. Which also influences the demographics of the guests because who's willing to drive 5 hours for a day visit at the naturist resort? If you don't have much else to do and don't mind spending a lot of time in a car, you might go for it. But if you have two jobs and three children, a visit to this resort may not sound all that appealing.
Who's the naturist?
Does this mean that our two-job-three-kids-friend can't be a naturist? Definitely not, but you won't find her in many statistics. And she's not alone. In the past, being a naturist most often meant being part of a club that you regularly visit and where you probably help around as a volunteer. Today, the definition has become much more blurry.
We've elaborated about the
different kinds of social nudity
in a previous blog post and concluded that it's not much more than pure terminology. That "being a naturist" can mean different things to different people. Some will, for example, tell you that it's all about the social aspect. This means that in their vision, the concept of the
home naturist
doesn't even exist. To some, it's all about the nudity, and to others, the nudity is just a tool that serves a philosophy.
More and more often, we meet people at naturist resorts, especially younger people, who don't see themselves as "naturist" or "nudist" but just as a person that likes to go to places where it's possible to be naked.
Are the demographics of naturism changing?
Is "the naturist" getting older and older until a possible point of extinction? It all depends on your definition. If you believe that a naturist has to be part of a local club, and the local club stops existing, one could say that naturism in this region stopped existing. But does this mean that there won't be any naturists anymore? The spa centers in Europe where communal nudity is common are increasingly popular among young couples and women. But few of them call themselves naturists or visit naturist resorts. Should they be included in the statistics or not?
We believe that the fact that people feel comfortable being naked among others is much more important than the name they choose or choose not to give it. That's why we look at the whole spectrum of social nudity and strongly believe that there is growth. In all age groups and in many different locations around the world. But if you use other statistics, it's equally possible that you will come to a different conclusion. That naturism as you know it is aging and may eventually disappear.
---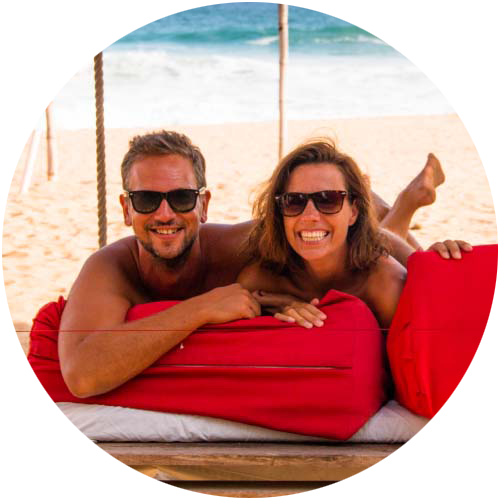 Support Naked Wanderings
Do you like what we do for naturism and naturists? Did we make you laugh or cry? Did we help you find the information you were looking for? Then definitely join our Patreon community!
---