Nude beaches can have many different atmospheres. On some you'll find plenty of families enjoying a sunny afternoon, on others you get the feeling that every other visitor has a hidden agenda. On some, it seems like nobody cares about your nudity, while on others there appear to be people who just came to look at you. There are nude beaches where literally every visitor is naked, and there are those where the clothed visitors by far outnumber those without clothes.
This is the reason why we rarely recommend visiting a nude beach as a first-time naturist experience. Not because we don't like nude beaches, but because we don't know which nude beach you'll choose. Maybe you'll pick an amazing one, but chances are that you'll end up at a dodgy nude beach filled with creeps, which will totally ruin your experience.
One thing we did learn along the way is that many of the best nude beaches in the world have a local naturist association attached to them. These associations are most often uniquely run by volunteers and have few financial assets. Here's why your support is important.
View this post on Instagram
They help keep the place safe
The most common problem at nude beaches is that they attract people with the wrong intentions. Meerkats in the dunes, exhibitionists who try to strategically position themselves in your line of sight, people who enjoy having sex with an audience, others who think that a nude beach is a perfect place for finding a one-night stand, and so on. They can be really disturbing if your personal goal is to soak up some sun in all quietness.
In most countries, all beaches are public and other than the authorities, nobody has the power to chase people away. And authorities in general tend to not care much about who visits a nude beach. Members of the naturist association can not tell you to stop doing whatever you're doing on the nude beach, but their presence can be intimidating. And that is their power. If the meerkats (aka gawkers) see a group of naked people walk straight in their direction, you can be certain that they won't enjoy looking at nude bodies that much anymore.
Association members take the responsibility to keep a beach enjoyable for others. They will spend their free time walking around with a sharp creep radar, so you don't have to worry about that and can just enjoy your day at the nude beach to the fullest.
View this post on Instagram
They keep the nude beach nude
There are a lot of misunderstandings about nude beaches, and some of these already start with the signage. We have seen signs that say "nude use of the beach recommended", but most signs just say something like "nude beach". For us, naturists, it's pretty obvious that this means that as a visitor you should at least be interested in dropping your clothes at some point. But the non-naturist visitor might interpret these signs differently.
We once were on a nude beach in Greece with an abundance of clothed people, so we decided to chat up with a textile couple and ask them if they knew that they were on a nude beach. They replied something like "Yes, we've seen the sign, and don't worry, we absolutely don't mind that you are naked". To them, the "nude beach" sign meant something like "Beware, you can see naked people beyond this point". They had absolutely no idea that they were more or less expected to be naked too.
On beaches where a naturist association is present, you will often find that the members go talk with the clothed visitors. Not like the "nudist police", but in a kind and polite way they will explain that too much clothing might make the naturist visitors feel uncomfortable and that if they don't intend to get naked, there are plenty of other textile beaches around.
View this post on Instagram
They introduce new people to naturism
An additional advantage of explaining naturism and the
nude beach etiquette
to textile visitors is that they might feel encouraged to give naturism a try. And that's not the only way how naturist associations are introducing new people to naturism. Sometimes it's as simple as just by being present.
We have visited many nude beaches around the world, and it happened quite some times that when we arrive, all the other visitors are wearing bathing suits. Throughout the years, we've learned not to care about this. If it's a nude beach, there's no way that we will wear clothes. Even if nobody else is naked. So we undress. And what happens then is quite funny. After a couple of minutes, we'll notice more and more other people taking off their clothes. As if they had been waiting for us to get naked first. And in fact, they have.
Here's the thing, few people like to be the only naked person on the beach. So when they arrive and notice that nobody else is naked, they are reluctant to take off their clothes. But when someone else takes the first step, they're not alone anymore and follow the lead. When a naturist association is present, they will always be naked. So you never have to go through the discomfort of being the first naked person, or the discomfort of being clothed on a nude beach.
View this post on Instagram
They provide a social scene
Nude beaches have a tendency to be a bit asocial in the way that most visitors don't come to make friends. They want to relax, have a swim, read a book, or work on their tan. If you pass by and say "hi", you'll probably get a friendly smile back, but don't expect to be invited for a long conversation and a couple of beers.
We've heard from singles that they returned disappointed from the nude beach because they had read somewhere that naturism is a social thing. But when they took the step of going to the nude beach, with the hopes of making lots of amazing new friends, and hardly anyone talked to them, they figured that all those great things they had heard about naturism were just baloney.
Naturist associations are the opposite of the average nude beach visitor. They love talking to new visitors and providing information. Most often they will be in a group that you can immediately join. So just like that, you can make many new friends. When we
visited Playa Cantarrijan in Spain
, for example, we got in touch with the association and instead of visiting the beach on our own, we went with a group of at least 15 people. None of whom we had ever met before, but all seemed like long-time friends very quickly.
Other than spending time at the beach, naturist associations often also organise side activities. Like a nude hike or a barbecue. Which improves the social scene even more.
View this post on Instagram
They protect the nude beach
Other than protecting nude beaches from people who should not be there, they also protect them from the government. The random nude beach visitor often doesn't realise that some nude beaches are endangered. Many governments don't see the advantages of having a nude beach in their area or think that nude beaches will just create a lot of nuisance. So they would rather get rid of those beaches, or make sure that they are not created in the first place.
Naturist associations take the responsibility of lobbying and convincing government officials why a new nude beach should be created and why existing nude beaches should not disappear. Because they are an official organisation with members, governments will rather listen to them than to the individual naturist who arrives at the city hall with a petition and a handful of signatures.
We strongly believe that it is thanks to local naturist associations that nude beaches still exist, and are pleasant places to visit. So if you can support their work, you will encourage them to do even more, which will result in a better nude beach experience for everybody.
---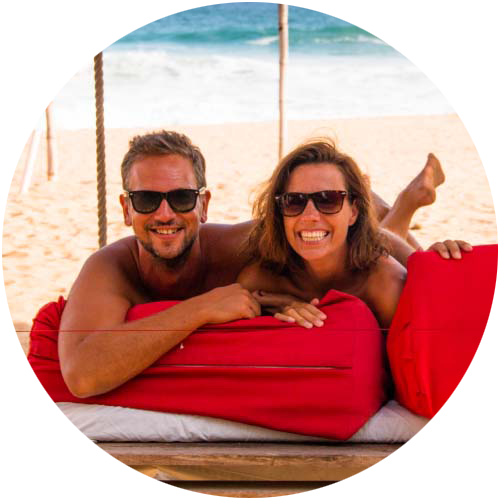 Support Naked Wanderings
Do you like what we do for naturism and naturists? Did we make you laugh or cry? Did we help you find the information you were looking for? Then definitely join our Patreon community!
---