We are regularly asked whether we never get bored of travelling in France. This is indeed the 4th summer in a row that we're in this country and once again, we'll be staying for several months. But getting bored is not something we're afraid of. This country has so much to offer to both our naturist side and our traveller side. There are still many villages that we haven't seen yet, wines we haven't tasted yet, and naturist resorts in which we haven't yet spent some time without clothes.
What does worry us from time to time is whether we will be able to keep coming up with interesting angles and stories. Will there ever be a point where we visited so many French naturist campsites that they all just start looking the same? We trust that this won't happen any time soon, especially since we've learned that an angle can often be found in a small corner. Like in a simple sentence saying "Our pitches, separated by trees and shrubs, range in size from 400m² to 1500m²".
How to get to Les Fourneaux
If you look at the map of France, campsite Les Fourneaux is pretty much located right in the centre of the country. At about an hour north of Clermont-Ferrand. If you're coming from the north, your best option is to drive to Paris, from where it's another 300 kilometres south on the A77 highway. If you want to avoid the Parisian traffic, an alternative way is to drive via Reims and Troyes, making a loop on the A5 and A19 before getting on the A77 near Montargis.
Coming from anywhere in the south, you want to follow the direction of Clermont-Ferrand, from where you drive north towards Moulins and then to Couzon. The nearest train stations can be found in Moulins and Nevers. Both are rather small stations that, as far as we know, don't have car rental companies. So the only option would be to continue your journey by taxi. The nearest international airports can be found in Paris.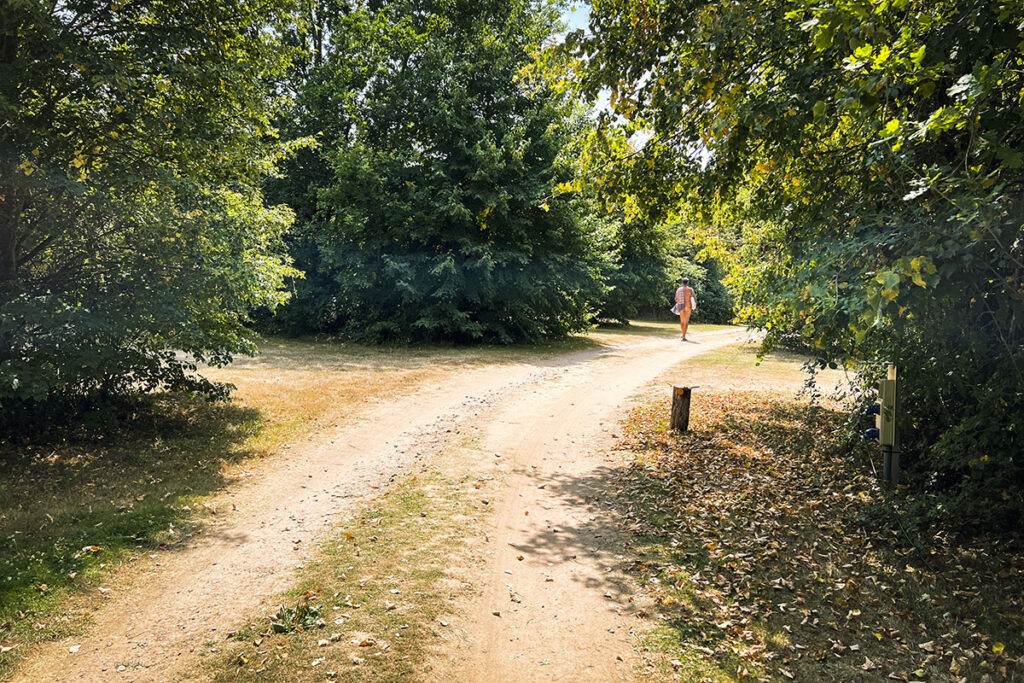 Where to stay at Les Fourneaux
Les Fourneaux only has one rental accommodation, which is a two-person gite. The gite has a living room, a fully equipped kitchen, a bathroom, a bedroom, and a private terrace. But that was not why we came to Les Fourneaux. We wanted to know if it was really true that their camping pitches are 400m² or more. We got pitch 22 assigned, located on the "family field". After executing a number of mathematical and physical tests, we did come to the conclusion that our pitch must be somewhere between 400m² and 500m² large.
Later we checked out most of the other 50 or so pitches and while we found some that appeared to be significantly smaller than ours, we dare to say that the large majority must be over 400m². We also need to mention that we don't think that we've found a 1500m² pitch unless you count the 9 "wild" camping spots which are on a huge field and – if you're lucky that few other guests are there – might end up being much larger than 1500m².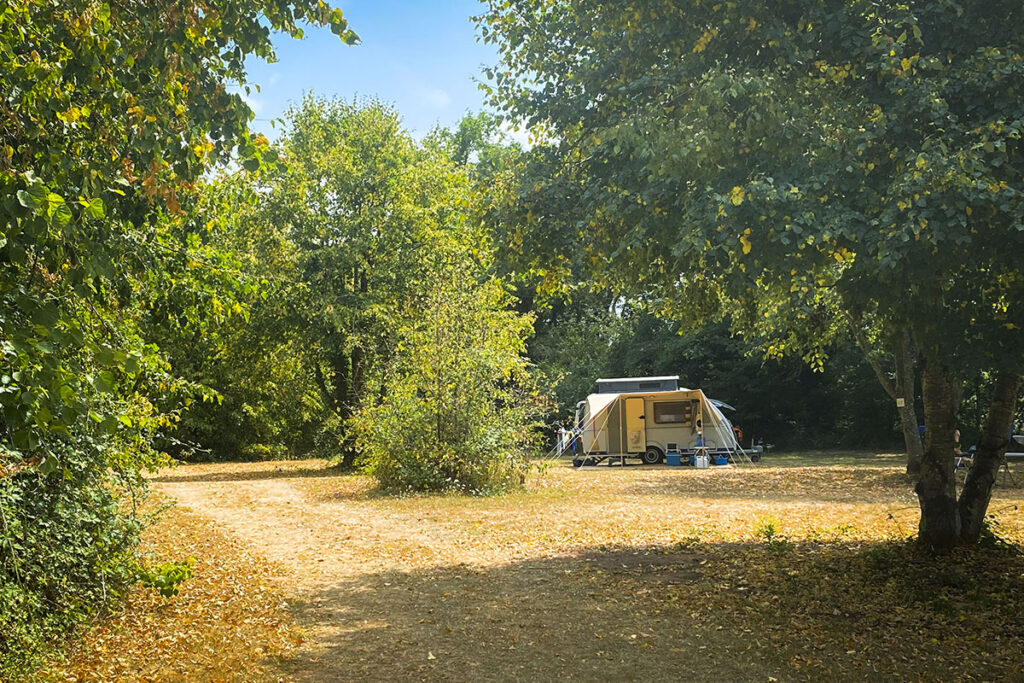 What to do at Les Fourneaux
Les Fourneaux is, in our humble opinion, mostly a campsite for those who seek rest and nature. Even though we visited the campsite in high season and many pitches were taken, we never had the feeling that there were a lot of people. By the time the sun was setting, around 10 PM, there was little more to be heard than absolute silence and the odd insomniac bird.
During the day, the busiest place is probably in and around the swimming pool. Drinks can be had at the bar via an honesty system and there's a small shop for those who ran out of wine or pasta. But for decent groceries, you'll need to put on pants and get to a nearby store. Around 5 PM starts "borreluurtje", which is a Dutch word for "having a drink together". For those who are looking to socialize, this is the perfect opportunity. Communal dinners are also regularly organised throughout the week.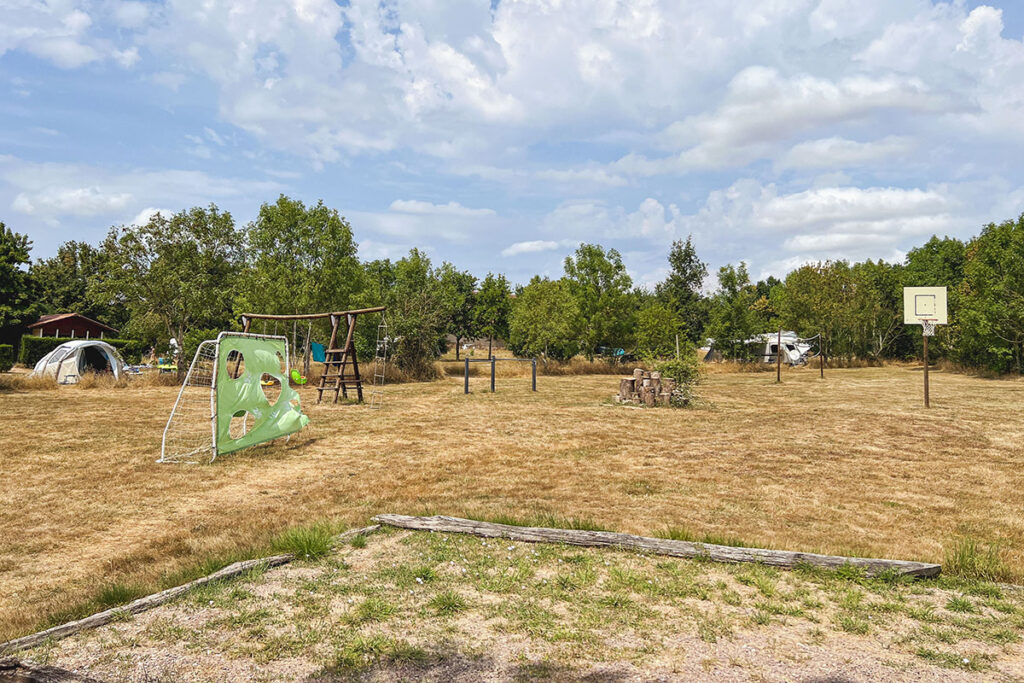 Around Les Fourneaux
We will be honest with you, we visited Les Fourneaux during a serious heatwave and never really found the courage to get dressed and explore the surroundings. So what follows is part of our research.
The Auvergne region is not the most popular tourist destination but is also known for its sprawling nature. Hiking and cycling are popular in the area, especially in the Volcanoes Regional Park. Indeed, there are volcanoes in mainland France and this was high on our priority list if it hadn't been that hot. Other than nature, there are plenty of typical villages to visit, similar to those that you may find in the Dordogne or Provence region but with fewer tourists.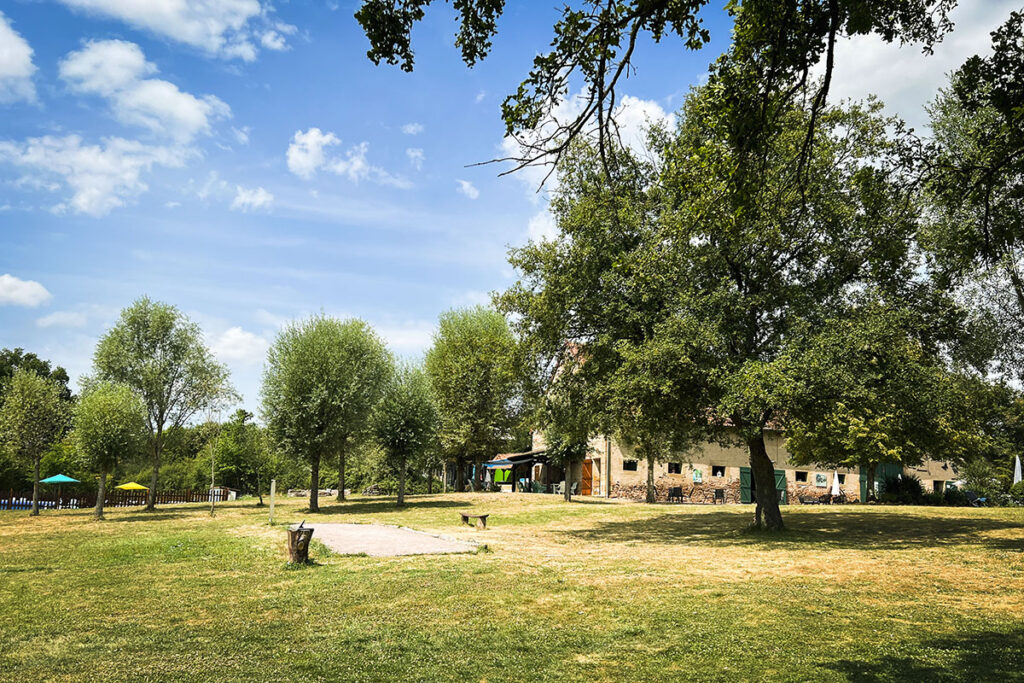 Staff & Guests of Les Fourneaux
Les Fourneaux is run by a Dutch couple of whom you can feel that they have been running the campsite for quite a while and that they still love what they are doing. They create a stress-free environment in the typical French "a l'aise" atmosphere. There's no need to hurry, everything will sort itself out eventually.
The guests are mostly, if not all, Dutch as well. We noticed the odd French licence plate, but we dare to say that 90% to 95% of the other visitors were Dutch. And, as mentioned before, the guests seem to value their space and tranquillity in nature. Don't expect big parties but rather a very good night's sleep.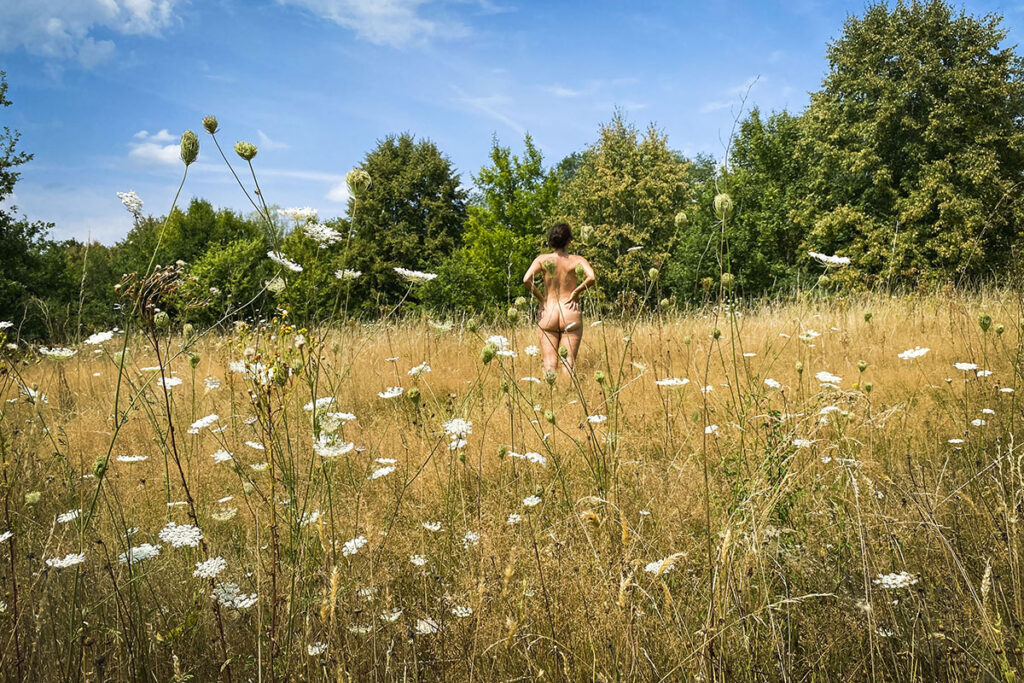 Book at Les Fourneaux
The best ways to book at Les Fourneaux are:
French, Dutch and English are fluently spoken.
Do note that you can't pay with cards at the campsite, so bring cash or pay with a bank transfer.
Summary
We had no idea what to expect at Les Fourneaux, but the large pitches and abundance of nature were a very welcome surprise. If you're travelling from the north towards the south of France or to Spain, this is also a perfect location to break down your trip in half.
---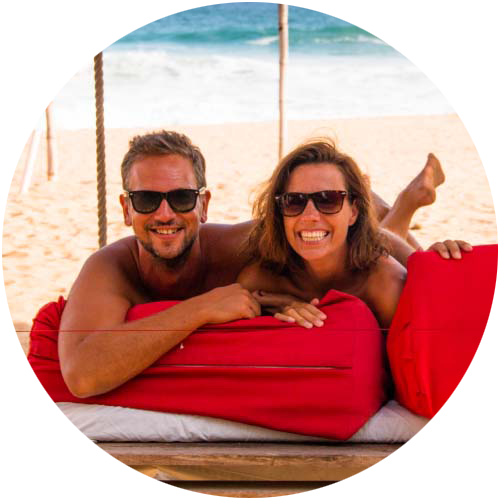 Support Naked Wanderings
Do you like what we do for naturism and naturists? Did we make you laugh or cry? Did we help you find the information you were looking for? Then definitely join our Patreon community!
---