Exhibitionism
has existed for ages, in many different forms. Every village had its local looney who loved to drop his pants whenever a woman passed by. And even the not so loonies have regretted the times when they pulled out their business in the bar after drinking too many shots of tequila. Those things happened and more often than not they didn't harm anyone and neither was there any serious harm intended. Today, exhibitionism has been taken to a whole new level because of that little device in our pocket which has two cameras… Millions of nude selfies are taken every day and the availability of the internet has made the action of exposing ourselves to others a lot easier.
If you've been following us on
Facebook,
now and then you might have seen a very polite message popping up with the request to stop sending us penis pictures. Really, it's ridiculous, the amount of those pictures we receive on a daily basis. And we wonder why people keep doing this. We are nudists and our goal in life is to visit as much nudist places around the world as possible. Needless to say that we see lots of nudity.
In fact, while we were in
Thailand
, we've probably seen more naked people than clothed ones. Then why does someone send us a picture of his penis? It doesn't shock us, it doesn't impress us and it's not like we haven't seen ten of those in the last half hour. Maybe they think that it's the standard introduction among nudists, that we just wave our genitals at each other instead of shaking hands… Well… It's not.
But that's not what we're going to talk about.
Why do we take nude selfies?
More and more we see articles in the newspapers about nude selfies that have gone wrong. It goes from teenagers being humiliated among their friends to fully exposed pictures of yourself on some kind of dark porn website. It causes stress, depressions and in some cases even suicide.
And then you wonder, aren't kids smart enough to know that these things can go wrong? Why do they feel the need of taking naked pictures of themselves and sending them around?
In fact, when we were kids, we did kind of the same.
Even in our very young years, when we weren't yet sexual active at all, we played doctor with the neighbouring kids. Just because grown ups made such a big deal about hiding what's in our pants, we were curious about what the others had to hide.
Later at school we dropped our pants behind the gym to compare ourselves with the others and after our first couple of beers we played strip poker or went skinny dipping.
If you want your kids to hide something, the worst way to do so is to make a big deal or a mystery of it. This is a huge advantage for
naturist kids
by the way, they know what's in other people's pants, they've seen it and for them it's nothing special anymore. It's just human.
Today kids are taking naked pictures of themselves and send them around, it's the same principle as what we used to do. The big difference is that our exposure was on the moment, now you see it, now you don't. A picture can last a long time and travel far, now you see it, tonight you see it again, tomorrow you show it to your friends and a week later a jealous friend or angry ex puts the image online. And you have no idea where that'll end up.
The pressure to send nude selfies
The need to explore our body and the one of others is very human. The question is whether doing so by sending and receiving naked pictures is a good way to do so.
Teenagers are often very insecure, they want to fit in, they want to be accepted and they are willing to sacrifice a lot for that. In the gangs in South America it's a custom that new members, often not older than sixteen, have to receive an incredible beating from the other members before they are accepted. Blue and bruised they become part of the gang. And that's exactly why they stand through this torture, they want to belong. We see a similar thing among student clubs where newbies often have to go through a series of humiliating things before they are part of the club. It's the group pressure that does the trick.
The insecurity of teenagers in combination with their need to belong is one of the major reasons why they decide to send nude selfies to others.
Unfortunately, the number two reason is love. Teenage love can be huge, it can take over someone's whole life and it completely stops rational thinking. Teenage love is forever, although it rarely lasts. When a teenage girl receives a late night message from the love of her life to show him "a little bit more" before going to bed, it's often hard to resist. Even when they doubt or reject the first time, often a little bit of pressure is enough for them to cave in. They want to satisfy their lover and they want to hear how gorgeous they are. And of course he's going to delete the picture immediately after he's seen it and even if he doesn't, they're going to stay together forever, right?
Should we stop sending nude selfies?
Maybe nude selfies are part of evolution? Maybe eventually they will help normalising nudity? It's hard to tell. Ask us again in a couple of hundred years and maybe we can give you an answer then. And who are we to say something about it anyway? Almost daily we're putting naked pictures of ourselves online on
Instagram
.
But there are a couple of things we keep in mind and we think you should do so too.
Never ask yourself the question "Who will see this?", because you just can't be sure about this. Yes, she's the love of your life and of course she won't share the picture with anyone else. Today, maybe tomorrow, but what about in a couple of months when things between you too have gone terribly wrong? Always keep in mind that there might become a day that everyone can see the photo. Your ex-partner, your friends, your grandma and a number of perverts on the internet. Just consider this before you hit the send button.
Never let pressure be the reason. Although we're strong advocates of the normalisation of nudity, you should always do so from your own will. That's really important. Share with others as much as you want, but only because you want it, not because someone tries to convince you to do so.
Show what you want to show. We are nudists and we like to be naked. A lot! Since we also try to show the world that nudism isn't something pervert or some kind of disease, we often post naked pictures online. But you'll never see a close up of our breasts or genitals. Because that's not what nudism is about. It's about the joy of being naked, with our without other like minded people. It's not about seeing breasts or vaginas or penises. We can go on and on about this, but we already did so in our article about
Full Frontal Nudity
.
What we want to say is, that we don't feel a need to put a close up of Nick's penis or Lins' breasts online.
And one last tip, don't send the pictures of your penis to nudists, really, they've seen it all before, in all shapes and sizes. You won't shock them and you certainly won't impress them.
Naked Wanderings' Complete Guide for the First Time Nudist ebook

Do you still have questions about nudism or naturism?
Are you looking for even more tips and tricks?
Our ebook will be the perfect resource for you!

Learn More
---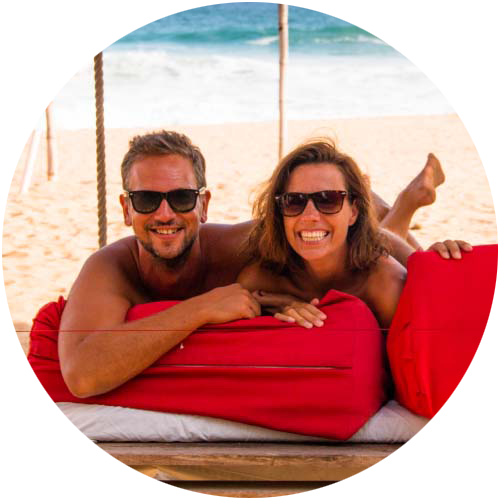 Support Naked Wanderings
Do you like what we do for naturism and naturists? Did we make you laugh or cry? Did we help you find the information you were looking for? Then definitely join our Patreon community!
---