If you've ever tried to post nude photos on Facebook, you already know what we're talking about. Social media censorship is a pain in the naked behind of all promotors of naturism because it became pretty much impossible to appear naked on Facebook. For us it's not any different. Our hate-love relationship with Facebook is certainly not a secret… Well… love… Years ago we thought that Facebook was one of the best inventions after the wheel and wine but since we've started Naked Wanderings it has become more like a burden. More than once we asked ourselves if we shouldn't just let it go. F*ck Facebook! But we can't deny the fact that it's still one of the world's largest social media and although there are alternatives like
MeWe
, if we want to promote naturism to a large public we'll have to keep using the medium. Whether we like it or not.
More than a year and a half ago we have written
this open letter to Facebook
to complain about the fact that we keep getting banned because we show humanity in its most natural form. Today, like a hundred of bans later, we have an other issue we feel that we need to discuss.
Time for another letter.
Dear Facebook,
Hi! It's us again, Nick and Lins.
You probably may not remember us, we've sent you a message some time ago to complain about the fact that you clearly prefer male nipples over female ones and after months in your jail you have convinced us that butt cracks are also not something you really appreciate. A pity really, because we think that they are awesome, but okay, tastes and colours tend to differ and we're not going to complain about that anymore. If we want to keep you as a friend we clearly have to follow your ideas, whether we like it or not.
And we can't deny that you have been a source of many new friends. On our "Nick and Lins" account we currently have more than 4 000 of them from the most remote parts of the world. We can only thank you for that. Some have been an amazing source of information, some have told us about naturist places we had never heard about before, many of them keep supporting our cause (which you certainly don't agree with but that's okay, we have real life friends who don't agree with it either) and some of them feel like we have a very intimate relationship…
Several of those new friends you've got us in touch with seem to find it a great idea to send us a picture of their penis. A little bit weird, don't you think? Especially on a medium where even half of a butt seems to be a big no-no. And we don't know how to respond to this, do you know? In the end they are your members… Are they afraid to have some kind of disease and do they want the professional opinion of a couple who have seen plenty of penises? Are they uncertain about their little friend and want us to tell them that it's long/thick/well shaped enough? It can't actually be that they want us to be impressed or shocked right? We are naturists… it's not like we haven't seen every possible kind…
You probably sensed some irony in previous paragraph and if you haven't, please read it again. Apparently a part of the new friends you've brought us are just sad guys looking for a different response than our standard "okay, that's a penis, we've seen fifty of those before breakfast". We find it curious that while we are not allowed to show the world that the nude body is nothing to be ashamed of, you keep directing new "friends" towards us who don't do anything else than sending us "dick pics". For whatever reason.
So here's our shoutout to you. You clearly have a huge team looking after what's being posted online because whenever only a part of a nipple appears in one of our photos it doesn't take more than a couple of hours to get us banned for another 30 days. It can't be that hard to distinguish the rotten apples… We actually have friends who were a woman yesterday, are a man today and will probably be completely different woman tomorrow. We all know that sex reassignments are not working that fast (yet) and that face jobs certainly don't.
Honestly, the number of penises we see when we wake up and turn on our phones in the morning doesn't bother us anymore. It makes us sad to see that there are so many people in this world who have the wrong idea about sex and certain body parts but all we have to do is block them. It takes about five minutes of our time which we could otherwise spend naked in some swimming pool, but so be it. That became part of our job.
What does bother us is that your minimum age is 13. If a naturist thirteen year old kid receives these images they're somehow shown to put focus on certain body parts while they have learned that their whole body, no matter how it looks, is special and unique. And we don't want to think about what the non-naturist kid thinks when they receive such an image.
Stuff to think about…
Yours (we don't want to say "truly" anymore)
Nick & Lins
Picture disclaimer: This is probably our first blog post without pictures… But what could we do? Put some dick pics between the text? We don't think so!
---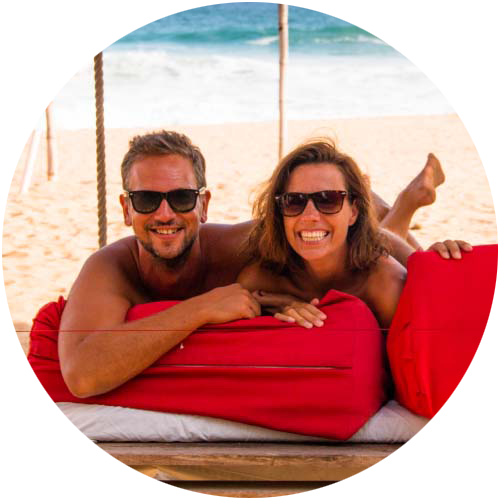 Support Naked Wanderings
Do you like what we do for naturism and naturists? Did we make you laugh or cry? Did we help you find the information you were looking for? Then definitely join our Patreon community!
---