During one of our first naturist camping experiences, we were invited for a communal dinner. This is pretty common at naturist resorts. Sometimes it's a kind of potluck where everyone brings something, other times one of the guests or the staff cooks the meal and you just pay for it. In any case, it's always a great opportunity to meet the other visitors of the resort and often a very social experience.
We didn't really know what to expect, but we figured that even though the evening was getting a bit chilly, we'd better show up undressed. This is a naturist resort after all, and being the only clothed person at the table would probably feel equally uncomfortable as being the only naked person in a group of clothed people. In fact, it was the latter that actually happened. We arrived with nothing but our towel to sit on, and everyone else was nicely dressed.
The clothing etiquette
As newbie naturists, we started doubting whether we were doing something wrong. We had heard about the unwritten rule that said: "naked when possible, clothed when necessary". Maybe dinner time was one of those necessary cases? Even though the weather was still agreeable enough, maybe it was considered completely not done being with your genitals in such close proximity of your – and other people's – food? Maybe this was another one of those hygiene rules, like sitting on a towel.
Eventually, the owners joined us at the table and they weren't dressed up either. This was quite a relief for us, but also made things even more confusing. Clothing etiquette is something we've been struggling with quite a lot in our early naturist lives. Apparently, there were three types of situations: One in which clothing is completely not done, like the sauna or the swimming pool. Another one in which clothing is the obvious choice, like on cold winter mornings or when using heavy machinery. And then there are the situations in which everyone can decide for themselves whether they want to be naked or not.
The clothing obligatory restaurants
Restaurants and bars at a naturist resort are those typical places where the guests get the choice whether they want to be clothed or not. But that isn't always true either. Several times before, we have walked into one of those restaurants naked and have been told to at least wrap around a sarong. In some cases, even the sarong wasn't sufficient and actual clothing was required.
When we ask about the reason for this rule, hygiene is the most common response. We understand the idea, but we're not sure whether there's a lot of truth in it. Are clothes more hygienic than the naked body? Depends a lot on the person, we guess. If you haven't showered in three days, but your clothes come fresh out of the washing machine, maybe it will be better for everyone if you cover up over dinner. But in general, our travel clothes have probably picked up more bacteria than our bodies did since the last shower.
Nudity is fine, but not while I'm eating
Another reason that we hear now and then is "because people don't want to see your bits and pieces while they are eating". Is that really? So it's fine to see us naked on the beach, in the pool, on the hiking trails, and even on the volleyball court, where those bits tend to move in many different directions. But once you have a knife and fork in your hands, we should take them out of your line of sight?
Every resort is free to have its own rules, just like the guests are free to decide whether they enjoy a resort or not. But when this is the reason for the dress code, we do find it quite bothering. We are all naturists, we are always telling people that there's nothing wrong with the naked body, that it's all very natural. How can we then enforce clothing in the restaurant?
Even more annoyingly, if you do want to dine naked, you'll have to do so next to your tent or at another spot at the resort. This kinda sends out the wrong message, doesn't it? If the naturist wants to eat naked, she can't be in the restaurant. Wouldn't it be much better vice versa? That those who can't stand the sight of nudity while they're eating go eat somewhere else?
Why the naturist dresses up for dinner
We have been asking around why people decide to get dressed for dinner, even when the weather and the property allow them to dine nude. And we can tell you, not a single person answered that it was because they don't want to see nudity or because they thought that their nudity would disturb the appetite of the other guests.
Instead, we heard mostly practical reasons. Some are afraid of spilling hot food, others know that the temperatures will drop eventually and feel nothing for having to walk back to their camper halfway a good conversation just to pick up some clothes. And then there are those who had been in a similar situation like ourselves, who know that many others will probably be dressed and who just don't want to be the only naked person at the table.
The naturist who likes to dress up
There was one answer that we found particularly interesting: "Because I like to dress up for dinner". This is something we rarely consider as naturists. We go to naturist resorts because we like to be naked, but that doesn't automatically eliminate that occasionally we like to dress up as well. And when you think about it, an evening at the restaurant is something we very typically dress up for in the clothed world as well. It's part of the experience of an evening out. Why should this suddenly be weird or not done when you're on a naturist vacation.
Every naturist has his or her own likes and one of the reasons why some people are reluctant to visit a naturist resort is because they think that they will be forced to be naked all the time. For us, it's very important to have a choice. As we are traveling full-time, the clothes we take around the world are mostly chosen because they are practical and not really because they look nice. So dressing up is never really an option for us and we will be dining naked if we have the choice. But we understand that this may be different for others.
How about you? What do you prefer to wear when you're going to a restaurant at the naturist resort? Let us know in the comments!
---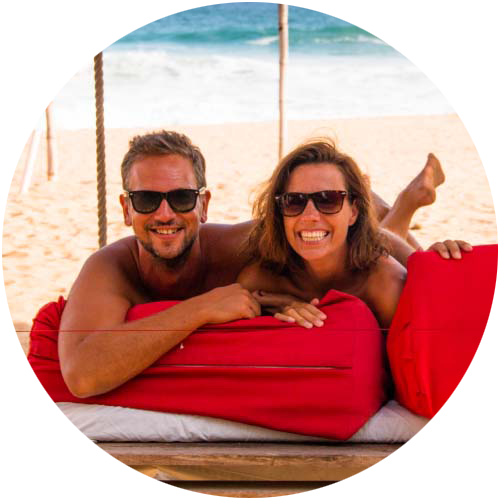 Support Naked Wanderings
Do you like what we do for naturism and naturists? Did we make you laugh or cry? Did we help you find the information you were looking for? Then definitely join our Patreon community!
---