One of our very first blog posts, which we wrote almost 5 years ago, was called "
The Misconceptions of Naturism
". It quickly became a cornerstone article and set the path for what Naked Wanderings would become. We would answer the questions that people often have about naturism. We would inspire others to give it a try and remove the taboo by tackling the misconceptions.
Today, we believe that we can say that we have much more experience than we had back in the day. We've been visiting so many naturist places in so many different countries. And we've met so many naturists, all with different stories, ideas, and visions. So, we wondered how many of the misconceptions that we defined back in the day are still standing in our more experienced view.
Naturism and sex, the everlasting conflict
During our recent
appearance on the Elaine Show in Ireland
, we were asked about the misconceptions around naturism and the first thing that came out of our mouths was the untrue relation to sex. From the moment we said it, we wished that we had said something different. Something less obvious. Something more true.
Maybe it's because we've been spending a lot of time in Europe lately, but we get the feeling that the misunderstanding that naturism is something sexual is firmly decreasing. This TV interview (and many others we've done in the past) is probably the best proof. If the producers of the show had thought that naturism is some sort of sexual fetish, would they invite us to a show that will be broadcasted at 3 PM on national TV?
More and more, we're starting to believe that the "naturism is sexual" idea is not something that concerns most non-naturists, but actually something that's holding back the existing naturist to talk about their way of living. We fear that others will judge us for something we are not, while many others already know the truth. In some cases, we even get the feeling that it's something we hide behind, to justify to ourselves that we don't talk about naturism. "They won't understand, so why bother…".
Naturism and sex, the new dilemma
The fact that we believe that many people don't automatically link naturism with sex is something from recent years and it's definitely true that this stigma did really exist for many decades. It has been the battle cry of many naturist organizations: "Naturism is non-sexual!"
Every naturist resort, club, and organization did their very best to remove every possible link between social nudity and sex. To every extend. And to us, it sometimes starts to feel like we're going past the tipping point and are heading in another wrong direction.
We get this idea from the many messages that we receive from first-time naturists, asking questions like "will I be allowed to kiss my partner?", "to hold hands?", or "to rub each other's backs with sunscreen?". It feels like they have a very conservative idea of what naturism really is, and we find it pretty inspiring that they still want to give it a try.
We'll need to be careful in the future that we don't create the misconception that naturism is asexual. That naturists don't have sex at all or can't get aroused from the sight of a beautiful person. We've always found it hard to describe the difference between non-sexual and asexual until a resort owner once said: "Other than being naked, don't do anything here that you wouldn't do in the Hilton or the Marriott". That's exactly it. People don't question whether they'll be allowed to rub each other's backs at the Hilton. But they know that touching each other's genitals in public areas is really not done. Same for the naturist resort.
Naturism is nothing for me
Another misconception in our early blog post was that "naturism is something for beautiful people". Today, we doubt whether people really think that. It doesn't take more than a couple of minutes of online research to figure out that naturists come in all different shapes and sizes. If you really think that all naturists are 24-year-old gym instructors, you're probably looking on the wrong websites.
The problem isn't that people think that everyone will be attractive, it's that they find their own bodies unattractive. A combination of a negative body image and fear for vulnerability. And the question is, how do you tackle this? We are 100% certain that naturism improves your body image (and to an extent also your mental health), but that's because we've already experienced naturism. How do you explain to someone who hates his body that he'll feel better about it if he publicly exposes it? It's like trying to convince people that they will lose weight by eating chocolate.
It happens quite often that people tell us that they feel inspired by what we do, that they find us brave and confident, but that they "could never do it themselves". Then it's easy to point out the physical aspect and say "What do you mean? The only thing you need to do is take off your clothes". But that's not going to help, it's the mindset that needs to be changed.
Naturism is for old people
This misconception wasn't in the early post, and we wonder why we didn't think about that back in the day. In the end, we started our blog because we noticed a lack of younger people at the naturist places that we had visited and wanted to show our generation how fun it really is.
Maybe we didn't mention it because we had no idea why there was an age imbalance. We still don't completely get it, but we're pretty sure that the imbalance is both a result as a cause. That the fact that there are more elder naturists discourages the younger generations to give it a try. Because it gives the idea that naturism is just something only old people do.
Could this cause the eventual downfall of naturism? We think not. But it might change how naturism is being experienced. As our friend from Australia once said: "Why would I pay tens of dollars to spend time in a resort with a bunch of old blokes when I can just get naked in nature for free?".
Many naturist clubs and resorts have been founded in the sixties and seventies, and many of those founding members are still in charge. Managing things as they have always done, completely ignoring the wishes of the younger generations. This makes their organization, and in certain cases even naturism in general, unattractive.
I will feel uncomfortable
We were talking with a woman the other day at a naturist campsite who told us that she and her late husband had been visiting nude beaches all their lives but always thought that visiting a naturist resort was "one step too far". Her husband has passed away last year and had told her to enjoy life to the fullest. So this year, she had decided to visit a naturist resort for the first time.
It a charming story, but the one thing that kept sticking to our minds was the "one step too far". They both went naked on the nude beach, but camped at a textile campsite while there were also naturist campsites around.
We've heard similar stories before, from people who enjoy the nude beach and the naked spa but would never consider visiting a naturist resort. Their main concern is that they don't want to be naked all the time and that they fear that they will be forced (by the rules or the social norms) to be naked when they actually prefer to wear clothes.
While naturism is all about freedom and very comfortable, it's a pity that those people believe that naturist resorts will actually restrict their freedom and make them feel uncomfortable.
Everyone is against the naturists
This is not a misconception that the world has about naturism, but that naturists seem to have about the world. During our recent
road trip through Italy
, we met many Italian naturists and most of them told us about how the country (and its population) was so disapproving of social nudity.
We almost believed it, until we spent a sunny afternoon on the Santa Severa nude beach near Rome. The nude section is only separated from the textile beach by a sign and at the ends, naked and clothed people are just steps away from each other. Nobody on both sides seemed to care much about the others though. At a certain moment, a father with two young boys were playing soccer on the textile part, and the ball rolled over to the nude side. They just came over and continued playing, as if there were no naked people around.
Italy is quite a religious country and we're certain that some norms are pretty hard to change. But it's important not to overreact either. We believe that if you'd ask the population what they think about naturism, maybe 10% would be in favor, and let's say that 20% is totally against it. This leaves us with another 70% that doesn't care much about it. That's a majority and those are the ones we should focus on when we promote naturism. Not to convince them to become naturists too, but to strengthen their opinion that naturism is not something bad or perverse.
To get the majority on our side, we need to get rid of the misconceptions. And in order to do that, we believe that open communication is key. The unknown is the best source for misapprehension and we have been hiding behind large walls for way too long. Only by talking about naturism as something normal, we have a chance to change the general opinion.
---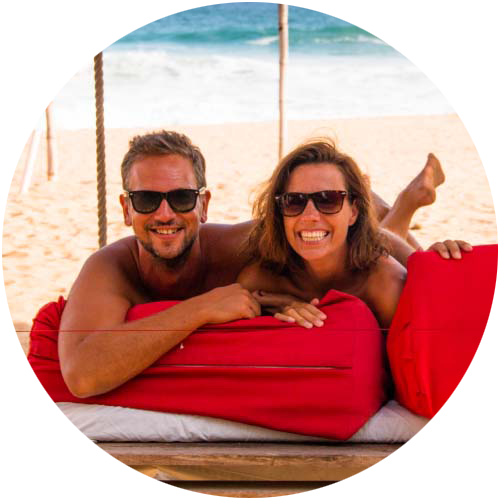 Support Naked Wanderings
Do you like what we do for naturism and naturists? Did we make you laugh or cry? Did we help you find the information you were looking for? Then definitely join our Patreon community!
---