If there's one concept of naturism which we didn't really find in Europe (until today) it's clothing optional. It's a difficult subject altogether, especially seen from a global point of view. In the Americas, "clothing optional" is used to point out nudist resorts and clothing is most often not really an option. In Europe on the other hand, clothing appeared to be an option at most naturist places. At least in some parts or at certain times. In Alicante, we found one of the few places in Europe which truly lives to the name. At Finca Pura, clothing really is nothing more (or less) than just an option.
How to get to Finca Pura
Finca Pura is easy to reach via most means of transportation. The majority of their visitors prefer to arrive via the air, a logical choice since the Alicante-Elche airport is only a twenty-minute ride away and has connections all over Europe and inside Spain. At the airport, you can decide to get a car at one of the many car rental offices. Or if your perfect vacation means not getting dressed at all, you might well use the Finca Pura airport service instead.
From Alicante train station (RENFE) it's less than half an hour drive to Finca Pura. This train station is well connected to many regional destinations like Valencia or Murcia as well as long-distance cities like Madrid or Barcelona.
Coming by car from the north of Spain, you want to follow directions Alicante and from there travel a little bit further to Elche. Coming from the south or the center of the country you'll reach Elche right before Alicante. From Elche, you take the CV-854 towards the coast to reach Finca Pura. Chances are high that during the very last part of your trip your GPS might become confused. Do ask for decent directions during your reservation.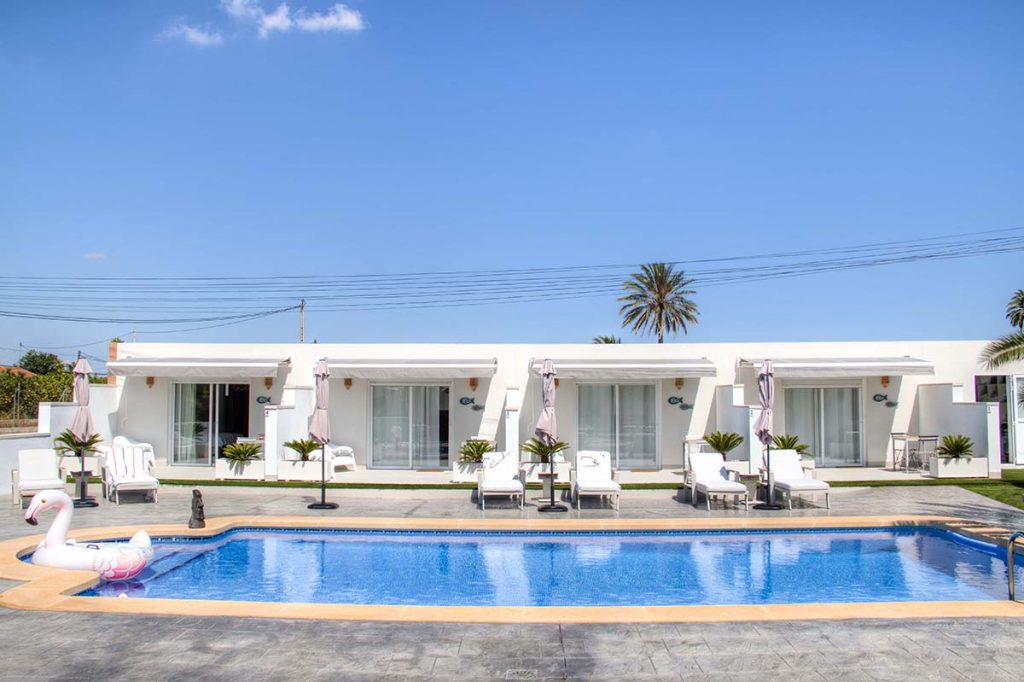 Where to stay at Finca Pura
While Finca Pura is technically a bed and breakfast, we would prefer to call it a small hotel. And not only because the four guest rooms are separated from the main building. At Finca Pura, you are not staying in a spare room in someone's house. All the rooms have been designed carefully and with lots of sustainable materials and with the pure goal of giving you a high comfort vacation.
At Finca Pura the details are everything. And most of all they are complete. Yes, there's soap and shampoo and air conditioning and a hairdryer. Things you might expect at another B&B as well. But then come the bathrobes, the espresso machine, the extra-large mirror, and the smart TV with google chrome connection. Truth to be said, you'll have a hard time finding those at any textile hotel in the region.
This is exactly what Finca Pura stands for. High comfort. But still in the cozy setting of only four guest rooms. The combinations of luxury and a laid back atmosphere isn't always easy to find in the naturist world. That is exactly where Finca Pura fills an important gap in the market.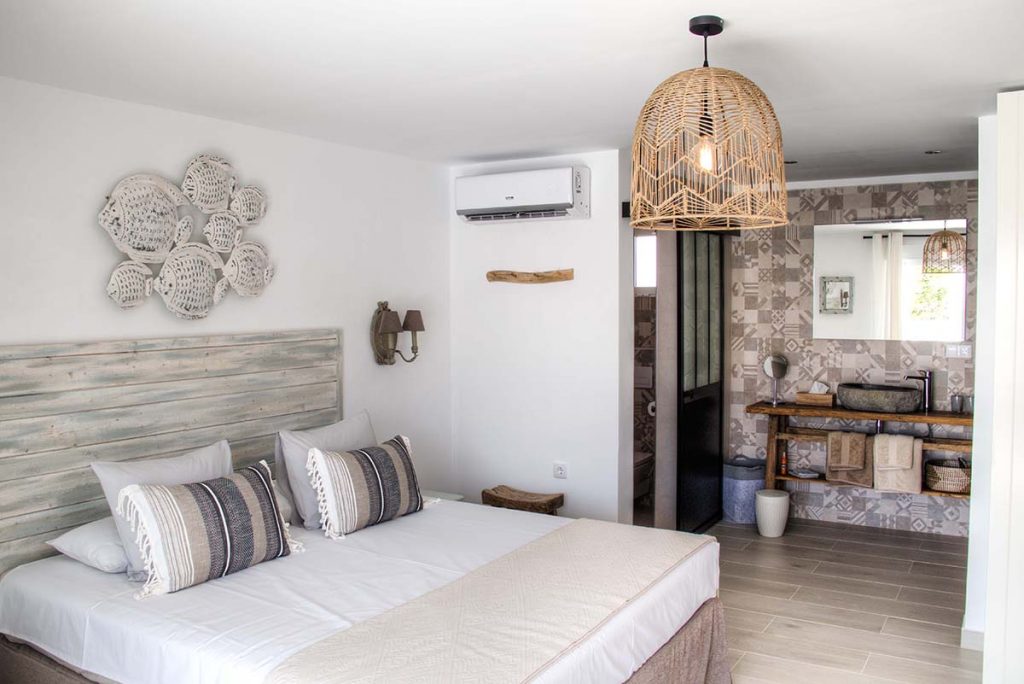 What to do at Finca Pura
Another interesting aspect in which Finca Pura differentiates itself from the regular naturist scene is their choice for a complete clothing-optional environment. Which is quite unique in Europe. Of course, we had to ask the owners more about this. The idea came from their previous travels to the Caribbean, where clothing optional is mostly the norm at places where you're allowed to be naked. It's mainly the idea of "live and let live".
If you've been reading this blog for a while, you probably already know that we are also supporters of the clothing-optional idea. To start with, it solves the issue of
where to get naked and where not
. That's completely your own choice. Your level of comfort is the most important. And so is the amount of clothes you decide to wear. Or not to wear.
The large swimming pool is definitely the main attraction of Finca Pura. It's where most of the other visitors prefer to be in or hang around. Including ourselves. Frequent skinny-dips between writing reviews on the terrace have pretty much become a habit while we were at Finca Pura.
We'll tell you more about the owners of Finca Pura later on, but there's one thing we already want to give away. Their experience in their previous lives was in restaurants. That definitely says something about the excellent breakfast they put in front of your sleepy face every morning. And if you're lucky, maybe they'll invite you for dinner as well.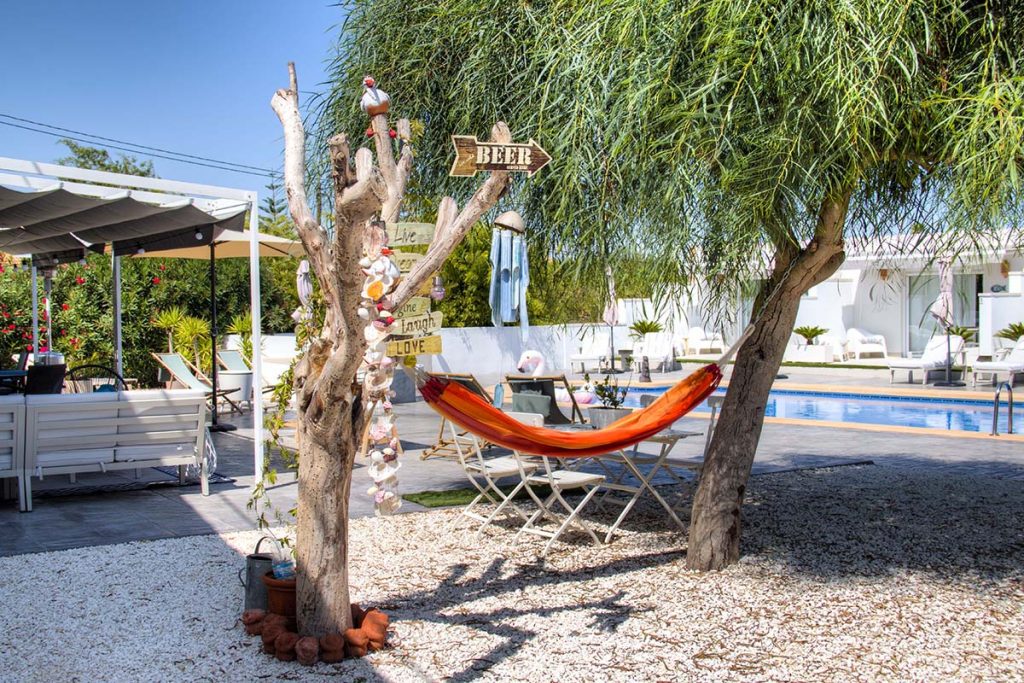 Around Finca Pura
The advantage of the greater Elche region, and more specifically the spot where Finca Pura is located, is that it's quite away from everything. No nearby neighbors who could look inside but lots of surrounding nature instead. Yet it's only a short drive to most of the region's highlights, cozy cities, nude beaches, and the airport.
The Guardamar nude beach is only a 15-minute drive from Finca Pura and is one of the largest in the region. A huge sandy beach that seems to keep going forever. During weekends and holidays, it tends to get quite busy, otherwise, you'll have lots of space for your own. Other nearby nude beaches include Cala de Cantelars and Los Saladares. Both in Alicante.
Alicante is a city with some love and some dislike. Depending on what you're looking for. It's a great place for shopping but if you're more interested in architecture and culture you might appreciate Elche or Cartagena more. The whole coastline of Alicante comes to live in high season and all different kinds of water activities are right there. Parachute boats and banana boats and snorkeling trips, it's all there.
The whole region is also popular among cyclists from all over Europe searching for nice weather to ride their bikes in spring or autumn. And you have to admit, after a whole day of heavy sports, what sounds better than a skinny dip at your clothing-optional hotel? Exactly.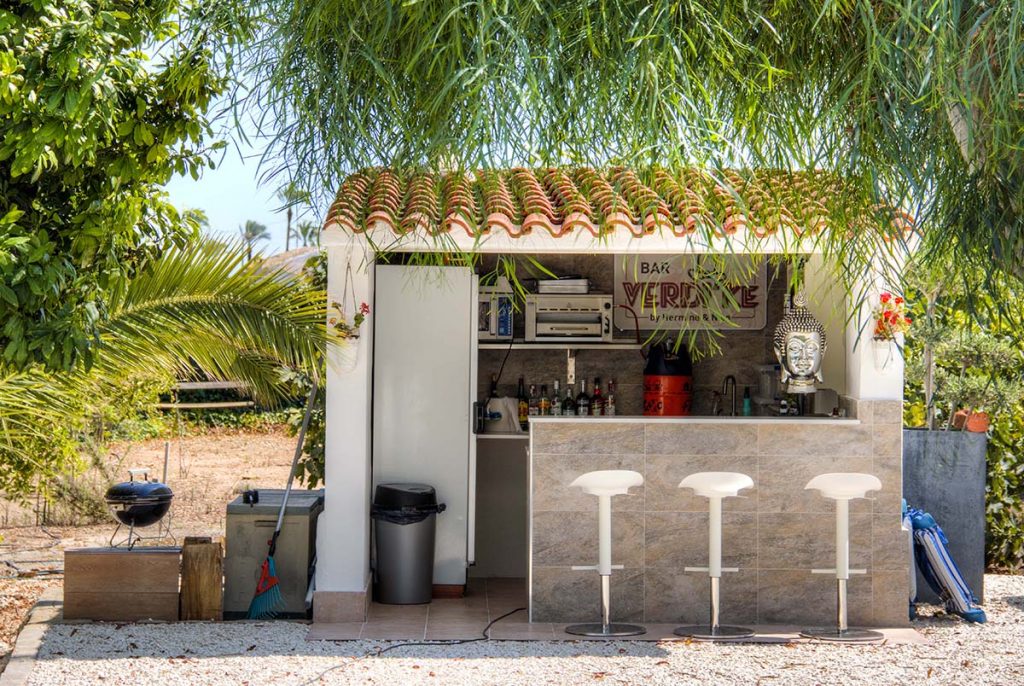 Staff of Finca Pura
What follows now might not be a 100% objective opinion. Because from the moment we walked in at Finca Pura we knew that we were going to like Hermine and Nico, the owners. Their story reminded us a lot of our own, getting bored of the rat race in Belgium and searching for a new experience. Preferably somewhere with more agreeable weather.
That's not the only thing. They are just two very likable people. They've worked with people and served customers all their lives. More or less. So they know how to give you a great holiday. Why we liked them specifically though is because they're so easy going. No rules, no stress, just have a great time. Have a beer, a wine, a skinny dip. Enjoy life to the fullest. It's an attitude they project on their visitors. And it works very well. While we were at Finca Pura, there was no tomorrow.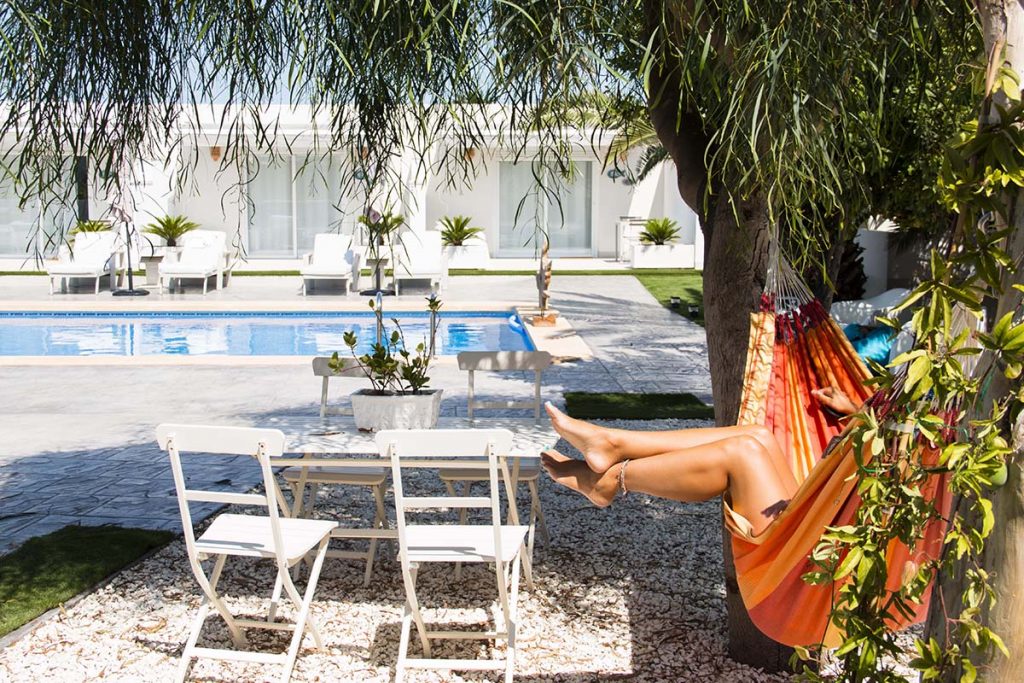 Guests at Finca Pura
Running a clothing optional place comes with more responsibility than a genuine naturist resort. There is always the "what if". What if I will be the only naked person around? What if this unusual term "clothing optional" has a whole other connotation in Europe than plain naturism? What if… No more what if. That's exactly why we went to Finca Pura. And we can tell you that it's nothing more (or less) than just clothing optional.
And we really like how the idea we've been promoting before on Naked Wanderings appears to work great in Europe as well. During our stay, the mix couldn't have been more perfect. We were naked as much as possible and so were the owners. The couple next door was mixed naturist and topless and the couple next to them preferred to remain in bathing suits. All living together, having breakfast together, spending time at the pool together. It's a perfect world. One where everyone feels comfortable, no matter the number of clothes.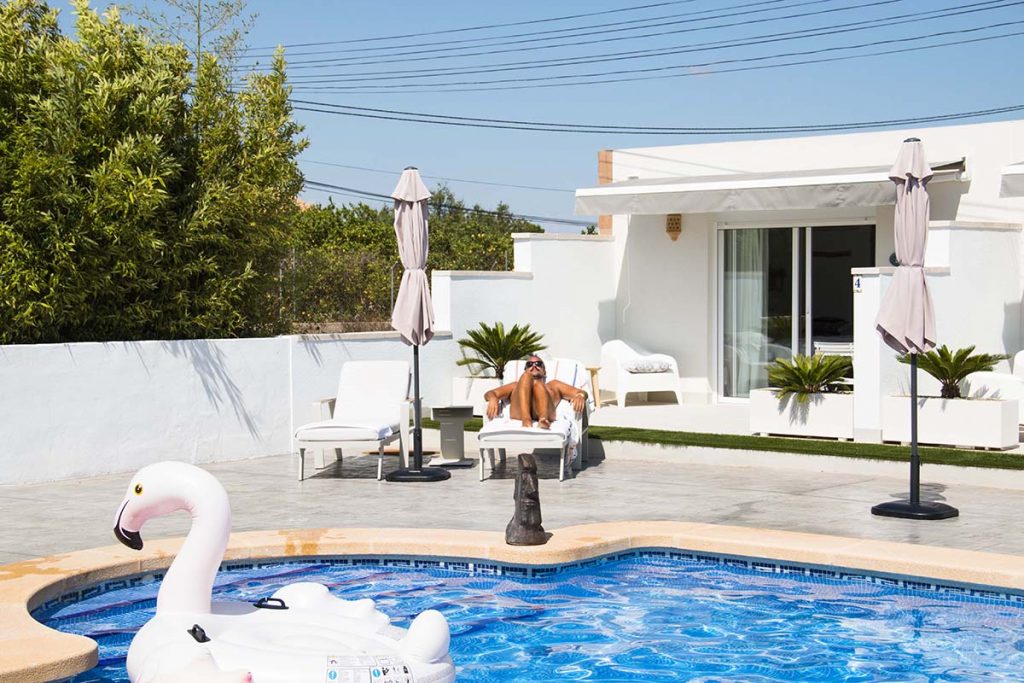 Reservations & Contact
Finca Pura tends to run full pretty easily during high season, so if that's when you're planning your visit, better book upfront!
Reservations at Finca Pura are preferably made via:
✅ Website: https://www.fincapura.com
✅ E-mail: [email protected]
✅ Whatsapp: +32 (0)496 99 46 88
It's possible to communicate in English, Spanish, Dutch, French, or German.
Because of the mild winters in the Alicante region, Finca Pura is open year-round.
Summary
Have we used this opportunity to promote clothing-optional once again? It could be. But only because we believe in the idea. After our experience at Finca Pura maybe even more. Staying at Finca Pura is like staying at a boutique hotel near Alicante. With the only exception that you don't need to wear clothes if you don't want to.
Naked Wanderings' Ultimate Guide for Naturism in Spain ebook

Are you looking for great nudist resorts and nude beaches in Spain?
Are you looking for the best tips for a nude vacation in Spain?
Then our ebook will be the perfect resource for you!

Learn More
Need help with planning your trip? Check out our Resources Page for an overview of the best companies we use during our travels
Disclaimer: We have been invited as guests of Finca Pura, but of course all opinions are our own. We are super confident you will love this place as much as we did!
---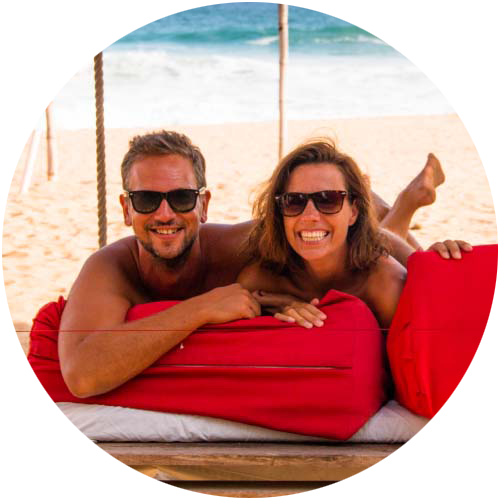 Support Naked Wanderings
Do you like what we do for naturism and naturists? Did we make you laugh or cry? Did we help you find the information you were looking for? Then definitely join our Patreon community!
---