Our visit to Spain this year was quite short. There was only one region that really caught our eye and which we definitely wanted to include in our Big Nude Europe Trip. The Alicante region in southern Spain doesn't only have year-round pretty great weather and lots of interesting places to visit. It also has an abundance of nude beaches from where you can skinny dip in the warm waters of the Mediterranean Sea. And most importantly, this year two new naturist resorts have opened their doors for the naked traveler.
That was our cue.
Next thing we knew we found ourselves on a plane to Alicante.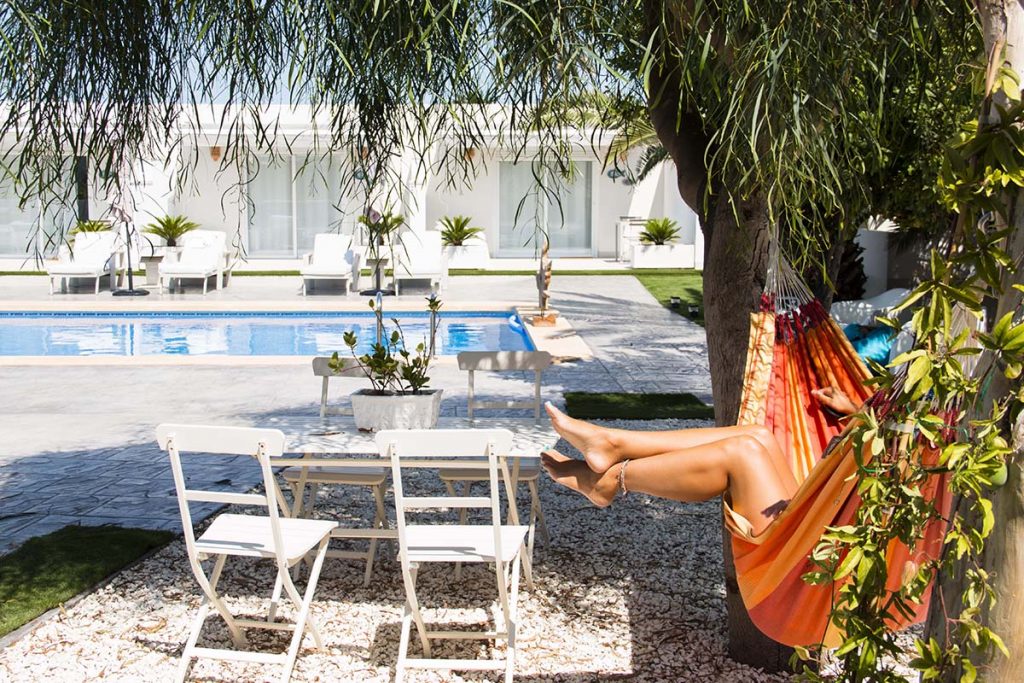 Nude beaches around Alicante
An important thing to know about Spain is that the country doesn't have actual laws forbidding public nudity. Technically it's not a crime to be naked anywhere in Spain. But before you decide to drop your clothes in the middle of Barcelona's Ramblas, it's also important to know that there are laws against public disturbance. If someone complains about your nudity, actions will be taken.
Don't worry, this won't result in jail time or even a fine. An officer will walk up to you and ask to put some clothes on. This is something you better do if you don't want to get into real trouble. No matter if you happen to be on a beach, in the woods, or on the Ramblas. So on any beach, it's completely legal to be naked, unless someone finds your nude appearance disturbing. To avoid this, walk away from the crowds. Even better, pick an official nude beach or at least one that's often frequented by nudists.
There are lots of official and unofficial nude beaches around Alicante. We're not going to list all of them here, only the four which we visited ourselves.
Platja Barranc d'Aigües nude beach
At about a 20 minute ride from downtown Alicante, you can find this large stretch of pebble beach where nudity is pretty much the norm. There are quite some flat spots which are good for sunbathing, but it's recommended to bring beach chairs. On a towel, you'll only be comfortable for a limited amount of time (trust us, we know). Also, an umbrella is useful if you like some shade and so are water shoes if you're planning to go for a swim. Not because the round stones could cause much harm. But because walking barefoot on them might result in some weird positions. Maybe to the joy of others, but not really to yours.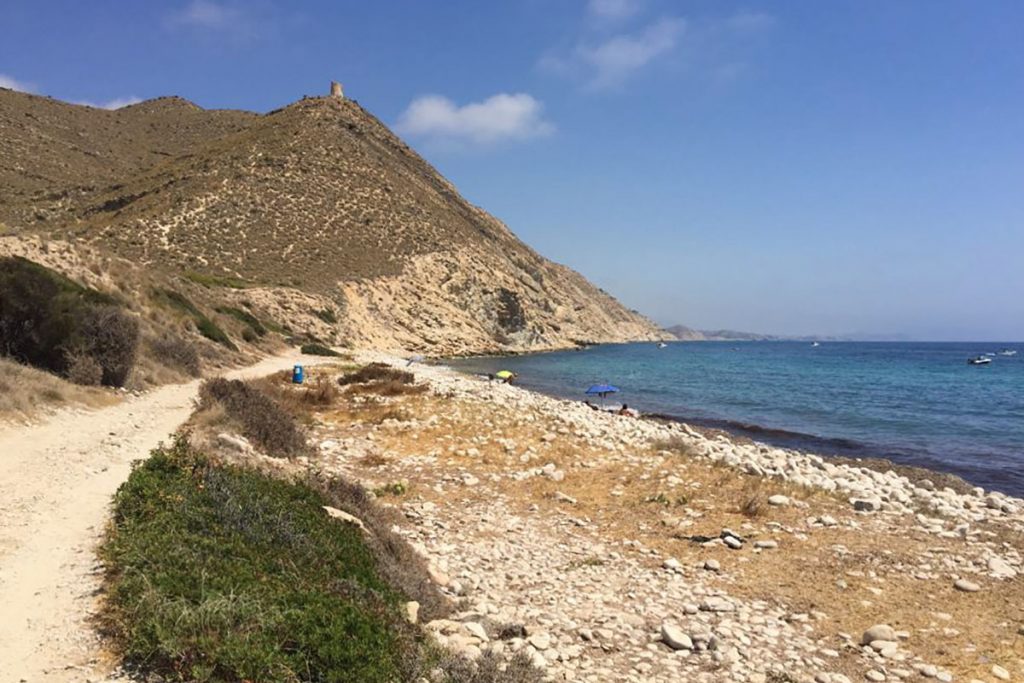 To get to Platja Barranc d'Aigües, take the N332 north from Alicante towards Villajoyosa. About halfway turn right to get to Playa de Les Llomes de Reixes. Just before you reach the sea there's a parking space on your left which has direct access to the nude beach. You might find textiles at the entrance, it's no problem to get naked right in between them or you could walk a bit further to your left for more empty spaces.
Cala de Cantalars nude beach
This is the nude section of the large Cap de la Huerta bay just north of Alicante. It consists of large flat rocks that are great for sunbathing or for jumping into the warm waters of the Mediterranean sea. In this region, Cala de Cantalars is the most famous spot to get naked but there are several other opportunities. Just walk away from the textiles and it's not a big deal to get naked. Important to mention here is that we've heard rumors about indecent behavior at Cala de Cantalars after 6 pm.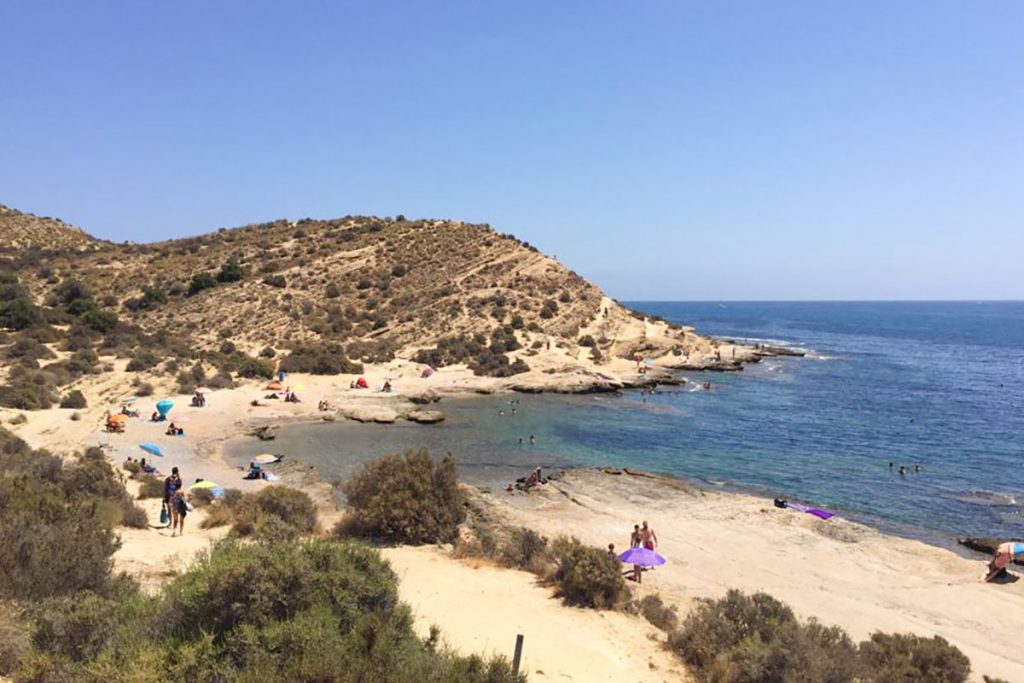 Follow the Av. de Villajoyosa north out of Alicante. At the roundabout switch to Av. de la Condominia and later turn right towards the coastal road Av. de la Costa Blanca. Past La Caleta beach, take another right to Cale Océano. This is where you want to park your car. Take the trail towards the sea and from there walk to the left until you run into the other naturists.
Los Saladares nude beach
A huge sandy nude beach in the Alicante region can be found at Los Saladares. Other than the previous, it's also a very popular one. We visited Los Saladares on a Sunday and the nude beach was quite packed. The combination of sand and a calm sea definitely attracts naked sunbathers from all around, but we weren't such big fans. The big disadvantage of Los Saladares is that it's so close to the airport. Every couple of minutes you'll find a plane taking off right above your head. This does give some great photo opportunities though. If you happen to be at the airport too early, this is also a great place for a last skinny dip.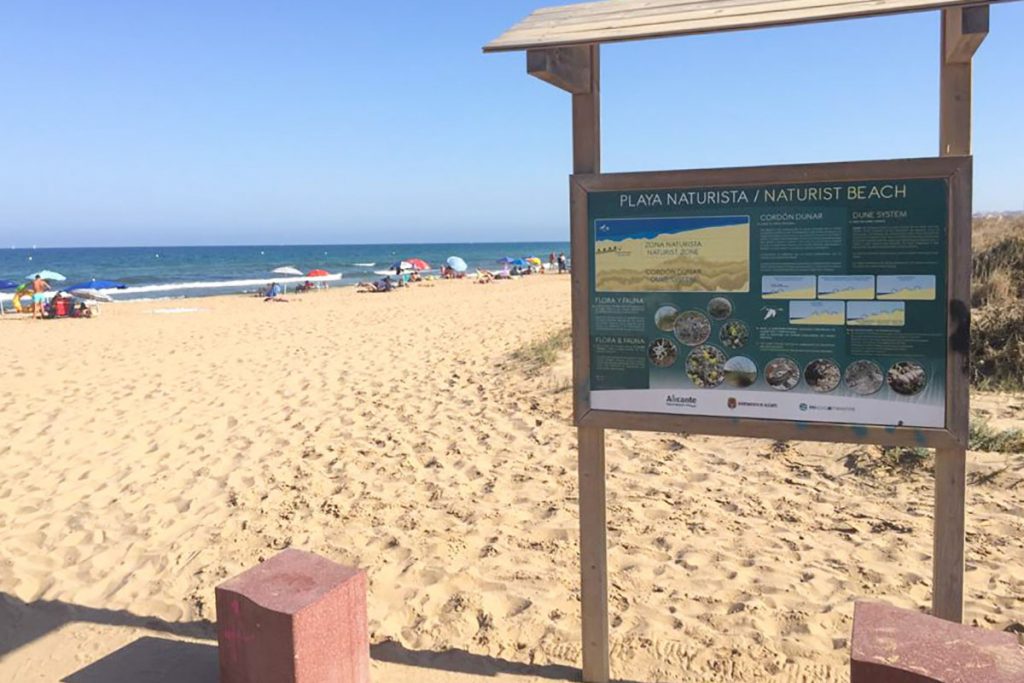 To get to Los Saladares, take the coastal road south from Alicante or just drive towards the sea from the airport. There's a lot of space to park in the Urbanova neighborhood. When facing the sea in Urbanova, start walking to the right to where the buildings end. There you'll find a large sign indicating the start of the nude beach.
Los Tusales nude beach
This nude beach which is part of the group of beaches nearby Guardamar del Segura is definitely one of the nicest in the Alicante area. It's large, it's relaxed and it's sandy. But most of all, it's in a natural park which gives the feel like the nude beach just goes on forever. We visited Los Tusales on a weekday, so we're not sure how the atmosphere is during weekends. But while we were there the beach was very calm and pleasant.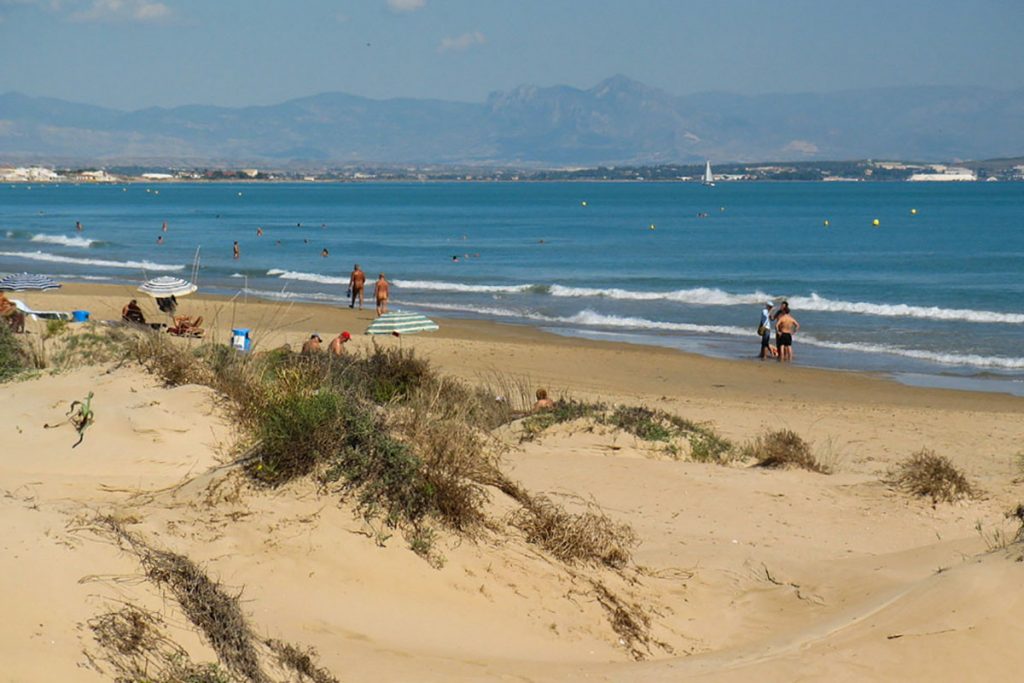 Getting to Los Tusales is a bit tricky and your GPS will probably send you the wrong way. What you want to do is follow the N-332a towards Saladar de Manolo. From there you have to take dirt roads which you follow to the northern banks of the Rio Segura river. There you can park your car and walk to the nude beach. If you're not sure about the road, better ask for more instructions at your naturist resort.
Racó del Conill
A bit further to the north of Alicante, on the outskirts of Benidorm, there's another lovely nude beach to visit. Its setting could hardly be more interesting. Being tucked away between the typical rocky hills of the Mediterranean coast gives it a very natural feel. And yet it's just at a stone's throw from civilization.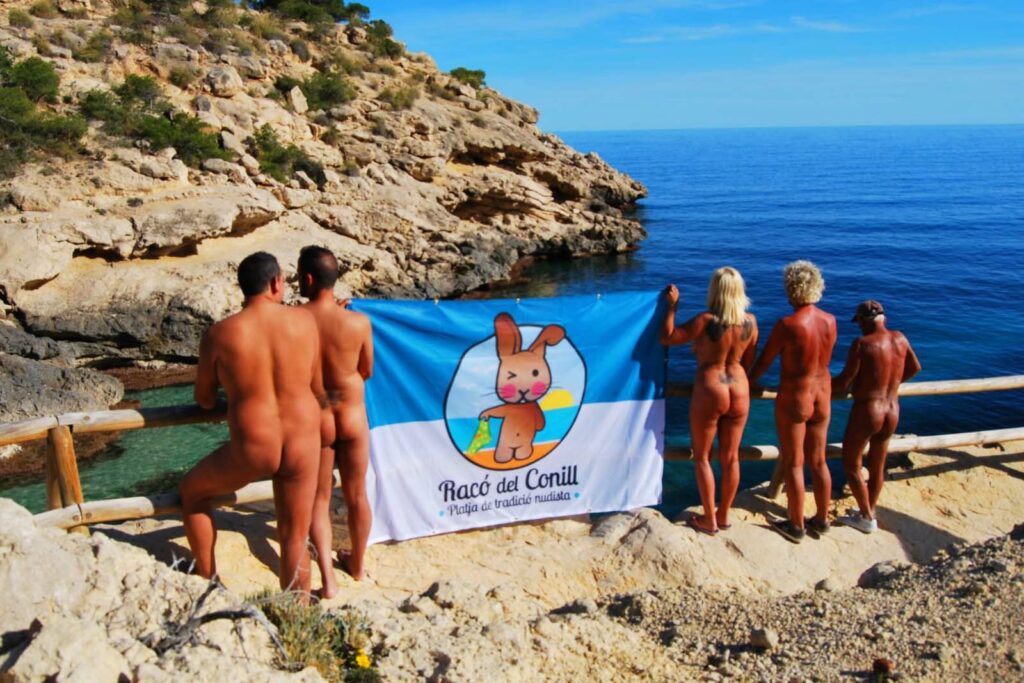 There are several ways to get to
Racó del Conill
. From Cala de Finestrat, there's a hiking trail that will take you to the beach in about 15 minutes. Regular buses from Benidorm can drop you off close to the start of this trail. A taxi from Benidorm to the beach shouldn't cost more than about 10-15 euros. If you're coming in your own car, there's a lot of parking space just steps away from the beach.
➡️
Read more about Racó del Conill
Nude accommodation near Alicante
We've already mentioned in the introduction of this blog post that there were basically two reasons why we decided to get to Alicante: Lavinia Naturist Resort and Finca Pura. Both are brand new since 2019 and similar in the way that they provide great accommodation for travelers who love to spend their time with not too many clothes. But they also appeared to be very different in their approach.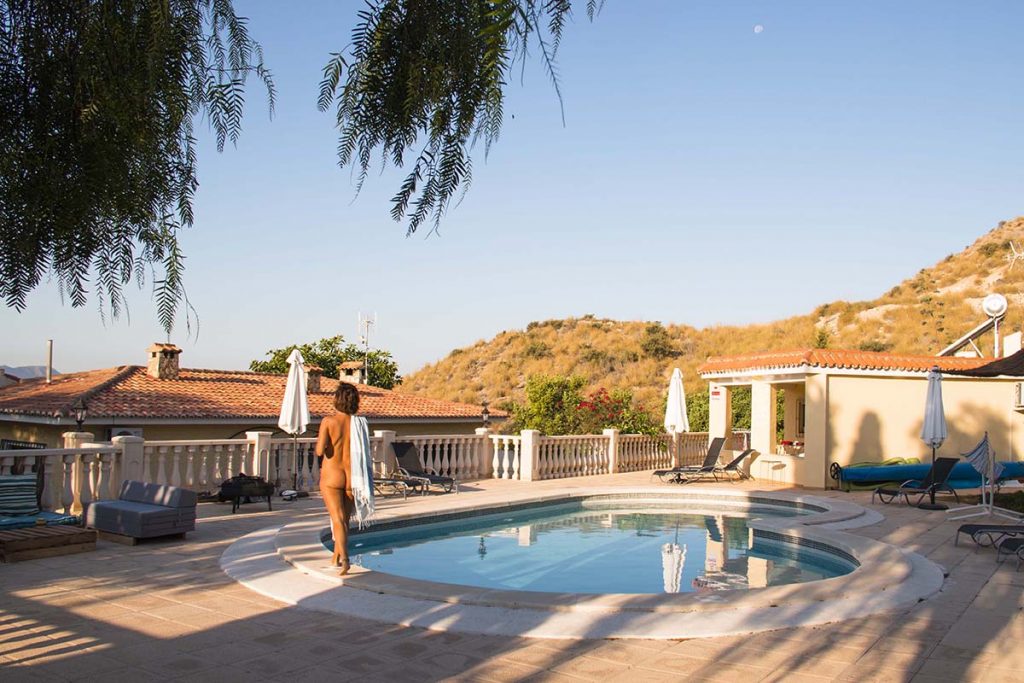 Lavinia Naturist Resort
Annemie and Wim from Lavinia Naturist Resort chose a mix of different concepts. Or better, they decided to take the best of everything. At Lavinia, you get the comfort and privacy which comes with a private villa. But also the hospitality of a bed and breakfast and the social atmosphere which is often found at naturist clubs. From their offer you just pick whatever suits you the best. Our perfect cocktail appeared to be 30% privacy, 30% discovering the region, and another 40% being social with the hosts and the other guests. But that's personal of course. It's up to you to make your own mix.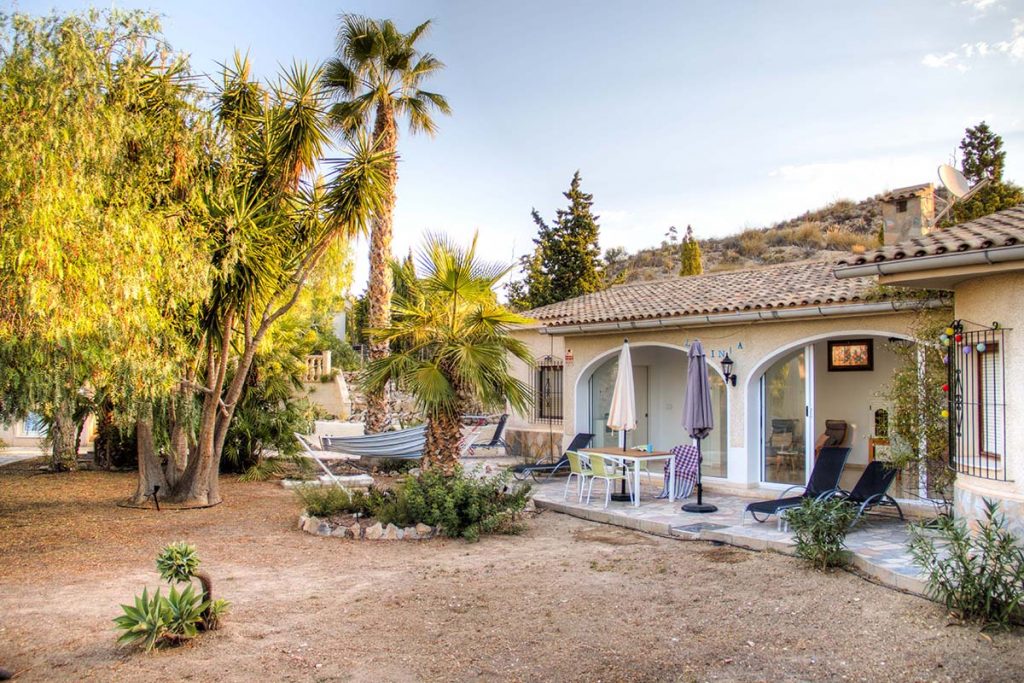 No matter how you like to spend your nude vacation, there are several aspects of Lavinia Naturist Resort which most visitors definitely enjoy. The two swimming pools for example. Or the amazing views over the greater Alicante region. There are communal dinners and activities, there are nude hiking options, and most of all there's lots of space to relax and work on an equal tan which will make everyone back home jealous.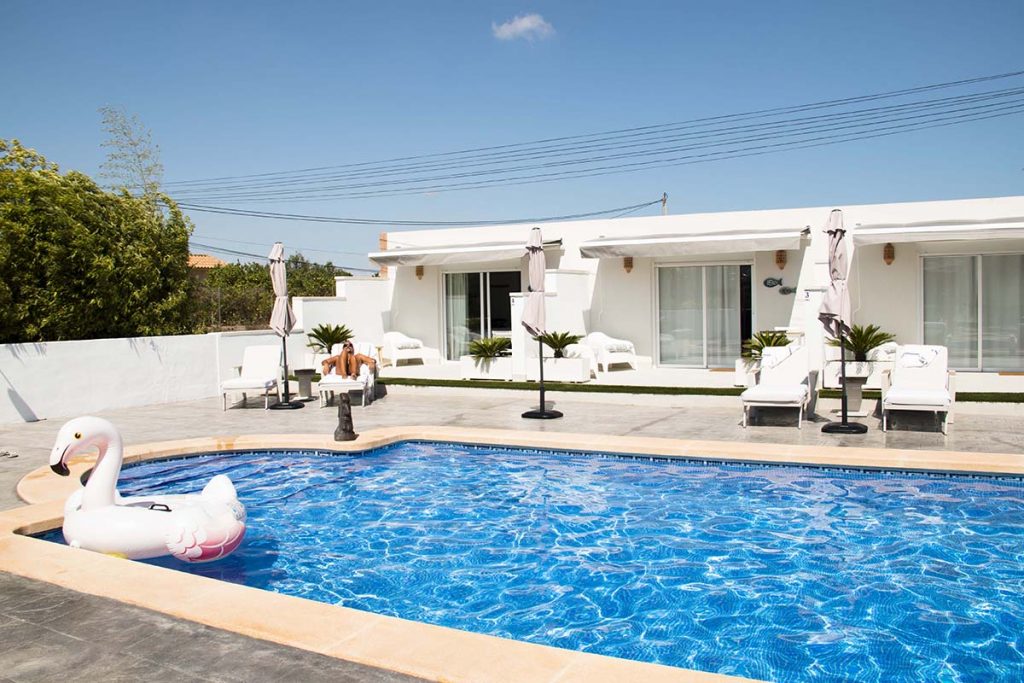 Finca Pura Clothing Optional Guest Rooms
The main goal of Finca Pura is giving their guests the best vacation ever. Nothing more, but definitely also nothing less. At Finca Pura, a clothing-optional concept is used which is still rare in Europe but very common in the Caribbean. The latter is also where Hermine and Nico, the owners of Finca Pura, came up with the plan. Basically, it comes down to the idea that labels have become very old fashioned and that many naked travelers love to have the choice when to wear clothes and when not. This is exactly the choice you get at Finca Pura. Clothes are just an option.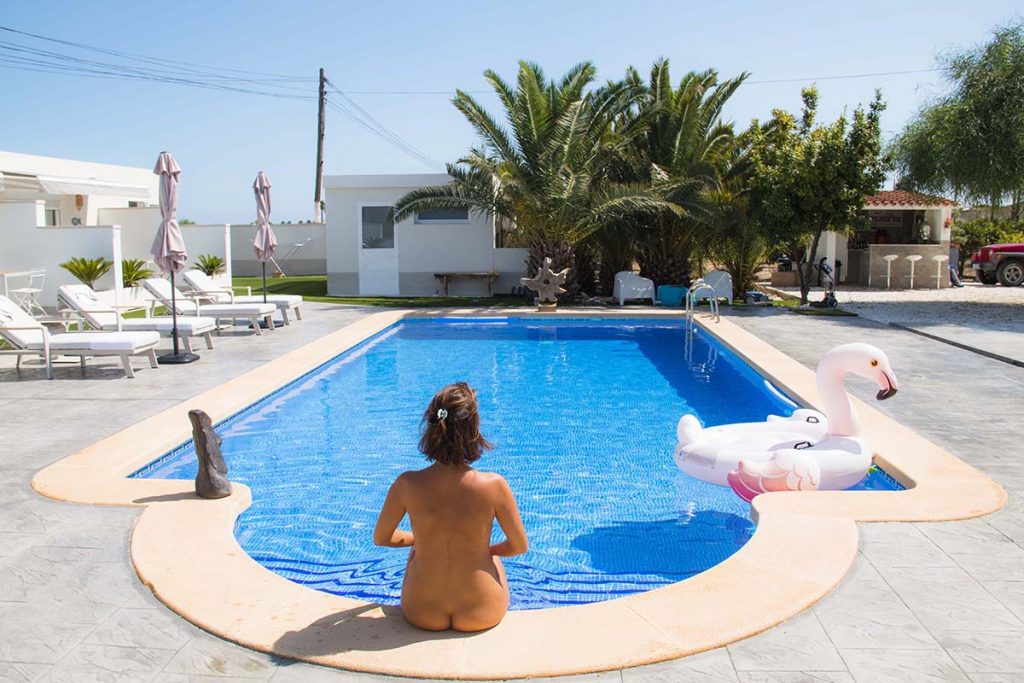 But that's not the only reason why a visit to Finca Pura becomes a great vacation. In their "previous life", Hermine and Nico earned their stars in the restaurant business and they know very well how to please their guests. At Finca Pura, you can expect high-quality accommodation and facilities. And then we haven't said anything about the complimentary breakfast yet. They told us that they provide nothing to their guests which they wouldn't use themselves. From the soap to the mattress to the deck chairs next to the beautiful swimming pool. And we can only agree with that.
Why you should have your next nude vacations near Alicante
Do we still need to convince you about the new opportunities that have just popped up near Alicante? We don't really think so. There are two wonderful naturist places to stay at and there's a range of nude beaches where you can skinny dip into the warm Mediterranean waters. Add to that amazing weather, a variety of great food, great wines, and lots of things to do. What are you waiting for?
Naked Wanderings' Ultimate Guide for Naturism in Spain ebook

Are you looking for great nudist resorts and nude beaches in Spain?
Are you looking for the best tips for a nude vacation in Spain?
Then our ebook will be the perfect resource for you!

Learn More
Need help with planning your trip? Check out our Resources Page for an overview of the best companies we use during our travels
---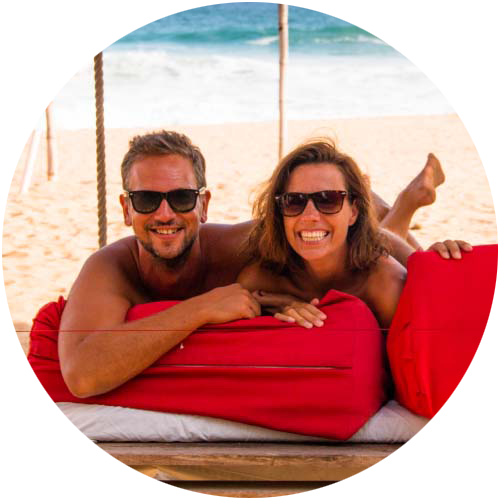 Support Naked Wanderings
Do you like what we do for naturism and naturists? Did we make you laugh or cry? Did we help you find the information you were looking for? Then definitely join our Patreon community!
---