More than often we have been
aiming our arrows towards the INF-FNI
(International Naturist Federation), we complained about their inability to modernise and worried about whether one day it will all fall apart. Most of all we wondered what they are actually doing for the naturists or naturism in general. Over the years we've sent them several e-mails to which we never received a response and so we just criticised them a little more. As a consequence, we started to lose trust in the individual naturist federations as well. If the mother of them all (who clearly must have the most knowledge and fundings) is not doing a good job, what should we expect then from the local federations who have to do with much less?
Those questions would probably have remained unanswered if we hadn't found out that our itinerary had a pretty close match with the dates and the location of the 36th
INF-FNI
World congress. This was a unique chance to experience in person what this international naturist federation was all about. We immediately sent an e-mail to the INF to ask about the requirements to join and then… Again no response. Luckily Koen (the president of the Belgian federation) knew better than us which strings to pull and little later our attendance was confirmed.
On a sunny Thursday in October we walked through the doors of a hotel at the coast of Lisbon, ready to experience the most important conference in the world when it comes to naturism.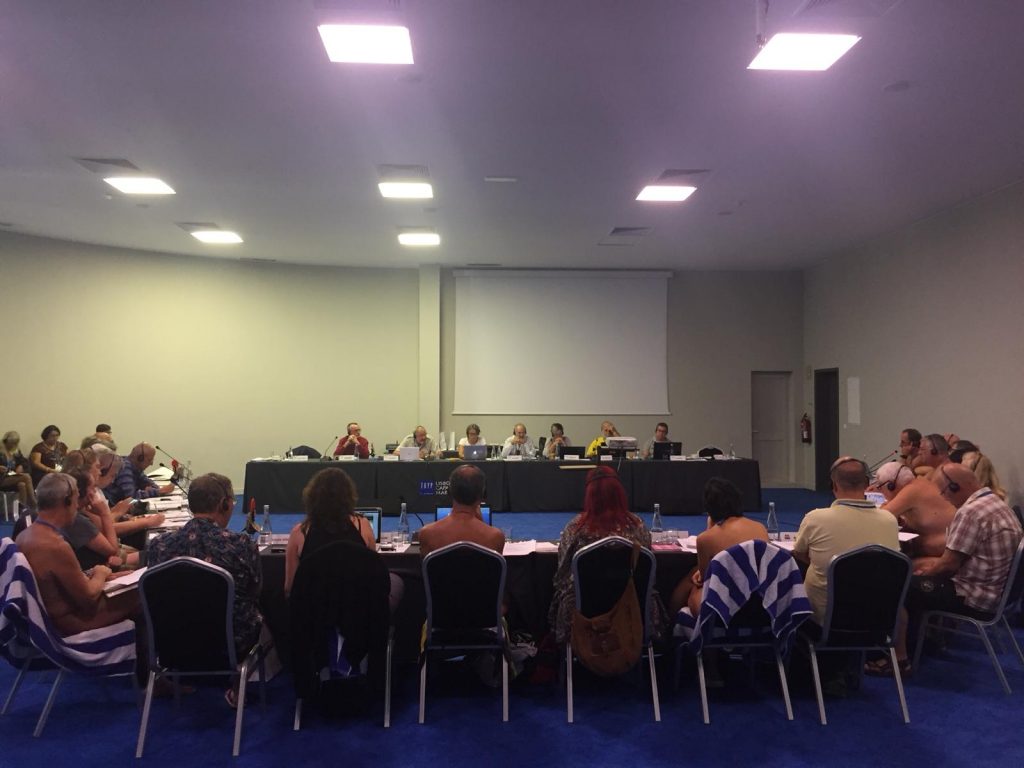 It's not completely what you would imagine
After being a naturist for about ten years, we think we can say that we've learned a thing or two about the lifestyle. Although different naturist places around the world are differently managed, some things will always be the same. The nudity obviously, but also the open minded atmosphere where people have respect for each other, listen to each other and address things in a positive way rather than breaking them down. Not so long after our arrival we would learn that this is not the kind of atmosphere we expected at the INF conference. But then again, this was not a naturist place either. One strange thing was that the conference wasn't held at a naturist resort but in a textile hotel. We haven't been able to figure out the exact reason for that, maybe the Portuguese naturist resorts are not able to accommodate over a hundred people or they can't provide the necessary equipment for a conference? Maybe the fragile naked behinds of the board members prefer a room over a camper? We'll leave that in the middle.
Although approval had been given by the hotel to be naked in the meeting room, when the conference was about to start on the first day there was only one naked person: Gregers from the Thai federation. His initiative did encourage others and soon also Hector (Mexico) dropped his clothes and so did we, Claudia (Mexico), Koen (Belgium), Nick (UK), Letitia (Ireland), Laurent (France), Maja (Slovenia), Tokhwa (Malaysia) and some others. During the whole weekend, about 25% of the participants would attend the meetings naked. Many only took off their clothes for the group picture on the 3rd day and quickly put them on again afterwards. Some didn't even take the effort to join the group picture.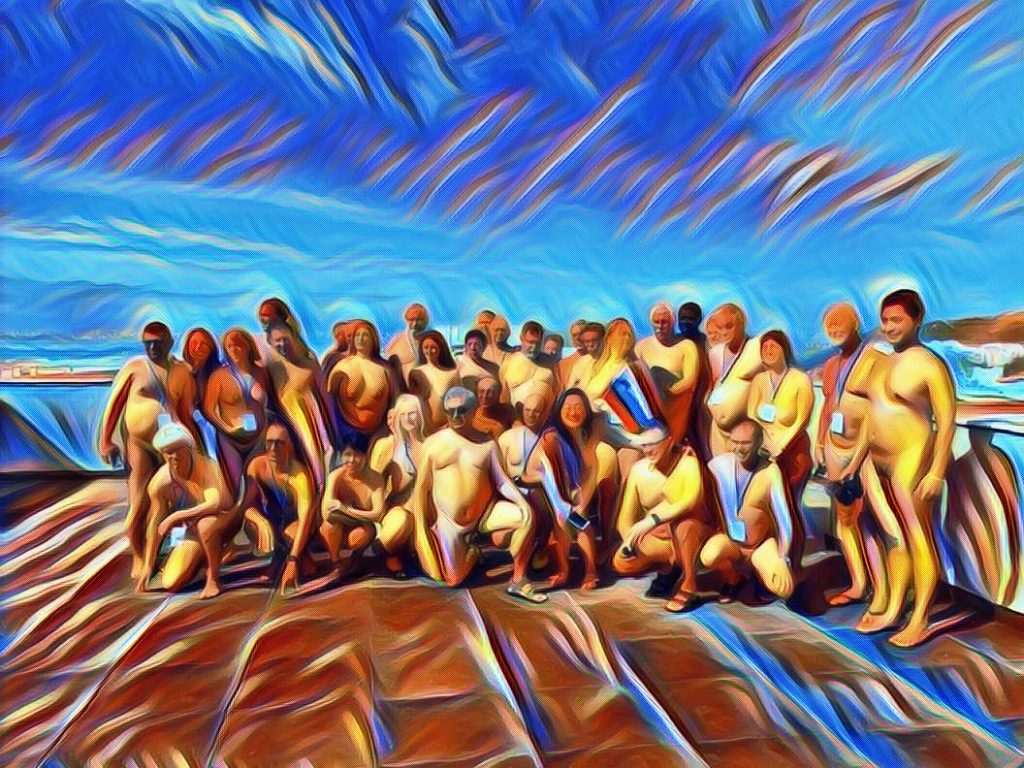 Naturism encourages openminded thinking and this became pretty obvious during the whole congress. Well, let's rephrase that, it started to appear to us that naturists who keep wearing their clothes in a place where social nudity is allowed seem to become pretty narrow minded. From the first minute we felt a negative atmosphere and this never really went away during the whole conference. Greg (Australia) tried twice to point out to the other participants what the philosophy of naturism was all about and that we should strive for collaboration instead of shooting the proposals of the others down. Apparently he wasn't convincing enough.
We believe that the main cause of this negative atmosphere (except for rivalries that happened in the past) was that there seemed to be two camps, which we started calling the "conservative" and the "progressive".
The conservative strive to go back to the roots of naturism where the lifestyle is practiced in the form of a club based on volunteers and with a clear membership system (preferably on paper). The progressive on the other hand strive for modernised facilities and more options for naturists, agree that naturism can be interpreted in different ways and search for solutions to attract a broader audience. Guess which side we were on…
Was it all that bad?
It's not hard to imagine that two completely different visions, which couldn't be further from each other, are not the ground one can build on. Ideas were thrown in the group and all the others searched for possible reasons why they were not going to work. Honestly, the little confidence we still had in the INF as it is run today is now completely gone.
The positive side of this all is that we regained our confidence in the individual federations. Revolutionary ideas which can help naturism grow where thrown on the table and although they were all immediately criticised by the other side, they were proof that the federations are still trying to move forward.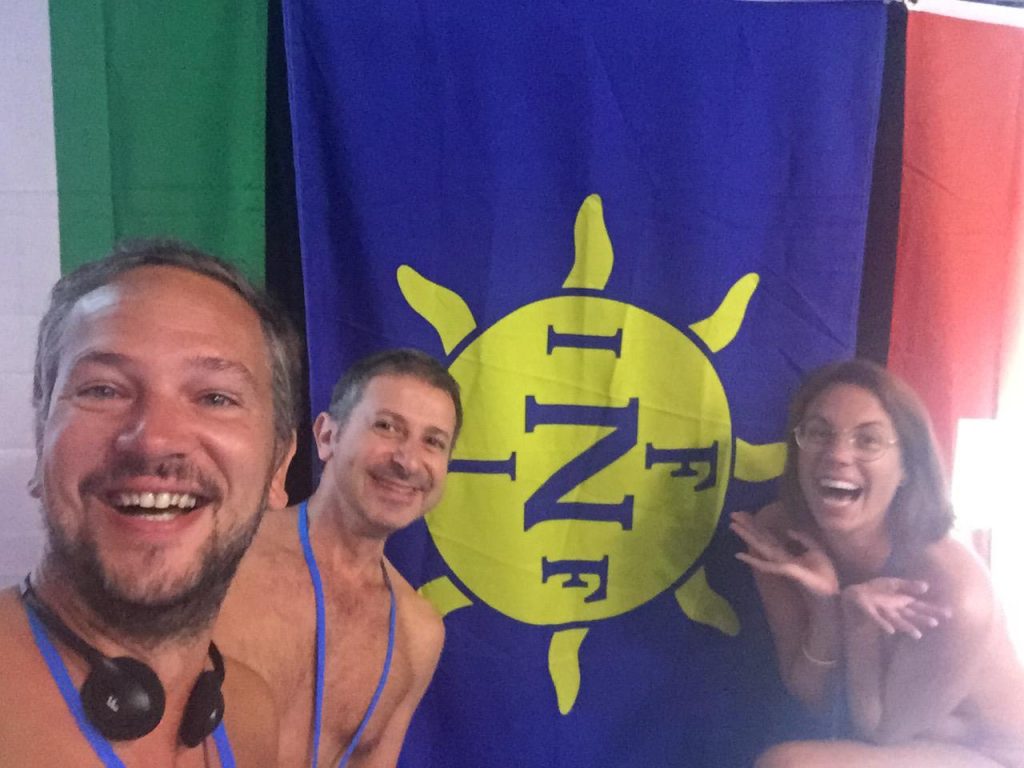 Also within the board of the INF, two positions have been taken by members with progressive ideas and both got reelected. Meaning that the majority of the federations want to move forward. One of them was Huub, Assessor for the European countries, who presented his future strategy which sounded like it had been stolen from our website. He will strive for further expansion of naturist options and for a reform of the INF towards a service organisation which has to become a source of knowhow and inspiration. It was the most beautiful thing we heard during the whole congress. Huub has a very long way to go and many obstacles to conquer, but he's very determined.
For us and many delegates of the federations, the real congress happend outside of the meeting hours, during dinner or with a beer at the bar where likeminded people could share ideas without having to fear the negative comments. We saw how different federations were learning from each other and started building the foundations of a better framework for naturism. In that point of view, the congress was certainly a success.
And also for ourselves, our goals were to see how the INF works and to meet new people who are passionate by naturism. We certainly succeeded in both.
It still bothers us that good ideas were shot down so easily while the last decade or more has already proven that conservative thinking is not saving naturism. We believe that it's time for a change. Well, actually it was already time for a change 10 years ago but it's still not too late. We have seen that the federations have the potential to grow and we hope that during the next congress progressive candidates for the board functions will step forward and change the tide. Let's (finally) bring naturism into the 21st century!
SIDE NOTE: The next congress will be held in 2020 in Slovenia, a country that has the word "love" in its name. Could that be an indication?
SIDE NOTE 2: Of course all that has been said here is our own interpretation of the facts. We're pretty sure that some others saw things in a completely different way.
---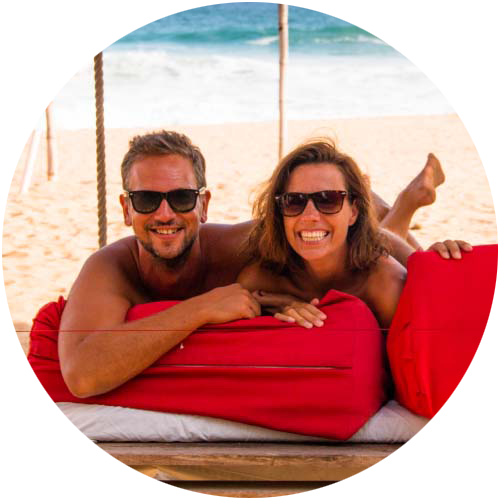 Support Naked Wanderings
Do you like what we do for naturism and naturists? Did we make you laugh or cry? Did we help you find the information you were looking for? Then definitely join our Patreon community!
---