In one of our first blog posts,
It all started with a coupon
, we told you about our first time in a
nude sauna
. Since this was also our first time going "publicly nude", we've talked a lot in this post about ourselves and how we felt before going in.
But what does such a sauna look like? Is it the same as a spa? Is it really without a swimsuit?
Which kind of people do you encounter there? Is it just for nudists?
When and where will I have to undress? Will people look at me?
What kind of facilities will I find in the nude sauna or spa?
And do I REALLY have to be naked?
Let's get more into detail.
NOTE: This article is based on our own experiences in public saunas in Belgium and the Netherlands. We expect that things are quite the same in the rest of Western Europe, but depending on your country things might be a bit different for you.
What do we mean with "sauna" or "spa"?
When we talk about a nude sauna, we're not talking exclusively about the hot wooden hut. Especially in Europe the word sauna is also used for a whole complex of several saunas, swimming pools, whirlpools, turkish baths and so on. Often there's also a restaurant or bar.
This place can also be called a spa, beauty farm, sanitarium or spring resort.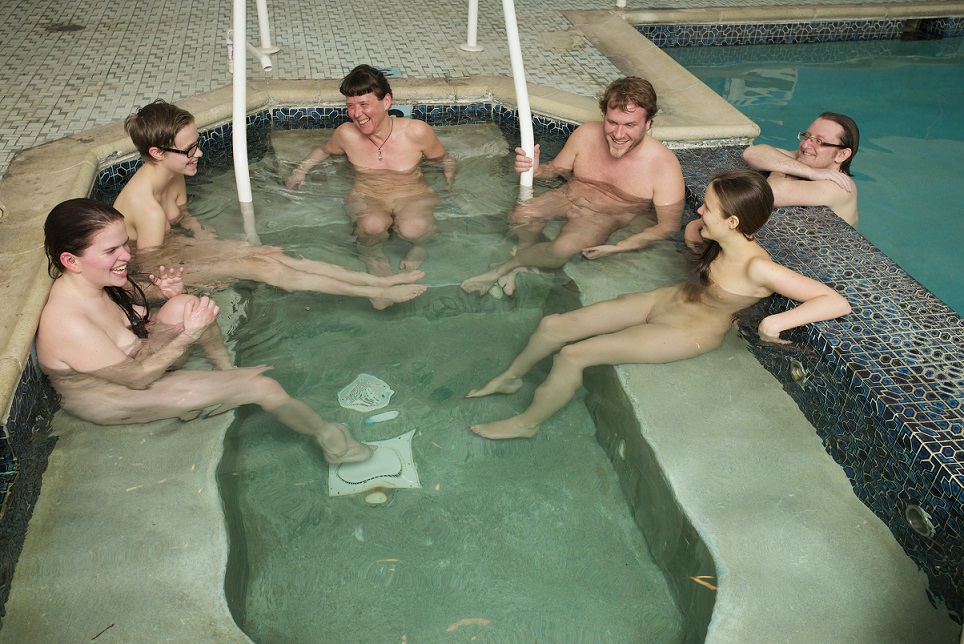 Picture credit: Young Naturists America
Free tour around the nude spa
The first place you'll get to is the reception. Most of the time you'll have to pay for a full day (no matter how long you stay). If you mention that it's your first time you're likely to get a tour of the place or at least some explanation about what is where. Maybe you'll even receive a welcome gift.
The receptionist will also give you the key of your locker, which you'll often also need for your tab at the bar.
We have never been to sauna which had private dressing rooms, so you're thrown right in. Your first time the common dressing room can be a bit strange. You knew you'd be naked among others, but having to undress in front of anyone else is still something different. It's no problem to turn your back to the rest of the room while undressing or to wait for a moment until everyone left.
Whenever you're ready you put on your bathrobe, turn off your cell phone, take your towel and you're ready to go.
Now welcome in!
For your and everyone else's hygiene we advise you to take a shower before going further.
And then it's up to you. Have a swim in the pool, spend some minutes in the sauna, the steam bath, the turkish bath, the whirlpool or the cold pool. You can take a deck chair and relax reading a book or magazine and when you get hungry or thirsty you can go to the restaurant. If you're not comfortable walking around nude, it's perfectly normal to keep on your bathrobe. Only in the specific facilities you will have to be nude.
In many cases there will also be an outside area, so if weather allows it you could check out the pool, whirlpool or sauna over there.
But most important: Relax and let time pass by.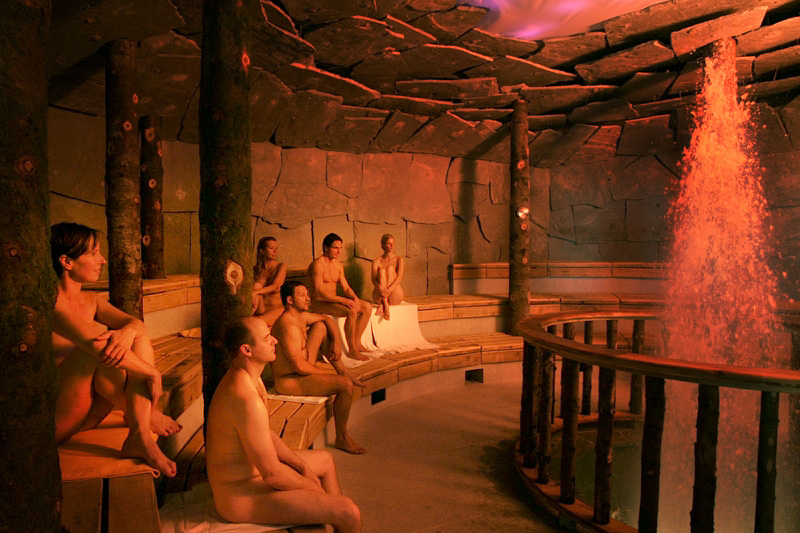 Saunas are not uniquely focused on nudism
Even though most public saunas are clothing prohibited there is no focus on nudism. The most important reasons why the guests are asked to be nude are hygiene and to keep the place dry (your body will drip for a minute, your swim shorts for half an hour).
Due to the fact that you can be naked, the place does attract a lot of nudists.
You'll notice that some people will enter the complex, hang their bathrobe on the coat rack only to put it back on to go to the restaurant or home. And there will be others who prefer to only take off their bathrobe before going into the water or the sauna and right afterwards put it back on again.
This makes it an ideal starting point for first time nudists, whenever you feel uncomfortable being naked you can put your bathrobe back on.
The first time we went to a nude sauna we kept our bathrobe on whenever we were not in the water. By now we have to make sure to remember where we've put it otherwise we would never find it back at the end of the day.
Who else will be there
Most saunas are open to everyone, so you'll see people of all ages and sizes. It's a common thing to do as a couple but you'll also see single men or women, families with children or small groups of friends.
Some people will come to relax for a couple of hours after work and others will be spending the whole day.
Just note that the focus is on rest and relaxation, so it's not the place to go with a big group of loud friends, for your kid's birthday party or to get hammered. During weekends many saunas tend to get crowded while you can often have them pretty much for your nude self on a weekday.
Have a massage
A spa is a place you go to for complete relaxation. The sauna, the hot tub, the liberation of not wearing any clothes and of being away from your cell phone will certainly help you with that. But if you really want to relax, have a massage.
Most spa complexes provide massage services and even several different kinds of massages or beauty arrangements. There might be mud baths, pedicures, hot stone massages or even more exotic types like Ayurveda or Thai Massage. These make you feel completely like a different person.
If you're unsure about being touched by a stranger while you're completely nude, don't be afraid to tell the staff that this is your first time and they'll make sure that you feel comfortable.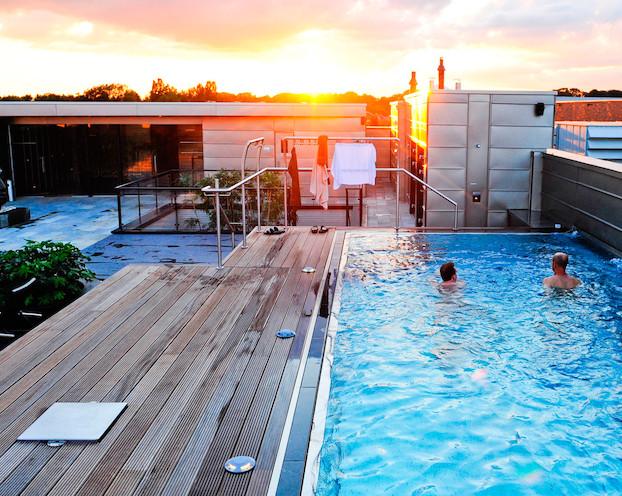 What to bring?
You're required to have a bathrobe, a towel and flip-flops. You can bring them yourself but most of the time you also have the option to rent them, the rental prices really depend from place to place.
A good book or magazine may come in handy.
And your most relaxed self.
Any devices with a camera (smart phone, tablet,…) won't be allowed, neither are things that make loud noises.
What are the rules?
Every place will have their own set of rules, but here are some of the most important:
The only clothing allowed is a bathrobe and flip-flops.
No electronic devices.
Don't be loud.
No desired or undesired intimacies.
Naked Wanderings' Complete Guide for the First Time Nudist ebook

Do you still have questions about nudism or naturism?
Are you looking for even more tips and tricks?
Our ebook will be the perfect resource for you!

Learn More
Picture credit: The photo of the people in the hot tub was borrowed from Young Naturists America  .The other photos in this post are coming from Google and Twitter. If you find one of yourself and you don't want it to be on our blog, let us know and we'll remove it.
---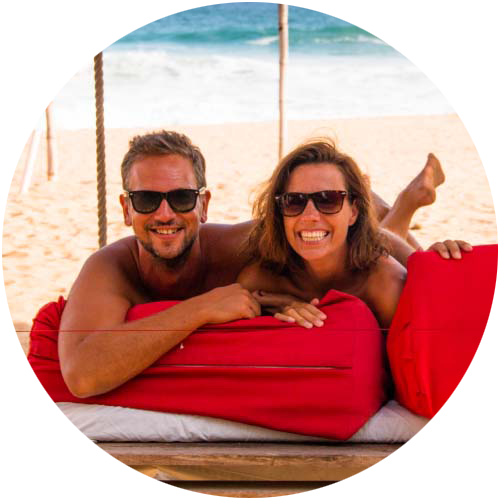 Support Naked Wanderings
Do you like what we do for naturism and naturists? Did we make you laugh or cry? Did we help you find the information you were looking for? Then definitely join our Patreon community!
---