Naturist camping Costalunga in the north of Italy was the destination of one of our first nude vacations. Back then it was still all very new and when we look back at it now, we're very happy that we picked this place. If we would have had a bad experience at Costalunga, we might have quit going on naturist holidays altogether. Instead, Costalunga proved to be an excellent place for beginning naturists.
How to get to Costalunga
Naturism in Italy has only been allowed for about 10 years, so the amount of naturist locations is still quite scarce. Especially compared to neighboring countries France and Croatia.
And yet, in the hills of Northern Italy, less than an hour drive north from Genova you can find this hidden pearl of a campground in a town called Sassello.
Well… "find"… If you're not familiar with the area, you'll need your GPS. The campground is actually located a bit outside of town and there are no signs at the side of the road. The instructions on their website will tell you to turn left at a "green cabin" at "some crossroad" after exiting "some highway"… We can tell you… You will need your GPS (or maybe you're much better navigators than we are). Anyway, you'll need to follow a dirt road for about one kilometer (and strongly wish that nobody will come across) until you reach a small gate with the Costalunga sign and a bell.
You have arrived.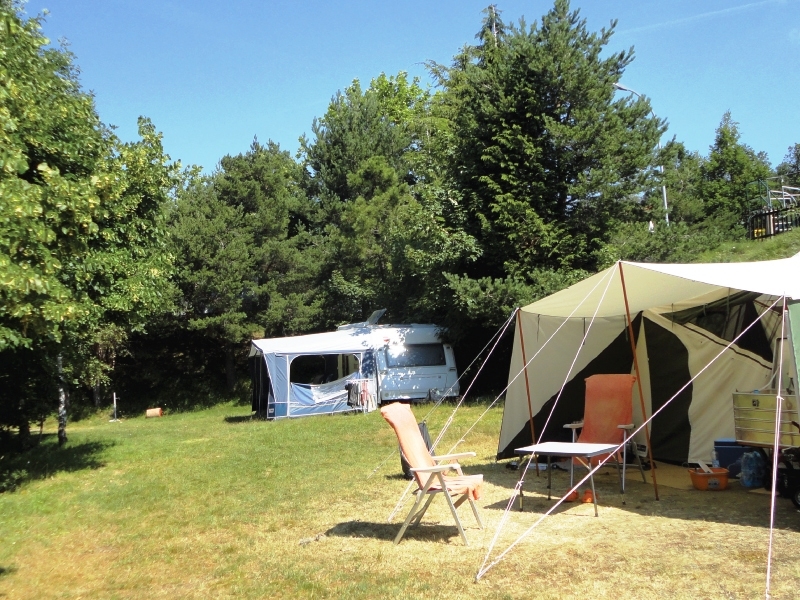 Where to stay at Costalunga
The campground only existed for a couple of years and after every season the staff does improvements and expands the site. When we visited, in the summer of 2016, there was plenty of space to put a tent, van or caravan and there were several caravans and bungalows for rent.
The whole campground is located on the side of a hill so from whichever place you chose, you have great views over the valley.
All places are surrounded by plenty of trees which really give you the feeling of camping in a forest and which provides you the necessary shade during hot summer days.
What to do at Costalunga
The large swimming pool is located on a panoramic terrace which gives for the best views. We've spent most evenings relaxing in the pool with the sun on our backs looking over the valley.
Next to the pool, there's a nice terrace with sunbeds, ideally to drift away in a book. And if you get thirsty, the bar is only a couple of steps away.
The options for other sports are limited to table soccer and table tennis. However, there's a huge grass field where you can get some exercise or practice your yoga moves. For the kids, there's a small playground area. There are more than enough (very spacious) showers and toilets.
In the morning breakfast service is provided where you can order bread and croissants, and in the evening you have the opportunity to enjoy a home-cooked typical Italian dinner (very much recommended!).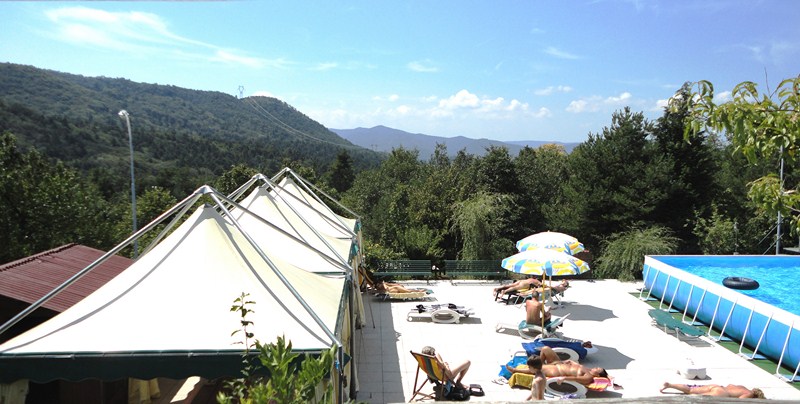 Around Costalunga
The area of Sassello is a piece of heaven for hikers. With its location on the edges of Beigua regional park, you're only a couple of kilometers away from the best hiking tracks. The mountains also attract quite a number of cyclists.
If you prefer to take things a bit slower you could visit the beautiful villages of Sassello and Acquiterme, go on a wine tasting in one of the numerous vineyards, visit the historic city Genova or spend some days at the beach. Some even visited the towns of Cinque Terre from here but we found that a bit too far (2 – 2.5 hours drive one way).
There's plenty of information available on the campground to plan your activities in the area.
Staff at Costalunga
The campground was started by 2 thirty-something friends from Turin, Paolo, and Enrico who thought it was time for something different. And we have to say, they are doing a great job running the place. They're very social and take all the time necessary to show you around and respond to your questions. Whenever they see you, they will make sure that you're having a great time and that everything is as you wish.
When we were there, Paolo and Enrico were not alone. Enrico's parents and Paolo's girlfriend were also helping out. Everyone was very friendly and helpful and made you feel like we were part of the family.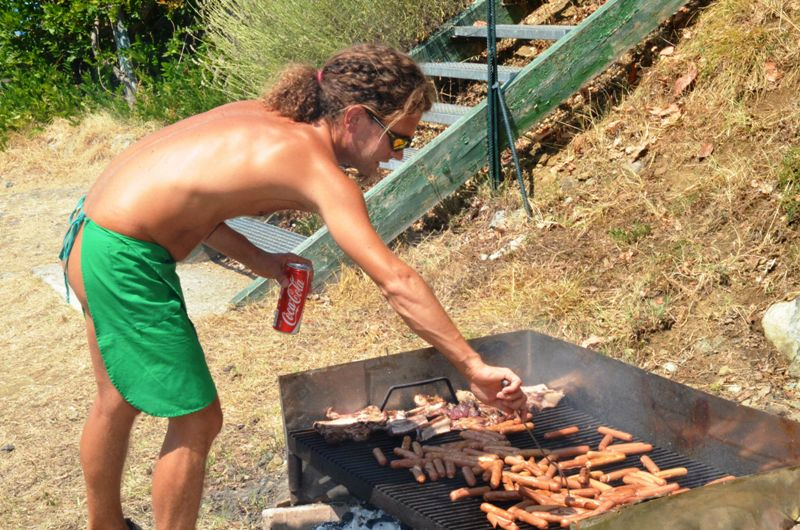 Guests of Costalunga
This is a place where you go to relax and enjoy nature. The wide camping spots and the many trees sometimes make you feel like you're alone in the place. This is exactly the atmosphere the owners are trying to create, so no loud pool parties.
When we were there, the average age of the visitors was around 50 and most of them were European (we spoke with Danish, Dutch, Italians, and Germans).
Sometimes there was an occasional day visitor but the majority of the guests stayed for a couple of days.
Summary
Costalunga is a real hidden gem in the north of Italy, ideal for a couple of days away from the busy Italian cities and coasts. Very much recommended!
Read more about this place on
NUDE
---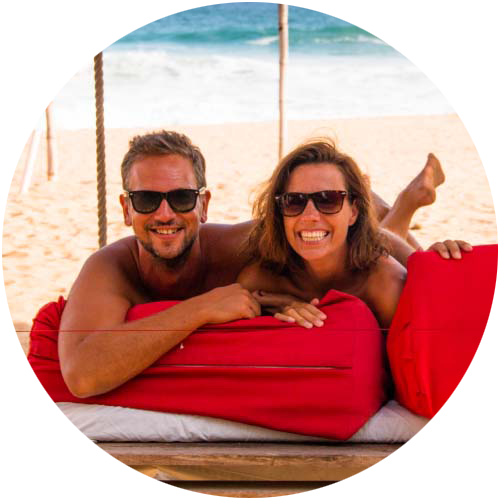 Support Naked Wanderings
Do you like what we do for naturism and naturists? Did we make you laugh or cry? Did we help you find the information you were looking for? Then definitely join our Patreon community!
---