Nope, there's no mistake in the title, you don't need to replace one "naturism" with "nudism" or anything like that. Although you could replace both with "nudism" if you like. Or with "nude recreation" or whatever term you prefer to use. The purpose of this blog post is not to try to line out the differences between those terms. We've
done that before
and honestly, the more we travel the more meaningless the terms seem to us. The terms, not what they represent of course.
After several of our previous blog posts and more specifically after the one about
whether naturist resorts will have a future if they maintain their traditional values
the question about what naturism (or nudism or whatever) actually stands for came up again. We're not going to give you another history lesson, but something is important to follow our further way of thinking: Naturism started from an ideology that included much more than just being naked. It was about connection with nature, respect for everything that comes out of nature and about a healthy lifestyle where vitamin D is an important factor (hence the name "sun club" that is still often used).
This was 100 years ago and this way of thinking has been maintained for several decades. Until other people started to recognise other advantages of (social) nudity but without agreeing with all the aspects of naturism.
We've seen a similar thing happening with vegetarianism. People stopped eating meat out of respect for nature and more specifically all other living beings. The point of not eating meat was just an aspect of a complete lifestyle. A tool to enhance it, so to say. Just like nudity was a tool for the naturist community. Today there are vegetarians for all different kinds of reasons. Some don't like the taste, some want to lose weight, some don't agree with the antibiotics that are used to make the animal bigger/fatter/more full of meat. Some are even parttime vegetarian.
Naturism is like running
Being naked is a natural state of being, it's very easy, just throw away those artificial layers and there you are. In a way, it's like running. From whenever some type of human decided that life was better on two legs we have been running (and even before on four legs too actually). It's a very simple thing to do if you want to get from point A to point B faster than walking. And without any artificial tools like bikes, cars, roller skates, you get the point.
Lots of people are running these days while few do so because they actually want to get to point B. People have lots of reasons to run: Some like the exercise, some like the fact that it's a healthy thing to do, some do so to lose weight, some are training for a running contest, some run because they can implement that ability in another sport and some just run because they like running (ask Forest Gump).
These are all different reasons that come with different experiences. If you'd read an article about running written by Usain Bolt, you'll hear about different aspects than in an article written by someone who started running to recover from an accident. Is one better than the other? Of course not.
People enjoy naturism for plenty of different reasons as well, they like the feeling of liberty, the unconventional mini-society, the touch with nature, the removal of social boundaries, the nice tan, the comfort, the fact that it improves body confidence and plenty of other reasons. Some even like naturism for the simple fact because they like being naked.
Most naturists enjoy their lifestyle for a combination of factors, some more important and some rather seen as added value. Does that make one better than the other? Is someone who strongly believes in the natural aspects of naturism more naturist (or a better naturist) than someone who loves to sunbathe naked? If you read many of the existing writings and manifests about naturism, one would certainly think so. That's because most of those writings are produced by strong minded promotors of one single layer of naturism. The Usain Bolts of naturism, so to say. But that doesn't make them true for everyone.
Naturism depends on the naturists
We often like to quote a friend who said that there are as many types of naturism as there are naturists. Although we often overlap when it comes to certain aspects of naturism, other aspects that might be appealing to one are not at all to someone else. Even between ourselves (like in really ourselves, Nick and Lins), we can't say that we have exactly the same thoughts about naturism.
Although we spend more or less 24 hours per day together, visit the exact same places and have the exact same influences, our naturism isn't 100% the same. Which is actually very interesting when writing a blog because we can point out things to each other that we would otherwise have considered too obvious or not important.
The big question is whether we can combine all those naturism's into one single principle? Can they be covered by one single federation? Or more technically, can they exist in a single place?
When it comes to running, people tend to pick their places according their specific needs. Someone who runs to get relieved from stress might prefer the local park in the early morning or late at night. Those who need to be pepped up or likes the social aspect of having a common interest will more be attracted to a certain club and their group runs. Others training for a contest could rather opt for a running track. Does that mean that they can't appreciate the other venues? No, because there's a common ground in all this.
Naturist places are designed to fulfil the needs of a certain type of naturists. From the groups of likeminded people somewhere in Germany in the early 20th century who decided to start the first naturist clubs to business owners who saw a gap in the naked travel market to the girl who
started her naked yoga school in downtown Manhattan.
All attracting a certain dedicated audience, all focusing on one or some aspects of naturism.
This dedicated audience is important for a place and therefore we don't believe that a naturist venue can focus on every single kind of naturism. The public park will never be the perfect place to train for Olympic gold and if it would ever become so, the hobby joggers will probably start going somewhere else.
There will be different places for different needs, but that doesn't mean that you can't enjoy several kinds.
Naked Wanderings' Complete Guide for the First Time Nudist ebook

Do you still have questions about nudism or naturism?
Are you looking for even more tips and tricks?
Our ebook will be the perfect resource for you!

Learn More
---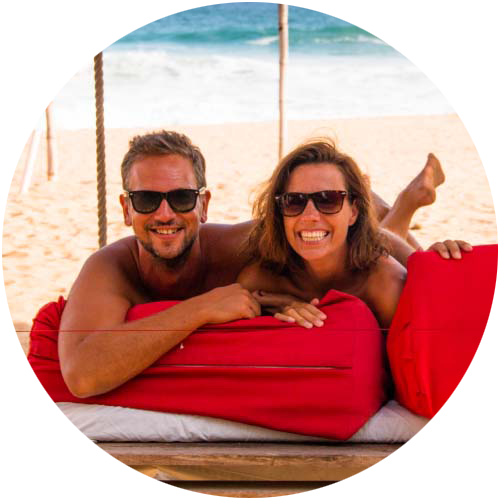 Support Naked Wanderings
Do you like what we do for naturism and naturists? Did we make you laugh or cry? Did we help you find the information you were looking for? Then definitely join our Patreon community!
---